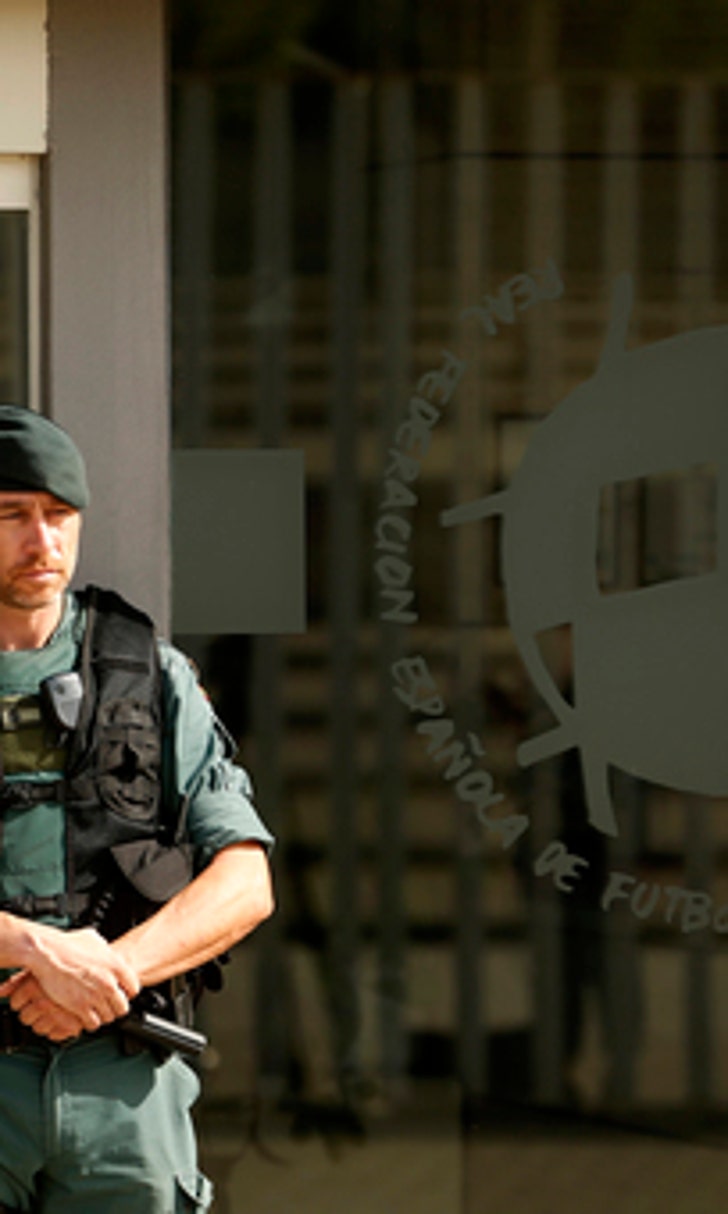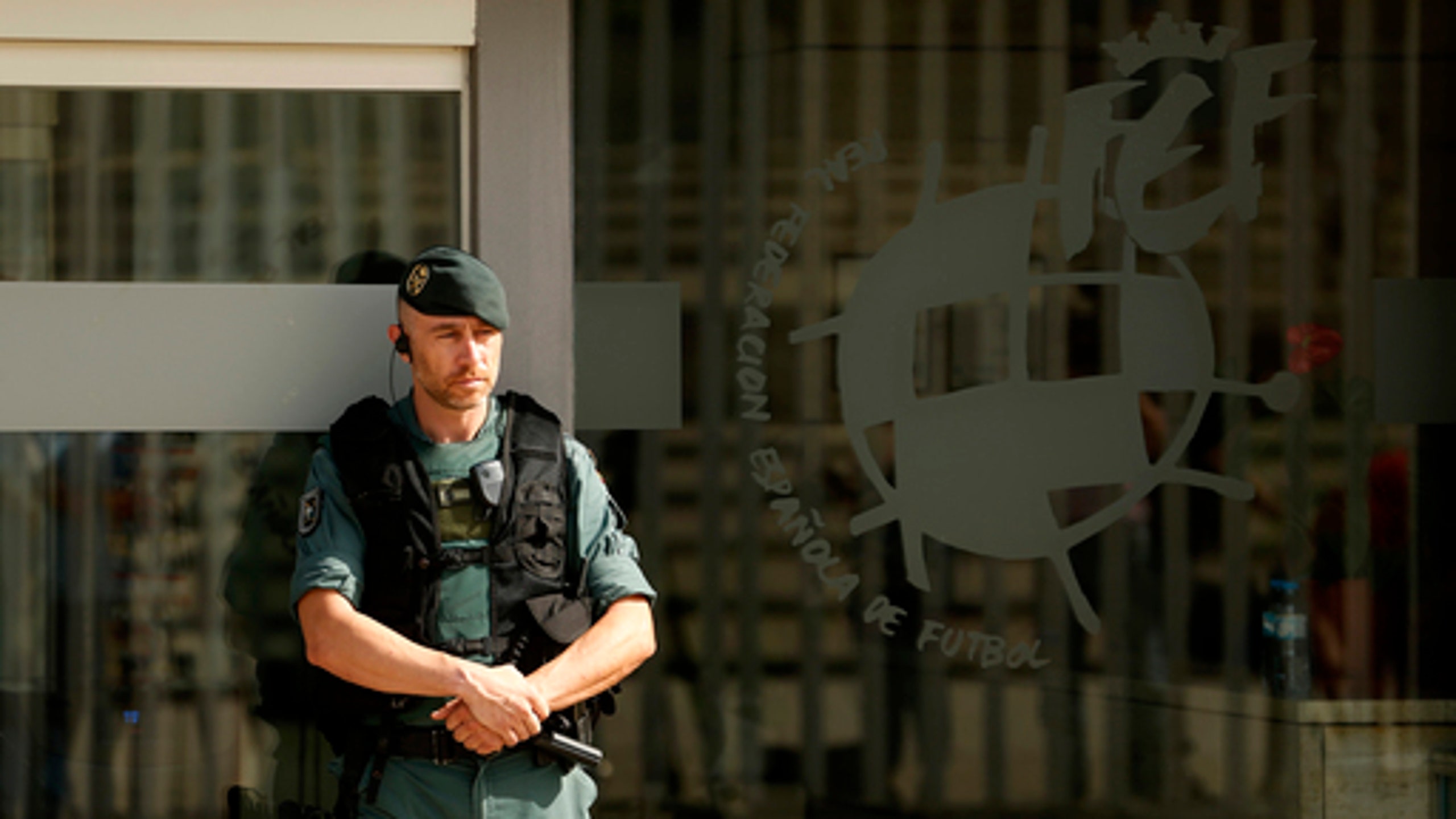 Police arrest Spanish soccer federation president and son
BY AP • July 18, 2017
MADRID (AP) Spanish Football Federation president Angel Maria Villar was arrested along with his son and two more federation executives in an anti-corruption investigation on Tuesday.
Villar, who is FIFA's senior vice president and a UEFA vice president, was suspected of having arranged matches for Spain that led to business deals that benefited his son, said the office of the state prosecutor in charge of anti-corruption.
The state prosecutor and Spanish police said Villar, his son Gorka Villar, and two other soccer officials were detained while raids were carried out at the federation headquarters and other properties.
Two uniformed policemen guarded the entrance to the federation as staff went in and out of the offices near the training grounds for Spain's national teams in Las Rozas, just outside Madrid.
The other two men who were arrested were Juan Padron, the federation's vice president of economic affairs who is also the president of the regional federation for Tenerife, and Ramon Hernandez, the secretary of that regional federation.
The four men were arrested on charges of improper management, misappropriation of funds, corruption and falsifying documents as part of a probe into the finances of the federations.
''We have taken note of the media reports concerning the situation of Mr. Villar Llona,'' FIFA said in a statement. ''As the matter seems to be linked to internal affairs of the Spanish Football Association, for the time being we kindly refer you to them for further details.''
As part of an operation called ''Soule,'' the Guardia Civil's said it raided the national federation's headquarters, the offices of the regional soccer federation on the island of Tenerife, and ''headquarters of businesses and several private homes linked to the arrested individuals.''
Police started the probe in early 2016 after a complaint was made by Spain's Higher Council of Sport, the government's sports authority.
The probe led the state prosecutor's office to suspect that Angel Maria Villar ''could have arranged matches of the Spanish national team with other national teams, thereby gaining in return contracts for services and other business ventures in benefit of his son.''
The prosecutor's office said they suspect that Padron and the Tenerife secretary ''favored the contracting of business'' for their personal benefit.
Inigo Mendez de Vigo, Spain's minister of education, culture and sport, told national television moments after the raids that ''in Spain the laws are enforced, the laws are the same for all, and nobody, nobody is above the law.''
Calls made by The Associated Press to the Spanish and Tenerife federations went unanswered.
UEFA said in a statement it was ''aware of the reports regarding Mr. Villar Llona. We have no comment to make at this time.'' The Higher Council of Sport said it will ''use everything in its means to ensure that competitions are not affected'' by the arrests.
A former professional football player, the 67-year-old Villar has been the head of Spain's soccer federation since 1988, overseeing its national team's victories in the 2010 World Cup and the 2008 and 2012 European Championships.
Villar has also been at the heart of FIFA and UEFA politics since the 1990s, and has worked closely with several international soccer leaders who have since been indicted by the U.S. Department of Justice.
His son, Gorka, worked in recent years for South American body CONMEBOL as legal director then as the CEO-like director general for three presidents who were implicated in the American federal investigation. Gorka Villar left CONMEBOL in July 2016.
Angel Maria Villar was a tough midfielder for Athletic Bilbao and Spain before retiring to work as a lawyer and soccer administrator. He was elected to the UEFA executive committee 25 years ago, and to FIFA's ruling committee 19 years ago. He has also been an influential figure in the legal and referees committees of both organizations.
In the 2018 and 2022 World Cup bidding contests, Angel Maria Villar led the Spain-Portugal bid which the FIFA ethics committee briefly investigated in 2010 for allegedly arranging a voting pact involving South American voters to trade support with Qatar's bid. Russia won the 2018 contest.
Villar's conduct in a subsequent wider probe of the bids was singled out in a report by then-FIFA ethics prosecutor Michael Garcia.
''He (Villar) was not willing to discuss the facts and circumstances of the case,'' Garcia wrote in a 2014 report that was published last month. ''Moreover, his tone and manner were deeply disturbing, as the audio recording of the interview ... makes evident.''
Increasingly seen as a polarizing figure with leadership ambitions, Villar decided against trying to succeed Michel Platini as UEFA president last year.
Before joining CONMEBOL, Gorka Villar was a prominent sports lawyer in Madrid. He helped represent cyclist Alberto Contador in a failed appeal at the Court of Arbitration for Sport against losing the 2010 Tour de France title after a positive doping test.
The arrests are the latest step taken by Spain to crack down on financial wrongdoing in soccer.
Last year, Barcelona forward Lionel Messi and his father were found guilty of tax fraud, and in recent weeks prosecutors have opened tax fraud investigations into several others, including Real Madrid forward Cristiano Ronaldo and former Madrid coach Jose Mourinho. Both Ronaldo and Mourinho deny cheating on their taxes.
---
Wilson reported from Barcelona. AP Sports Writer Graham Dunbar in Geneva and AP photographer Francisco Seco in Las Rozas, Spain, contributed to this report.
---