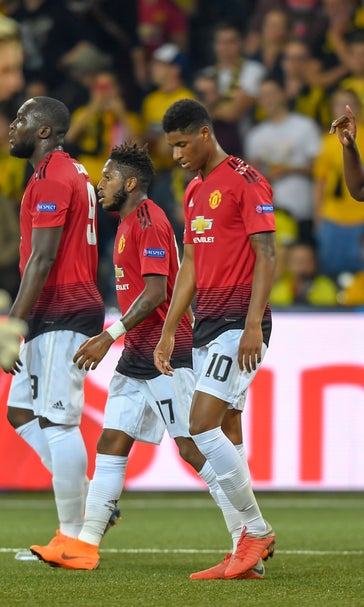 Pogba scores 2 in Man United's 3-0 win at Young Boys
September 19, 2018
BERN, Switzerland (AP) — Game-winning displays like Paul Pogba's in a 3-0 victory for Manchester United over Young Boys should help to improve his relations with coach Jose Mourinho.
Pogba scored twice late in the first half Wednesday to get United off to a smooth start in the Champions League against the group-stage newcomer.
A curling shot in the 35th minute and an assured penalty in the 44th — after a trademark slow-trot approach — showed Pogba at his most elegant.
Pogba's form cheered Mourinho on the touchline after an uneasy early season between them since the team's signature player returned from winning the World Cup with France.
United went three goals up in the 66th when Pogba surged through the midfield and teed up Anthony Martial, who also had tense pre-season exchanges with Mourinho. Martial's shot took a deflection off defender Mohamed Ali Camara.
Camara's eventful evening included testing David De Gea with an early long-range strike, hitting a post with a second-half shot from a corner, and being beaten by Pogba's quick feet that created space to score the opening goal.
The penalty was awarded for a handball awarded against Young Boys defender Kevin Mbabu for blocking Luke Shaw's cross.
The result dispelled Mourinho's doubts expressed to UEFA this month about playing Champions League games on artificial turf.
Still, Mourinho said the surface should not be an excuse for his players who did have uneasy moments before Pogba stepped up.
Making his United debut, 19-year-old right-back Diogo Dalot slipped on the plastic pitch to give winger Christian Fassnacht a shooting chance that was blocked.
A loser on its two previous Champions League games in Switzerland, both at Basel, United next welcomes Valencia to Old Trafford on Oct. 2.
Also in Group H, Pogba's former team Juventus won 2-0 at Valencia despite a first-half red card for Cristiano Ronaldo, the former United star.
---
---