Diego Costa
Diego Costa
'Overweight' Diego Costa backs Mourinho's criticism of Chelsea
Published
Oct. 9, 2015 4:08 p.m. ET

Diego Costa says the players are to blame for Chelsea's poor start, admitting he returned for preseason overweight following the summer.
Chelsea are 16th in the Premier League after losing half of their opening eight games. It represents their worst start to a season in 37 years, leading the club to issue a statement to confirm their "full support" of Mourinho.
Costa, who has scored only two goals in eight games for the Blues this season, has also moved to divert blame away from his manager, suggesting the squad were overconfident after winning the title last season.
"We know we're not in the form we were supposed to be at the beginning of the season," Costa said. "We need to blame the players because we came back from holiday very confident, thinking we could go back into how it was last season, and then realized the team was already in a bad situation. I'm going to be very honest: maybe a few weeks ago, five or six weeks ago, I was not on top of my game. At least physically.
"We talk within the players and we know that, maybe at the beginning, we were not 100% as we were supposed to be when we got here. I got injured at the end of last season and then I went on holiday. Maybe I got out of my diet and, when I came back, I was not the way I was supposed to be. I was a little bit overweight. That affected my game.
"You can be selfish and blame it on the manager, but I'm not going to do that. I'm responsible 100%, and so are the other guys. So all we can do now is train very hard and work very hard to try to get back to that level where we were the season before."
Mourinho has faced criticism for his handling of Chelsea's players this season, having singled out several for criticism both in public and behind the scenes.
But Costa has no problems with the Portuguese's approach, saying: "He's very direct, straightforward. He always speaks what he thinks and what he believes to be the truth. Sometimes it's not what people want to hear. It's the way he is and it's why, sometimes, they criticized him.
"There are managers who always say what people want to hear. I think that's not good. I'd rather have someone who tells me straight up what happens rather than sweet things that I want to hear. If you ask a million players who they want as their manager, they will all come back with a top three list of Mourinho, [Pep] Guardiola and [Diego] Cholo Simeone.
"It was one of the reasons I joined Chelsea because you know when you have a manager that is always successful, is always in the title race and always playing in the Champions League and competing at the top level, it's going to help you develop and become a better player. And help you win titles in your career.
"He is always giving us all the support we need, and the players talk to each other and say he is the best manager you can have. Always when things don't go the way that everyone expects, people, the supporters as well, always look for someone to blame. In some cases they blame the players. In this case they blame the manager, maybe because the manager is Mourinho. Maybe he gets criticized because he is very good. Maybe he gets criticized because he is Mourinho. I have been here for more than a season and have seen sides that have lost many more games than Chelsea, and no one criticizes their managers.
"I'm here because I'm happy with the manager, but I'm not only speaking on my behalf. I am here to speak for everyone, for the group. All that matters at the end of the day is the group. Yes, he has supported me, but he has shown support for all of the players. I have spoken to all of the players and they all feel the same way about Jose. I don't like giving interviews, but I'm speaking for the group. We all feel the same way about Jose."
---
---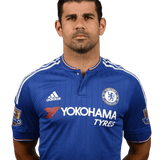 Get more from Diego Costa
Follow your favorites to get information about games, news and more
---