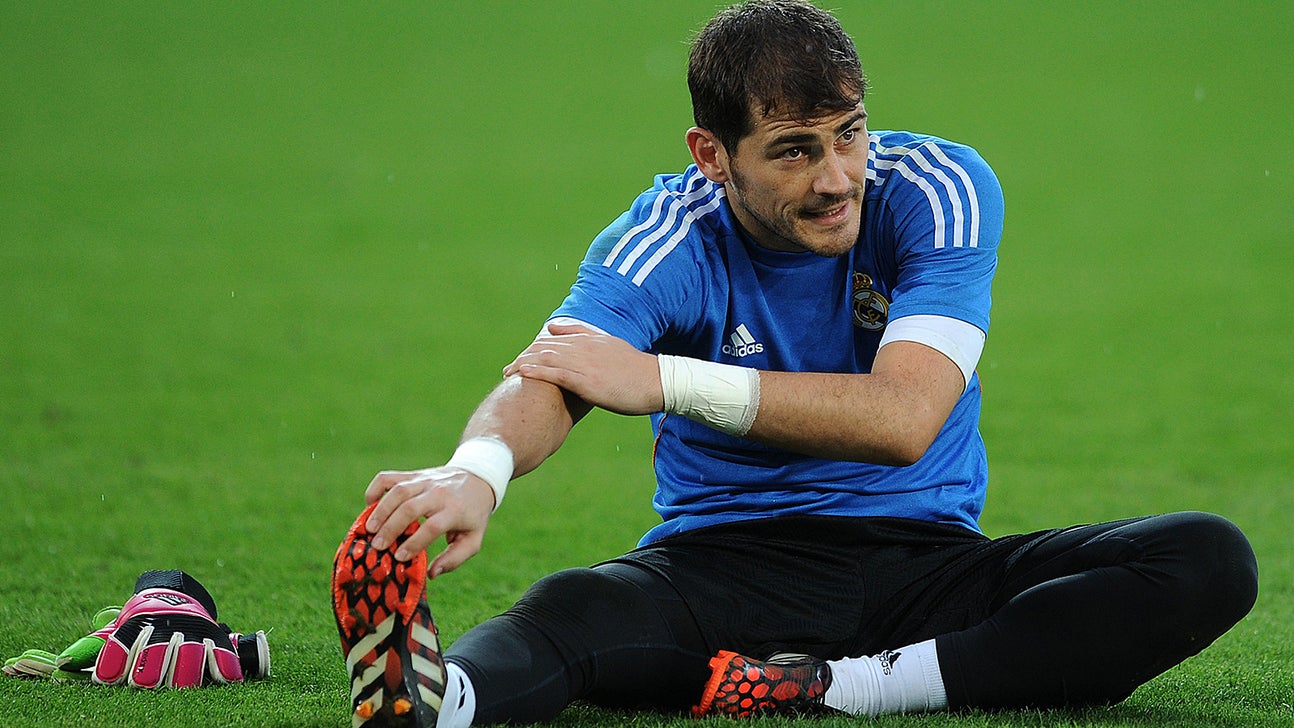 No room for error as Casillas attempts to prove he's Real's true No. 1
Published
Aug. 12, 2014 1:04 p.m. ET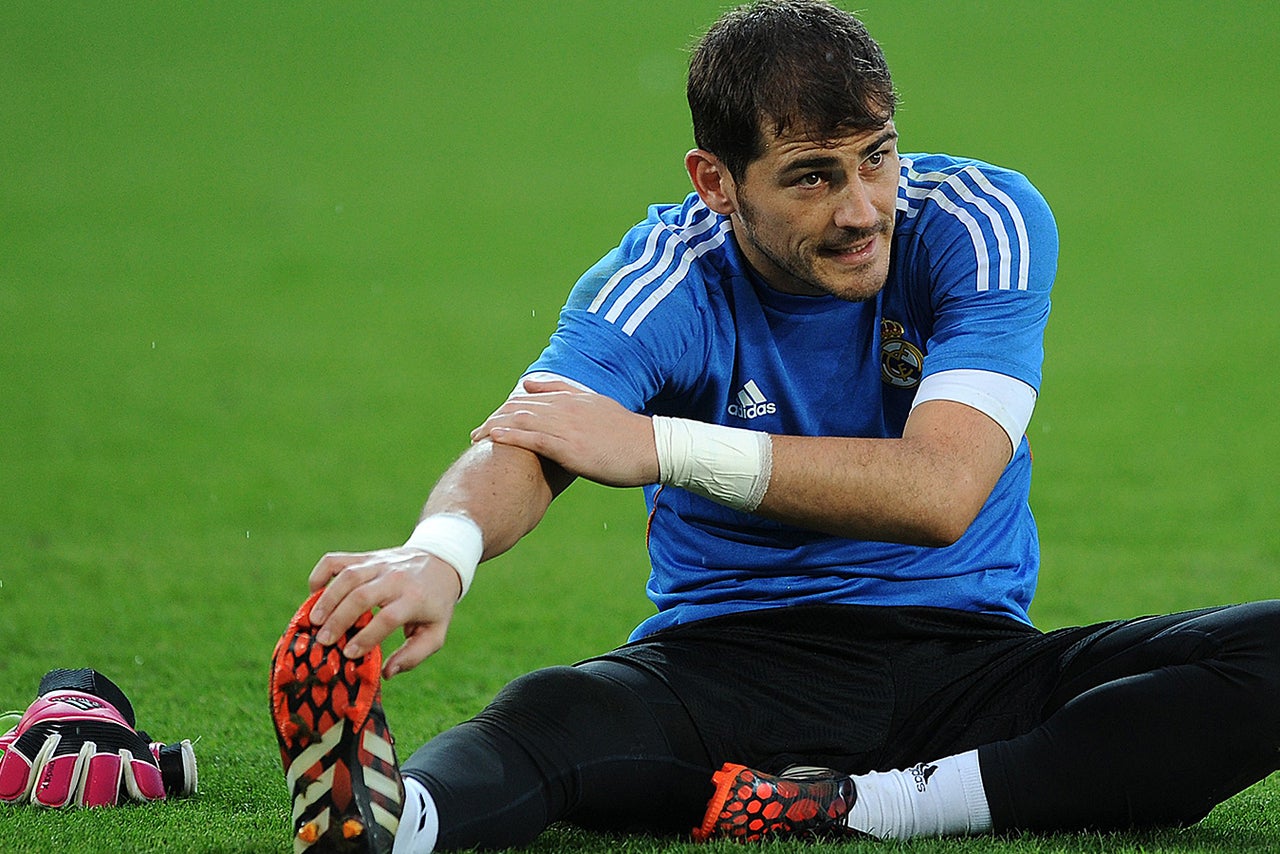 No margin for error. Iker Casillas has won the battle with Diego Lopez at Real Madrid, but the club captain is now faced with a new rival in summer signing Keylor Navas. And following his big-game blunders in recent times, Tuesday's UEFA Super Cup clash vs. Sevilla (live, FOX Sports 1, 2 p.m. ET) could be his last chance to prove he's the club's No. 1.
Benched by former Real Madrid boss Jose Mourinho at the peak of his powers, Casillas then suffered an injury and found himself as a reserve once again as the Portuguese moved to sign Lopez. Madrid then announced late last May (on Casillas' birthday, ironically) that Mourinho would be leaving the Spanish side and Carlo Ancelotti was appointed as his replacement. Things were expected to return to normal.
But they didn't. Goalkeeping coach Villiam Vecchi chose Lopez to start in La Liga above Casillas and the club captain was forced to wait until the cup competitions. And even that began badly as Casillas clashed with Sergio Ramos in a freak collision against Galatasaray in Istanbul which left the keeper sidelined once again.
Ultimately, however, Casillas impressed in both the Champions League and the Copa del Rey as Madrid made it to the final of both competitions and won the two trophies. En route to the two showpiece games, the 33-year-old set a new club record as he racked up 952 minutes without letting in a goal -- easily beating the previous best by Paco Buyo in 1994-95 (658 minutes).
Goalkeepers, however, are often remembered for their errors and Casillas' mistake in the Champions League final allowed Atletico's Diego Godin to score what was so nearly the winning goal. Luckily for Casillas, however, Ramos headed home deep into added time to save his teammate and force extra-time. A grateful Casillas planted a kiss on the defender's forehead amid the celebrations and he later lifted the trophy as Madrid scored three more in the next 30 minutes.
But the keeper's luck ran out at the World Cup in a dreadful display against Netherlands. Spain was defending the title it won in 2010, but suffered a shock 5-1 reverse and Casillas was responsible for at least two of the goals. Coach Vicente del Bosque kept faith in his skipper for the crucial clash against Chile, but he fared little better and his mistake gifted the South Americans a second goal and Spain was sent packing after just two games.
Back in club colors this summer, Casillas was found wanting once again in the 3-1 loss to Manchester United, arguably at fault for all three of the goals scored by Louis van Gaal's men.
Many Madridistas, meanwhile, believe Casillas was culpable for filtering tales of dressing-room discontent to the press during the Mourinho era via girlfriend Sara Carbonero and other contacts in the Madrid media. Booed by some supporters and attacked on social media, the last year has been anything but easy for the club captain. And now, after having been persuaded to stay by sporting director Fernando Hierro and club president Florentino Perez earlier this summer, he faces another fight for the starting spot at Madrid.
"I haven't been at my best in the last few games for Real Madrid and Spain, but I have analyzed and learned from them," Casillas said on Monday ahead of his side's Super Cup clash. "The club has treated me very well, I have no complaints. I want to push myself even harder than last year."
Ancelotti, meanwhile, is behind his skipper -- in public at least.
"I have complete confidence in Casillas," said the Italian manager. "Iker is a great keeper who had a great season in the Champions League and he will have another fantastic season coming up. Everybody makes mistakes, it's totally normal -- but you have to learn from them."
Asked if he had decided which of Casillas and Navas would start in La Liga, Ancelotti told the journalist, "I still don't know, and even if I did, I wouldn't tell you."
More mistakes on Tuesday, though, and it will be very difficult for the Italian to make an argument for Casillas to start as first choice in La Liga as well, with a rotation plan more likely and, unless he can return to the form of seasons gone by, even that is no guarantee. Former Madrid goalkeeper Paco Buyo believes the arrival of Navas could help Casillas this term. "It's a good thing there is competition between the sticks," he told Goal.com. "Nobody has their place assured and when you have a teammate who pushes you, who wants to play, who has great qualities, it helps you to prepare better and concentrate more. Competition is good for everyone."
But it also means the two must make their performances count and with La Liga's best goalkeeper from last season waiting in the wings, Casillas will now have to prove himself over and over again for Real. Starting on Tuesday.
FOX Soccer and Goal.com have teamed up to bring you the best in world soccer coverage. Visit Goal.com, and follow them on Twitter and Facebook.
More from Goal.com:
Live transfer blog: Latest news from summer window
The summer's most expensive transfers
Transfer talk: 24/7 source for the latest rumors
---