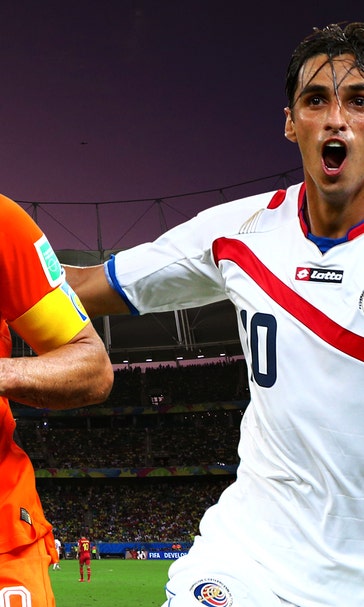 Netherlands-Costa Rica enter quarters clash as respective underdogs
BY foxsports • July 3, 2014
SALVADOR, Brazil --
Oranje's campaign to end their reign as the best team never to win a World Cup continues on Saturday, as the Netherlands take on Costa Rica (live, Saturday, 4 p.m. ET) in the quarterfinals hoping to slay their second consecutive CONCACAF opponents, after knocking out Mexico in the Round of 16 last Sunday.
Costa Rica is the last CONCACAF team standing and they are on something of a Cinderella run. Surely nobody had expected Los Ticos to be the last team playing from the CONCACAF region -- getting further than the United States and Mexico. But through organized yet adventurous soccer, they managed to escape their deathly group of Uruguay, England and Italy intact. In fact, they won it, by beating both Uruguay and Italy and tying England when it hardly mattered anymore. Better yet, they drew Greece in the Round of 16 and, after giving up an injury-time equalizer to Sokratis Papastathopoulos to cancel out Bryan Ruiz's goal, bested the Greeks on penalties by shooting as perfect a series as you possibly can.
But in the Netherlands, they face something of a team possessed. They are in the throes of their despotic manager Louis van Gaal's desperate yearning for respect and revenge, as he tries to convince his countrymen, not to mention the world, that his is the greatest mind in soccer and prove his many critics back home wrong.
''We have always said we're a tough team to beat,'' van Gaal said in a press conference on Friday. ''We're not a fantastic team, but we're very hard to beat. So far we've shown that and I hope we can keep it going up to and including the final.''
This wasn't supposed to be their year. Van Gaal had torn apart the team he inherited from the departed Bert van Marwijk after it had reached the 2010 World Cup final but flamed out in the Euro 2012 group stage with only losses. He had kept midfielders Wesley Sneijder, Nigel de Jong, Robin van Persie and Arjen Robben and got rid of just about everyone else, starting over with a bunch of unproven teenagers and early-20-somethings.
What's more, when he lost his key midfielder Kevin Strootman to a knee injury before the tournament, van Gaal pivoted to a daring and untested 5-3-2 formation. Suddenly, van Gaal has abandoned the "Dutch school" that was always non-negotiable to him and adopted a more utilitarian counter-attacking setup. It was un-Dutch. Surely they couldn't compete.
But the Dutch destroyed Spain in their World Cup opener, running up a 5-1 score and taking unexpected revenge for the lost final of four years prior. They stumbled by Australia 3-2 in much less convincing fashion. But they rounded off the group stage by beating Chile 2-0.
Mexico gave them a good deal of trouble in the Round of 16 and they teetered for 40 minutes, as Giovani dos Santos' rip from distance threatened to make the difference. Sneijder eventually lashed in the equalizer and then Robben earned a controversial though justifiable penalty in injury time, which was converted by Klaas-Jan Huntelaar.
So both teams have come off a close call. But the Dutch are nevertheless favorites, even if, like their match with Chile, this game promises to devolve into a tactical game of chess. Costa Rica will want to find ways to avoid setting the Dutch loose on the counter through Robben's unstoppable runs. And they'll want to pressure Sneijder to stop him from pulling the strings and feeding van Persie, who remains one of the world's foremost strikers.
Costa Rica, meanwhile, is only as nimble and zippy as Ruiz and Joel Campbell are allowed to be. Both are wonderfully swift and skillful attackers who can run riot if left unchecked.
"Costa Rica has a very good team," in-form Dutch winger Robben admitted. "I think before not a lot of people would have expected them to go through to the next round but I think they are a very strong team and it's going to be another very difficult game for us where we have to give everything to go through to the sem-finals."
But there is the looming sense now that van Gaal's Dutch side are up to something big, before he sets off on his next major job and takes over Manchester United just as soon as the Dutch are out -- if they ever go out. The last time he managed the Netherlands, he failed spectacularly. The biggest flop of his career, by far. He took the golden generation that he himself had brought up and conquered Europe with at Ajax in the mid-1990s into qualifying for the World Cup in 2002 and didn't even make it into the tournament.
His country has never quite forgiven him, and no matter the success he had already had with Ajax and Barcelona, and would later have with AZ Alkmaar and Bayern Munich. He was mocked for being so rigid in his methods and ridiculed for his didactic countenance, exaggerated mannerisms and outsized ego. Even now, as van Gaal keeps posting remarkable results with a team that wasn't supposed to be capable of them, the tone among his many enemies in the Dutch press remains overwhelmingly negative.
And so van Gaal -- who has openly said that he thinks it a personal sacrifice to manage the national team, a favor to the Dutch people -- and who isn't shy about proclaiming that he seeks to educate the media about soccer -- is looking to be vindicated. He is looking for proof, that he alone is right.
What better way than to finally bring the Dutch their World Cup, after three lost finals. There will be three more opportunities for a team to stop him. Costa Rica is up first.  
---