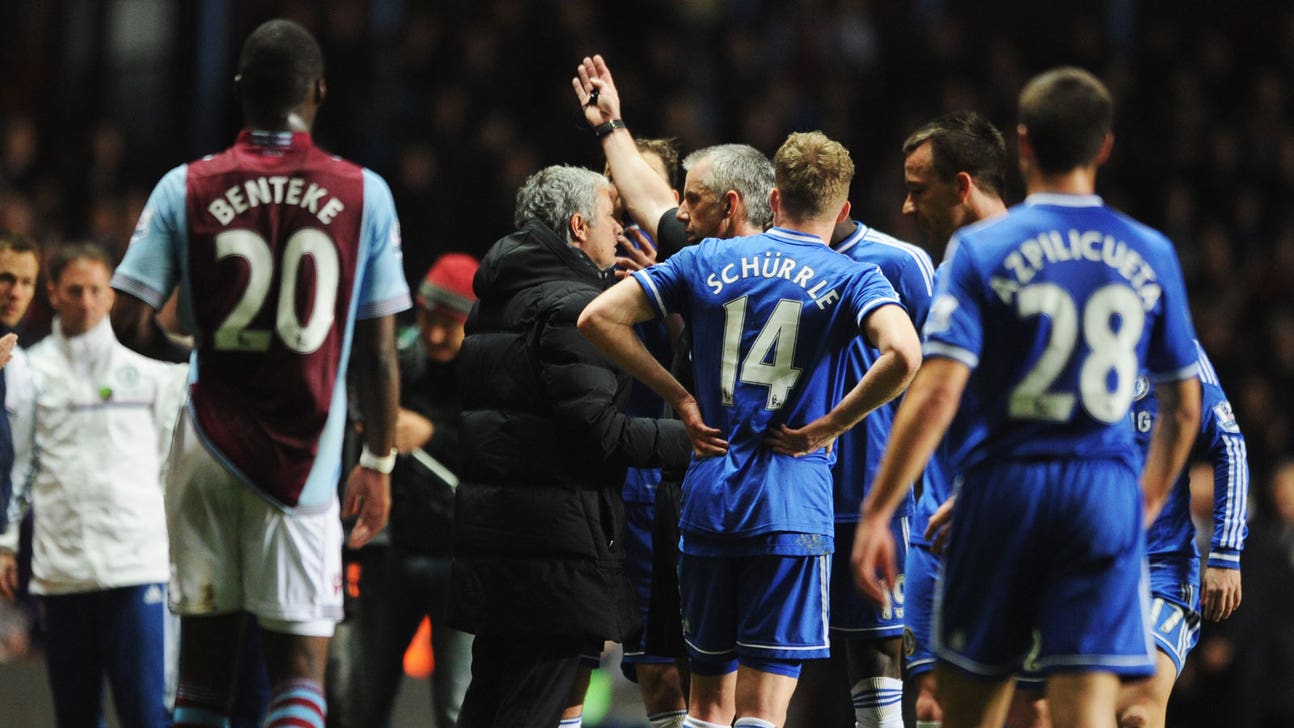 Mourinho urges Premier League to stop sending Foy to Chelsea games
Published
Mar. 17, 2014 6:47 a.m. ET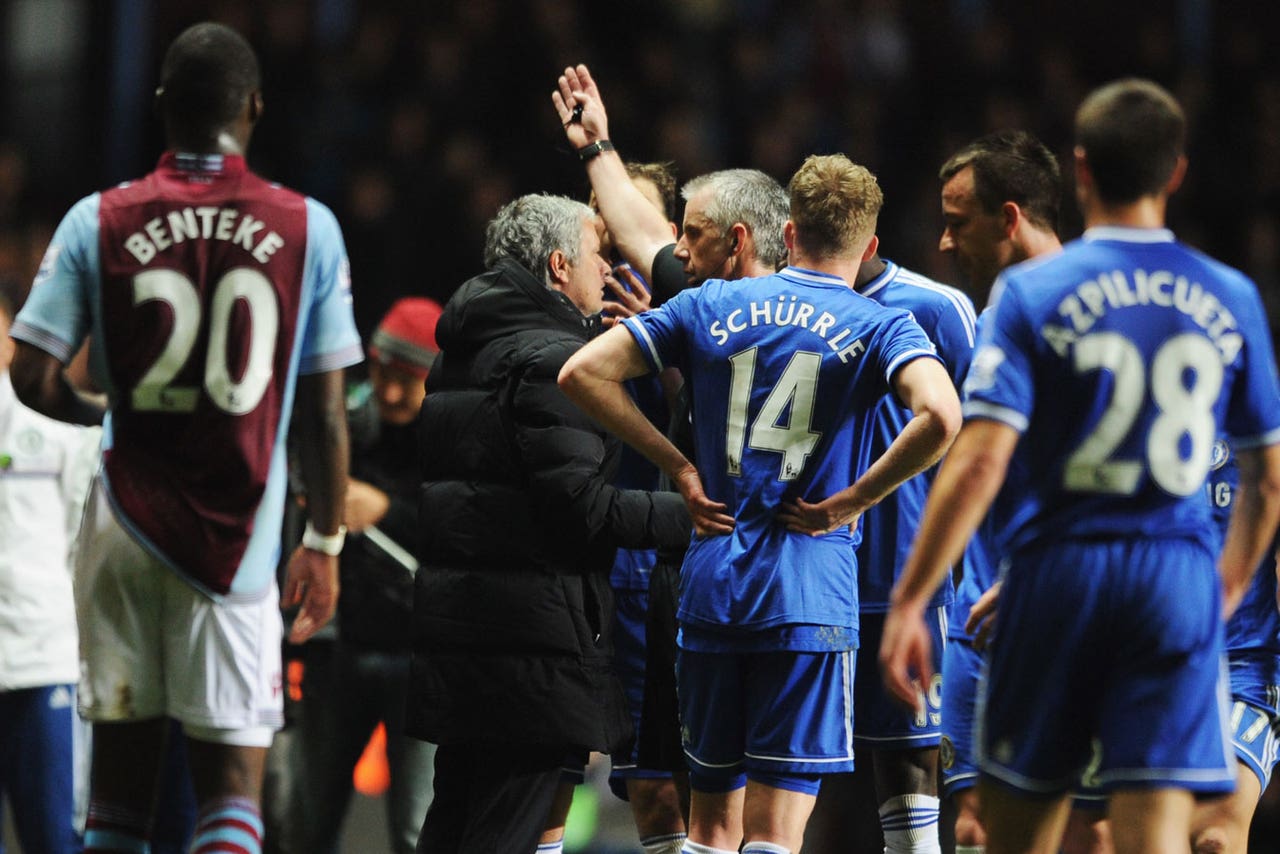 Jose Mourinho wants the Premier League to stop sending Chris Foy to Chelsea games after the referee's performance in the defeat to Aston Villa.
Foy sent off Willian for two bookable offences at Villa Park before dismissing Ramires in the closing stages for a sliding tackle on Karim El Ahmadi.
Chelsea manager Mourinho came on to the pitch after the second red card and was also sent to the stands by Foy who did not want to speak to the Portuguese after the game.
Mourinho tried his best to bite his lip in his post-match press conference, but he eventually relented in another media briefing minutes later.
"Maybe it's helpful that the (Premier League referees') committee doesn't send him (Foy) to our matches," said Mourinho.
"I don't have the right to request (that). It's just I think they have to analyse the situation and see if every time he has Chelsea - or not every time - but many times he has Chelsea and problems are there, I think maybe it would be a good decision."
Although he was not manager then, Mourinho recalled Chelsea's defeat to QPR in 2011 when Foy dismissed Jose Bosingwa and Didier Drogba.
"The last time I remember something similar was in a match at QPR's stadium," Mourinho said.
When informed that it was Foy who took charge of that match, Mourinho said: "I didn't know (that). It's a coincidence."
Mourinho revealed the fact that Foy was to officiate the game had been regularly discussed at Chelsea's training ground at Cobham after the officials were announced.
"The players were speaking about it during the week," Mourinho added. "They have a reason.
"I never care who the ref is. I don't want to know. But during the week the players were speaking about the situation and I think from now on the next time we have Mr Foy I have to work my people in a different way."
Mourinho did not want to say whether he thought the decision to send off Ramires or Willian was correct in case he was charged by the Football Association.
The FA could take a dim view of Mourinho's claim that "problems" regularly occur when Foy officiates Chelsea games though.
The Chelsea manager is also facing an FA charge for entering the field of play.
Rule E3 states managers must not leave their technical area as Mourinho did during the match.
Mourinho claimed he was only attempting to cool tempers, and to ask Foy why he had not sent off Gabriel Agbonlahor, who had already been substituted, for accosting Ramires.
Villa manager Paul Lambert also entered the pitch, as did a number of coaches.
If the FA decides Mourinho or anyone else who entered the pitch has broken the law, it can fine him £8,000-£12,000.
If anyone involved is found to have used abusive or insulting language he can be hit with a two-match touchline ban.
Mourinho insists he has done nothing wrong and he would prefer the money to go to an interesting destination if he is fined.
He said: "I don't think it would be a problem to make a donation to help young referees to have better conditions to improve a referees academy, this kind of situation or to improve kids with social problems or economical problems."
---