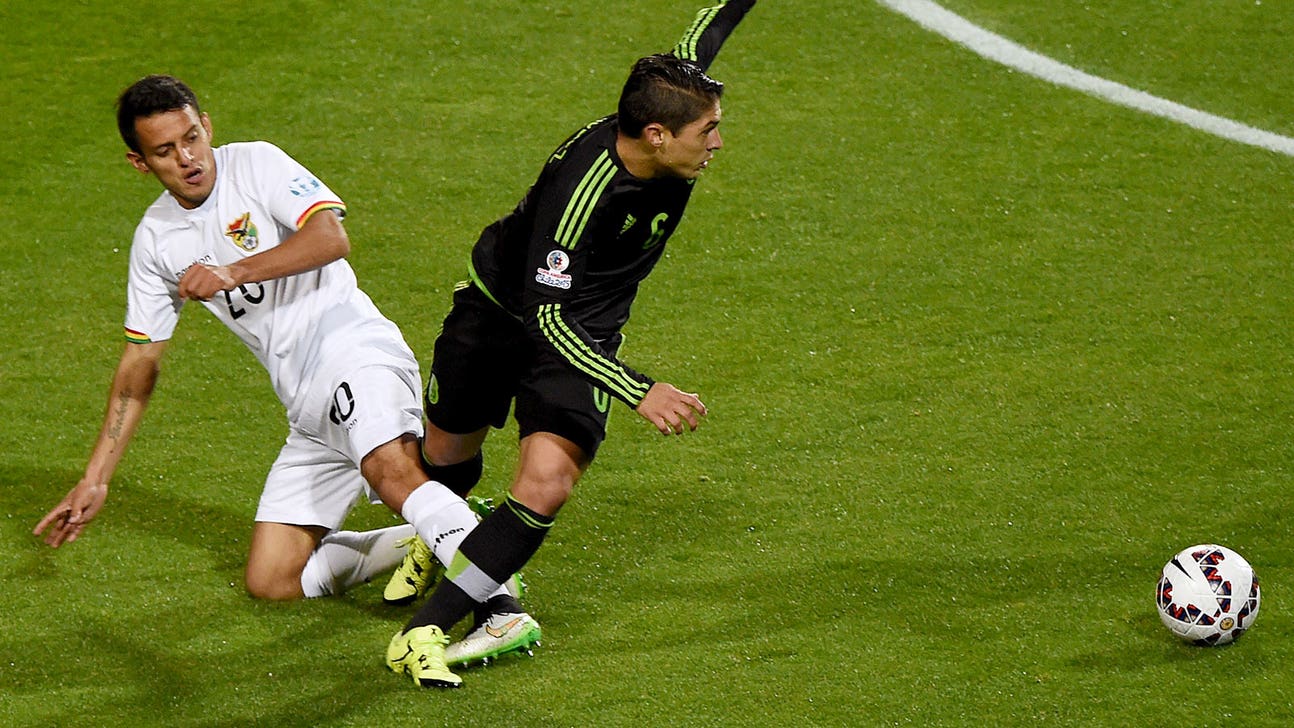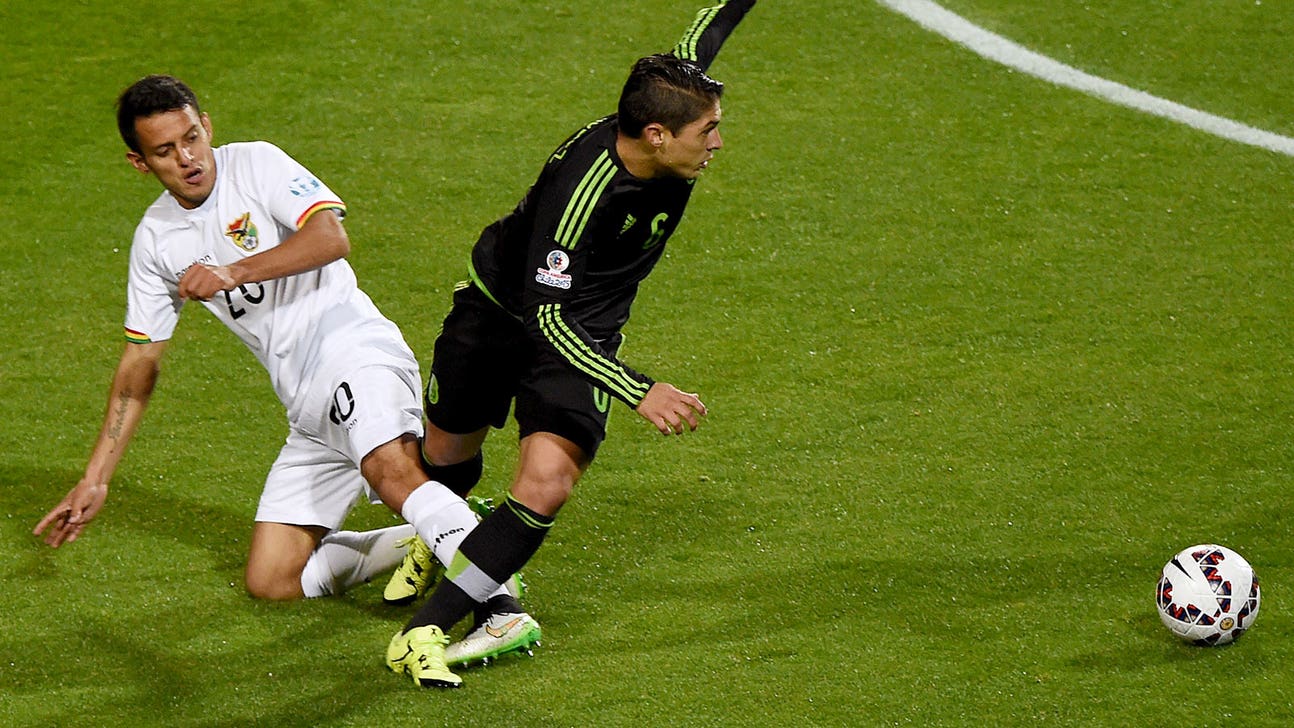 Mexico open Copa America with disappointing draw against Bolivia
Published
Jun. 12, 2015 9:45 p.m. ET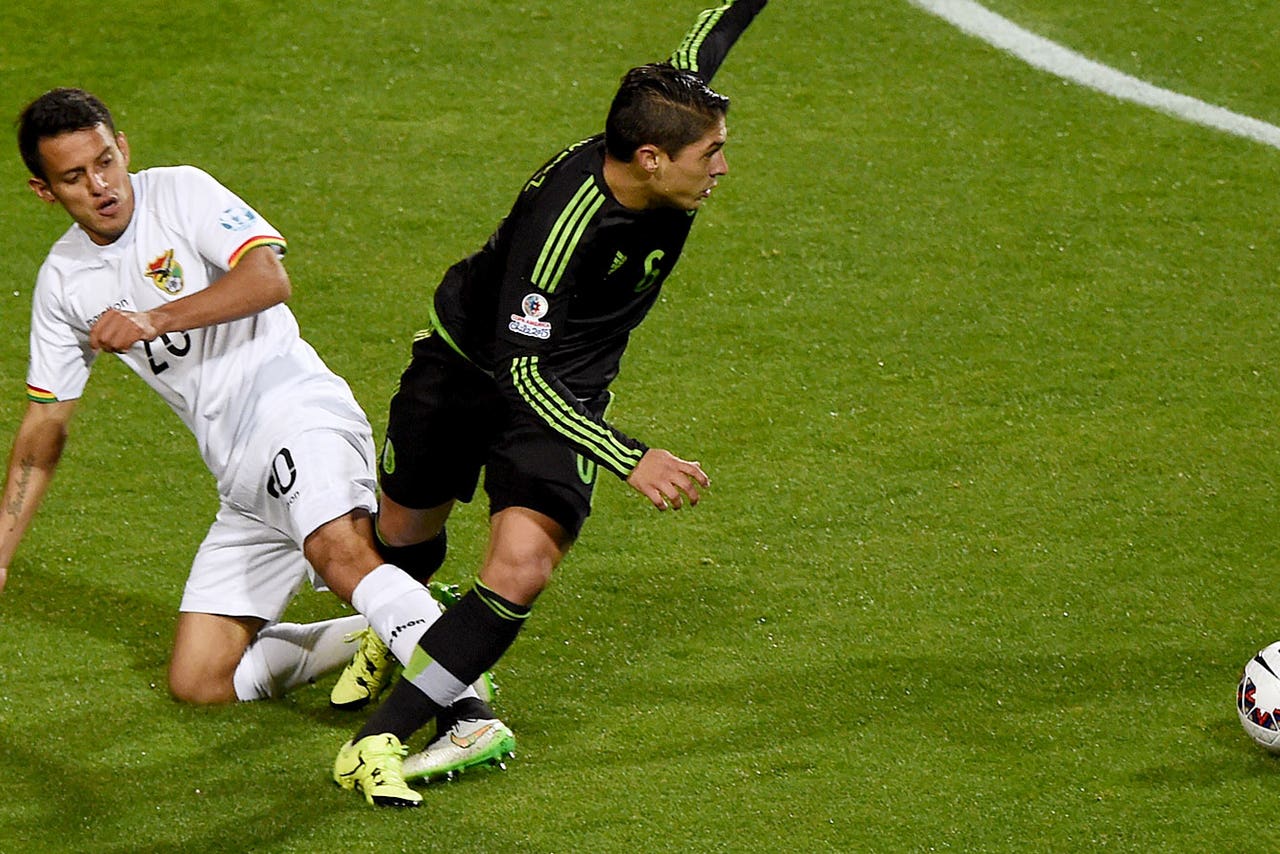 Everything is relative. Bolivia, which has gone 20 years without winning a competitive fixture away from home, celebrated a hard-earned point after a 0-0 draw. Mexico, whose World Cup performance had surely led it to expect better even with much weakened side, recognized that a tie against what is in theory the weakest side in the group leave sit with an almighty scrap to qualify. It plays the host, Chile, next, before what already looks like being a decisive final game against Ecuador. The boos at the final whistle from the Mexican fans spoke volumes.
After all the tension, the pregnant sense of occasion of the first game and Chile's anxious examination of their own self-belief, this was back to the familiar tentativeness of group stages. It wasn't a bad game, as such, but it inevitably felt anti-climactic after the grand themes of the opening night. Fans turned out in reasonable numbers -- there were hundreds of Mexican fans, and a small pocket of Bolivians, including at least two in gaudy feather head-dresses -- but the game was monochrome by comparison.
Perhaps that was only to be expected. After all, this is a shadow Mexico side, with numerous players left out to rest them for the CONCACAF Gold Cup. For them, the changes led to a lack of fluidity. Perhaps they were also shaken by the energy and aggression of Bolivia. Their coach, Mauricio Soria, said when he was appointed in November that he wanted to have the same impact on Bolivia as Marcelo Bielsa had on Chile, imbuing an identity while encouraging his side to play attacking football. Uncertain as it proved at times, there was some evidence of a pressing game beginning to come together.
Bolivia, certainly, had the better of a first half in which Mexico, for all their possession, were restricted in their threat to a couple of set-plays and a volley from Gerardo Flores when the ball fell to him in the box. By contrast, there was purpose and a real sense of threat from Bolivia when they broke. Ricardo Pedriel hit the post after 13 minutes and it took an excellent tip-over from Jesus Corona to keep out a long-range effort from Jhasmany Campos.
Mexico resorted over-dramatic dives that seemed more like cries for help than attempts to win free kicks and penalties. The Paraguayan referee Enrique Caceres never really got to grips with those maneuvers or with Bolivia's timewasting. The result was a game that began intriguingly became unpleasantly tetchy and scrappy.
There are risks involved in a pressing game, of course, and in that regard Bolivia's 5-0 defeat to Argentina in its final pre-tournament friendly was probably salutary. Here the line never became counter-productively high. Only once, early in the second half as Jesus Corona was sent clear on the overlap, did Bolivia's pressing threaten to get it into trouble. Corona, though, with space ahead of him as he surged into the right side of the box, sliced his shot badly wide.
Mexico had begin with its familiar back three and a fluid midfield, but just after the hour the veteran Rafael Marquez was removed for Javier Aquino and the shape changed to 4-4-2. Perhaps Bolivia was tiring by then, but the formation seemed to offer a far greater balance and chances at last began to flow. Another substitute, Raul Jimenez, put a header just wide and then had a close range effort deflect over by a remarkable challenge from Miguel Hurtado.
As the end approached, Bolivia became increasingly nervous, and every cross represented a new agony to be endured. What for others were hit and hope speculative balls form Mexico became for its fans matters of the highest tension. Mexico, though, neither deserved a win nor really looked like getting it, and had Bolivia had more quality in the final third, it would have taken the points.
Mexico coach Miguel Herrera had vowed his side would not do what it had done four years ago when, similarly weakened ahead of the Gold Cup, it lost all three games. He has at least avoided that, but there was little here to suggest that this is a side capable of upsetting the real contenders for the title.
---