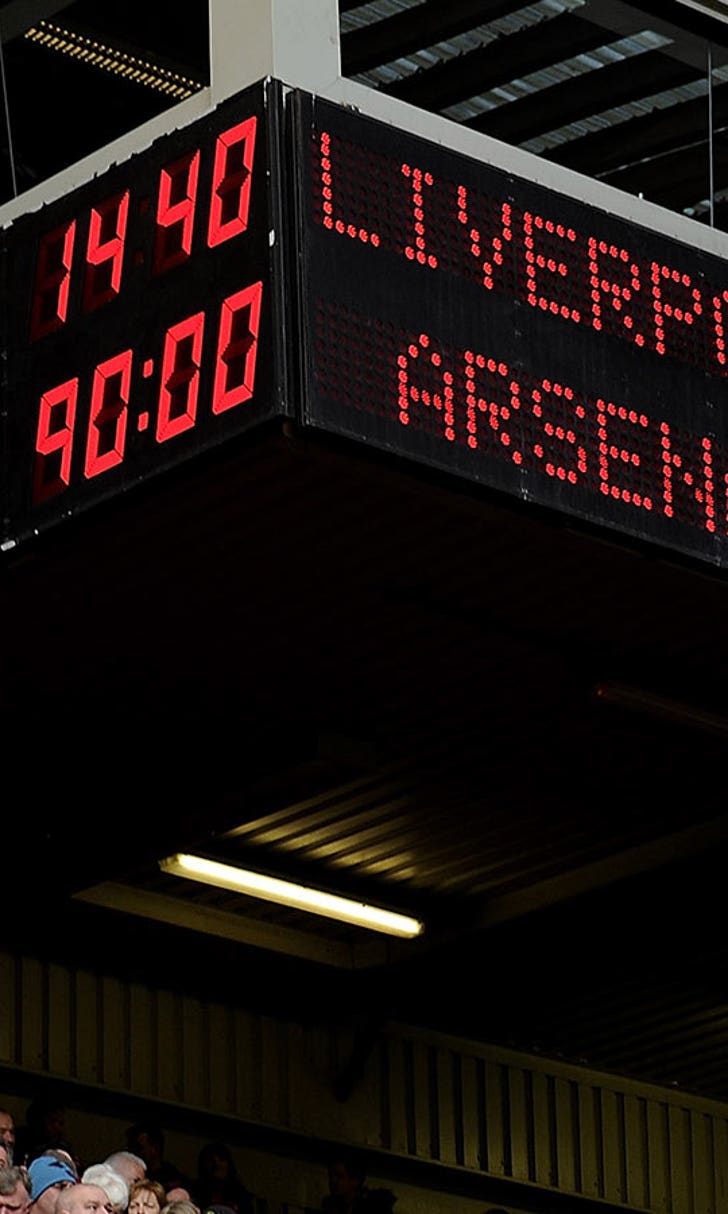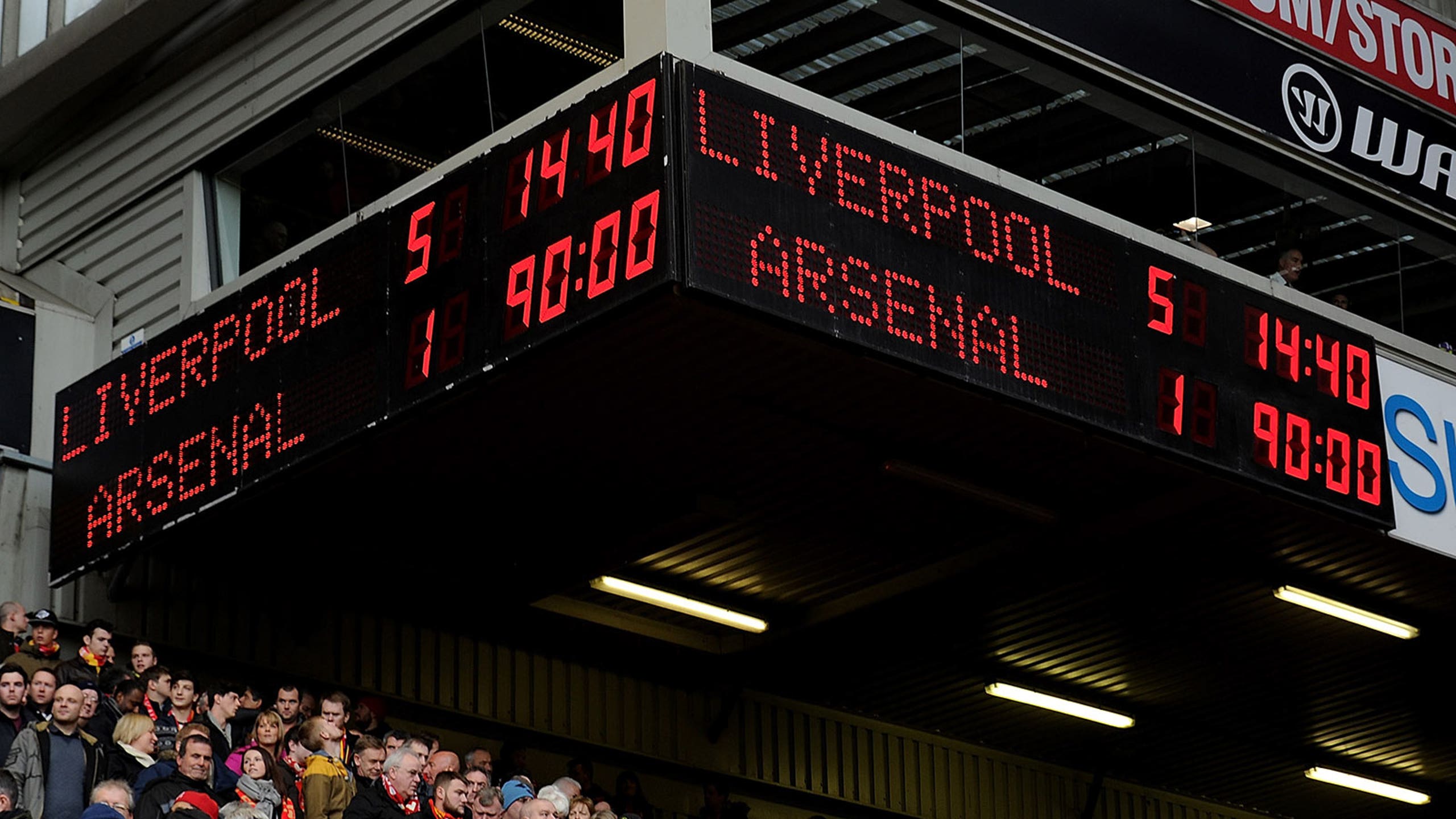 Liverpool's home clash with Arsenal looking like fight for fourth place
BY foxsports • December 19, 2014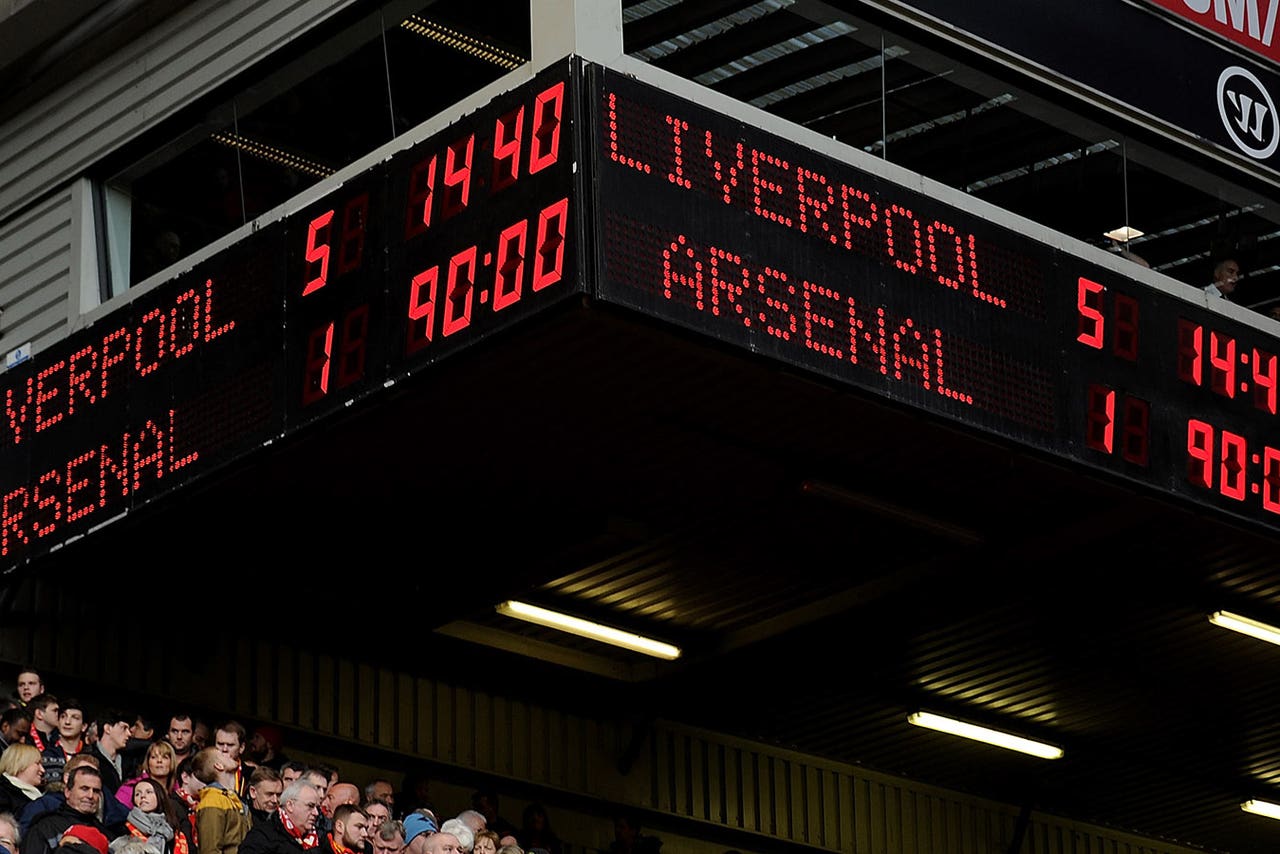 LONDON --  
It's pretty clear, with less than half of the Barclays Premier League season gone, that Chelsea, Manchester City and Manchester United are going to finish in the top three places --€" probably in that order. But who will end up fourth? That's the question to be addressed at Anfield this weekend.
We could see plainly that Liverpool were ahead of Arsenal in last season's corresponding fixture. That's about as mild as it could be put, for Brendan Rodgers' team were four goals up inside 20 minutes. Arsene Wenger's men looked as if they had taken tranquilizers. They did wake up later and it was 5-1 at the final whistle. But, as a demonstration of Arsenal's tendency to be found wanting against fellow members of what you might call the UEFA Champions League class, it could hardly have been bettered.
They simply have to improve in these games. But Liverpool also have a point to make after a start so poor as to suggest that second place to Manchester City last time around might prove the peak of the Rodgers era. The Northern Irishman might become an outstanding Liverpool manager --€" but he's still struggling to cope with various forms of adversity, despite a heartening midweek victory at promotion-chasing Bournemouth that earned his club a Capital One League Cup semifinal clash against Chelsea.
The most obvious problem is the loss of Luis Suarez to Barcelona. This, compounded by injury to Daniel Sturridge, has stemmed the near-constant flow of goals that made last season so memorable. Is Rodgers partly to blame for this? Should he have signed a better replacement for Suarez than the often maddening Mario Balotelli? And, if so, who?
There's only one player in the World Cup who was available at the end of last season and worthy of comparison with Suarez. You've got it: Alexis Sanchez. And Arsenal, with the lure of London to offer, captured him. Rested of late, he should be back to join Danny Welbeck and a fit-again Olivier Giroud in a front line that should sternly test Liverpool's defense. But at least Rodgers tried to sign the dynamic Chilean striker.
It is hardly his fault, either, that time continues its relentless march on his great but 34-year-old captain. Steven Gerrard remains an often dazzling force, but his contributions are inevitably rationed these days.
Another difference is that Rodgers, who didn't have to worry about European football last season and could field similar sides in every game, has had to cope with twin demands this time. Liverpool were knocked out of the Champions League by Basel at the end of the group stage but remain in the Europa League so cannot wholly concentrate on the domestic scene, even though there are opportunities to reward their supporters' faith in Rodgers with a trip to Wembley in one of the cups.
But relief never lasts long in the modern game. Ask Wenger, whose team won the FA Cup last season and yet, less than two weeks ago, threw his future into renewed doubt with a calamitous first 45 minutes at Stoke during which the home side scored three times, taking advantage of an almost unbelievably flimsy Arsenal rearguard much as Liverpool had done at Anfield in February.
Arsenal have rallied since (as, to give Wenger his due, they usually do), winning 4-1 against Galatasaray in Istanbul and by the same score at home to Newcastle. They must, however, keep it going at Anfield, or at least show a bit of backbone.
A few of those who did duty -- if you could call it that --€" at Anfield last time are missing. Laurent Koscielny, Mesut Ozil and Jack Wilshere are injured and Bacary Sagna has taken the well-trodden path from the Emirates to Manchester City. So, there will be a heavy responsibility on the likes of Callum Chambers, who lacks experience, and Nacho Monreal, who is hardly the most powerful and resolute defender in the Premier League.
It could be messy again. If Suarez and Sturridge had been around, it probably would be. So it will be interesting to see if Raheem Sterling, 20 now, can reprise his two-goal form at Bournemouth, where Liverpool showed signs of their old fluency.
Rodgers' side, like Wenger's, are weak at the back but seem to have benefited from a switch to 3-4-3 with Kolo Toure, once of Arsenal, slotting in alongside Martin Skrtel and Dejan Lovren. Will he risk persevering with the system against such a front three as Arsenal's? Surely not. We could be looking at plenty of goals and the outcome may be a clue towards who will get that vital fourth place, with a chance to qualify for the Champions League.
History says Arsenal. But they truly need to break a bad habit this weekend because --€" as Liverpool, with their own rich history, know better than most --€" nothing lasts forever.
---