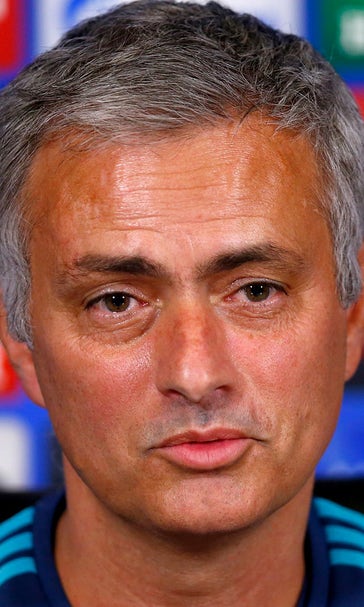 Jose Mourinho expects to see out his Chelsea contract
November 3, 2015

Jose Mourinho declined to reveal if discussions had taken place with Chelsea owner Roman Abramovich over his future, merely pointing to his lengthy contract.
The embattled Blues boss is under pressure from all angles - not least to retain his place as manager amid a miserable run of results.
Mourinho said: "I don't have to answer you if I was with the owner or not."
Asked how much time he thought he had, Mourinho, who signed a new contract until June 2019 on the eve of the season, said: "Four years. In this case, three years and seven months."
Mourinho's problems are piling up after he was given a one-match stadium ban and became the subject of a personal legal claim from former first-team doctor Eva Carneiro.
His side have lost nine of 17 games in all competitions this season ahead of Wednesday's Champions League Group G clash with Dynamo Kiev.
He was subject of the first managerial vote of confidence in Roman Abramovich's 12-year ownership on October 5, but Chelsea have one win in five games since, against a free-falling Aston Villa.
The Portuguese did not address either matter on Tuesday lunchtime.
Reports of dissent in the ranks - one player reportedly said he would prefer to lose than win for Mourinho - have been repeatedly dismissed, with Cesc Fabregas publicly denying he was the ring-leader on Tuesday morning.
Mourinho said: "Look I think it's a very sad accusation, because you are accusing a player or more than one player, I don't know, of dishonesty.
"If I accuse you of being a dishonest journalist, I think you'd be very upset and probably you'd take legal action. It's a question for the player, not for me."
Mourinho refused to discuss how Chelsea have fallen from champions in May to perilously close to the Premier League relegation zone 11 games into the new season after six losses.
"It's a combination of factors and some of them I can't, I don't want to touch them," he added.
Mourinho says he still has the support of his players and he will still back them.
"For my players I do everything. I always did and I am not going to change," Mourinho added.
Mourinho is experiencing a time which he predicted after winning his first Champions League with Porto in 2004, before his first highly-successful spell at Chelsea.
"Yes, it's new for me. That's why I am a good one (manager). If I was a bad one it would come before (now)," Mourinho said.
"Yesterday a friend sent me some quotes of my press conference after the Champions League final in May 2004. I said that one day in my career bad results will come.
"I said that in 2004 after winning the Champions League final with Porto: one day in my career the bad results will come and I will face the bad results with the same honesty and dignity that I'm facing now as European champion.
"I resisted well to the nature of my job - 11 years waiting for this.
"It took time, but came in a moment where I am stable and I am strong to face it."
---
---