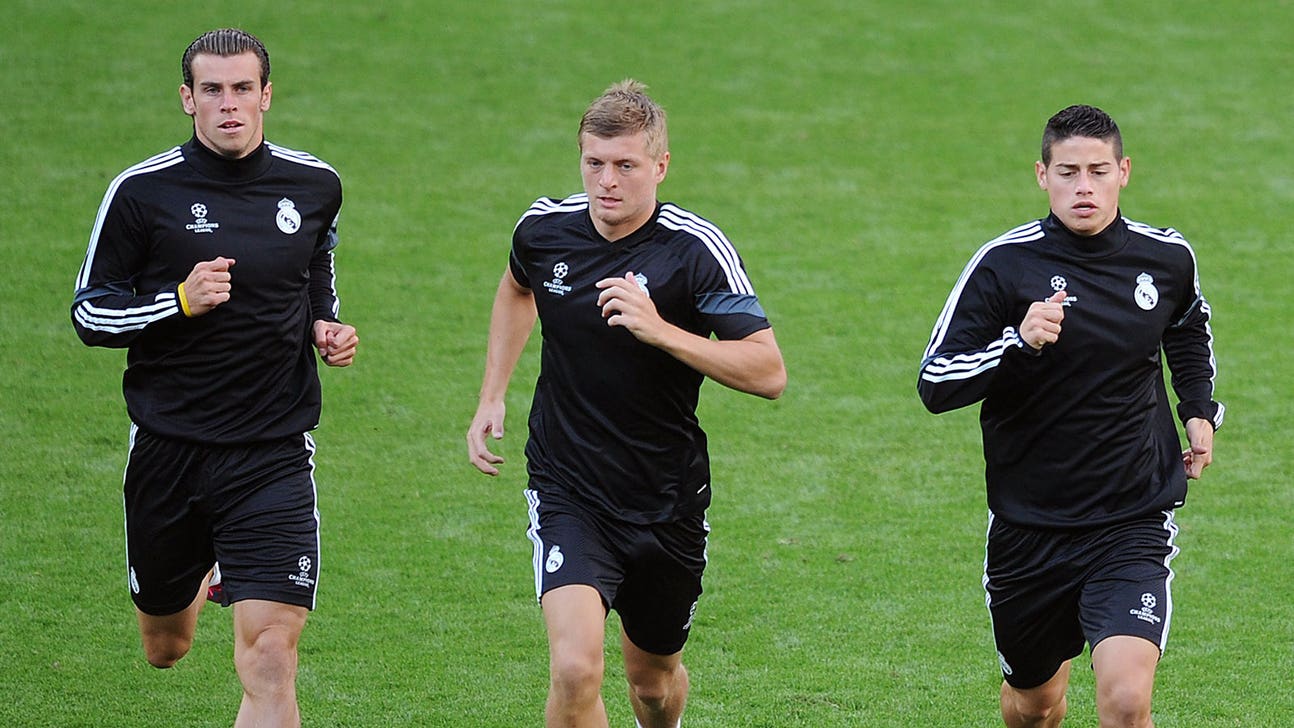 James, Kroos to make Real Madrid debuts against Sevilla
Published
Aug. 12, 2014 5:04 a.m. ET

Real Madrid boss Carlo Ancelotti is ready to unleash the full might of his enviable playing resources in today's UEFA Super Cup clash against La Liga rivals Sevilla.
World Cup stars James Rodriguez and Toni Kroos, signed from Monaco and Bayern Munich this summer, are set to feature in Ancelotti's starting line-up at Cardiff City Stadium.
They will be paraded alongside the likes of Wales star Gareth Bale and goal machine Cristiano Ronaldo as Real target more European silverware just under a fortnight before their domestic campaign begins.
"Kroos has done well in the last five days, and I think he is ready to face this match," Ancelotti said, during his pre-match press conference in Cardiff. "He is up to the task, and I think he will play tomorrow.
"Rodriguez is a fantastic player. He ran a lot in the World Cup, and he can help the team to be better. He will start.
"It's true we have had players who have come late to the team, with not a lot of training, but we are pleased with the state of preparation.
"Cristiano is well, he has no problem. I feel he's in good physical condition and has done everything to participate in this game. He is facing this game in good spirit.
"It's an honour for me to be the manager of Real Madrid. I have a fantastic squad, and the club has worked hard this summer to have a better squad. The squad has plenty of confidence to have a good season."
Despite 32-time Spanish champions Real going into the game, which will be played in front of a 30,000-plus capacity crowd, as clear favourites, Ancelotti is taking nothing for granted.
"We are facing a hard team who beat us last season," he added.
"We have to put up a fight, and if we do that it will be a very positive outcome for Real Madrid for the whole season.
"This is a final of the Super Cup, the start of the season, and we need to start with a win, but the real start of the season will be when we start La Liga and the Champions League."
And if Real's newcomers needed reminding of what it means to wear one of world soccer's most famous shirts, then goalkeeper Iker Casillas knows the script off by heart.
"You need to carry the pressure of the jersey," the Spain international said.
"In Madrid, every year you have the obligation of going to the fountain to celebrate with fans what happened that year. If you have a season without a title, it's called a failure."
---