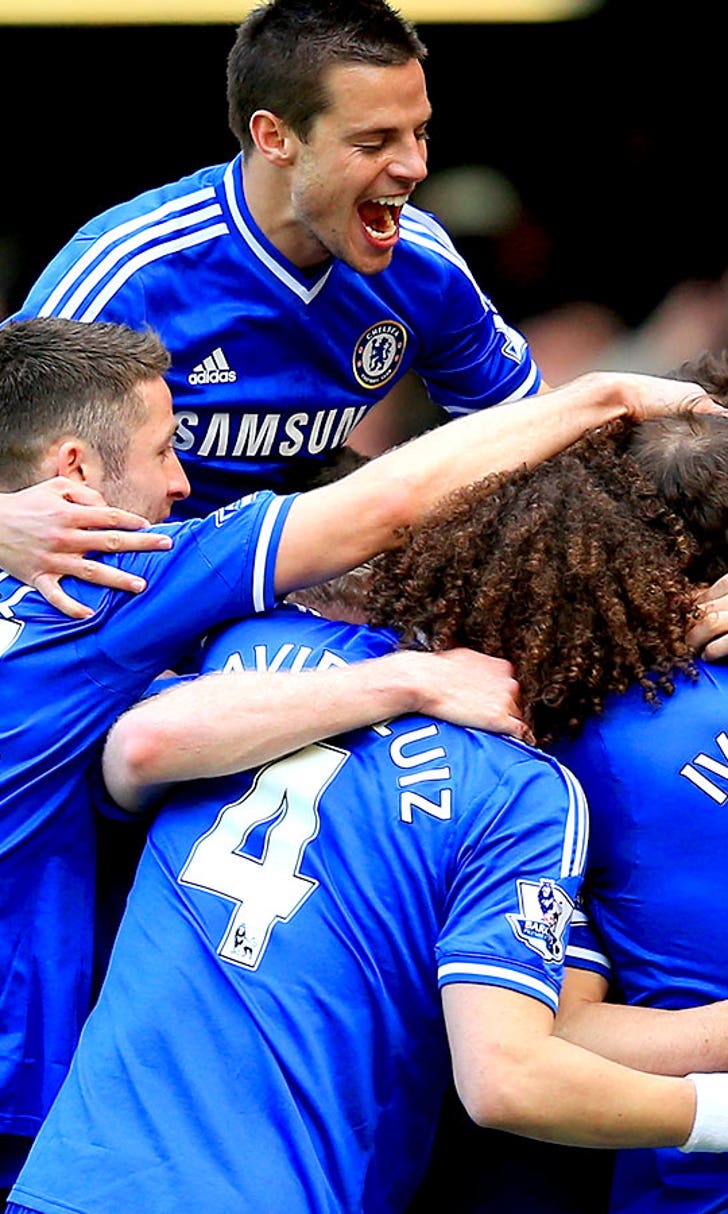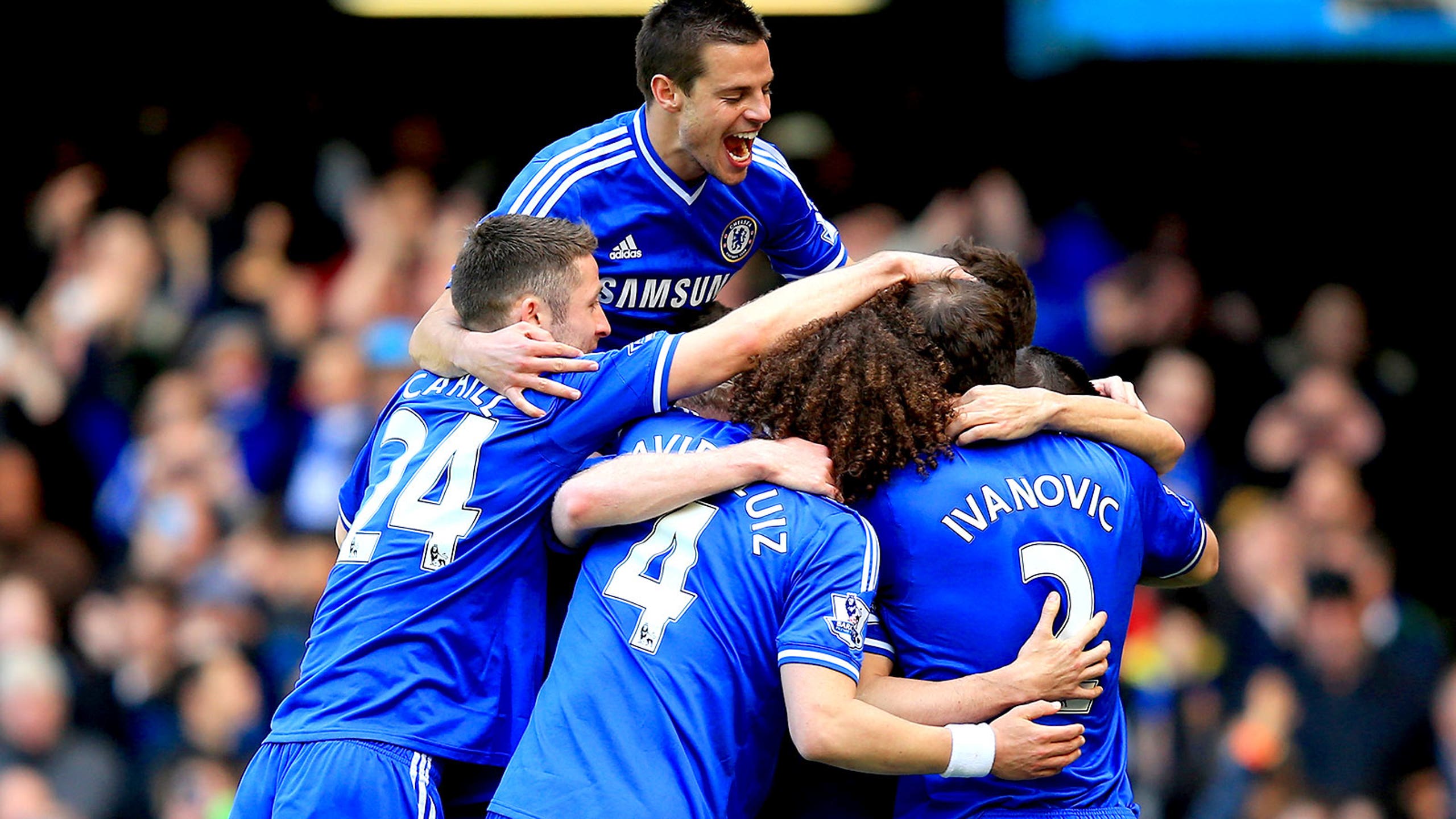 Gibbs mistakenly sent off as Gunners are crushed by Chelsea
BY Jamie Trecker • March 22, 2014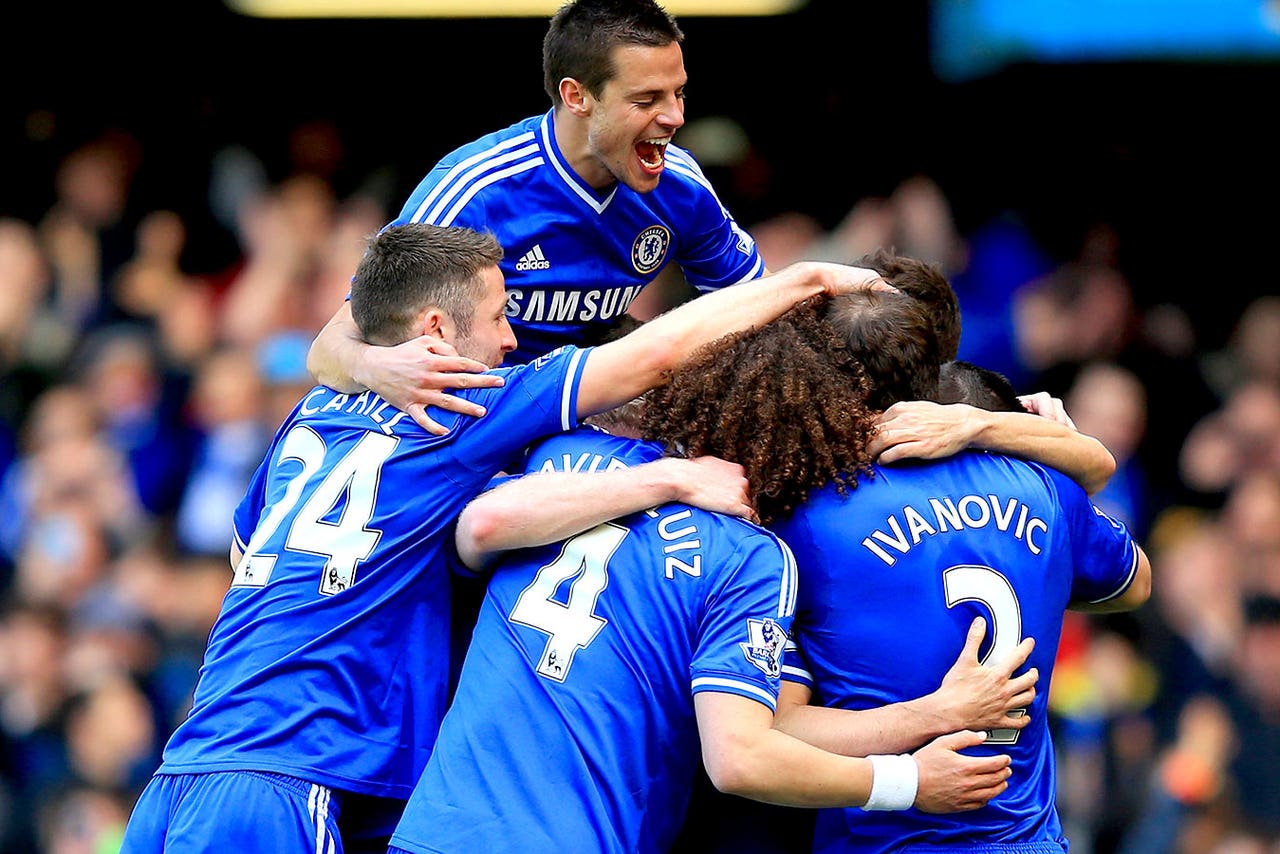 Arsenal'€™s title dreams were effectively ended on Saturday at Stamford Bridge as Jose Mourinho'€™s Chelsea spoiled Arsene Wenger'€™s 1000th game in charge of the Gunners with a rampaging 6-0 win.  It was utter humiliation for an Arsenal side that once had title pretensions -- and a big statement of intent from a Chelsea side that are now the favorites to lift the crown.
The Gunners were out of the game from the whistle as Chelsea ripped Arsenal'€™s midfield apart, scoring thrice inside the first twenty minutes and seeing Kieran Gibbs sent to an early bath. With the win, Chelsea opened up a seven-point lead on their arch-rivals atop the table and put themselves in pole position to win their fifth top-flight title.
It was a laughably poor performance from an Arsenal side that had enjoyed much of the season atop the table. Once again this season, Arsenal spurned a chance to make a statement -- and once again, were humiliated by a major rival. Arsenal have been crushed by Chelsea, Liverpool and Manchester City this season, conceding a combined seventeen goals in those three games, hardly the stuff of a championship side. Wenger has also never won against sides managed by the so-called '€œSpecial One'€ and on this performance, doesn'€™t have a clue where to start.
Arsenal were carved open in the first four minutes with Samuel Eto'€™o opening the scoring when he latched onto a loose ball in midfield conceded by Alex Oxlade-Chamberlain and ran the break with Eden Hazard. Eto'€™o played the one-two, put the luckless Oxlade-Chamberlain on his seat and fired past Wojciech Szczesny. It was the perfect start for Chelsea and it signaled that despite the loss of Willian and Ramires to suspension after their red cards last week at Aston Villa that the Pensioners had more than enough guile to handle their timid neighbors.
Arsenal's nightmare deepened three minutes later when Andre Schurrle intercepted a square ball in the middle of the park, raced forward and fired through Laurent Koscielny'€™s legs to make it 2-0. It was a superb finish but Schurrle was under no pressure at all as Arsenal's midfield seemed to evaporate.
And then, in a controversial moment, Chelsea put the Gunners to the sword from the spot. Hazard and Fernando Torres -- on for Eto'€™o after only ten minutes after the striker pulled up with an apparent hamstring problem -- sliced through Arsenal'€™s back line after Santi Cazorla coughed it up on the halfway line. Torres then laid it off for Hazard, and he saw his shot deflected just wide of the upright by Oxlade-Chamberlain'€™s outstretched hand, on the line.
It was a clear penalty and a clear sending off -€" but referee Andre Marriner will have to answer to his bosses after he mistakenly sent off Kieran Gibbs. Despite Oxlade-Chamberlain'€™s protests to the contrary -€" he could be seen telling Marriner: "€œIt was me, it was me"€ -€" Gibbs marched down the tunnel, Hazard stepped to the spot, and the ball was in the back of the net moments later. (Marriner admitted his mistake at half-time to Sky Sports, saying it was he, not his linesman, who made the error.) Gibbs is likely to have his one-game suspension overturned on review; Marriner is likely to be stood down for next weekend'€™s matches.
Oscar added the fourth just before half-time on a play right off the schoolyard. Petr Cech kicked the ball downfield, Torres collected and ran right at the goal, squaring from the top of the box for Oscar. He chipped Szczesny, pinging the ball in off the crossbar and over the line. It was a delicious finish, but far too easy -€" in other words, par for the course on the day. Oscar would add his second just after the hour mark, again collecting a loose ball, again pounding it through Szczesny'€™s hands. Again, it was a gift to a player that hardly needs the assistance. Sub Mohamed Salah would add the sixth when he easily beat what Arsenal supposed was an offside trap. Of course, by the time, the game had been long and well decided.
Arsenal'€™s tactics -€" sitting the calming Mathieu Flamini, allowing Chelsea acres of space in midfield -€" were abject on the day and they and their manager have no one to blame but themselves. This loss deepened the sense that Wenger no longer knows how to win big games and must make Arsenal fans fear that this will again be a season without any silverware in the cupboard.
Mourinho, on the other hand, burnished his credentials as a man who knows how to get results when he has to: they shipped ten past both Spurs and Arsenal in their last two home games and have beat Manchester City twice this season. Even so, Chelsea are hardly a balanced side and Eto'€™o injury today will cause worry as Torres, for all his past glory, still looks a man who lacks confidence in his own abilities.
Yet even if Eto'o is sidelined for an extended period, things only get easier from here for the Blues. Aside from their very winnable Champions League tie against Paris Saint-Germain, Chelsea face just one team of note in their league run in: a critical fixture against Liverpool at Anfield on April 27.
And Arsenal? They have a lot of thinking to do. This is their ninth season without silverware, and they face many questions over their training, their preparation and their mental toughness. On the evidence, they'€™re not close to figuring out the answers. 
---