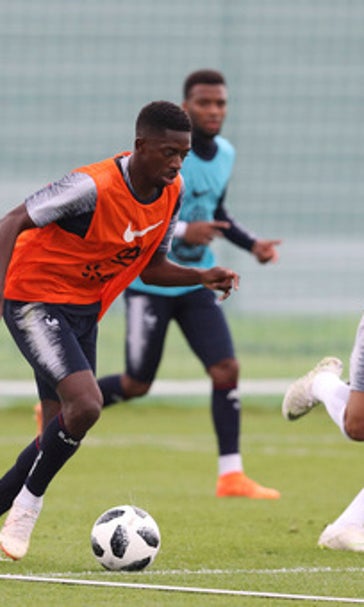 Fear of failure to motivate France's stars against Australia
June 14, 2018
KAZAN, Russia (AP) With a group of players worth more than a billion dollars, anything other than a win against Australia will be deemed as a failure for France in its World Cup opener.
The amount of individual talent within the France squad is impressive, including players such as Paul Pogba, Ousmane Dembele, Kylian Mbappe, Nabil Fekir, and Antoine Griezmann.
Having such star power assembled in Russia would be a dream for most coaches. For Didier Deschamps, it looks more like a headache.
France's identity of play remains unclear as Les Bleus prepare to open Group C against Australia in Kazan. Many questions remain about the team's capacity to play as a unit during the tournament, 20 years after a French team led by Zinedine Zidane was crowned World Cup champion.
''We've got a great group, with great individual players,'' midfielder Blaise Matuidi said. ''But we will need to use all these qualities for the benefit of the group. Having the best talents is not enough to go all the way. We will need soldiers, fighters.''
In 1998, France based its success on solid defending. In 2006, when Les Bleus finished runners-up to Italy in Berlin, the individual brilliance of Zidane was key, but that team is widely remembered for the relentless press it imposed on its rivals during the knockout phase.
This squad has not developed the same qualities since reaching the final of the European Championship two years ago. Despite all their talent, Les Bleus have struggled for consistency and often appeared vulnerable in World Cup qualifying. They have no reason to be overconfident.
Deschamps has tried several tactical options in the buildup to the tournament, including a diamond midfield 4-4-2 system with Olivier Giroud and Mbappe up front, and a 4-3-3 with Mbappe, Griezmann and Ousmane Dembele deployed in attack.
After successive wins against Ireland and Italy, France was held to a 1-1 draw by a mediocre United States team in its last warmup game last week. During that game, France missed several chances, defended poorly and clearly lacked explosiveness and speed.
Australia prepared for the tournament with two wins in its last friendlies but is not expected to get plenty of chances against France. The Socceroos will focus on defending well to avoid a repeat of their 4-0 loss to Germany in their opening game in South Africa eight years ago.
This is the approach advocated by their coach Bert van Marwijk, who led Netherlands to the 2010 World Cup final. He is on a short-term contract to replace of Ange Postecoglou, who quit after guiding the Australians through Asian qualifying.
The Australians aren't promising to play champagne football, but are focusing on an efficient game that could help it challenge France and avoid a morale-crushing heavy loss.
CAHILL BACK ON BIGGEST STAGE
Australia's all-time leading scorer, Tim Cahill has an opportunity to equal soccer legend Pele in Russia.
To do that, the 38-year-old forward needs to score for the fourth consecutive World Cup. Only Pele, Uwe Seeler and Miroslav Klose have achieved the feat.
If he gets a start, he says, ''anything can happen.''
''When you're playing in front of a full house, you only need one split second to change a game and also change history.''
CHANGES
With Giroud still recovering from the knock he received to his head against the United States, Deschamps is expected to start with Dembele, Mbappe and Griezmann up front. The technical relationship between Mbappe and Griezmann is in full bloom. Against the Americans, they created all France's dangerous moves and played several clever one-two combinations. Griezmann's passing skills and direct style combined with Mbappe's dribbling qualities and frenetic pace should make an excellent strike duo in Russia. In defense, regular starter Djibril Sidibe will probably miss the Australia match because of a knee problem.
LLORIS THE WEAK LINK?
Among France's various concerns, the most serious is possibly keeper Hugo Lloris' worrying recent display. After making mistakes against Sweden, Colombia and Italy, Lloris was at fault against the United States. Deschamps has stopped short of criticizing Lloris, who remains ahead of the error-prone Steve Mandanda and the inexperienced Alphonse Areola in the goalkeeper pecking order.
TIME TO DELIVER FOR POGBA
France lacks a true leader on the pitch capable of galvanizing the team in difficult moments. Pogba says he wants to be that man, but the Manchester United star will need to be more influential to assume a leadership in Russia.
---
---