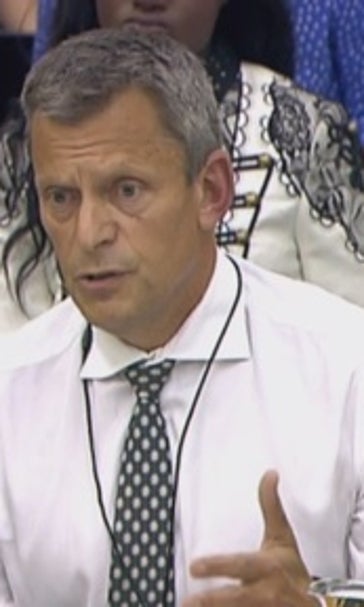 English FA leadership undermined by handling of racism case
October 19, 2017

LONDON (AP) Claims of institutional racism dismissed as ''fluff'' by the chairman. A player believing she was being blackmailed into silence. And a stench engulfing the soccer organization that so often assumes the moral high ground when preaching to FIFA.
The English Football Association is in turmoil again, and it's a crisis of its own making.
Rather than a diligent attempt to discover if England women's team coach Mark Sampson did make a racially offensive joke to striker Eni Aluko, the FA was accused of engineering a cover-up when the leadership faced a parliamentary committee.
Aluko, capped 102 times for England and a qualified lawyer, spent two years trying to convince the FA to believe Sampson made offensive comments in 2014 about whether her relatives coming from Nigeria for a game were infected with Ebola.
Aluko was brushed off, and ultimately paid off by an FA appearing to hush the episode under the Wembley Stadium carpet. Even when a settlement totaling 80,000 pounds ($105,000) was agreed to halt her grievance - ostensibly so England faced no distractions at the Women's European Championship in July - Aluko felt the wrath of FA.
After Aluko's case emerged in public in August, and the FA's handling of the saga unraveled, the Chelsea player tweeted that the organization's policy was ''ignore, deny, endorse.''
The FA's response emerged when Aluko faced members of the House of Commons at a committee on Wednesday. The second tranche of the financial settlement would only be sent to Aluko if she publicly stated that the FA was not institutionally racist. That conduct was, according to Aluko, ''bordering on blackmail.''
Not so, according to FA chief executive Martin Glenn, who followed Aluko in testifying at parliament with the player still in the Grimond Room behind her.
Yet the FA repeatedly undermined its own case, and at times its credibility in the four-hour hearing.
It began with an element of contrition with the publication of a statement disclosing a barrister had finally concluded that Sampson did direct racially offensive jokes at Aluko and teammate Drew Spence on a separate occasion in 2015. There was even a public apology to the players.
But once the inquisition by legislators began, the FA's stance shifted. The executive team went on the attack - against the questions and others within English football - while repeatedly praising their own work and sacrifices in an attempt to deflect the blame and shift the session onto unrelated subjects.
Glenn was undermined when he distanced himself from comments in a newspaper interview last month that barrister Katharine Newton was chosen to conduct the FA investigation because she was black - an appointment that would have been illegal under discrimination laws.
''It's not a pack of lies but it's an embellishment,'' Glenn said.
It wasn't the wisest move for FA chairman Greg Clarke to place his fingers in his ears at one point to demonstrate his need to avoid being party to some of Aluko's complaints.
Nor should Clarke have called accusations of institutionalized racism and bullying ''fluff'' - a remark the chastened chairman quickly withdrew when its offensive nature was highlighted. Committee member Jo Stevens, a member of the opposition Labour Party, called it ''disgraceful'' after having a day to deflect on Clarke's dismissive tone.
And yet while legislators like Stevens urged Clarke to ''consider his position'' there were no outright calls for resignations or firings from the committee members or any significant figures across football on Thursday.
There was a tame response, too, from the government.
''I hope the FA learns lessons from this whole sorry saga,'' sports minister Tracey Crouch said, ''to ensure that all in the sport and the wider public have faith in their processes and procedures.''
The FA Board still appears to retain the faith in Clarke and Glenn, who are trying to weather the storm with the organization focused on the men's World Cup in Russia in less than eight months.
But trouble looms on the horizon, particularly as Sampson explores a case of wrongful dismissal against the FA. The coach who led England to the semifinals of the 2015 World Cup and Euro 2017 was ultimately removed from his post last month over inappropriate conduct with players in a previous job before being hired by the FA in 2013.
Even that case was handled shoddily by the FA, with Sampson cleared to remain in his post in 2015 after the allegations were initially removed and only dismissed based on a re-examination of evidence in the midst of the growing flare-up over Aluko's complaints.
In February, a vote of no confidence in the FA was passed in the House of Commons, albeit with only a handful of members in attendance. That vote followed criticism of the FA's decision-making functions by several former senior executives, including ex-chairman David Bernstein.
''This is an accident that's been waiting to happen,'' Bernstein reflected Thursday on the Sampson case. ''The organization is still institutionally lost in the past.''
---
Rob Harris is at www.twitter.com/RobHarris and www.facebook.com/RobHarrisReports
---
---