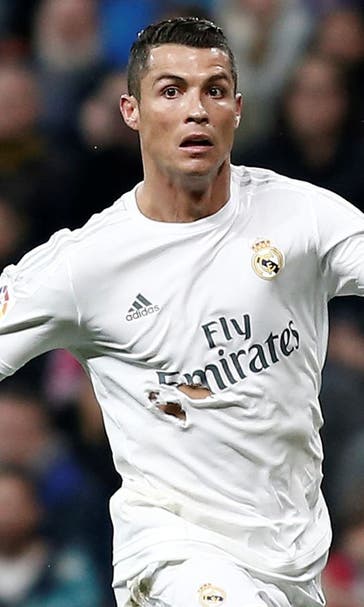 Cristiano Ronaldo back from injury, in starting lineup for Real Madrid vs. Manchester City
May 4, 2016

Cristiano Ronaldo is in Real Madrid's starting lineup for the second leg of their UEFA Champions League semifinal against Manchester City (2:45 p.m. ET, FS1). The superstar is apparently recovered enough from his thigh injury to give it a go, and that will be a massive boost to a Real Madrid team that needs a win after drawing the first leg, 0-0, in England.
There was real doubt over whether Ronaldo would play Wednesday. Real Madrid manager Zinedine Zidane said that Ronaldo was 100 percent Tuesday, having gone through a couple days of training, but Zidane also said the same about Ronaldo prior to last week's first leg and the forward didn't play. After Zidane led people astray last week, the only confirmation anyone would take of Ronaldo's health and availability for this week was Ronaldo's presence, or absence, from the starting lineup.
With Ronaldo in the team, Real Madrid should present Manchester City with some real problems. The Citizens struggle to defend in transition and Ronaldo is a menace on the counterattack. Having him fit is also especially important for this match because Karim Benzema is out with an injury.
Real Madrid struggled without Ronaldo in the first leg. They had the two best chances of the match, but they still didn't create much in the dour affair. With Ronaldo back in the team, the Merengues will have the focal point of their attack and look to be pretty clear favorites to book their spot in the Champions League final.
Ronaldo has 16 goals in this season's Champions League, well ahead of second place Robert Lewandowski, who has nine goals. He is chasing the all-time record for Champions League goals in a season of 17, which he set two years ago en route to Real Madrid's record 10th European title.
MORE FROM FOX SOCCER
---
---