Copa America Centenario could catapult Argentina's Paulo Dybala into superstardom
May 6, 2016

Paulo Dybala is a household name in Italy, but he remains a relative unknown to most of the world. That could change at this year's Copa America Centenario. There, alongside fellow Argentine Lionel Messi, Dybala looks set to make the jump to bona fide global star.
Dybala arrived on Italian shores at the tender age of 18, signed with Serie A side Palermo. The starlet had scored 17 goals for hometown club Instituto de Cordoba, but the leap to Europe was a brand new test. It took three years for him to find his feet, but when he did in year three, he poured in 13 goals and added a further 10 assists.
The Argentine joined Juventus for €32 million (plus €8 million in add-ons) last summer. Naturally, expectations were high and manager Massimiliano Allegri tried to slowly introduce his burgeoning prodigy to the Juve first team so as not to overwhelm him. But he found out that it wasn't necessary.
Dybala hit the ground running, scoring a goal just 12 minutes into his debut in the Italian Supercoppa. He then settled into the team as a regular starter and quickly began to dazzle Serie A. He scored some spectacular goals and even proved to be Juventus' miracle man, helping them dig out of an early hole in the league to as they marched to their 5th successive Scudetto.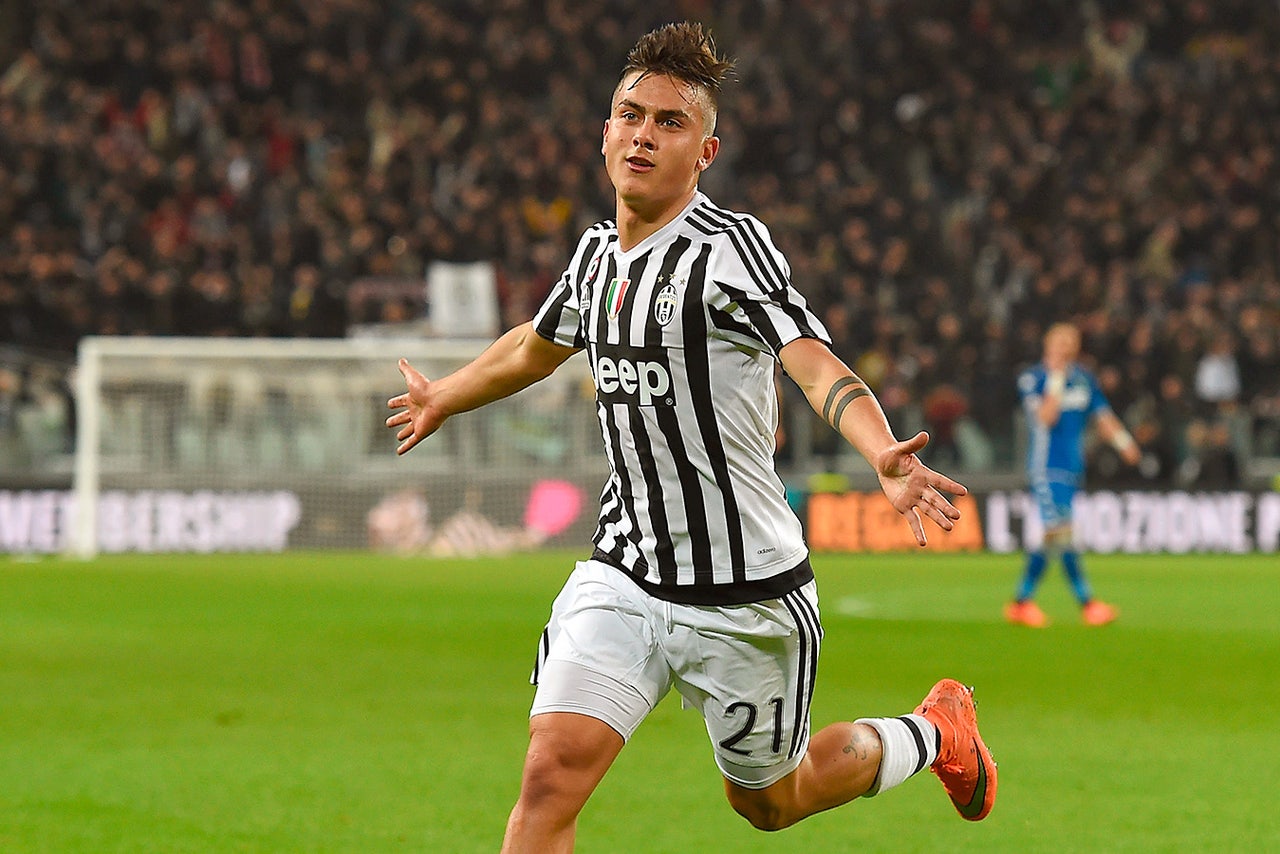 Even the Champions League didn't faze him. He had some struggles in European competition, but "La Joya" was able to get off the mark and score his first goal in the first leg against Bayern Munich, proving to be one of Juventus' best players in the tie.
His debut season at Juventus is now 43 matches old and the 22-year-old has notched 20 goals across all competitions, adding a further 8 assists to his tally.
Palermo president Maurizio Zamparini previous compared Dybala to both Lionel Messi and Sergio Aguero. While undoubtedly massive praise and maybe even unfair at times, the diminutive attacker does share some similarities with Argentina's star men. Standing no more than 5 feet 8 inches tall, Dybala's low center of gravity, strength on the ball and mesmerizing close control makes it difficult not to compare him to his senior teammates. Boasting a delicate paintbrush of a left foot with a propensity for the spectacular, Zamparini's comments on his former protege appear less the ravings of a madman with each game Dybala turns out.
Despite his undeniable potential, Dybala is far from the finished product. Allegri stated the need for Dybala to improve physically, the young striker has reportedly added six pounds of muscle since his arrival in Turin, further aiding his development and ability to stand up to the physical rigors of Serie A and Champions League football, but he could do with a bit more strength.
And then there is the adjustment to being a more well-rounded player, capable of playing multiple roles. When he moved to Juventus, he was asked to play a different role and the change was difficult at first. 
"I had a completely different role at Palermo," Dybala said. "Now I sometimes play as a second striker or as a trequartista. I enjoy having more freedom on the pitch but if the coach needs me to be more disciplined [and track back] then I am also able to do it."
While Dybala won't be a focal point for Argentina at Copa America Centenario, his energy, direct style and understanding of how to find key pockets of space in opposition defenses will surely make him a key man off the bench for the Albicelesti this summer. And given his sparkling form for Juventus, his performances as a substitute may even see him push more established senior members such as Angel Di Maria or Gonzalo Higuain for a starting spot as the tournament progresses.
Whether off the bench or in a starting role, Dybala has the chance to make a major impact in this summer's Copa America. Alongside some of the world's best players in a star-studded Argentina side, if he can make his mark in this tournament, the young Argentine will find himself in the spotlight. 
Seemingly growing in stature and maturity with each match, Paulo Dybala has quickly become Serie A's biggest rising star. Now it's time to say hello to the world.
MORE FROM FOX SOCCER
---
---