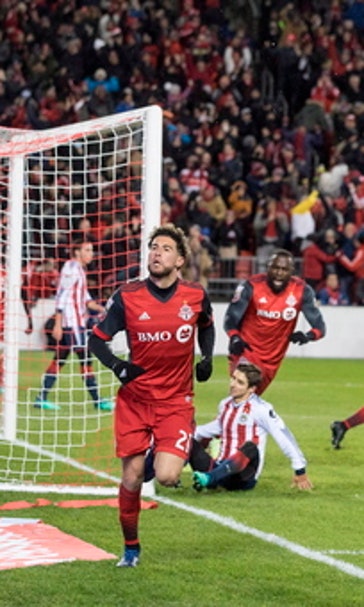 Chivas wins 2-1 at Toronto in 1st leg of CONCACAF final
April 18, 2018
TORONTO (AP) Alan Pulido's free kick in the 72nd minute was misjudged by goalkeeper Alex Bono and went in for a go-ahead goal that gave Chivas Guadalajara a 2-1 win over Toronto on Tuesday night in the first leg of the Champions League final.
Rodolfo Pizarro scored off a cross from Isaac Brizula just 70 seconds in, but Jonathan Osorio tied the score in the 19th minute.
The second leg of the total-goals series is April 25 at Chivas, and the winner represents North and Central America and the Caribbean at the Club World Cup in December at the United Arab Emirates.
''We gave away two goals that we shouldn't give away,'' Toronto coach Greg Vanney said. ''Now we find ourselves in a little bit of a hole as we go to Mexico.''
Mexican clubs have won the last 12 CONCACAF titles. No Major League Soccer team has won since the Los Angeles Galaxy in 2000.
With the temperature just above freezing, the game drew a near-sellout crowd of 29,925.
Bono got caught leaning the wrong way as Pulido's free kick sailed over him and curled into the top corner.
''I made a mistake that led to it,'' Bono said. ''That's on me. I let my guys down in that way. For me, it's just coming back from that and being there for the guys and giving us the best opportunity to go down there and get a result.''
---
---