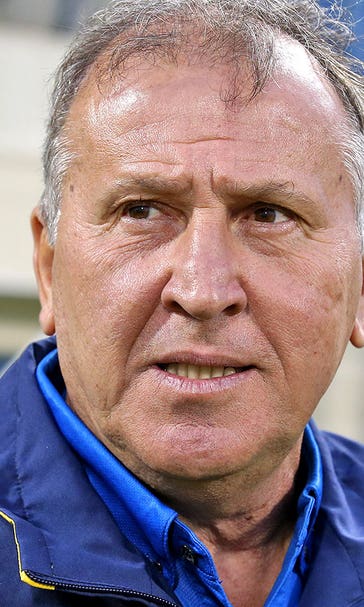 Brazil legend Zico calls for the removal of Luiz Felipe Scolari
BY foxsports • July 11, 2014
Brazil great Zico says coach Luiz Felipe Scolari should be sacked.
Brazil were humiliated 7-1 by Germany in Tuesday's semi-final and Zico says Saturday's third-place play-off with the Netherlands should be Scolari's last in charge.
Zico played in three World Cups and was a star man in the 1982 team, widely considered the finest not to win the competition and the only rival to Brazil's 1970 team as the best of all time.
He believes Scolari's tactics – or lack of them – mean he should now make way for a new man, with Muricy Ramalho the coach he would choose to take over.
"We should thank him (Scolari) and thank (assistant coach Carlos Alberto) Parriera too. But we need to choose new people with new thoughts about how to play the Brazilian way," said Zico.
Zico said Sao Paulo coach Ramalho would be an ideal candidate to lead Brazil.
"He is one the greatest champions of the Brazilian league, which is one of the hardest in the world to win," Zico said.
Ramalho was reportedly offered the national job in 2010, but amid some confusion with his then-club Fluminense, he turned the position down.
"We had no alternatives," Zico said of Brazil's tactics.
"They stayed focused entirely on the success of the 2013 Confederations Cup. They kept the same formation and the same team. Everyone had a year to work out exactly how to play against Brazil."
He admits Scolari was not blessed with the same calibre of talent that he himself played with.
"If you look at the starting players in the last year, none of them were key players at their clubs," he said.
"Look at Neymar, the best player in Brazil, but how many times was he on the bench for Barcelona last season? Fred, Marcelo, Hulk all played inconsistently. Even David Luiz and Oscar, you can't say they were first choices at Chelsea."
Zico said Brazil's problems run deeper than just a current dearth of talent, blaming poor administration, a lack of structure and a vacuum of leadership for the loss of the traditional "Brazilian style."
"Pep Guardiola has always said his style, his approach was inspired by the Brazilian national team, but now we don't have that style," he said. "Johan Cruyff has said we are not playing true Brazilian football.
"(Jose) Mourinho has said it doesn't seem like we know how to use our talent to play true football. I don't know why we don't listen to these great minds of football."
Keeping the country's brightest talent playing in the Brazilian league is a critical first step to recovery of Brazilian football, Zico said.
"The CBF (Brazilian football federation) needs to invite the heads of all the clubs in Brazil to a private meeting and ask them what they need to make sure the big names, the best players, play every Sunday in Brazil instead of in Europe."
---