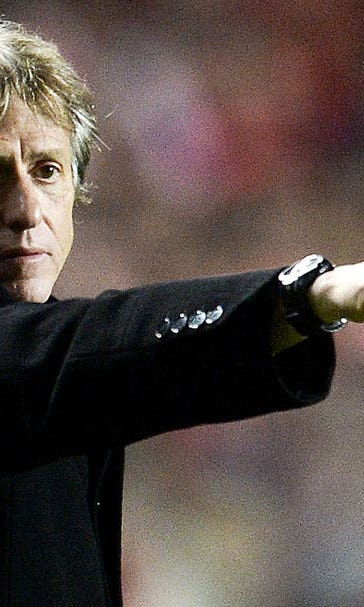 Benfica hoping to shake Europa League curse against Sevilla
BY Jonathan Wilson • May 13, 2014
TURIN, ITALY -- 
In 1962, Benfica won the European Cup for the second time in succession. It had a bold and exciting team, the youthful Eusebio having joined Mario Coluna in a thrilling forward line. In Bela Guttmann they had probably the sharpest managerial mind in the world at the time. But he was also an awkward and irascible man, irritating and irritated in equal measure. He asked the club directors if they might be able to give him a bonus. They told him there was nothing in his contract. He resigned on the spot and cursed the club, insisting it wouldn't win another European trophy for 100 years. 52 years and seven finals on, Guttmann's words hold true.
Last year's defeat was particularly painful. Benfica had gone unbeaten through its league campaign until the penultimate game of the season, away to Porto. It lost 2-1 to a last-minute goal from Kelvin, surrendered the lead in the championship as a result and, the following weekend, saw Porto clinch the title with victory at Pacos Fereira as it beat Moreirense.
On the Wednesday in between, Benfica lost to Chelsea in the Europa League final, to a last-minute goal from Branislav Ivanovic. Emotionally shattered, Benfica went on to take the lead in the Portuguese Cup final against Vitoria Guimaraes, only to concede twice in the final 11 minutes. Three competitions lost to late goals in the space of a fortnight.
Jesus considered quitting before resolving to stay on. If anything he has become even more wild-haired and wild-eyed this season, as was seen in the quarterfinal tie against Tottenham when, having clashed with the Spurs boss Tim Sherwood after trespassing in his technical area, he celebrated Benfica's third goal by waving three fingers in his face. But he and his team seem to have drawn strength from last season. They won the league in some style.
On Sunday it will face Rio Ave in the Portuguese Cup final. A year on from the season of second places, with the League Cup already secured, Benfica could complete a quadruple. "We are motivated by the triumphs and titles we have already achieved," Jesus said. "We are making history, but we still have two titles to get and hopefully we'll get them. The players and I want to have titles on our resume."
They are motivated also by a desire to honor Eusebio and Coluna, who died in January and February this year. So seriously did Eusebio take the curse that when Benfica faced AC Milan in the 1990 European Cup final in Vienna, he went on the morning of the final to pray at Guttmann's tomb. Jesus, though, is determined not to let such matters sidetrack him.
"I'm not superstitious," Jesus said. "I believe in people's value and the quality of their work. I believe that the best team does not always win in a final and I also believe that we can be better than Sevilla and win this match. It's the second time we've been in one of these finals. We have a better idea of how to deal with the anxiety."
It will also have to deal without Enzo Perez, the dynamic Argentinian midfielder, Lazar Markovic, the exciting Serbian forward, both suspended after being sent off (Markovic from the bench having been substituted) in the semi-final second leg, when it held Juventus to a goalless draw that secured a 2-1 aggregate win. Eduardo Salvio, the Argentinian forward, is also suspended after collecting a third booking of the competition in that game.
Sevilla's passage to the final has also been traumatic, albeit in a different way. 2-0 up after the first leg of the semifinal, it looked to be on its way out as Valencia scored three times at the Mestalla, only to find a late away goal that took it through. That followed remarkable comebacks against Real Betis and Porto.
"That shows the spirit we have and that we always give our all," said the Croatian midfielder Ivan Rakitic, who has had a superb season. "When Stephane Mbia scored, I think he headed it harder than some players would have shot. It's impressive how everything turned out and it makes it even more special. It was an unforgettable moment, also the celebrations.
"You are almost suffering for 90 minutes and then comes this moment and you want to hug everyone. You want to grab everyone, you want to grab the referee and kiss him."
---