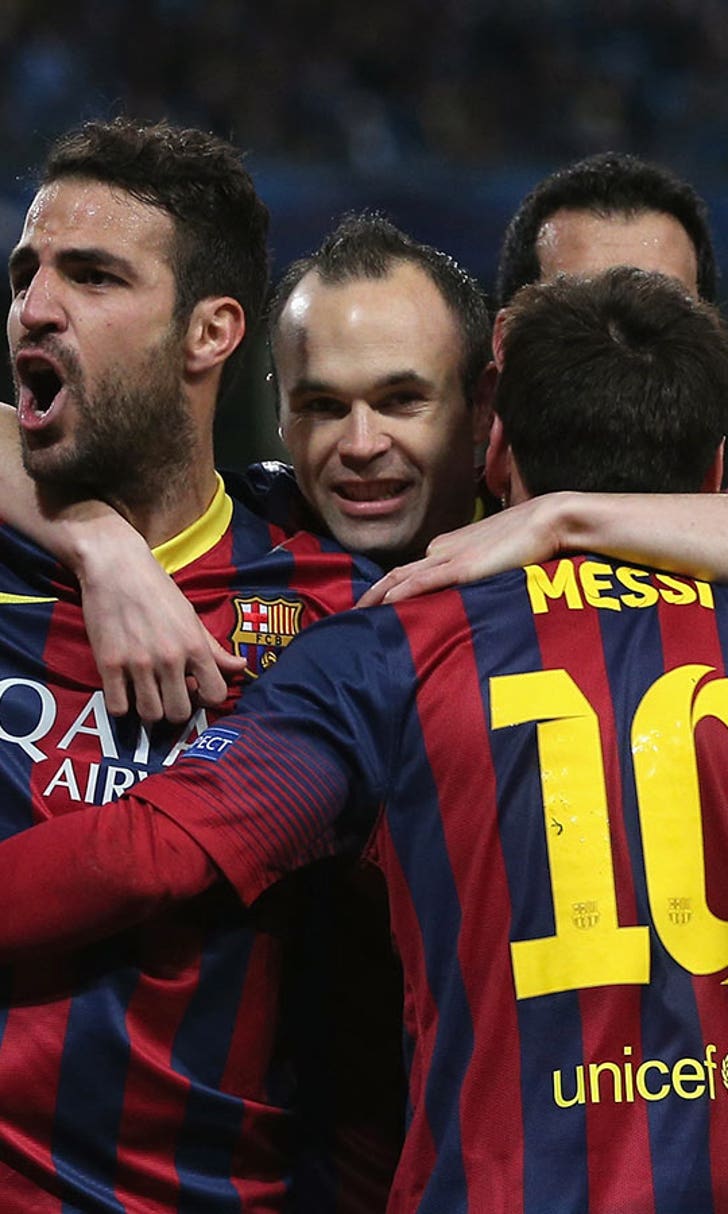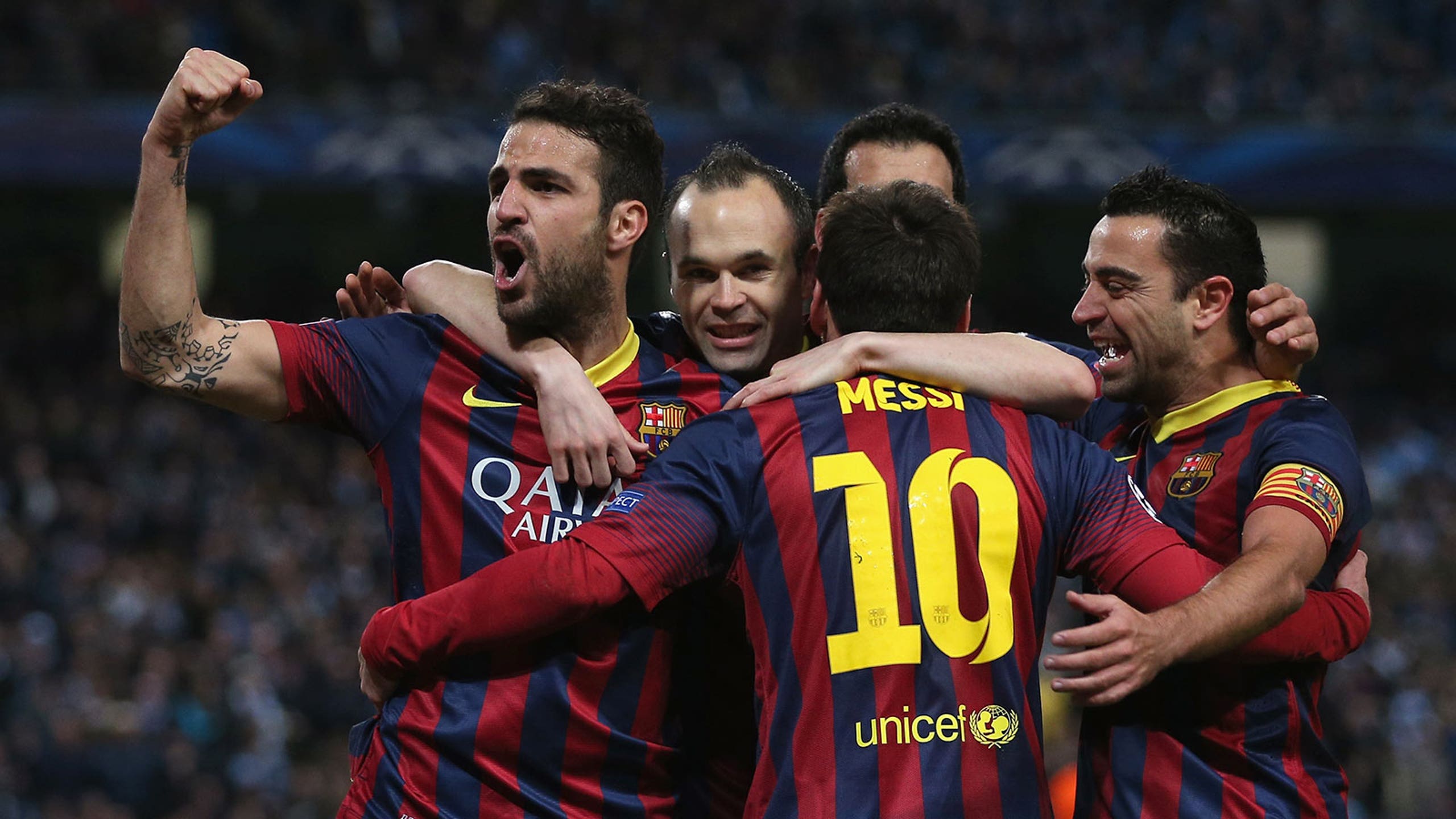 Barcelona eyes quarterfinals, defeats Manchester City
BY Jamie Trecker • February 18, 2014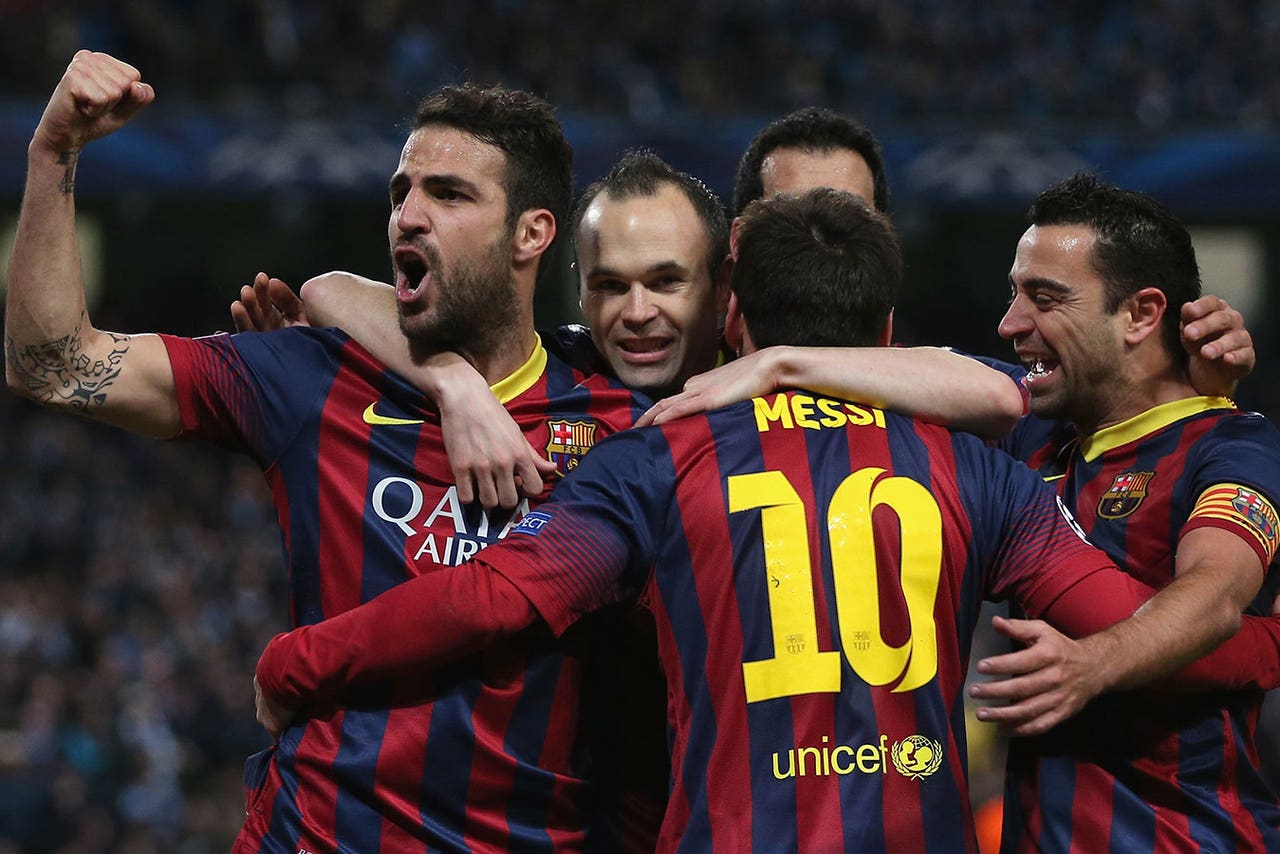 MANCHESTER, ENGLAND -- Barcelona took a big step into the quarterfinals on Tuesday night with a 2-0 win over Manchester City at the Etihad, thanks to a penalty converted by Lionel Messi and a late goal by Dani Alves.
The winner came just past the break, as Martin Demichelis was shown a direct red for hauling down the Argentine on the break, and Messi made no mistake from the spot, blasting his shot down the middle of the net after sending keeper Joe Hart the wrong way. Neymar would find Daniel Alves at the death for the capper, a shot right through keeper Hart's legs that might have put this tie to the sword.
It was a disappointing result for a City side that had put on a tactical master-class for the better part of an hour. But one break -- and one mistake -- kills teams at this level, and there was no denying that referee Jonas Eriksson got the penalty decision right.
From that moment on, Barcelona started to look like an irresistible force. But it is telling that this team -- for so long the greatest in the game -- did not look that way until City were reduced in numbers. The inevitability that was have come to associate with the Catalans was absent on Tuesday night, and you do sense that this admittedly very fine team may now be just a half-step behind Bayern Munich, and behind Real Madrid. Certainly, for long spells, they were no better than City's equal.
City manager Manuel Pellegrini fielded a midfield-clogging 4-4-1-1 with an eye-catching fillip: playing Aleksandar Kolarov in front of Gael Clichy on the left side of the midfield. The intent was to slow the game down and allow Yaya Toure and Fernandinho cover. Yet, at the outset, this looked like a failed strategy, as Barcelona started going through gears from the kickoff, and settling into their intricate passing game quite early on.
For a solid ten minutes, City were kept off the ball as Barcelona rotated Xavi Hernandez, Andres Iniesta and Cesc Fabregas in and out of central midfield in the hopes of pulling Vincent Kompany and Martin Demichelis out of the way. But City held their lines and their nerve, and the first true chance of the game fell to them, when a well-weighted ball found Alvaro Negredo in stride, allowing him to round keeper Victor Valdes. Unfortunately for City, by that point, he'd also almost run out of room, and his shot was from an impossible angle, whizzing right across the face of the empty net.
David Silva would be at the heart of City's best moves. His free-kick sent in after Dani Alves went in the book, was come for and subsequently missed by Valdes, and had the keeper not been given a charitable whistle from Erikkson might have been in far more trouble. The Catalans never looked quite settled on set-pieces and it was to their credit that they conceded few of them in a cagey opening half.
At the other end, Yaya Toure put in a disciplined performance. Toure, who had been caught out too many times by the type of dazzling movement Barcelona excel at, instead stayed home, making a critical intervention on Iniesta on what was perhaps Barcelona's most incisive move of the half. Joe Hart was only really called into action once in the half, when Xavi lobbed a speculative shot from range that the keeper had to take at full stretch. When the teams trotted off, the fact that they had limited Barcelona to pot-shots was cause for celebration.
But ten minutes into the second half, it all fell apart. Jesus Navas appeared to be fouled on the halfway line by Sergio Busquets, but Barcelona reacted quickly, blowing the ball upfield to Messi, who quickly got on the wrong side of Demichelis. The defender had little option but to foul, and he was unlucky to see Messi just enter the area when he made contact.
City would not bow their heads, however, with Silva popping up now and again to cause problems. Valdes was forced to save him well with a quarter-hour to play to preserve the scoreline. It wasn't until late, with City desperate to find a way back, that Neymar and Alves were able to finally kill the game off.
Barcelona can still pass any team to death and Messi remains an extraordinary player. But one does wonder what the result might have been if Sergio Aguero had been able to run out against the La Liga giants. City showed flashes -- but Barcelona remain the gold standard.
"Maybe we had to prove a point today, but we did it in style, but we have done so much over the years," said Fabregas after Barcelona's victory over City. "Today was one of those days, People were saying 'Barcelona's not the same Barcelona,' these people maybe talking a bit too much, and now, as usual they have to shut up for a few days. We won 2-0 but you never know what can happen in a game of football, and in three weeks, we have to fight very hard and hopefully we'll be in the quarterfinals."
Come March 12 at Nou Camp, City now face a steep task.
"2-0 is very tough result because by no means did we feel they were superior," City captain Kompany said after the match. "Maybe we gave them too much respect when it was eleven v eleven, but no, they were not the best team we have played this season. If they play like they are capable of playing at the Nou Camp, it's a very tough game. If it is like today, and we keep away from the small fouls, then we have a chance."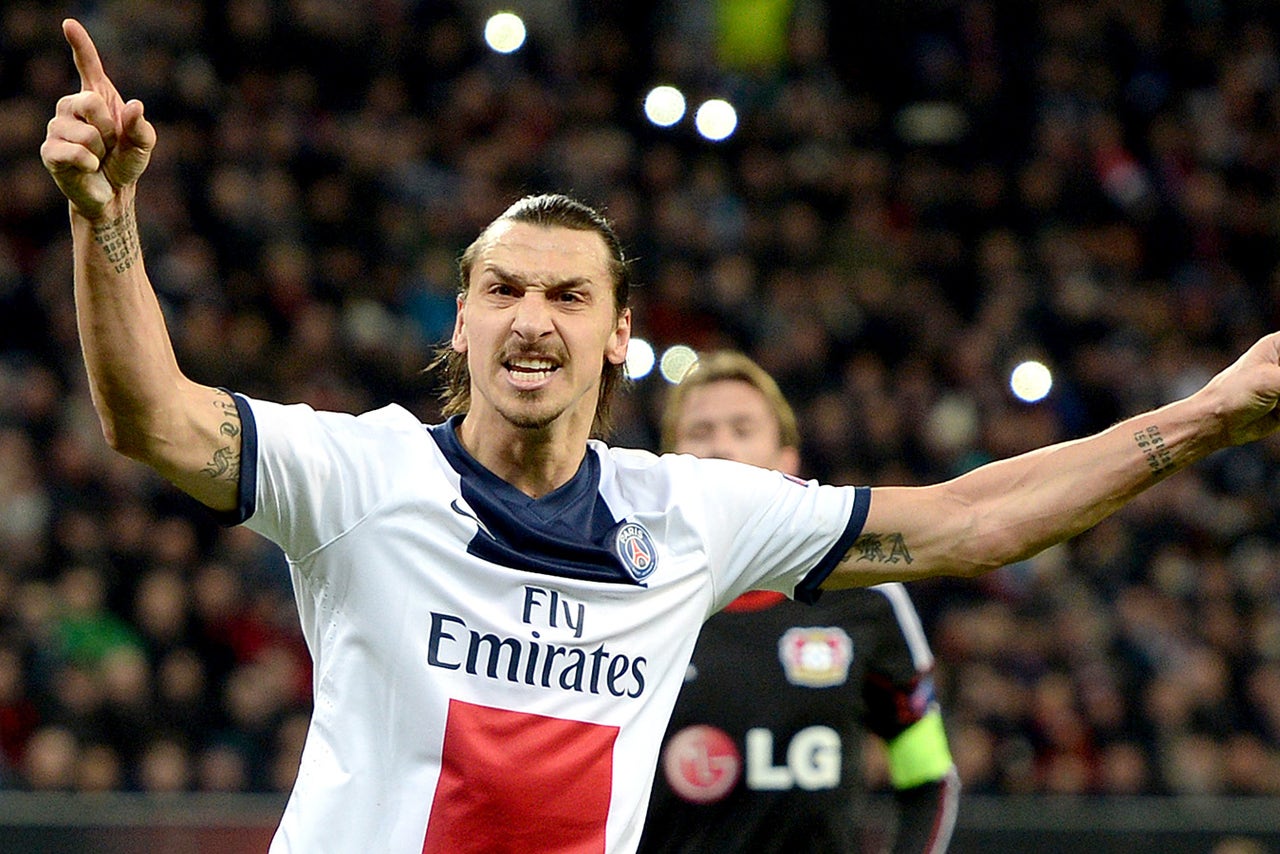 Zlatan Ibrahimovic carried PSG to a crushing 4-0 victory over Bayer Leverkusen.

Meanwhile in Germany, with the third minute not quite played, Bayer Leverkusen were already in deep trouble in the day's other game. Their ungracious guests Paris Saint-Germain took a lead through the excellent Blaise Matuidi then. He won the ball in midfield, gave it up to a teammate, kept running, got it back in the box and simply slipped it under Bernd Leno.
Before the half was over, Leverkusen were practically eliminated from the tournament. Just as they seemed to finally be gaining a foothold in the game, Zlatan Ibrahimovic scored twice in three minutes starting in the 39th. Emir Spahic pulled Ezequiel Lavezzi down off the ball in his own box and incurred a yellow card and a penalty, which Zlatan converted mercilessly.
Then Matuidi received the ball off Maxwell from the flank, tussled with his marker with his back to goal, and laid it off to the pony-tailed Swede. Zlatan, purveyor of the world's finest goals, took a whack at it with his left, off-foot, and sent it whooshing into the opposite top corner from outside the box.
Leverkusen came further apart in the second half, as Spahic brought down Lucas along the sideline in the 59th minute and took his second yellow card. Things might have been worse still than the 4-0 outcome thanks to several strong Leno saves. The assistant referee did his bit too. In the 68th minute, Leno saved Matuidi's shot but pushed it into the chest of teammate Philipp Wollscheid, from where it caromed into Leverkusen's own goal. It was disallowed for offside on Lavezzi, who neither touched the ball nor interfered with the play.
Still, that wouldn't keep the score down. In the 89th minute, Zlatan dispatched Maxwell down the left again. His low cross found Lucas at the far post, who laid it back for Cabaye, whose well-aimed finish beat Leno in his top corner.
No team has ever overcome a four-goal aggregate deficit going into the second leg. And neither, from the looks of it, will Leverkusen.
---