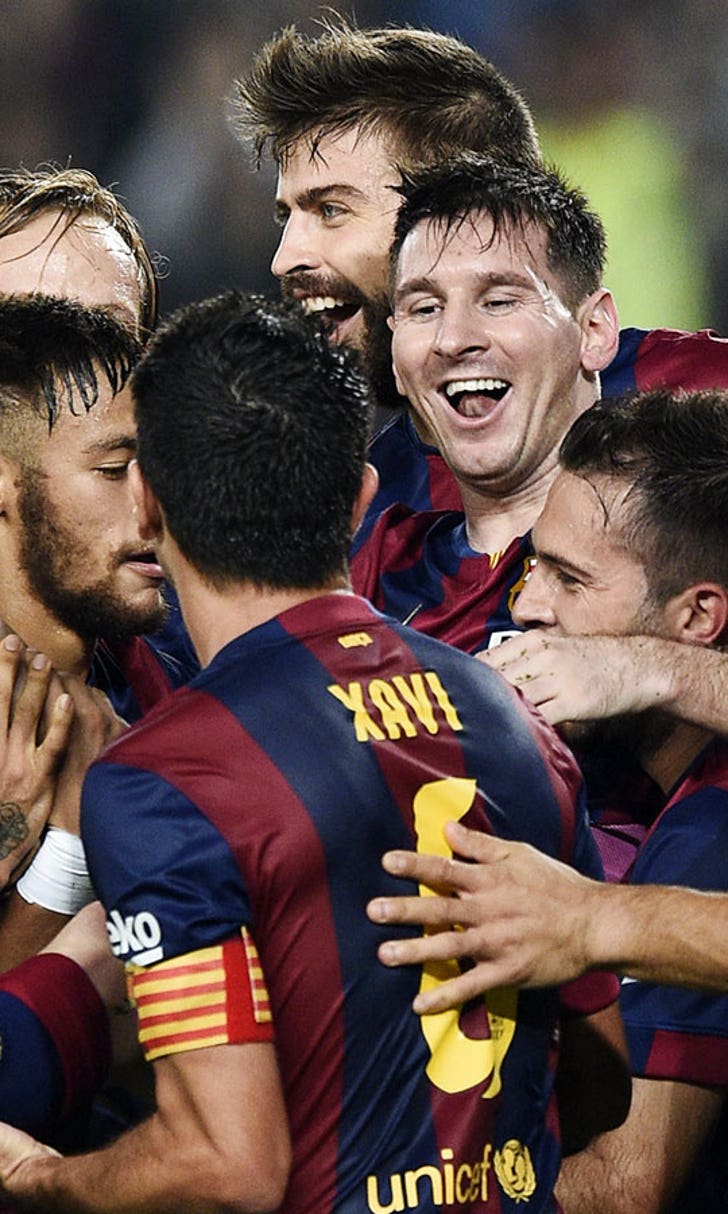 Barca hope their love will persuade Messi to never leave Camp Nou
BY Ian Hawkey • November 23, 2014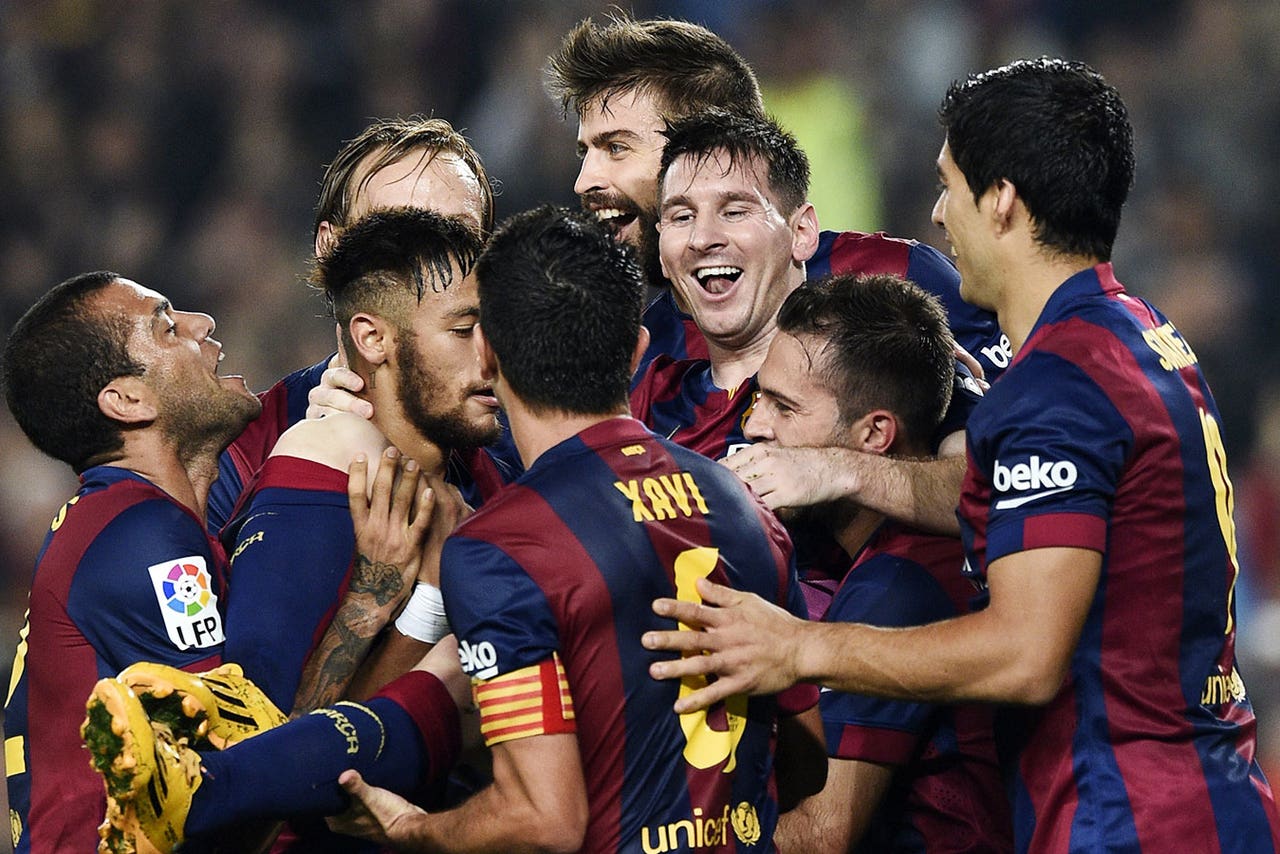 MADRID --  
It was just like old times in Spain Saturday night. Real Madrid kicked off two hours before Barcelona, Cristiano Ronaldo scored twice, and set down a challenge to his fellow 21st century immortal. In the last three or four seasons, Ronaldo and Lionel Messi have sometimes given the impression of being engaged in a private game of poker: 'You score two, I'll score more. You got a hat trick? Okay, just watch and I'll put in four.'
Ronaldo registered his 19th and 20th goals of the league campaign in the 4-0 whipping of Eibar in the early evening. Most weeks this season, that would be quite enough to trump Messi, whose push in their personal duel for goalscoring, and even for the Ballon d'Or -- or World Footballer of the Year -- prize they have shared out between one another since 2008 has looked less intense than usual. In the 11 previous matchdays of the 2014-15 La Liga story, Messi had outscored Ronaldo just twice.
By later on Saturday, Messi had his first domestic hat trick of this season -- the 22nd of his club career -- as Barcelona eased to a 5-1 win against fifth-placed Sevilla, who, in their words of their coach Unai Emery had "not wanted to be guests at someone else's party, but that's what we became." It was Messi's party, another step into history for the Argentinian, and a welcome opportunity for Camp Nou to bow down and worship their greatest star.
Messi's goals were numbers 251, 252 and 253 in his La Liga career. Those are magic numbers because they took him beyond the 251 league goals scored by Telmo Zarra, the metronomic finisher of Spain and Athletic Bilbao in the 1940s and 50s. Messi had been waiting to cross that frontier for an unusually long time. No goals in his previous three La Liga matches had almost suggested the record had become a psychological burden.
Indeed, this has been a period of anxious speculation into the mind of Messi among many barcelonistas. A fact of life in modern Spanish football, an occurrence almost as reliably regular as Ronaldo or Messi finishing every season as the top goalscorer is that any mid-season international break of more than 10 days will generate a story that one of the pair are ready to leave their club.
These stories tend to be tailored the same way: The player talks to the media from his native country, a newspaper or TV station distinct from the ones who regularly chronicle Madrid or Barcelona and says something that might be interpreted as disloyal, or itchy-footed. Messi said to a Argentinian newspaper: "You never how things can change in football," while on duty with national squad, and in the context of a Barcelona who since mid-October had slipped from top of La Liga to fourth, lost successive matches, are approaching a destabilizing presidential election in the 2015, that was enough to be read as a strain on the relationship between the 27-year-old and the employer he has been with for almost half his life.
Saturday at Camp Nou, some Barca fans booed club president Josep Maria Bartomeu, and the director football, Andoni Zubizarreta. But few had entered the arena not aware of a vigorous lobbying effort, by the Catalan media to shower Messi with love and appreciation. When he scored his goal number 251 in the league, on this, his 289th La Liga fixture, from a free kick, he heard his first ovation. By the time he left the pitch, he had colleagues standing in line to applaud him toward the locker-room.
"Leo knows he is loved and he has said how much he likes playing for Barcelona," remarked Luis Enrique, who was keen "not to feed any controversies," and happy to be facing what one of his more celebrated predecessors, Josep Guardiola once described as a challenge of the job: There aren't enough words to praise Messi. "With him," said Guardiola, "you run out of superlatives."
"I have never seen a soccer player like him," continued Luis Enrique, who was club captain at Barcelona when Messi, 11 years ago, was first promoted from the junior ranks to the senior squad. "He is practically incomparable with anybody else, unique."
Nonetheless, the toppling of Zarra's statistical landmark encouraged Luis Enrique to make the point that beating a record of almost 60 years standing should be appreciated: "I never thought Zarra's record would be beaten," added Luis Enrique after the match. "And in that time -- the 1940s and 50s -- teams played with more attacking players than defenders. Also, the physical conditioning of opponents now is far superior."
Zarra's goals came at marginally higher frequency than Messi's: He scored his 251 in 277 matches. Yet for Messi, there are more milestones near the horizon. As early as Tuesday in the UEFA Champions League, when Barcelona meet Apoel of Cyprus, Messi can become the highest goalscorer in the history of the European Cup, needing just one more to go past the 71 of Raul, the former Real Madrid player, in club soccer's most prestigious tournament. And with another four goals in Barcelona jersey, he will hit 400 for the club in all matches, friendlies included.
More opportunities then, for shows of adulation from colleagues and fans, of the love barcelonistas hope will persuade Messi he can only ever belong to one club.
---