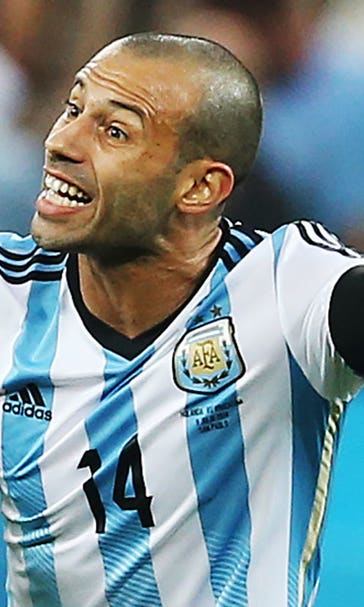 Argentina enters final with Mascherano as its unquestioned leader
July 11, 2014

SAO PAULO --  
His side, as Maradona said before the tournament, was Javier Mascherano plus 10 others. Before this tournament, many thought Argentina would be Lionel Messi plus 10 others. As the knockout stage would suggest, Argentina have battled on to reach the final with Mascherano as its key player and unquestioned leader.
Yes, it is Messi who wears the captain's armband these days, having inherited the captaincy from Mascherano after the 2010 World Cup. Messi is a silent, almost peripheral figure in on-pitch huddles. Before extra-time in the Round 16 match against Switzerland, as Argentina players gathered by the touchline for instruction, Messi stood at the back of the group pouring water over his head, while Mascherano shouted encouragement at his teammates. After the Belgium quarterfinal, a number of players spoke of the emotional impact of Mascherano's pre-match speech in which he said he "was sick of eating crap" of the way Argentina has continually failed to live up to expectations. And before the penalty shootout in the semifinal victory over the Netherlands, it was Mascherano who grabbed the goalkeeper Sergio Romero and told him, before he made two vital saves, that this was his chance to be a hero.
That was the final act in a superb performance from Mascherano, who has been celebrated like never before in Argentina, with tribute memes hailing him as "Masche" morphing an image of his face onto the famous Robert Capa photograph of Che Guevara. He had produced a commanding display in front of the back four, closing space, preventing Dutch winger Arjen Robben from having space to run into, negating the obvious threat he posed to Argentina's slow back four. The challenge he made to deny Robben in injury-time, finding the pace and energy to hurtle back, timing his lunge perfectly, was emblematic of Argentina's resistance.
"I thought I'd slipped," Mascherano admitted after Argentina's victory in Sao Paulo. "I thought I wouldn't make it. I thought he'd get ahead of me, I thought of so many things, but I did get there, and it wasn't a goal. It was terrible. He played a great exchange with Sneijder and, one more touch, with that control he made, meant that he didn't hit it quite so early, it gave me the possibility, that extra split second."
Mascherano addded: "The truth is there's no credit for me. I threw myself into it. If I was off, it was a penalty. There's no credit. Anyone could have done that, I had the luck to get there. We had the luck that Robben took one more touch. To get to a final you always need a bit of luck."
It's 24 years since Argentina were last in a final, a span that, given the players Argentina produced in that time, feels far too long. "It's a delight, a delight, that lifts your soul," Mascherano said. "It's something you can't explain, it's something I never imagined, but there we are."
The final is a repeat of Argentina's last final, when it lost 1-0 to West Germany in an ill-tempered game in which it had two players sent off. Four years before that, though, Argentina had won its second World Cup with a 3-2 win over West Germany in the final. Mascherano was a six-year-old in 1990 and has clear memories of the disappointment. If this side is to avenge that, though, it must beat a Germany side that produced, in the semifinal, arguably the most stunning result in World Cup history.
Brazil's hysteria may have made it complicit in its 7-1 defeat, but Germany could hardly have taken advantage more emphatically. "They are formidable," Mascherano said. "They have technique, potential, style, they beat Brazil so well but, well, we'll have to be very focused, not give them space. We know that, with space, they're so dangerous."
Mascherano has first-hand experience of that, having been one of eight players in this squad who played in the 4-0 defeat to Germany in the quarterfinal four years ago. "That was a hard blow, especially after a World Cup in which we played well but, on that day, nothing came off for us," said Romero. "The post, the chances... but four years have passed and we hope to make things better than we did that day. We've grown a lot. From the first game, there's been criticism and the team has changed, but the team puts their lives onto that pitch, they kill for each other."
And that, really, is the key. Germany reached the final with a performance of historic proportions but Argentina have discipline, spirit, Messi and Mascherano. In a one-off game, with the possibility of visiting upon its arch-rival Brazil's cathedral and lifting the World Cup tropy at the Maracana, it might just be enough.
---