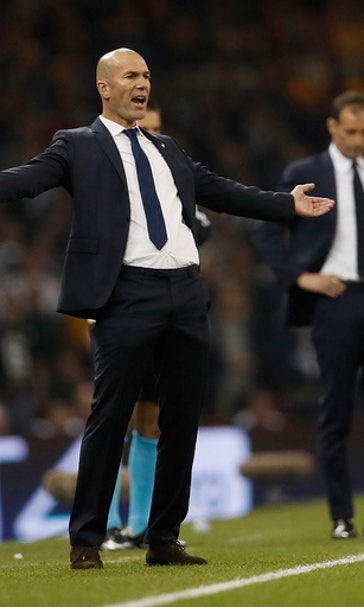 Another major trophy in Zidane's young coaching career
June 4, 2017

CARDIFF, Wales (AP) Not a bad start for Zinedine Zidane.
Only 18 months into his first head coaching job, the France great is lifting his fifth trophy with Real Madrid.
Zidane managed the Spanish club to a second successive Champions League crown with a commanding 4-1 win over Juventus on Saturday, adding to triumphs in the Spanish league, the Club World Cup, and the European Super Cup.
He became the first coach to win back-to-back titles in the Champions League era.
''If you had told me that I would have won all of this as a coach, I wouldn't have believed it,'' Zidane said. ''I'm happy, I'm incredibly satisfied.''
As a player, he was in two consecutive Champions League finals with Juventus, losing both times, including to Madrid in 1998. He finally won the Champions League as a Madrid player in 2002, scoring an amazing volley in the final against Bayer Leverkusen in Glasgow, Scotland.
One of Madrid's greatest players, Zidane was an assistant to Carlo Ancelotti when Madrid won the Champions League in 2014.
After a stint guiding Madrid B, Zidane replaced coach Rafa Benitez when the team was struggling in early 2016, and quickly got it back on track.
He used different formations and successfully resorted to rotating his players to keep them fresh at the important moments of the season, including Cristiano Ronaldo, who was rested like never before. Ronaldo scored twice in the final, finishing the season with 16 goals in his last 10 games.
Zidane has only one year left on his contract, but is widely expected to remain at the team's helm.
''Now we have to enjoy all of this,'' he said. ''Then we will get some rest and later we will start thinking about next season.''
---
More AP Champions League coverage: http://apne.ws/2lgcPZm
---
Tales Azzoni on Twitter: http://twitter.com/tazzoni
---
---