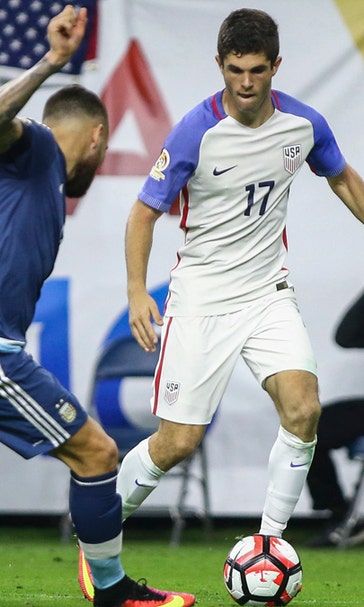 17-year-old Christian Pulisic proves his USMNT future is more than hype
June 22, 2016

It was a tough evening for everyone on the U.S. national team in a 4-0 loss to Argentina on Tuesday in the Copa America Centenario. The Americans had exactly zero shots all night and overall played pretty poorly in the semifinal.
But even despite that, there were glimpses -- ever so briefly -- of why 17-year-old Christian Pulisic has been called the Next Big Thing of American soccer. In a match with few positives, Pulisic offered at least one: There's no reason to think Pulisic won't succeed with the USMNT and make the team better, and USMNT fans may not need to wait very long either.
While the Americans looked shaky and scared for stretches of Tuesday's match, particularly at the beginning, Pulisic never looked out of his depth. He came on at the half and played without the fear that probably caused the American to concede an early third-minute goal from striker Ezequiel Lavezzi. Within his first few minutes, Pulisic was going shoulder-to-shoulder with Argentine defenders, trying to launch crosses into the box.
He earned the Americans their only corner kick of the evening in the 67th minute, collecting a slip-pass in the box and holding up play, dribbling with calm composure as he looked for options. He attempted a cross that was knocked out, one of a few attempted crosses he would see blocked, but it was a rare moment where the U.S. actually threatened Argentina.
On an American team that played badly across the board, Pulisic played a little less badly than many of his teammates. That's not exactly a ringing endorsement, but the teenager looked like a player mature beyond his years in a match the U.S. were destined to lose.
It's not a surprise to see Pulisic hold up under the pressure of an occasion such as the Copa America semifinal. For Borussia Dortmund, he plays in one of the most intense professional environments in the world. Since working his way into BVB's first team earlier this year, his job has been to face some of the best players in the world at a home stadium that boasts Europe's highest average attendance at 80,000-plus fans.
It's in that environment where he has excelled and caught the eye of USA coach Jurgen Klinsmann. Take for instance his first goal for BVB. It started with him and ended with him on a clever run, composed cut around a defender and well-placed shot -- the kind of cool finish befitting of a more senior player:
The USMNT hype around Pulisic leading into Copa America, of course, was always too much. It dwarfed anything the still-developing player could possibly achieve for the national team at the tournament -- and his confident but ultimately unproductive appearance against Argentina may put that into perspective. But it's also not difficult to see where the hype came from or why so many fans were clamoring for more of him at this Copa America.
As a kid who attended his senior prom before becoming the USMNT's youngest-ever goal-scorer of the modern era, he represents a rare breed in American soccer: A young prospect who has already proven himself at a high level in big games. Players like Freddy Adu and even Julian Green were hyped as the Next Big Thing, but neither had achieved nearly what Pulisic has already.
But how soon could Pulisic be pushing for a spot on the USMNT?
Before answering that, it's worth pointing out: While the Pulisic hype train driven by fans and pundits alike has been moving at full speed, his rise through the USMNT has been just as fast.
Just six months ago, most American fans had never heard of Pulisic. But in January, he earned his first start for Borussia Dortmund and the next month he earned first cap for the U.S. national team. Then came the goals -- in April, he scored his first goal in the Bundesliga and in May, he became the USMNT's youngest goal-scorer in the modern era.
Pulisic's rise has been quick, but there should be an immediate place for him on the USMNT's flanks. The U.S. lacks depth on the wings, where Pulisic can make a case as a dynamic, creative player who can find the right angles to cut inside. Although his speed is a powerful tool for breaking in behind defenses, he has proven he can be physical and battle body-to-body with opponents, a skill that should only improve as he matures.
Just look at what he did against Ecuador in a pre-Copa America friendly. He stole the ball, bodied off a defender, turned, and threaded a pass under pressure up the field. That isn't the play of an anxious teenager, but a multi-faceted attacker who can read the game well:
Though Klinsmann talks about proactive attacking soccer, it is Pulisic's skillset and his creativity that can help the USMNT actually get there. With Copa America now over, except for a relatively inconsequential third-place game left to be played, Klinsmann may be ready to prime Pulisic for the 2018 World Cup in Russia now.
Pulisic won't be an overnight star and he will have quieter outings like he had against Argentina, but it would be foolish to ignore the ability he shows. Though he is still developing, he has proven himself to be one of the most dynamic and creative attackers in the U.S. ranks -- regardless of age. But his age is also part of what makes him such an exciting prospect: He has years ahead of him and he should only get better.
Pulisic is indeed young, but as his composure against Argentina and for BVB has shown, he is as ready as any other American to lead the way. And that's not hype -- that's what Pulisic has proven for club and, now, country.
---
---