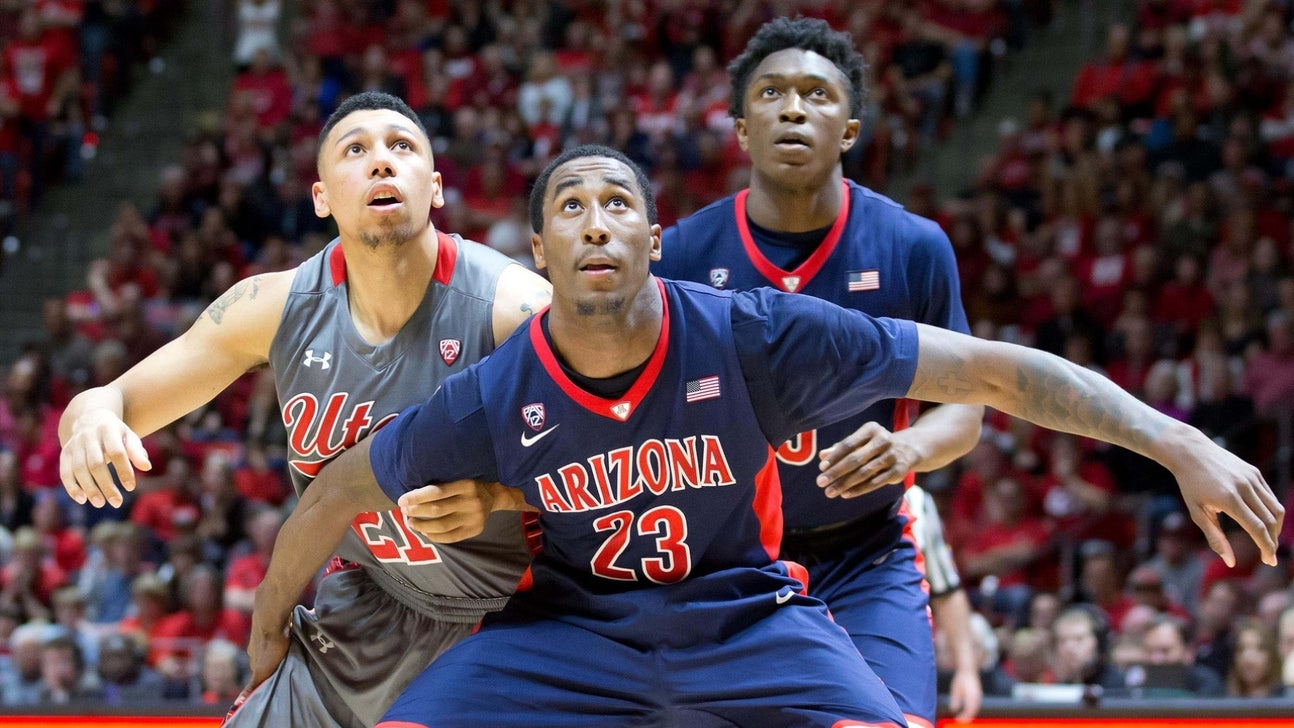 York leads No. 7 Arizona past No. 13 Utah
Published
Mar. 1, 2015 12:33 a.m. ET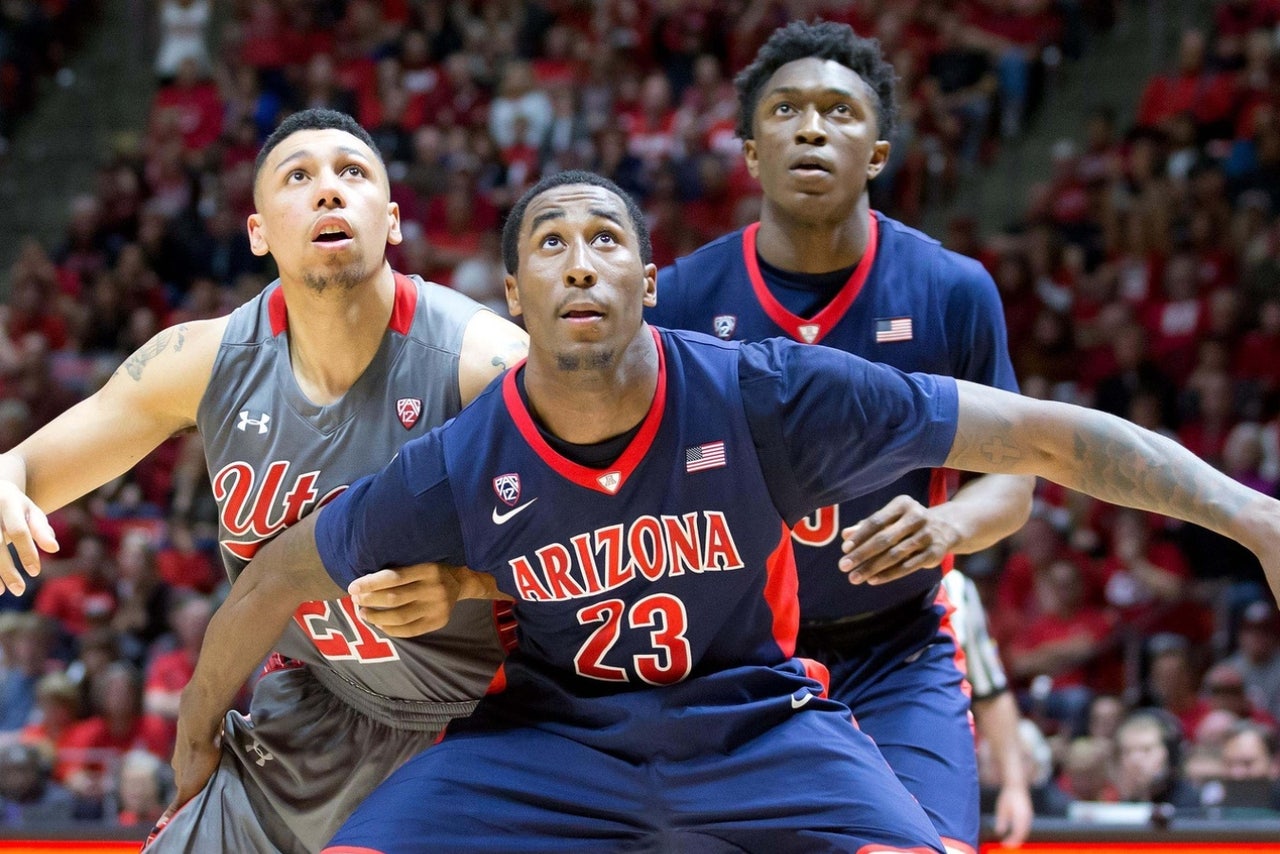 SALT LAKE CITY -- Gabe York went against what he'd been taught and took a chance.
The Arizona reserve guard knew his late-game free throw was off-target but instead of retreating to the defensive end as his coach preaches for guards, he lunged for the rebound.
While the big men for both teams wrestled each other underneath the basket, York snatched the ball and made a layup to give No. 7 Arizona a lead it wouldn't relinquish en route to a 63-57 victory over No. 13 Utah on Saturday night.
"I knew right away I missed it to the right and being a shooter I know whether I am going to make it or miss it," said York, who scored five of his 12 points in the final 2 minutes.
"I just saw a chance and I went with it," said York, after acknowledging his coach would be angry at the missed free throw and would be even more enraged if Utah scored quickly at the other end.
However, Arizona coach Sean Miller had nothing but praise for York, who has scored in double figures in three straight games.
"Gabe made a number of big plays. He defended really well at the end. He's playing his best basketball of his career right now," Miller said.
Brandon Taylor made a 3-pointer with 1:57 remaining to give Utah a 57-55 lead. York then drew Jakob Poeltl's fifth foul, made one free throw and then converted his key follow shot to give the Wildcats a 58-57 edge with 1:39 to play.
Rondae Hollis-Jefferson, who had 10 points, made 3 of 4 free throws in the final minute and York hit two more to clinch the Wildcats' 12th straight win over Utah (22-6, 12-4 Pac-12).
Kaleb Tarczewski led Arizona (26-3, 14-2) with 13 points while Stanley Johnson had 12 points and 11 rebounds. The Wildcats now lead the conference standings by two games with two games remaining.
After dominating Utah 69-51 earlier in the season thanks to a big rebounding advantage, the Wildcats again bullied the Utes on the boards, 44-35, to overcome 33-percent shooting.
Delon Wright had 17 points and Jordan Loveridge scored 10 before fouling out as the Utes finished the season 16-1 at home.
Taylor, Utah's second leading scorer, got his first points of the game on a 3-pointer to put the Utes up 47-41, with 8:11 remaining and the sellout crowd was roaring.
But York hit a 3 and Hollis-Jefferson dunked to draw within one point again. It was back-and-forth from there as the game had seven lead changes in the last 7 minutes.
The Wildcats missed their first 10 field goal attempts of the second half before Johnson stole the ball and made a layup.
Hours after the Utes beat Arizona State 83-41 on Thursday, Utah students began erecting a tent village around the Huntsman Center in an effort to get the best seats.
The buzz for a college basketball game in Salt Lake City hadn't been this intense since the 1996 New Year's Eve matchup between No. 7 Utah and No. 2 Wake Forest, when future No. 1 NBA draft pick Tim Duncan scored 23 points and future No. 2 pick Keith Van Horn tallied 24 in the Deacons' 70-59 win.
Arizona jumped out to a 17-8 lead but the Utes fought back and took a short lead before the half ended with Arizona ahead 29-28. The teams were whistled for a combined 25 fouls in the half and 46 for the game.
"I don't think we have fouled that much all year," Utah coach Larry Krystkowiak said. "That's what made it difficult. It had to be a record for us. It's hard to find your rhythm on a game like that. ... We just have to be better."
McConnell said the Wildcats got together during timeouts and said that despite their struggles, they just needed keep playing great defense and the offense would take care of itself. "You can really get down on yourself when the ball isn't going in and that can affect defense, but our missed shots never really affected us and that's the sign of a tough-minded team, especially on the road," Miller said.
Wright and Dallin Bachynski played their last game in the Huntsman Center and received standing ovations during pregame presentations. They couldn't hide their disappointment after the loss. "The students have been camping out for days and I wish we could have won," Wright said.
Arizona: Early in the second half, the officials took an extended break and then called a contact technical foul on Tarczewski for an elbow to Bachynski's chin. ... The Wildcats had only seven assists but made 27 of 37 free throws. ... Johnson shot just 3 for 19 but had eight offensive rebounds and gave the Wildcats numerous second chances.
Utah: Brekkott Chapman, who played just 16 minutes and had six points, fouled out with 5:18 to play. ... Poeltl only played 12 minutes before fouling out. ... Utah shot 30.9 percent from the field. ... The Utes are 1-4 against Top-25 opponents, with the lonevictory coming 69-68 in OT over then-No. 8 Wichita State at home on Dec. 3.
Arizona: Hosts California on Thursday.
Utah: At Washington State on Thursday.
---