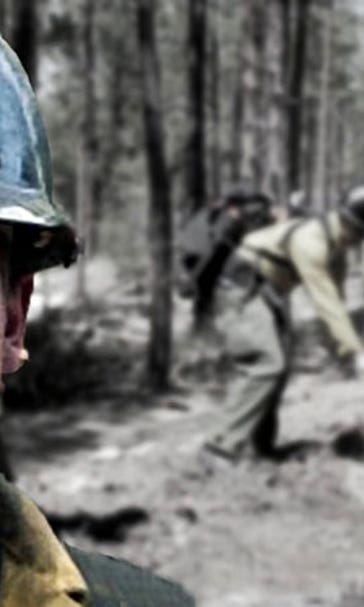 Yarnell 19: Baseball helps healing process for Parker family
BY foxsports • July 2, 2014
Maybe on another day the town of Yarnell feels awake; on our visits (one planned, another happenstance) it was asleep. Or maybe the locals disappear when a video crew shows up. I wouldn't blame them for wanting things to be the way they used to be; but at least for this generation, there is no going back.
Yarnell (population 649)  is an unincorporated town; a smattering of buildings not quite small enough to blink and miss, but only a smidge larger than that. It rests near other towns on the 89A: Congress, Glen Ilah, Peeples Valley. But unlike its neighbors, it is now infamous. A glance at its iconic (and now eerie) welcome sign  -- "Where the Desert Breeze Meets the Mountain Air" -- reveals two obvious changes from a year ago. A purple '19' now adorns a shield, and a fire danger meter ominously rests on 'Extreme.'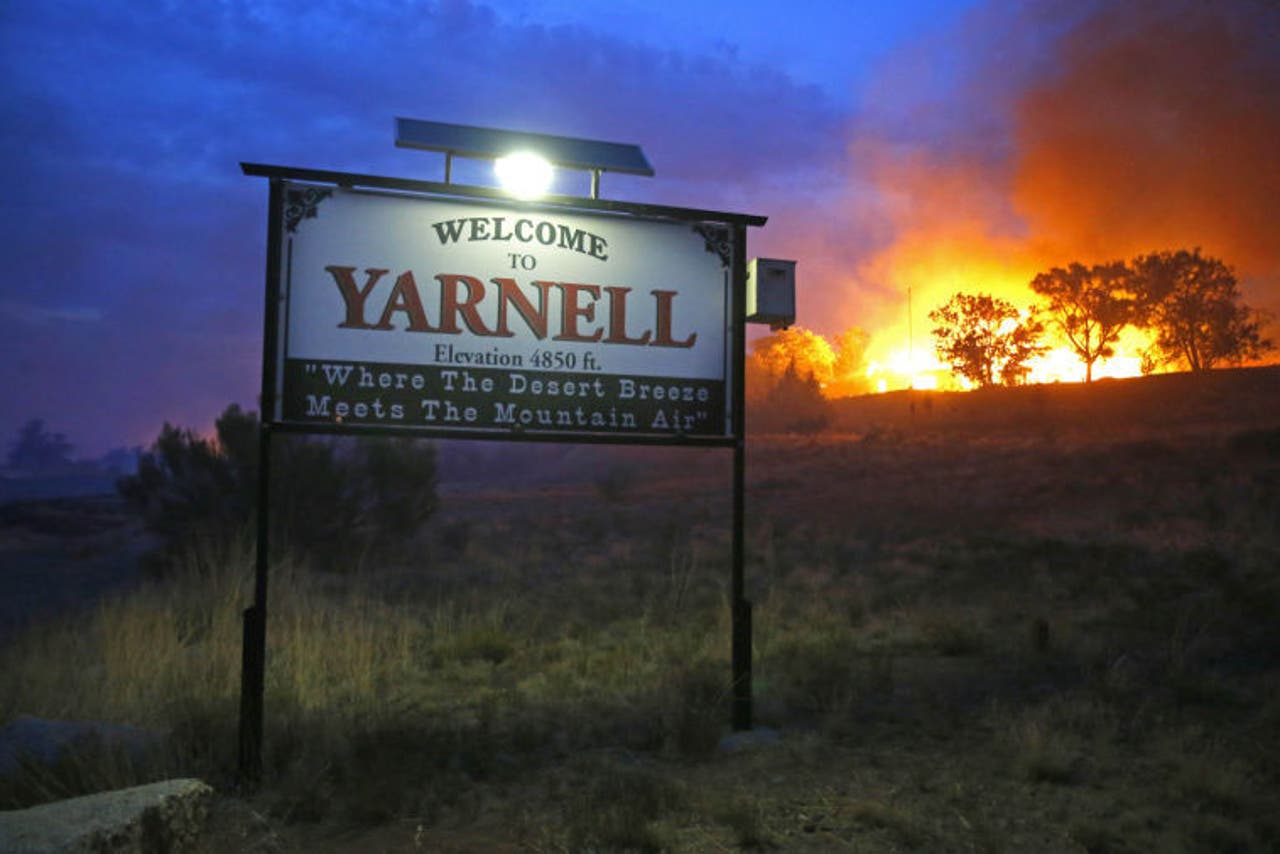 The sign welcoming visitors to Yarnell stands in the foreground while last year's wildfire rages in the background.
Our crew ended up there because of an unnatural cause; an overturned oil tanker on I-17 rerouted us on the old-school path from Phoenix to Prescott: Highway 93 to Wickenburg, then Highway 60 to 89A. It's a curvy, winding, sometimes breathtaking route that adds an hour to the Phoenix-Prescott drive. It is worth it.
Our first impression of Yarnell was accidental and brief. Thanks to the accident we were late to our agreed upon time with the Parker family. If our tardiness bothered them, I couldn't say.  I apologized en route and the reply text message said "Drive safe."
Danny and Michelle Parker live a quiet and mostly private life in Chino Valley, the original territorial capital of Arizona and a much homier neighbor to Prescott than Prescott Valley. The high school feels like an anchor. The phrase "God and country" wasn't spoken; it didn't need to be.
The last time I saw Mr. Parker he had a long beard; today he is clean-shaven. We are not the only interview the Parkers have granted on this day. I get the feeling they are too polite to say no to anyone.
The number 19 is a part of the Parker legacy. There are 19 young trees planted in the back yard that will someday provide shade. Today they are just babies alongside a makeshift archery target where the Dad and his sons fired homemade bows. Out front, a friend planted 19 rose bushes: 18 red and 1 white. In Wade's room are a number of gifts memorializing Wade and the Granite Mountain Hotshots. Mom says they have received things from all over the world.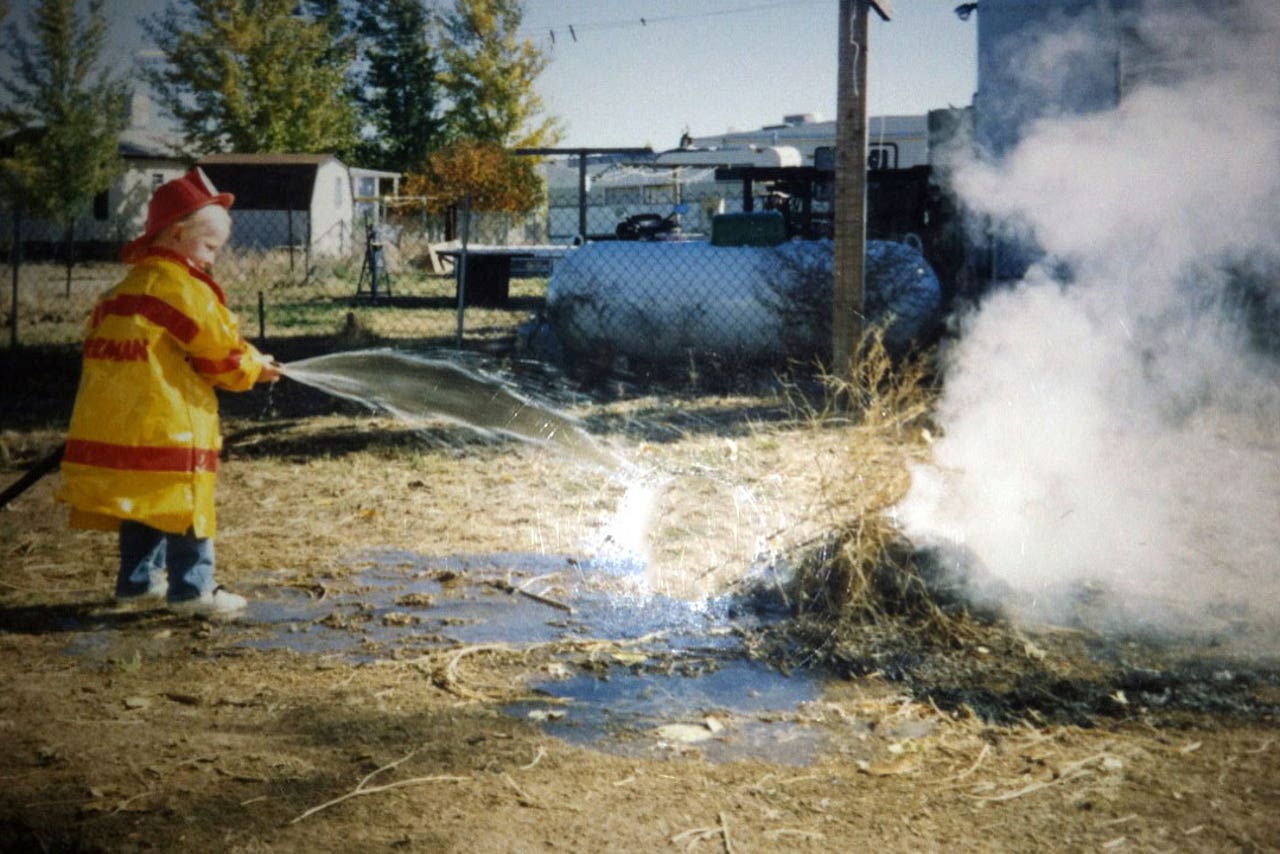 From a young age, Wade Parker wanted to follow in his father's footsteps as a firefighter.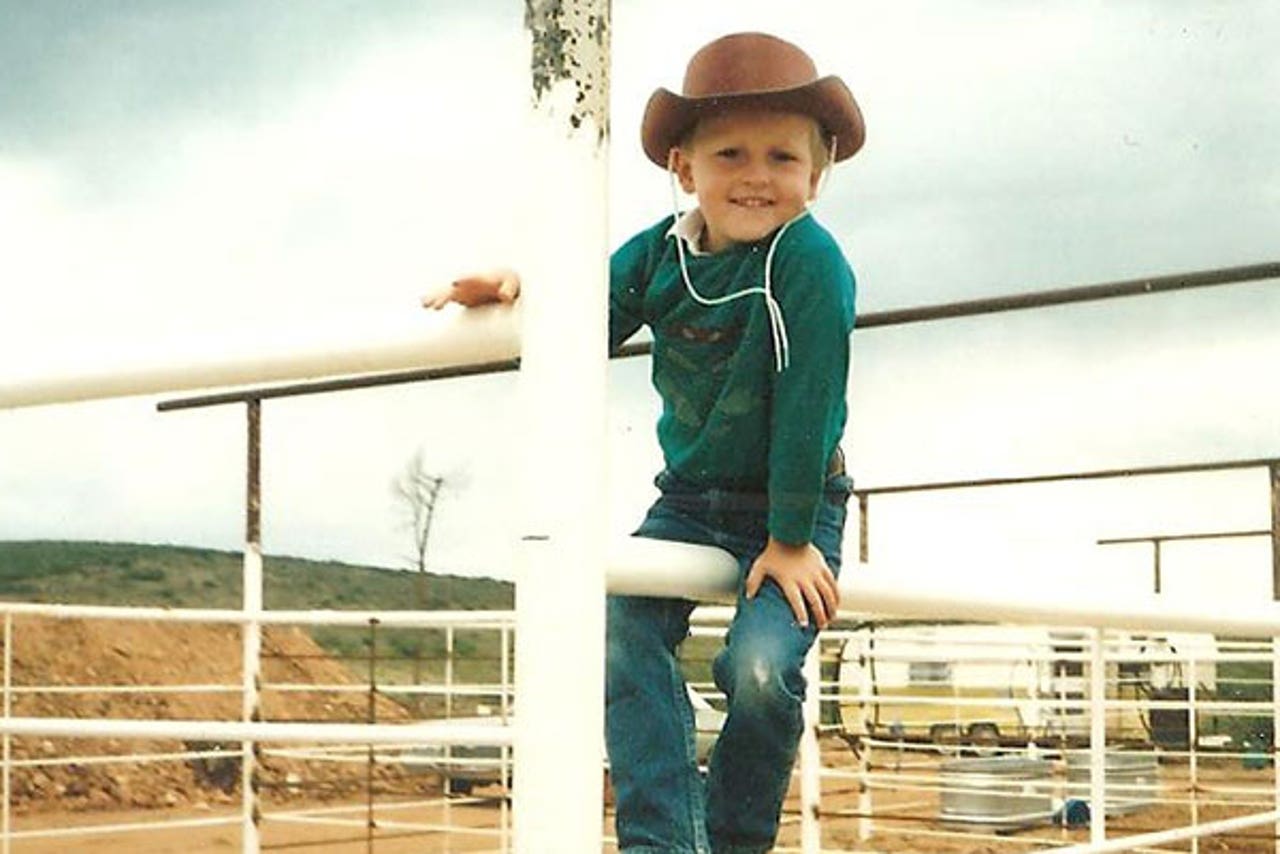 Wade Parker as a young cowpoke.
The room feels like holy ground. For our story, Michelle has spread out hundreds of photos of Wade from Little League through high school. The Diamondbacks presence is felt. A neighbor shows up in a Sedona red cap soiled by his work outside. The Parkers were present for the dedication of Brad Ziegler Field in Prescott just a month before; an autographed Ziegler cap now sits atop Wade's old bed.
During our visit I ask the Parkers how they felt when the Diamondbacks wore '19' patches on their jerseys in the aftermath of the fire. It is an answer in search of a question; I overestimated how much thought grieving parents might give a baseball team. Still, Michelle says Wade would have loved knowing that Major League Baseball would honor them in such a way.
The family was invited to Fenway Park last fall (Wade was a lifelong Red Sox fan first, Diamondbacks second). Dustin Pedroia gave them a Boston jersey with "Yarnell 19" on the back. It is signed by the eventual World Series champions. Both parents smile when they tell of younger brother D.J.'s giddiness at meeting Pedroia.
There are some joyous experiences that have come from this tragedy; I get goosebumps when Wade's father said, "I'd give them all back for five more minutes with my son."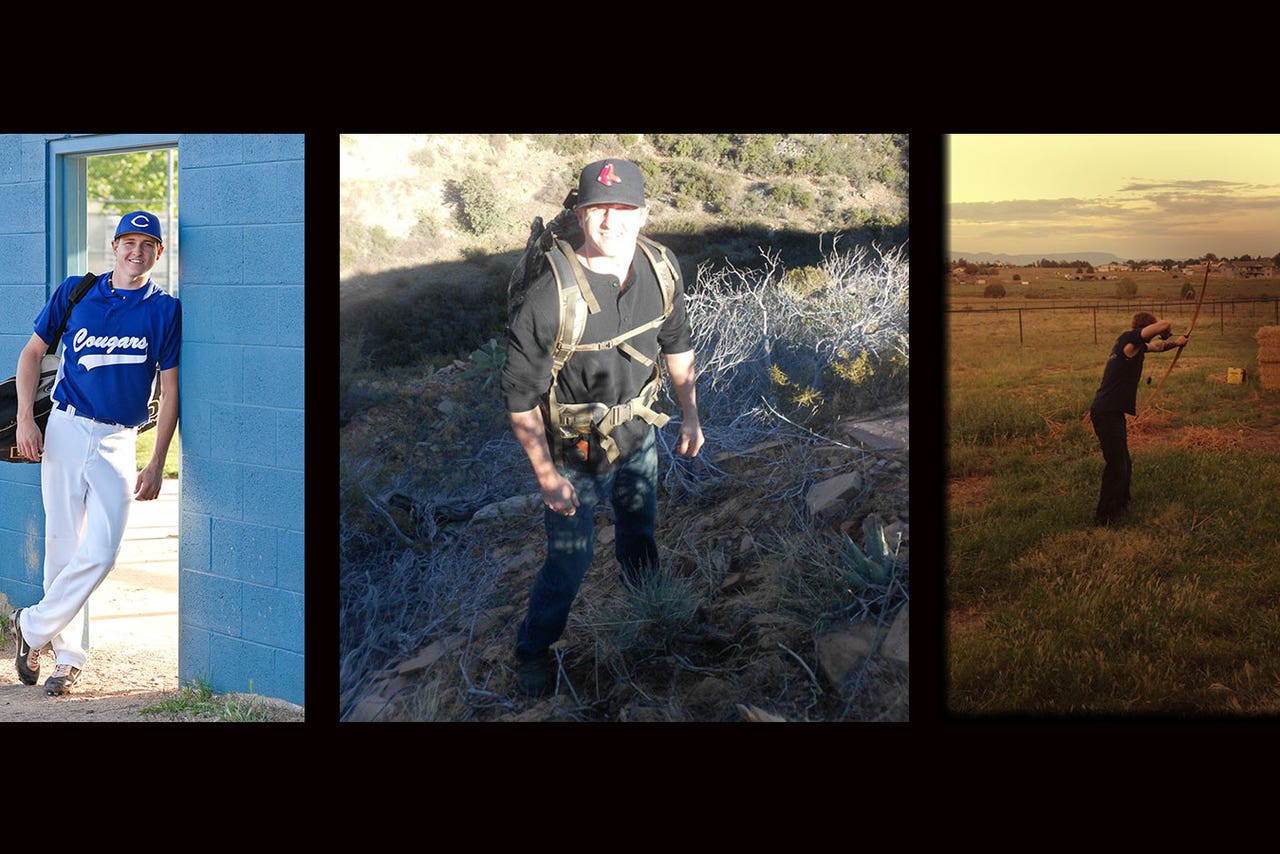 Wade Parker in his Chino Valley High School baseball uniform, hiking in a Boston Red Sox cap, and practicing archery in the family's back yard.
After three hours of interviews and b-roll, we part ways. The Parkers walk us out to our car.
Afterwards, the crew elects to descend to Phoenix via Yarnell in an effort to document a town coming to grips with its notoriety. Several locals stopped by and mentioned the events that have torn the area apart. The fire might have started the fracture, but politics seem to have spread it: Where to put a Memorial, the manner in which the money is dispersed, even a conspiracy theory of the fire's handling.
I had imagined a town united in a way New York City might've been united after 9/11. I gloss over the fact that the nation's biggest city squabbled over similar things, only on a much larger stage.
There is a temporary memorial in a park in Yarnell where you'll find photos, American flags with inscriptions, stuffed animals, crosses and axes. One small rock bears a painting of an elephant. It is a mock-up of a local and somewhat mysterious point of pride, Elephant Rock, which you'll see it only momentarily as you head down the hill away from town.  
The small version of Elephant Rock -- resting in a small park where the mountain breeze meets the desert air -- sheds a tear.
In this process of putting together this piece, I discovered or stumbled upon a number of terrific pieces on the Granite Mountain Hotshots. AZCentral published an all-encompassing piece; Josh Eells' penned a breathtaking recap of the events back in October for Men's Journal; Carey Pena was in the Parker home the same day as our crew and the end result is powerful and heartbreaking.
Lastly -- there are a number of charitable efforts honoring the Granite Mountain Hotshots and fallen firefighters. I'm not in a position to investigate or endorse one cause over another; the Wade Parker Memorial Scholarship is sponsored by the Chino Valley Fire Department. I do think there are worse things you could do with your money.
Diamondbacks 10th Inning producer Josh Kelman traveled several times to Prescott and Chino Valley area while reporting on this piece about the family of Wade Parker, one of the youngest of 19 Granite Mountain Hotshots killed in last year's horrific Yarnell wildfire.
---