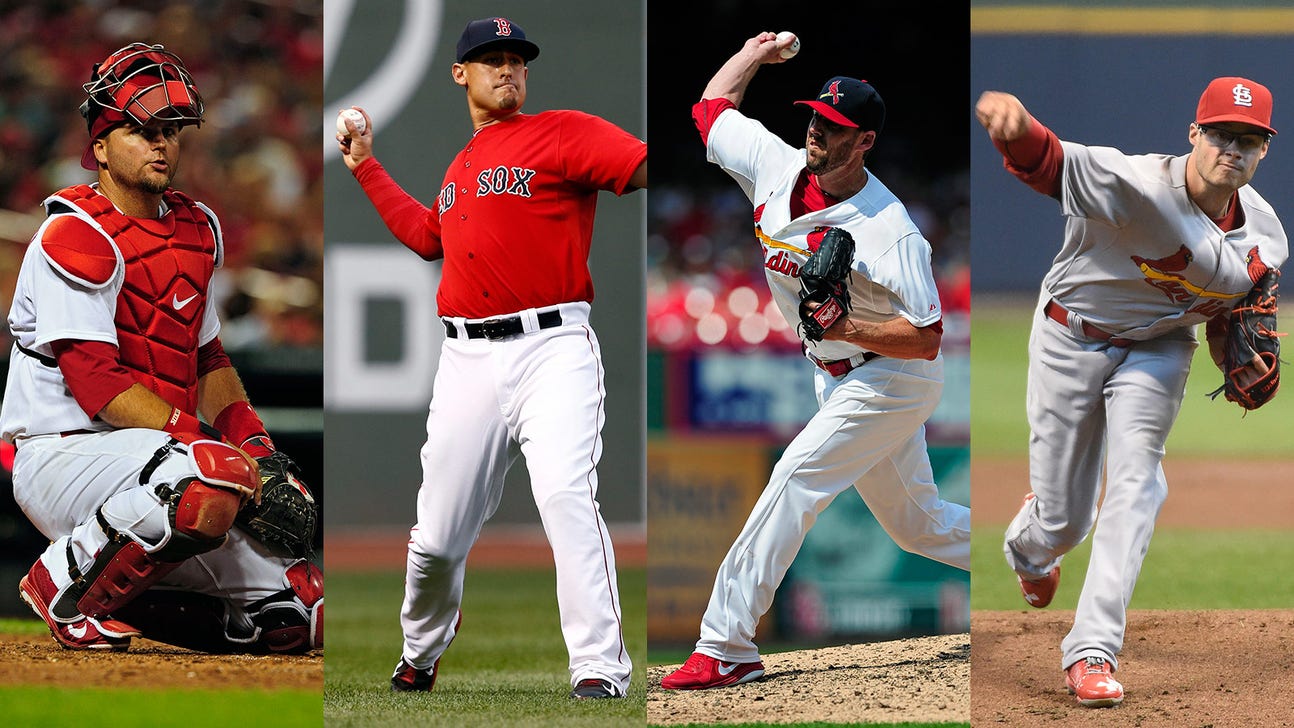 World Series 'rematch' is least compelling aspect of Red Sox-Cards series
Published
Aug. 5, 2014 10:32 a.m. ET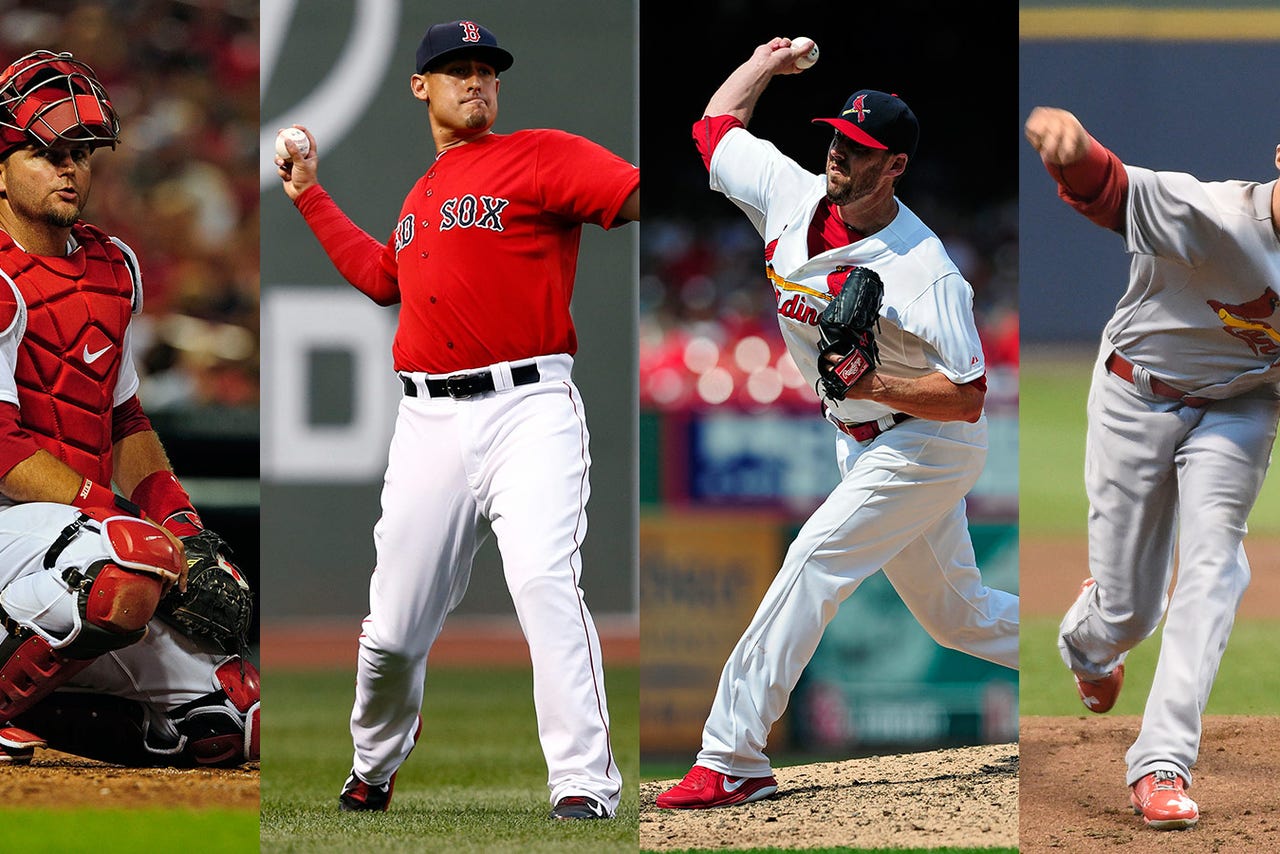 ST. LOUIS -- Some World Series rematch this will be. When the Red Sox and Cardinals hook up for three games this week, the uniforms will look the same but a lot of the players in them on both teams will be different.
The Red Sox, 13 games under .500 and 13 1/2 games out of first place, blew up their roster before last week's trade deadline. As a result, only 11 players who appeared in the World Series for the Red Sox last October will be wearing Boston's road grays at Busch Stadium. Of course, three others who wore the Birds on the Bat last year have changed over: Joe Kelly and Allen Craig in a trade last week and Edward Mujica as a free agent last winter.
Don't look for Craig on the field, though. He is heading to the disabled list because of an ankle injury suffered when he was running out a grounder in his first game with the Red Sox on Friday night, according to reports from Boston media. On Sunday, Red Sox manager John Farrell told reporters the club was trying to determine if the latest injury was connected to the Lisfranc injury that cost Craig the final month of last season.
The Cardinals will dress 15 players Tuesday night who were with the team in the World Series, plus one who was on the other side then, starter John Lackey.
Lackey won't start against his former team, but the other roster changes should add a little spice to the series. Here are four things to watch.
THE FANS' RECEPTION FOR THE FORMER CARDINALS
Who has the best chance of getting a standing ovation? All three, of course. Cardinals fans have a reputation to live up to. Who is welcomed back the loudest is the real question.
It's not likely to be Craig because he's injured and will have no opportunity to be announced to the crowd. Mujica has pitched better lately, but the Red Sox have to regret giving him a two-year, $9.5 million deal. He's allowed more earned runs in 40 2/3 innings this season than he did all of last season in 64 2/3. Though the Chief pitched for the Cardinals for less than two seasons, the way he took over the closer's job saved the bullpen in the first half. My over-under on the number of fans who stand when he enters a game: 60 percent. Based on his role with Boston, he is more likely to enter when the Cardinals are leading than with the Red Sox protecting a late lead.
Kelly would be my pick for the loudest welcome back. He will take center stage Wednesday night in what will be a truly emotional moment for him, though you can be sure he will try to downplay that when he talks with St. Louis media Tuesday afternoon.
THE MATCHUP BETWEEN BEST BUDS KELLY AND SHELBY MILLER
The advantage usually goes to the pitcher the first time facing a team -- particularly when he's facing the Cardinals, it seems. But the Cardinals have faced Kelly in live batting practice and have watched him for 266 innings in the majors.
Watch the Cardinals Live pregame and postgame shows before and after every St. Louis Cardinals game on FOX Sports Midwest.
Plus, Kelly could not be blamed if he has trouble focusing on the task at hand. Not many guys make their first start for the new team against the team they just left. Even fewer make that start against their best friend, too.
Pay special attention when the pitcher comes up for both teams. Will the buddies nod, smile or try to ignore each other when one steps into the batter's box? They certainly should know how to pitch to each other.
Miller has looked sharper no matter whom he's been facing lately. Working with veteran A.J. Pierzynski and the break he was given in July have made a difference. He is throwing more strikes and his fastball looks a little zippier.
WAINWRIGHT TRIES TO BOUNCE BACK
After each of his first three clunker starts this season, Adam Wainwright turned in a strong outing his next time out, pitching at least seven innings and allowing no more than two runs.
He expects to do so this time. Wainwright said, in fact, that he wasn't nearly as bad last Friday, when he gave up seven runs in 5 1/3 innings to the Brewers, as he was in the other poor outings.
Mike Matheny pointed to a squeezed strike zone while Wainwright, being politically correct, said he was missing on his pitches by just a tad. He admitted he made a mistake throwing a 3-0 fastball to Aramis Ramirez, who took it over the left-field fence. Wainwright also said the big hit in the game -- a three-run double by Jonathan Lucroy -- came on a pitch he put where he wanted.
Most important for the Cardinals, Wainwright insisted his arm felt good. Another bad start, though, and red flags will fly.
PIERZYNSKI AND THE BOSTON MEDIA
He barely had left town before the anonymous criticism started on the negative influence Pierzynski had been on the Red Sox clubhouse. He cared more about himself than the team, he didn't baby the young pitchers, he didn't take enough pitches (not sure Cespedes and Craig will fit that mold, either).
But from what Pierzynski said Sunday about facing the Red Sox, he might not offer much of a retort to the Boston media. When asked what it would be like to face his previous team, he said, "They got rid of everybody. They don't have the same team."
Still, he added he is looking forward to seeing Dustin Pedroia, David Ortiz, Mike Napoli and the coaching staff.
"There's no hard feelings from me toward them and I hope there's none the other way," he said about facing the Red Sox. "I was only there a few months, but you still spend a lot of time with those guys. I respect all those guys."
Even if most of them weren't part of the team that won the 2013 World Series.
You can follow Stan McNeal on Twitter at @StanMcNeal or email him at stanmcneal@gmail.com.
---