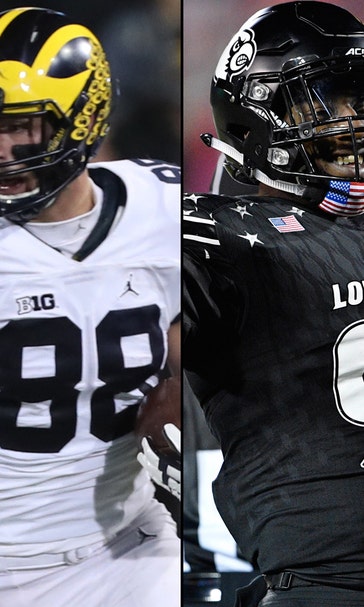 Woodshed Top 20 college football rankings: Week 11
BY foxsports • November 15, 2016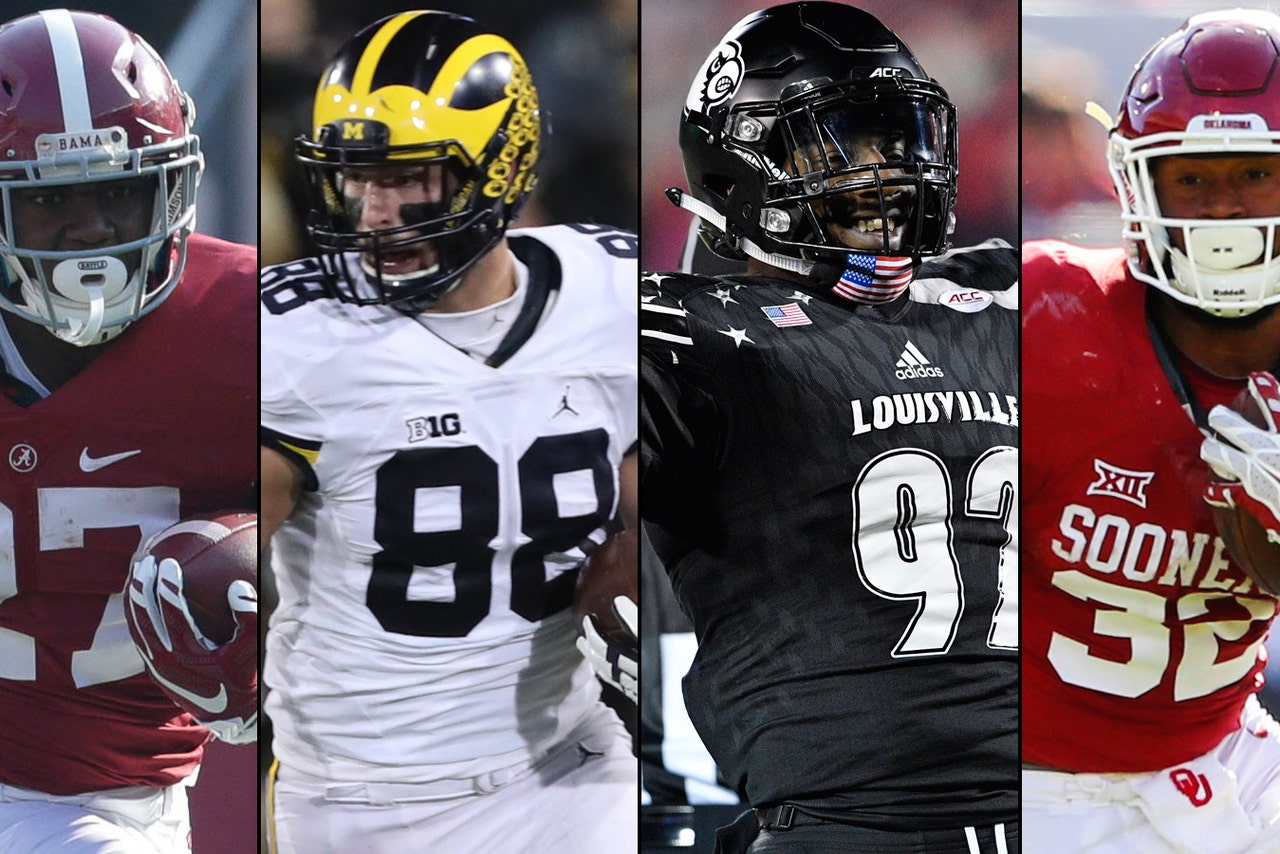 "Woah Nelly, we got a barn burner here," Hall of Fame broadcaster Keith Jackson would say about this past weekend. Barnburner, Woodshed ... eh, same difference right?
What we just witnessed this weekend was equivalent to first-round upsets in the NCAA tournament. November in college football is the month you win championships, it's the month you must go undefeated to give yourself a chance at the big prize.
The college football world was shaken to its core with the second-, third- and fourth-ranked teams going down. And man, may I add that polls are having a really bad week. They are like weathermen at this point -- calling for sun and ending up with overcast skies and rain all day.
Personally, I have always believed Clemson wasn't all that, especially after seeing the Troy and NC State game. This time they faced a field-goal kicker that did not blow it. Congratulations Chris Blewitt. Pittsburgh's Pat Narduzzi showed America what good coaching looks like. After Blewitt missed kicks earlier in the game, Narduzzi kept encouraging him, even giving him a kiss. And wouldn't you know it, he was needed to hit a 48-yarder to win the game.
The talk in the office this week will be debating the committee scenarios of who goes and who doesn't. Lucky for us, we have two more weeks of November football where anything can happen. It's not like you should be surprised when a player lays down in his own end zone attempting a trick play. Yes, this actually happened.
When you're Kansas, you have to do that kind of stuff, I guess.
We do have a Hawkeye in the office, and he's telling me that's not Kirk Ferentz best win ever? Wait for it, Iowa will extend his contract another 10 years. Iowa was 5-4 and knocked off the No. 2 team in the nation when NOBODY gave them a chance. I don't know, maybe there's a big win over Iowa State somewhere or even North Dakota State? Ouch! Kudos to NDSU for trash talking:
Oh man, it's just too easy. Perhaps Jim Harbaugh should have just left the pink locker room alone.
OK, let's get down to the Woodshed top 20:
1. ALABAMA (10-0)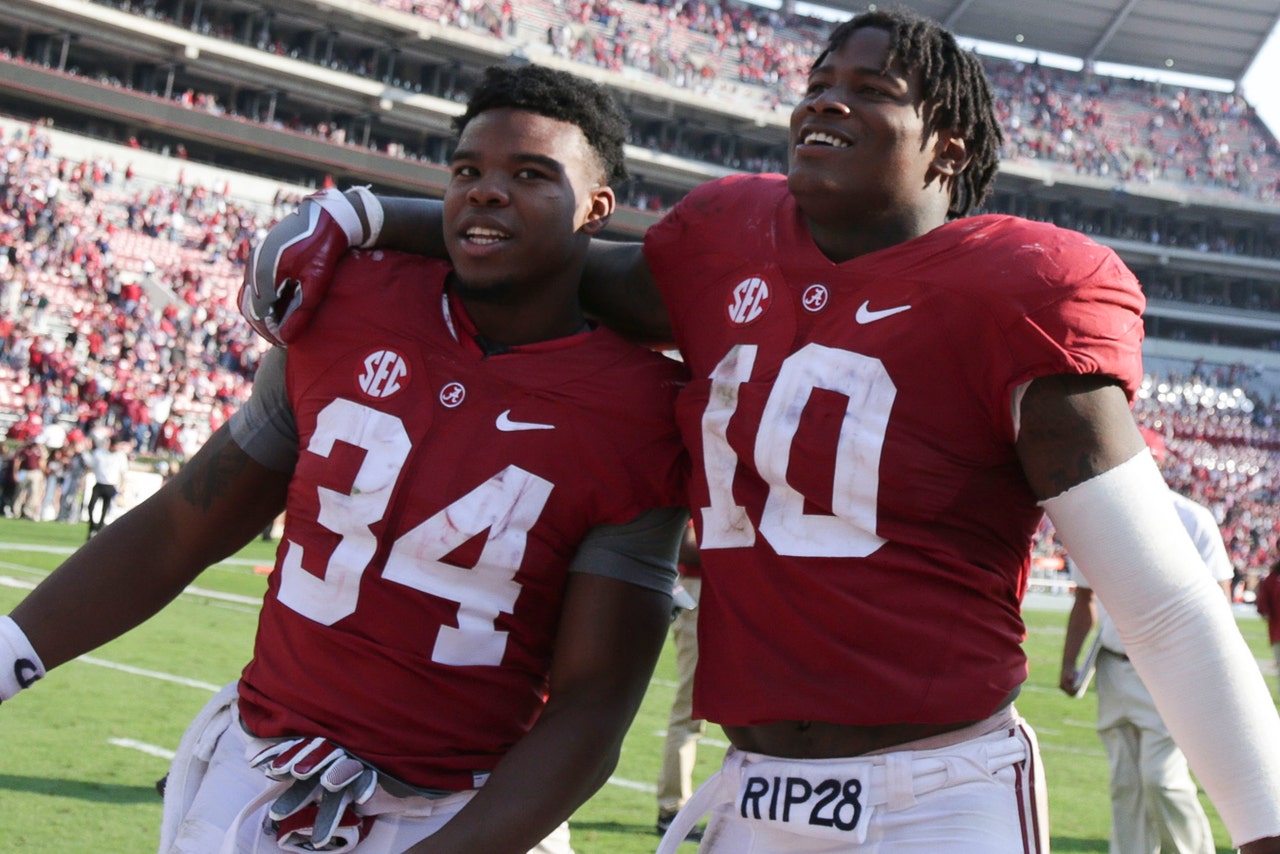 Alabama Crimson Tide running back Damien Harris (34) and Alabama linebacker Reuben Foster (10).
How many times have I said that this team is beatable? The problem is that it's not going to happen from a team in the SEC because they aren't as good this year kiddos, they just aren't. The next best team in the SEC is LSU, deal with it. The Tide demolished Mississippi State 51-3! It wasn't even close. Jalen Hurts became the first Alabama quarterback in history to throw for 300 yards and run for 100 yards. I promise you this, he's special. But, if you take his rushing game away, he's not throwing all over you, he will make mistakes. Kudos for 'Bama to have two weeks to prepare for Auburn in the Iron bowl. I mean, Chattanooga this week? Yes, that's me snoring in the next cubicle over. Even if Auburn beats 'Bama, it won't change a thing. Alabama will go to Atlanta for the SEC title game vs. a two- or three-loss opponent. Florida Gators fans hope it's them, it just doesn't matter.
Resume Victories:
No. 15 USC
No. 16 LSU
2. OHIO STATE (9-1)
The Buckeyes smoked Maryland 62-3. And if you're like me and like to measure how a rival played against the same team, they surpassed Michigan's performance by 3 points. The only difference is that OSU did it on the road while UM did it at home. Now Michigan fans will understand that playing on the road matters. Is it me, or is Ohio State really working on their passing game these days? The big reason why OSU is racking up yards and points, Curtis Samuel is getting the ball. Curtis scored three touchdowns Saturday, two via the run and one through the air. Samuel is the guy. You shut him down, you shut the Buckeyes down. It's a two-game season for the silver bullets, at Michigan State and then home hosting the Wolverines for all the marbles. The bottom line is that Ohio State needs to win out. I expect Ohio State to go into East Lansing and give Mark Dantonio's team a beating a lot like the one you saw on Maryland. The Terps beat MSU 28-17. Think about that one a bit. Sparty is in for a beat down.
Resume Victories:
No. 6 Wisconsin
No. 8 Oklahoma
No. 19 Nebraska
3. MICHIGAN (9-1)
I gained a lot of respect for Jim Harbaugh on Saturday night. Yes, his team lost to the Iowa Hawkeyes. If you know the teams, you would know that Iowa has a knack for beating Michigan. Harbaugh could have complained about a call near the end of the game -- was it facemask or not? I believe it was, but probably not a 15 yarder. Either way, would it have mattered? Michigan's defense could not stop Akrum Wadley, who jitterbugged his way to 167 yards of offense and one touchdown in a huge 14-13 upset in Iowa City. Harbaugh accepted the loss by saying they just didn't execute and perform. Perhaps America should take note of that. A call didn't go their way, but they accepted it and moved on. Here's the take, Michigan's defense is still dominant. The offense is what I've been suspect on; 201 yards off offense isn't going to get it done, especially against a team that can score. Perhaps Harbaugh should stop talking about Heismans for Wilton Speight and Jabrill Peppers and worry about that offensive line. Iowa owned the line of scrimmage. With "the game" coming in two weeks, there is reason for concern. Michigan hosts Indiana this week before heading to Columbus for the best rivalry in college football.
Resume Victories:
No. 6 Wisconsin
No. 9 Penn State
No. 12 Colorado
4. LOUISVILLE (9-1)
I know, I know, Clemson beat Louisville earlier in the year. But we are going to talk about who's the best four teams in college football and not who the conference champions are. Ask yourself this question, on a neutral field, who wins? The Cards struggled versus Wake Forest on Saturday, but still managed a 44-12 victory. Lamar Jackson had to lead his team back from a 12-3 halftime deficit. Jackson threw for only 145 yards, but it was his 153 yards rushing that moved the chains. They finished the game with 34 points in the fourth quarter. The Cards did what they had to do to remain in the picture. They survived turning the ball over three times in the first half. Next up is Tom Herman's Houston Cougars on a short week of prep for a Thursday night game. They need to win out and hope for another Clemson loss in order to play in ACC Title Game
Resume Victories:
No. 17 Florida State
5. CLEMSON (9-1)
Clemson's Deshaun Watson is a special player. He threw for three touchdowns and an ACC record 580 yards on Saturday. Those are Heismanesque numbers in November that would give him a chance to hold that coveted trophy in December. The problem is he also threw three interceptions that Pittsburgh turned into points. If you've watched the Tigers all year like me, you would say their luck finally ran out. They were nearly beat at home by Troy and NC State. It was fitting that they lost via a field goal seeing how NC State gave Clemson a victory. This was Clemson's first loss; all it does is devalue the ACC. The Tigers will face Wake Forest and South Carolina to end the season before heading to the ACC title game against... nobody! They likely won't face a ranked opponent in their title game, which is a problem for the conference. Nevertheless, if they win out they are likely in the playoff as ACC champion.
Resume Victories:
No. 3 Louisville
No. 17 Florida State
No. 18 Auburn
No. 6 WISCONSIN (8-2)
Wisconsin Badgers safety Leo Musso (19).
The Badgers have an easy road to the Big Ten Championship game in Indianapolis. With every LSU victory in the SEC, the Badgers get a little more respect. Wisky ran past Illinois 48-3 this weekend. We know they have a great defense and the offense is a yawner. But, they are better than most of the teams in the SEC. Despite loss to Michigan and Ohio State, if they win out, they'll have a shot at the playoffs.
Resume Victories:
No. 16 LSU
No. 19 Nebraska
No. 7 PENN STATE (8-2)
If they win out, they'll go to Indianapolis to face Wisconsin in the Big Ten title game. How about that Mel Allen? Seriously, PSU has two good losses -- to Pittsburgh and Michigan. The Pitt loss doesn't look so bad now thanks to what the Panthers did to Clemson. Penn State was on the ropes in Bloomington, but prevailed 45-31. I know the score didn't indicate that, but it was a scare for the State College fans. The Nittany Lions host Michigan State to close out the season out, which will be just as important as the Ohio State/Michigan game. Penn State is playing great football right now. Saquon Barkley's two fourth quarter touchdowns gave the Lions the boost they needed to be in the driver's seat down the stretch.
Resume Victory:
No. 2 Ohio State
No. 8 WASHINGTON (9-1)
OK, one loss shouldn't drop the Huskies too far out of the picture right? Well, it does because the resume is terrible. Washington needed to win out to be able to represent the Pac-12 in the playoffs. USC upset Washington 26-13 in Seattle and the bottom line was the Trojans were just better. I know Michigan's Jabrill Peppers gets a lot of love for being Mr. Everything, but the one guy that is dominant on defense is USC's Adoree' Jackson. He twice picked off Huskies Heisman candidate Jake Browning, and added a rushing touchdown for good measure. It should be noted that Browning had only thrown three interceptions all season long. I don't know, I just can't take the Pac-12 seriously. I rank them above the Big 12, but that's not really saying a whole lot.
Resume Victories:
No. 11 Utah
No. 9 OKLAHOMA (8-2)
Did I just mention the Big 12? The Sooners are 8-2, and, yes, they are still that same team that got embarrassed by Ohio State at home. The only difference now is that they've won seven in a row as they head to West Virginia for a quasi-Big 12 title game. The Sooners just baked the Baylor Bears 45-24, handing the once-ranked Bears to their third conference loss. Oklahoma's Baker Mayfield threw for 300 yards and two touchdowns, see what I did there? West Virginia is sitting in second place in the conference with one conference loss. I don't expect Oklahoma to drop the game, they are just that much better than the boys from Morgantown. Sorry kids, the truth hurts sometimes.
Resume Victories:
None
No. 10 FLORIDA (7-2)
The Gators quietly have snuck into the picture here with a 7-2 record. While I still haven't heard from Carl the Gators fan because they lost to Tennessee, they do sit on top of the SEC East division, which to me is a yawner. But hey, it's a great day to be a Florida Gator! Right Eric? Florida took care of the South Carolina Gamecocks in the swamp 20-7. It's not a shocker. Did Will Muschamp ever win a game in the swamp? I wasn't thinking he'd find a way to win this week either. I just don't understand why Jim McElwain doesn't get the ball to Jordan Scarlett more often. That kid is a bowling ball when he has the ball. Scarlett rushed for 134 yards, which is his career high. The Gators have a lot on the line as it heads to Baton Rouge, for the game that was postponed and moved due to Hurricane Matthew. Florida has injuries across the board, but at this time of the year, so do a lot of teams. Time to man up. I think they lose to LSU, FSU and Alabama to close the season. Insert that Pac-Man sound when the ghost eats you. GAME OVER.
Resume Victories:
None
No. 11 LSU (6-3)
At this point in the Woodshed, I'm going to go on who I think would beat who because the records are a moot point. Is there anybody below that has the ability to stop the Tigers' Leonard Fournette? I honestly don't think there is. In fact, I honestly think a matchup with the USC Trojans would be fantastic. Both have three losses and have tremendous athletes on both sides of the ball. The takeaway here, LSU beat up on Arkansas 38-10. Now they get to host the Florida Gators in the Hurricane Matthew Bowl. I personally think LSU is chicken for not trying to play at a neutral site or even head back to The Swamp to play. How they get awarded the home game to me is just typical for the SEC. I know the Gators fans in the office are not as confident about facing the Tigers at this point. They will need to be "Lit" in order to take down the purple and gold in Baton Rouge. Atlanta can wait for now. This game is important for recruiting purposes if anything.
Resume Victories:
None
No. 12 UTAH (8-2)
The Utes rebounded from their loss to Washington by beating Arizona State 49-26. Utah is fighting for the Pac-12 South crown with USC and Colorado. All they have to do is win out to be the team headed to the title game to face Washington or Washington State. Right now Colorado is the leader in the division, but I'm suspect on the Buffaloes. Utah will host them in two weeks for what could be all the marbles.
Resume Victories:
None
No. 13 COLORADO (8-2)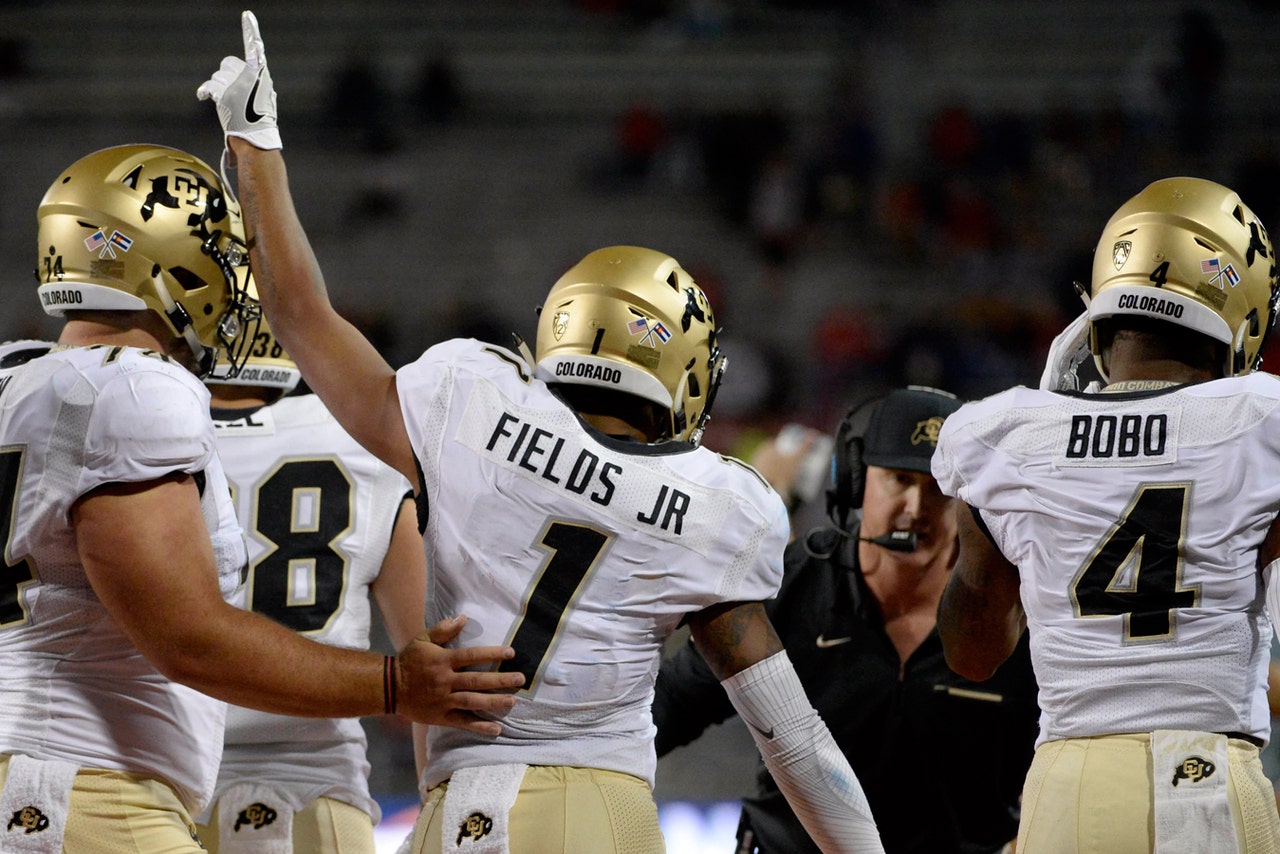 Colorado Buffaloes center Alex Kelley (74) (left) wide receiver Shay Fields (1) and wide receiver Bryce Bobo (4).
The Buffaloes may have an 8-2 record, but losses to both Michigan and USC have them on the outside looking in when it comes to playoff contention. Colorado has no impressive wins on the resume. This week, they host Washington State, who snuck into my top 20. The Pac-12 doesn't play defense, so I'm not too worried about playoff contention for now.
Resume Victories:
None
No. 14 NEBRASKA (8-2)
The Cornhuskers are guilty of losing to Wisconsin and Ohio State. They have beaten everybody else on their schedule, including Oregon in the Pac-12. At this point in the rankings, it's not really that important. Nebraska vs. Auburn in the Outback Bowl would be a nice attraction. The Cornhuskers end with Iowa at the end of the season. If they win out, they'll be 10-2. Not bad, not bad at all.
Resume Victories:
None
No. 15 USC (7-3)
Have the Trojans figured it out this season? After they lost three of their first four games to begin the season, most of us wrote them off. Any talk about these guys in the playoff is a joke, although they are playing like the best team in the Pac-12. They do have one of the best football players in the country in Adoree' Jackson, who returns punts, plays lock down corner, and scores on offense when asked. He is a guy I would put in the Heisman race to stand next to Lamar Jackson when he wins the trophy! USC lost to Stanford and Utah, but beat Washington, what does that say about the Pac-12? Two more weeks left in Pac-12 play. Will it be Washington State or Washington vs. Colorado or Utah? Doesn't exactly get you excited about competing against Alabama does it?
Resume Victories:
No. 7 Washington
No. 16 WESTERN MICHIGAN (10-0)
Ah man, as much as I'd like to see Western Michigan win out and get a chance to play a team like Utah in a bowl game, I'm also interested in seeing them play a team like North Dakota State. My buddy Chopper has a little more pep in his step when he walks into the office. The Broncos remained unbeaten this week by taking care of the Golden Flashes of Kent State 37-21. The final two weeks will determine their season as they host both Buffalo and Toledo down the stretch.
Resume Victories:
Northwestern
Illinois
No. 17 FLORIDA STATE (7-3)
The Seminoles are quietly waiting for their opportunity to make some noise again. The three losses are a Debbie Downer for sure. I'm sure Showtime would rather be covering Michigan or Alabama this year than FSU. Jimbo Fisher's squad shouldn't look past Syracuse this week ahead of their rivalry matchup against the Gators. I like the 'Noles a lot. They would give anybody trouble in the top 20, because of the talent they possess.
Resume Victories:
None
No. 18 AUBURN (7-3)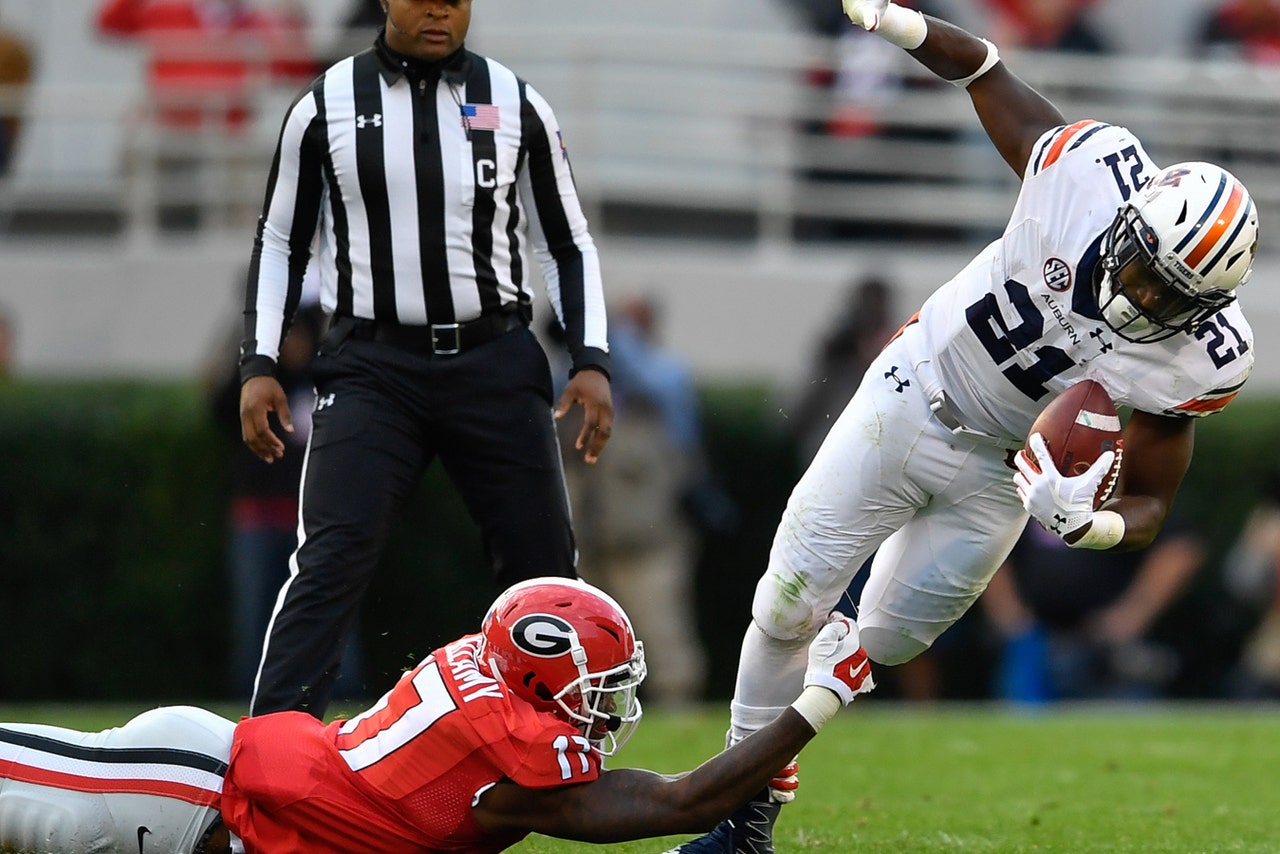 Auburn Tigers running back Kerryon Johnson (21).
The Tigers may have been caught looking ahead to their date with Alabama at the end of the year. Just when I thought I was wrong about Georgia, they go and get a big win under Kirby Smart. Auburn did not throw the ball very well against the Bulldogs; 37 yards isn't a resume builder for sure. Georgia held Auburn to zero first downs in the second half, that's -- Donald Trump voice -- "huge." The Tigers are out of SEC title contention. Even beating the Tide won't do much but give them bragging rights. Auburn is a different team without Kamryn Pettway, who was the nation's No. 4 rusher until getting injured last week vs. Vanderbilt. Listen up people, Auburn is a terrible team without Pettway. Don't be hoping for an upset victory in the Iron Bowl. The fact is that Auburn has no resume victories, none, wait... LSU? Does that really count?
Resume Victories:
No. 19 LSU
No. 19 WASHINGTON STATE (8-2)
I don't know how Washington State lost to both Eastern Washington and Boise State. Most of the nation doesn't know much about the Cougars despite the fact they're unbeaten in the Pac-12 for the first time in conference history. The Cougars are 7-0 in conference and riding an eight-game winning streak, their longest since 1930. How about them apples! Well, Mike Leach didn't get the number quite yet. The next two weeks will tell you a lot about where the Pac-12 stands as they face Colorado and Washington for the North title. On Saturday, the Cougars beat up on the Cal Bears 56-21. WSU quarterback Luke Falk threw for five touchdowns, including three to best name ever in wide receiver River Cracraft. Unfortunately, that will be Cracraft's last game for the Cougars as he suffered a torn ACL.
Resume Victories:
None
No. 20 OKLAHOMA STATE (8-2)
Just like Washington State, the Cowboys have a pair of inexplicable losses -- theirs coming against Central Michigan and Baylor. So are they really that good? I don't believe they are, although they did beat West Virginia and Pittsburgh. It's very interesting, they have TCU and finish at Oklahoma in a rivalry game on Dec. 3. Oklahoma State is still alive for the Big 12 title after they escaped Texas Tech on Saturday 45-44 thanks to a missed PAT. The Cowboys' Mason Rudolph threw for 395 yards with two touchdowns on the day.
Resume Victories:
None
The Playoff Committee has their hands full. Do they go with the eye test and pick the four best teams that are playing the best football and have the best resumes? If so I'll take Alabama vs. Michigan and Ohio State vs. Louisville as the top four teams. Those games will be entertaining to say the least.
Or does the committee go with conference title game champions? Alabama vs. Washington and Wisconsin/Penn State vs. Clemson. Let's think about that a second, shall we? Isn't that the most boring playoff ever? The first year, they went with resumes. Last year they went with title games and the ratings were not as good.
It's too soon to say what would happen. The Big Ten is muddied waters with Penn State holding the tiebreaker over Ohio State. That would mean the No. 2 ranked team in the nation wouldn't have the extra game. But if you look at it, they'll have four ranked opponent wins, which is two more than anybody else in the playoff picture. It's a moot point if Michigan wins out by the way; that would be tremendous, believe me.
What happens if Alabama loses to both Auburn and in the SEC title game? That would be bigly. Haha, I know, that won't happen, but you never know right? Chaos is kind of what we want to see, I know America was rooting for all those upsets on Saturday night. No need to protest, it will work itself out. It always does!
---
---