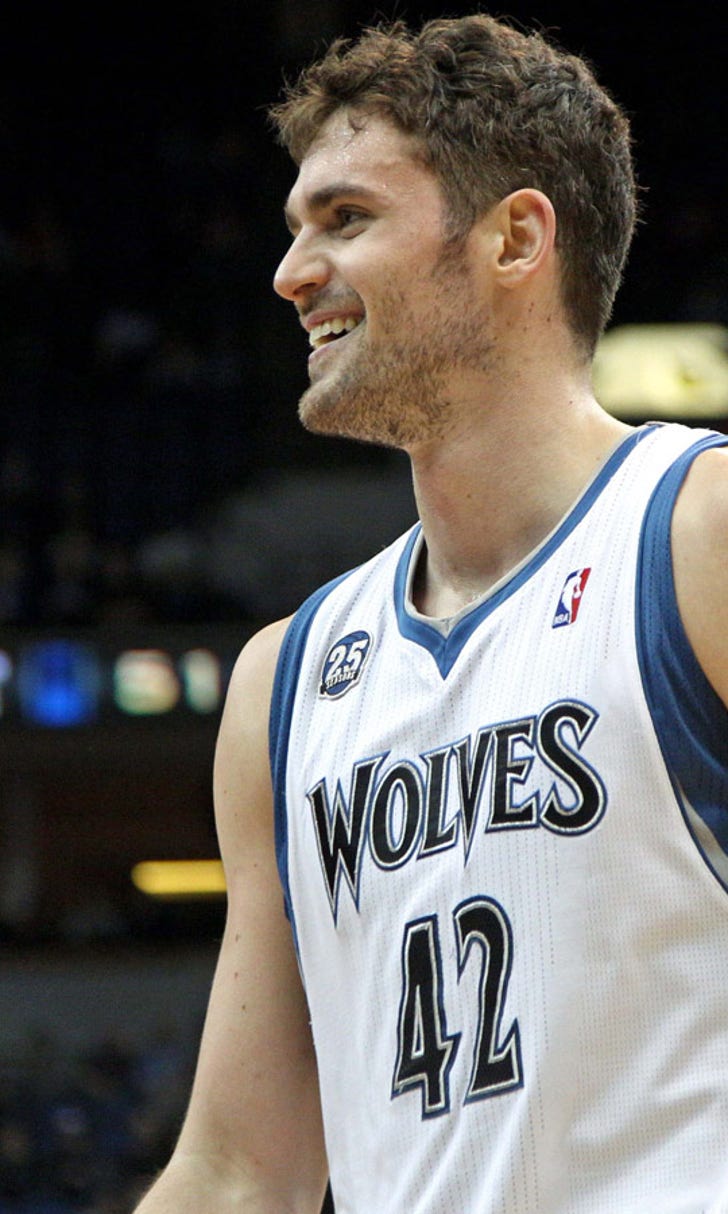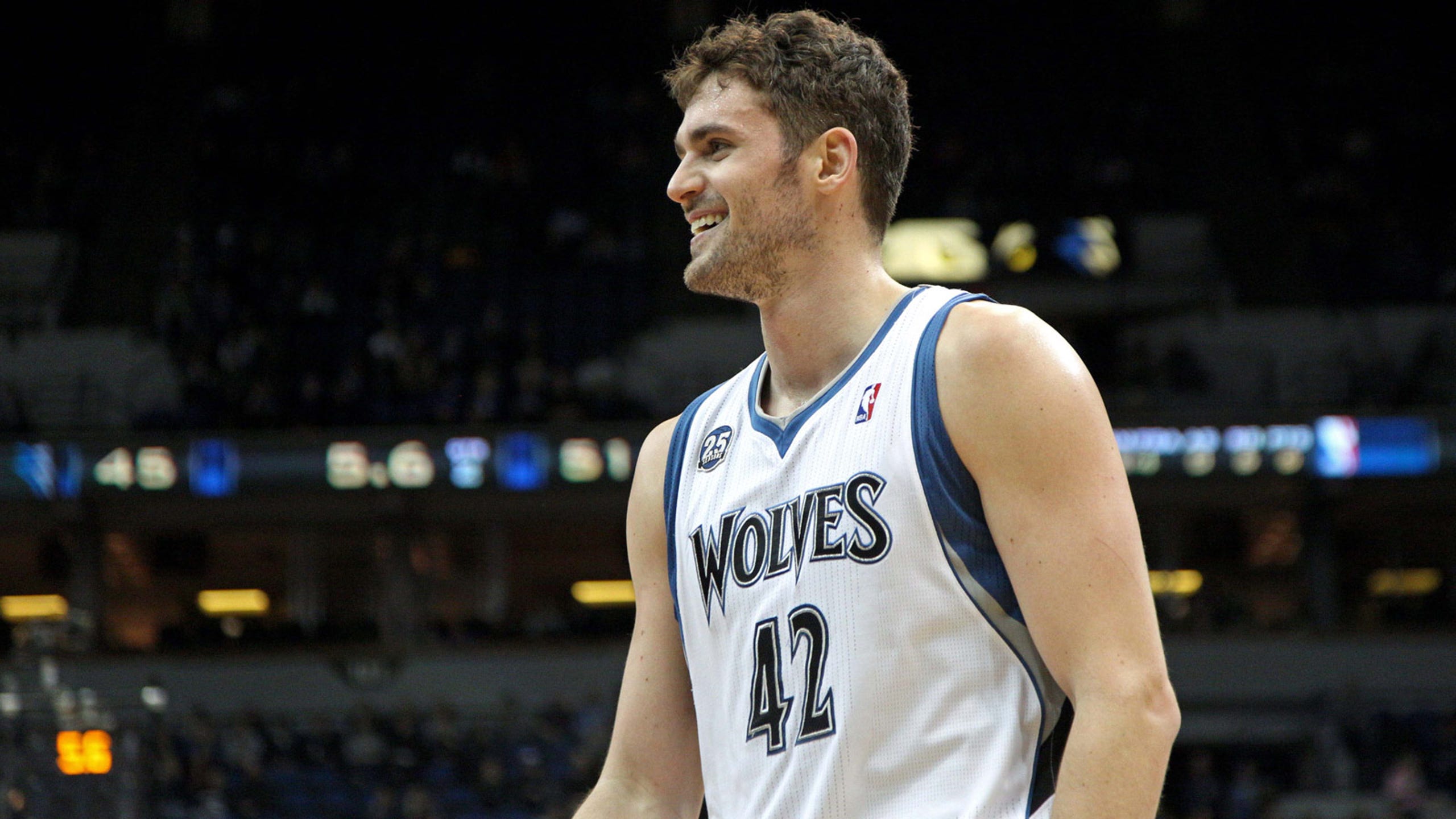 Wolves' Love named All-Star Game starter
BY foxsports • January 23, 2014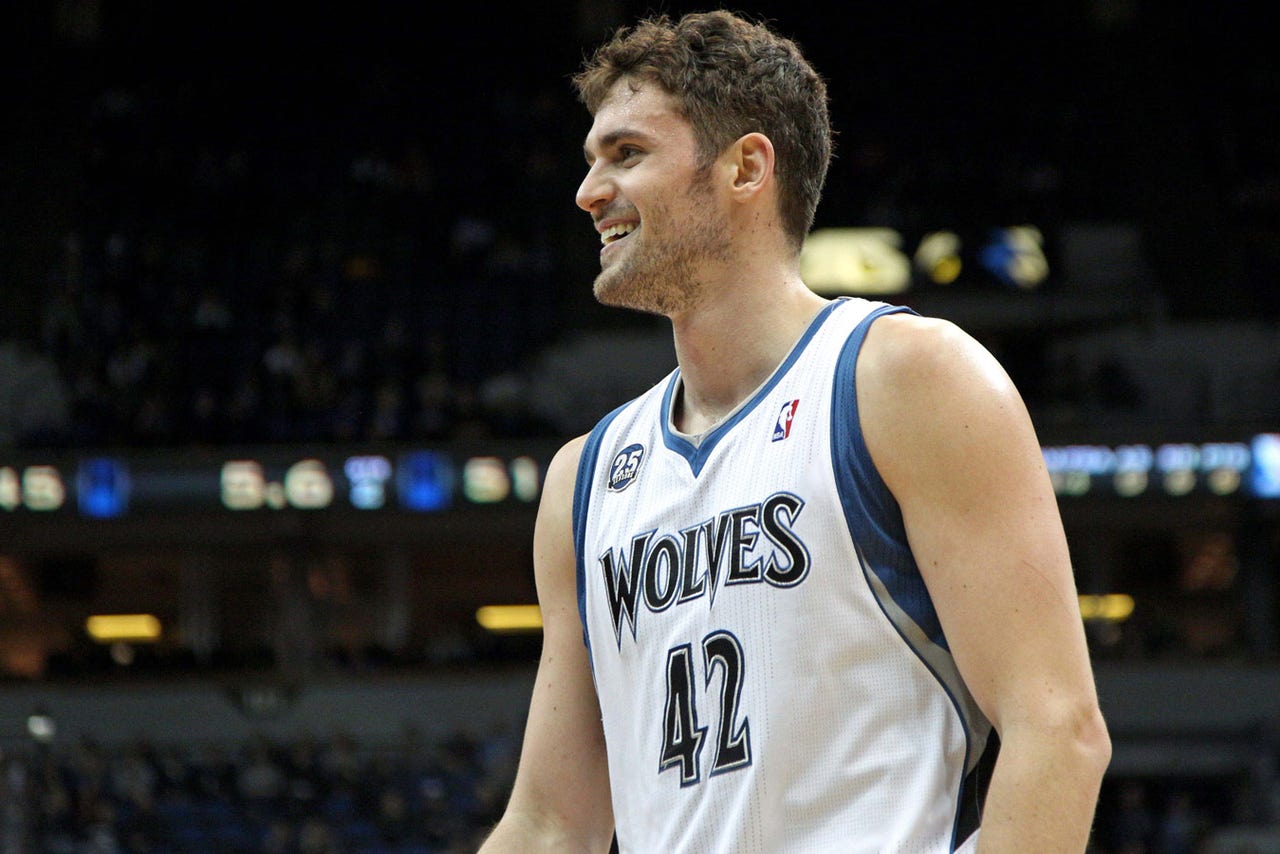 Minneapolis -- Call it a coup for Kevin Love.
Thursday morning, it looked like a long shot for the Timberwolves' forward to earn his inaugural NBA All-Star Game start. By Thursday afternoon, he'd received an unexpected visit to his San Francisco hotel room and a boatload of congratulatory text messages.
The people have spoken, and Love will hear his named called when the starting lineups are announced Sunday, Feb. 16 inside New Orleans Arena.
"Surreal," Love repeatedly used to describe his feelings more than an hour after finding out he'd made the cut.
During a TV special Thursday night, Love was announced as the fifth and final starter for the Western Conference. The two-time All-Star reserve edged out Houston's Dwight Howard, drawing 661,246 fan votes cast via text message, the Internet and social media.
When the previous set of public ballot returns was released Jan. 9, Love trailed Howard by 26,085 votes. Love wound up beating him out by 7,928.
Because he'd been so far behind, Love simply wondered what his final margin of defeat would be.
Then president of basketball operations Flip Saunders and general manager Milt Newton popped into his room while Love was eating lunch.
"'You're gonna be an All-Star starter, buddy,'" Love said Saunders told him.
"I guess I was hoping for the best and preparing for the worst," said Love, in the Bay Area with his team ahead of Friday's game against the Warriors. "But right now, I'm very happy."
Love becomes the first Timberwolves player since Kevin Garnett in 2007 to start in an All-Star Game.
Love's transcendence as basketball's most versatile power forward proved more than enough to merit his third All-Star selection in the past four seasons. He made it in as an alternate in 2011, and the Western Conference coaches voted him in as a reserve in 2012.
He appeared in only 18 games last year after suffering a broken hand.
Love joins Kevin Durant and Blake Griffin in the West's starting frontcourt, while Stephen Curry and Kobe Bryant (who may or may not play due to his left leg injury) were chosen as guards. Those five will square off against LeBron James, Paul George, Carmelo Anthony, Kyrie Irving and Dwyane Wade (if he's healthy).
According to his coach, Love is fully deserving of the honor.
"He's been consistent, night-in and night-out," Rick Adelman said. "I mean, he's done just about everything he could do for us."
Heading into a road back-to-back against Golden State on Friday and Portland on Saturday, Love is averaging 25 points per game (fourth in the NBA) and 13 rebounds per game (second). His 4.1 assists an outing are a career high, and he's on pace to become the first player since Kareem Abdul-Jabbar in 1975-76 to average that many points, rebounds and assists throughout an entire season.
Love's 35 double-doubles lead the league.
But his team is 20-21 and sits in 11th place in the West. That, and the popularity of Howard and Griffin in two of the league's largest markets, seemed like enough to keep Love out of the starting mix.
Timberwolves fans, though, proved otherwise, thanks in part to a concerted push from the team's business office and PR department -- in-game promotions, social media blasts, Love-autographed giveaways and the like.
"I am very happy for Kevin," Saunders said in a release. "He is certainly deserving of being voted in as a starter. You look at his numbers, his commitment to making his teammates better and his overall value to our team this year -- he's certainly having an All-Star-caliber season.
"He's been a joy to watch this year, and I look forward to watching him represent the Timberwolves in New Orleans."
Said Love: "It means a lot, and it doesn't go unnoticed. The fans have been so great this year, not only to me but the rest of the team. The entire team, the coaching staff, everybody's just had my back and had our team's back."
It was the second piece of good news for Love on Thursday. Earlier, he'd been named to the 2014-16 USA national team's roster pool [LINK: http://msn.foxsports.com/north/story/love-named-to-usa-national-team-roster-pool-012314], from which athletes will be drawn for the 2014 FIBA Basketball World Cup in Spain and -- assuming the U.S. qualifies -- the 2016 Olympic Games in Brazil.
Timberwolves teammate Ricky Rubio finished 10th on the Western-Conference backcourt fan ballot with 124,230 votes. All-Star reserves will be voted upon by coaches from their respective conferences in the coming days.
Love said he'd be thrilled to bring center Nikola Pekovic, who's having the best season of his four-year NBA career, with him to the Bayou.
"If he doesn't make the game, maybe he can be my body guard down there," Love said, laughing.
Follow Phil Ervin on Twitter
---