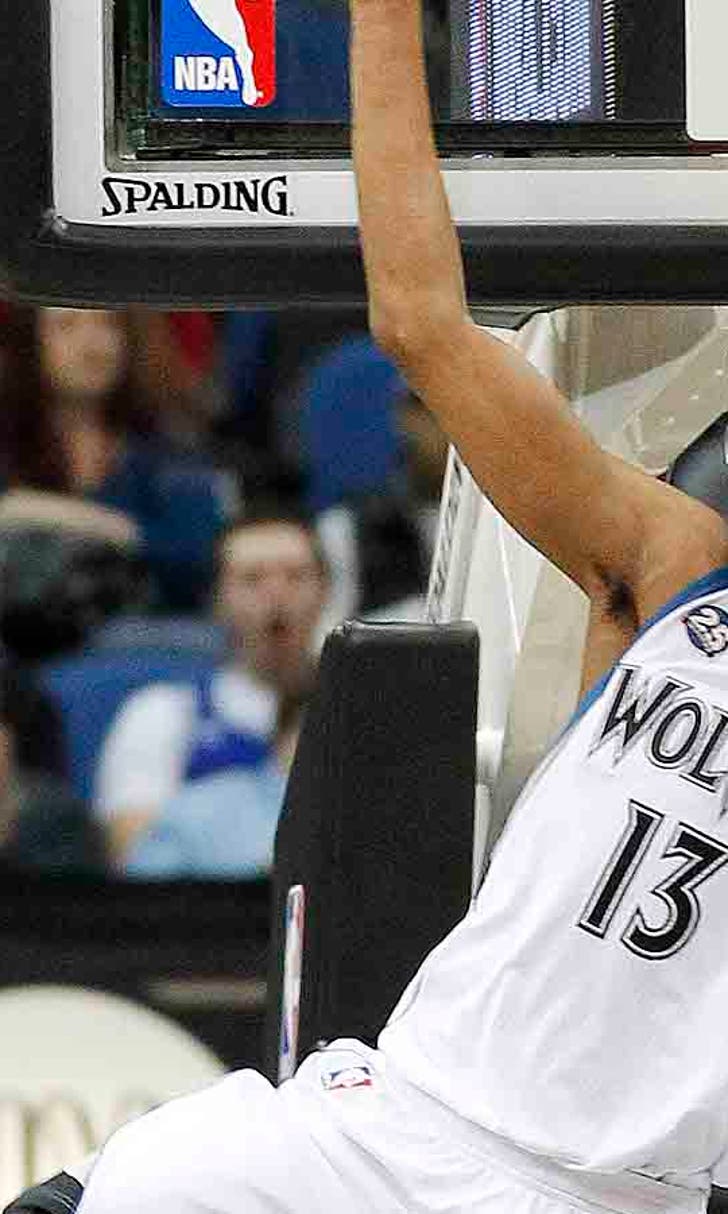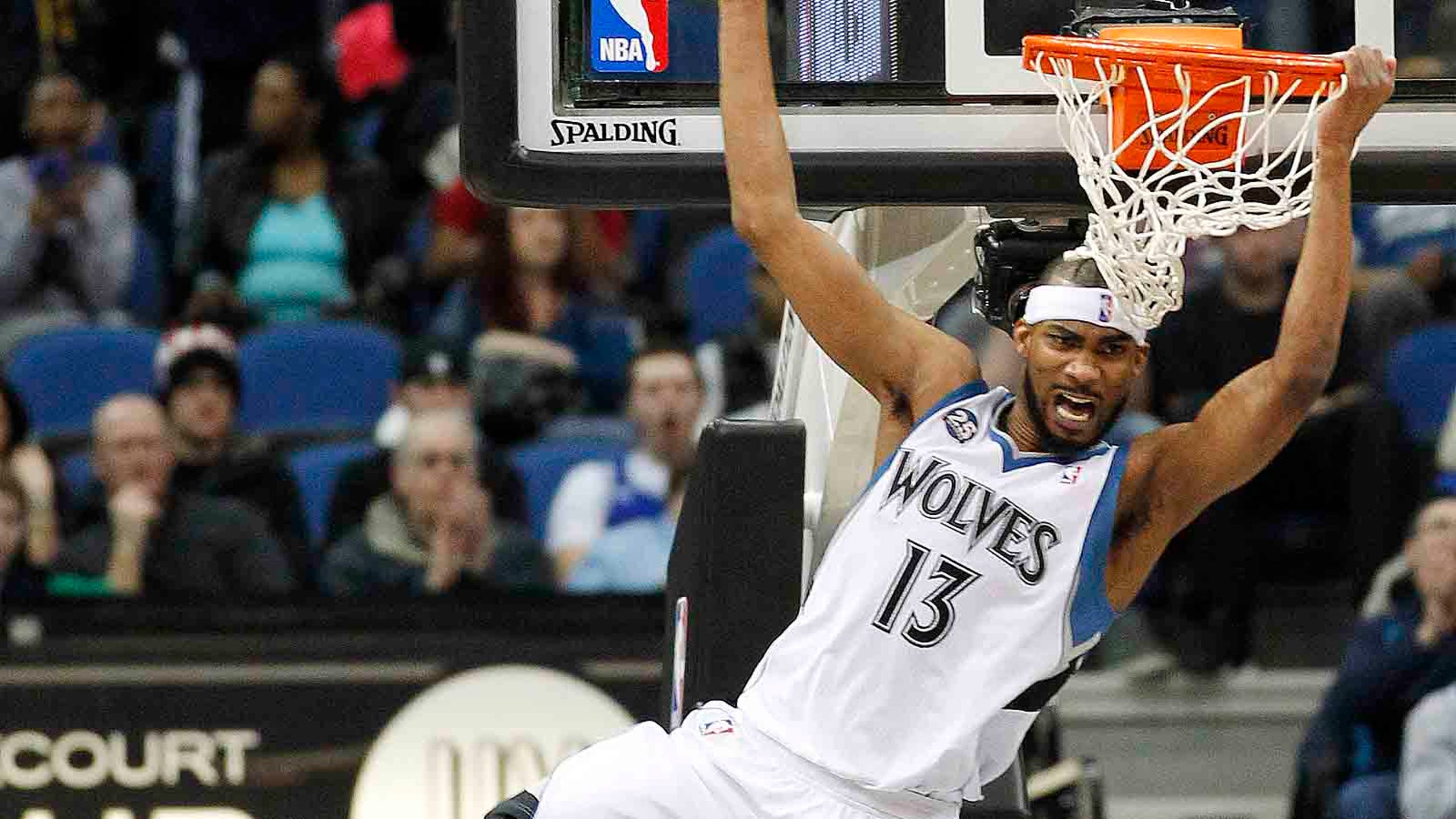 Wolves display urgency, focus in win over Pacers
BY foxsports • February 20, 2014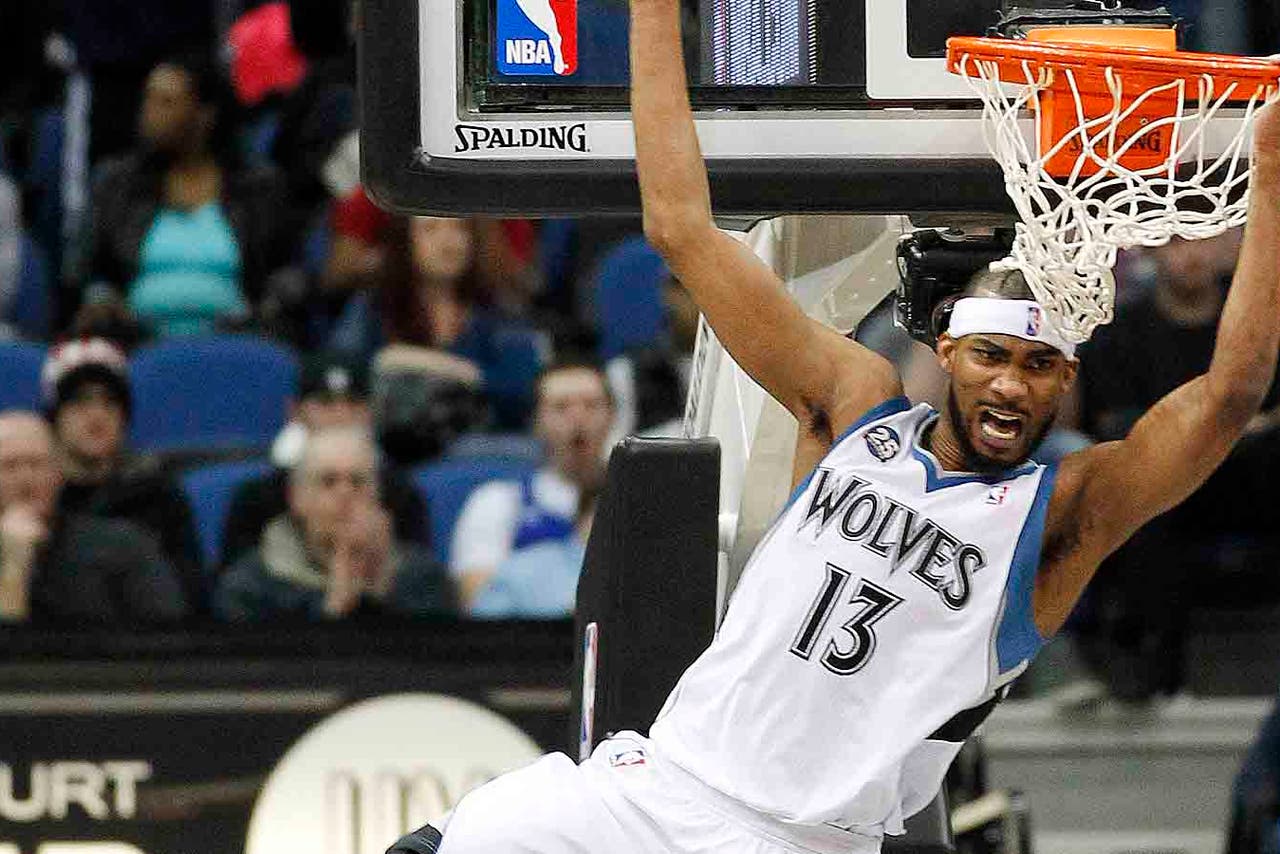 MINNEAPOLIS -- One brick has been lifted.
There's still a wall between the Timberwolves and the realization of their decade-long yearnings. It's about 20 wins tall, nine defeats wide and stretches from here to 2004, the last time this franchise tasted the postseason.
But Minnesota began chipping away at it with a 104-91 victory over arguably the NBA's best-rounded team at present.
The Timberwolves (26-28) were once again down two starters. Media reports have folks inside and outside the organization wondering how long at least two players will remain on the payroll. They allowed a 20-point lead to dwindle to five, threatening to become yet another close defeat like the ones that plagued Minnesota frequently before the All-Star break.
In the first outing since Kevin Love started opposite Indiana's Paul George in New Orleans, though, the Timberwolves were as swift and decisive as they've been all season.
Coach Rick Adelman's postgame press conference prelude included the words "terrific win." Love called it one of his favorite triumphs of the season. Ricky Rubio said if it's not Minnesota's most satisfying victory this year, it's right up there.
"It was a huge win against one of the best teams in the NBA right now," said Rubio, who tied a franchise record with 17 assists.
Love (42 points, 16 rebounds) and George (35, 11) apparently weren't notified the All-Star Game ended Sunday, entertaining a 15,109-strong crowd with a flurry of smooth shooting -- particularly in the third quarter, when the pair of All-Star starters scored 18 points apiece and traded baskets on five different occasions.
"I was looking up and I was like 'let me check out how much Love's got already,'" Barea said. "I'm looking at Kevin, not really looking at George, but Kevin, he did a great job out there."
Every Pacer not named Paul George went 24-for-65 -- 36.9 percent -- and the league's No. 1 defense (yielding 90.5 points per game) gave up 100 or more points for just the 12th time this season.
Coming off a home game Tuesday against Atlanta, Eastern Conference frontrunner Indiana (41-13) faced a Minnesota squad coming off a week of rest but missing center Nikola Pekovic (right-ankle bursitis) and shooting guard Kevin Martin (broken left thumb). Love continued to carry the load and now averages 32.9 points and 15.3 rebounds since Pekovic went down.
Seven of Indiana's 13 losses have come on the back end of back-to-backs.
"The team just didn't have a whole lot of pop tonight," Pacers forward David West said.
The Timberwolves did.
Love put together his second 40-point, 15-rebound, five-3-pointer outing of the season -- a feat achieved only one other time in NBA history. His back-to-back 3s to commence Minnesota's offensive output paved the way to a 30-18 advantage heading into the second quarter.
Both came off Rubio assists.
The pass-first Spaniard scored only six points and went 2-for-10 from the field but attacked the paint with vigor, setting up Love, Corey Brewer and the rest of his floor mates with one of the best distribution nights in the franchise's 25-year history. His 17 assists tied Sidney Lowe, Pooh Richardson, Micheal Williams, Stephon Marbury and Chauncey Billups for the team single-game mark, and Rubio became the second NBA player this season to dish out 17 or more helpers.
"It's a big honor," Rubio said. "That it comes with a win, it's even sweeter."
Brewer showed shades of his early-season self via pesky defense and a transition-driven 12 points. His three steals were part of 21 Indiana turnovers.
The Timberwolves turned them into 18 points.
That helped them create a 20-point lead early in the third quarter. Thanks almost solely to George, the Pacers didn't let things slip any further.
Chris Copeland and C.J. Watson hit consecutive shots to make it 82-77 57 seconds into the final frame, but a reserve-laden Minnesota lineup of Barea, Chase Budinger, Luc Mbah a Moute, Dante Cunningham and Ronny Turiaf -- who exited with a knee injury at the fourth's 7:15 mark and didn't return -- mounted an 8-1 run to avoid one of the backbreaking opponent surges that have the Timberwolves 5 1/2 games out of a playoff spot.
"My back was hurting when they got it to five," though, joked Adelman, whose team has won only one contest decided by four points or less this season. "It was really good to see the way we finished."
With trade rumors involving him and Budinger floating around the past couple days, Barea led the bench with 12 points on 6-of-10 shooting. Turiaf scored 11 before trying to block Ian Mahinmi's shot and landing awkwardly on his right leg.
But even Turiaf was in a jovial mood following such a successful start to the season's home stretch.
"That's something that we've been working on, just coming out with some more urgency," Turiaf said. "Just trying to understand what's at stake, trying to understand who we playing against. I think that shows that we have resolve."
But there's still a sizeable expanse to cover. Securing at least 19 wins the rest of the way represents Minnesota's only hope for breaking the NBA's longest postseason drought, in danger of extending to 10 seasons.
So the postgame atmosphere was more recognizant than celebratory.
"We've got to win every game just about," Brewer said. "We've got to keep it going."
Follow Phil Ervin on Twitter
---