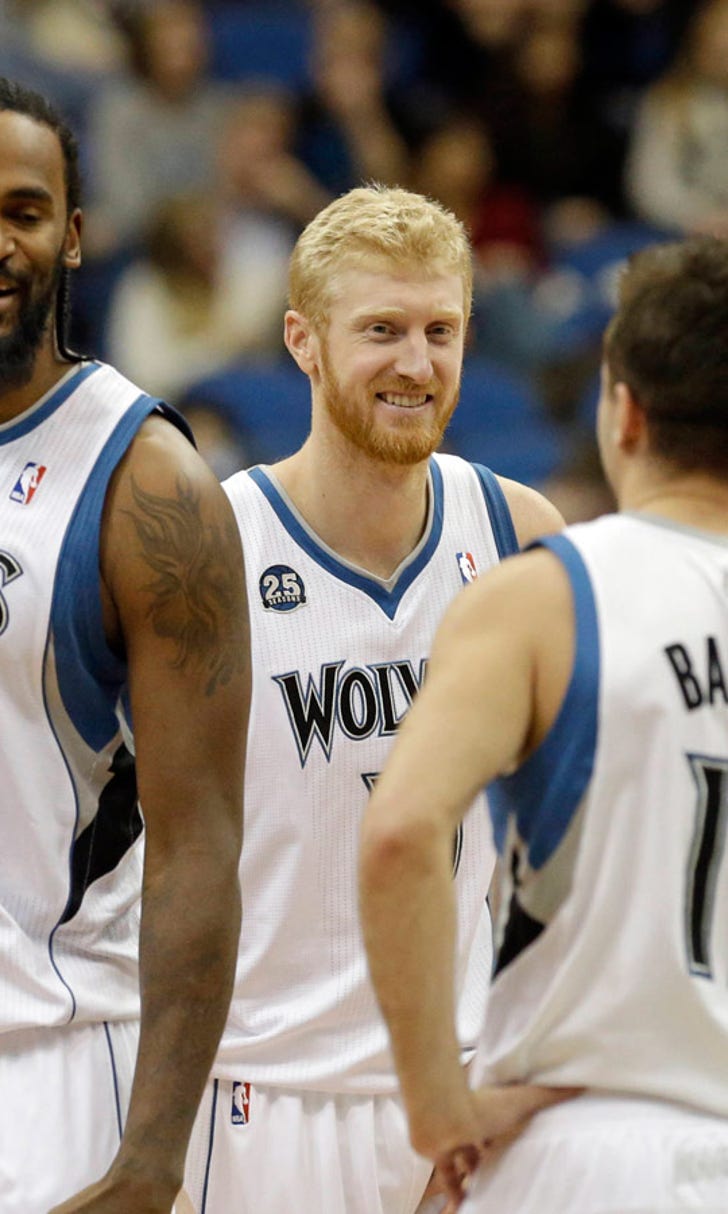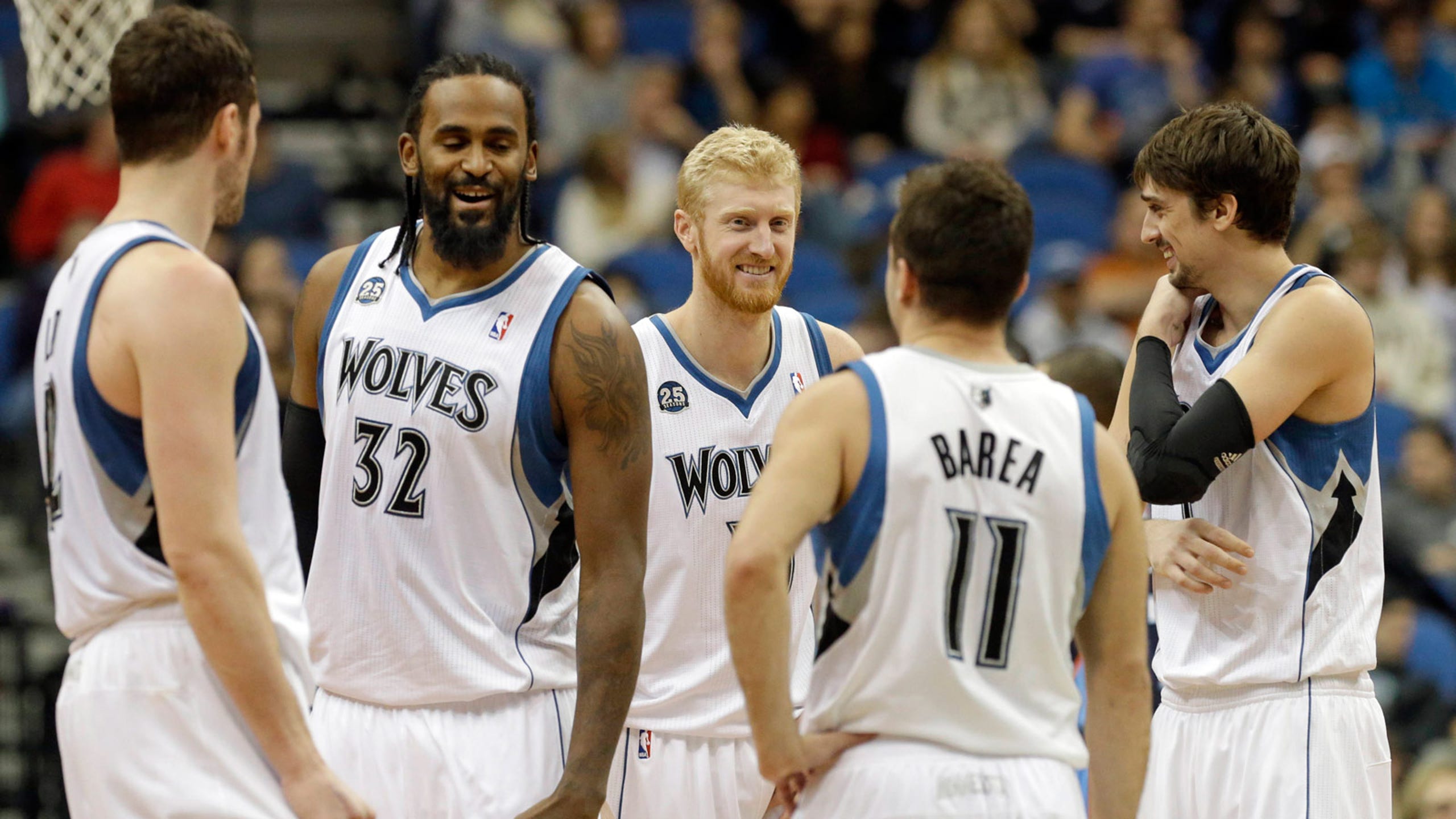 Wolves' dilemma: Healthy team, not enough minutes
BY foxsports • January 21, 2014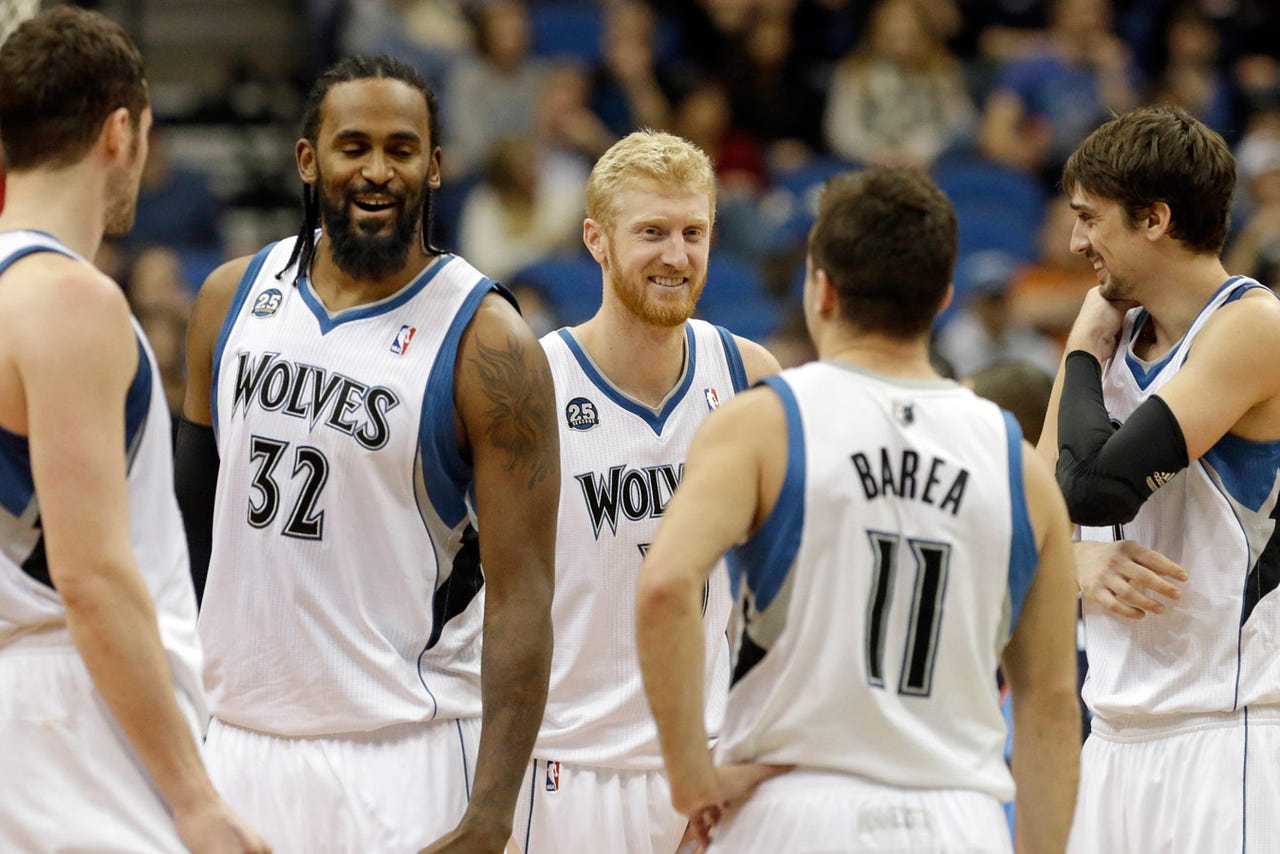 MINNEAPOLIS -- Once back during his coaching days, Flip Saunders decided to survey his players.
The question: How many minutes per game do you think you deserve?
When the current Timberwolves president of basketball operations added up the responses, the sum was somewhere around 400.
Problem is, Saunders said, "there's only 240 in a game. That's the toughest thing to work through and get the right combinations on the floor at the right time."
And it's one of the main challenges facing Minnesota coach Rick Adelman as the season's halfway point draws near.
It's a predicament the veteran head man would've been thrilled to have at this point last season, when Kevin Love was lost for the year, Chase Budinger was out for most of it and Nikola Pekovic was dealing with one of several nagging injuries. Every Timberwolves player is healthy and available; the last time that happened was March 3, 2012.
But after spending last season devastatingly low on man power, Adelman now has more than he knows what to do with at times.
And it still isn't producing results.
"It's been difficult," Adelman said. "We have to take time to fit people in and out and figure out where we are."
The return of Budinger (left-knee meniscus surgery) and backup center Ronny Turiaf (right elbow fracture) doesn't alter the starting lineup much -- not yet, at least. Considered to be in the running for a starting spot before reinjuring the knee that kept him out most of last year, Budinger has been placed on a minutes restriction and is still getting back into prime playing shape.
"Going through training camp," he calls it. In the six games he's played, Budinger has gone 10-for-33 from the floor and played about 16 minutes per game.
If Budinger can find some of the offensive punch he showed two years ago in Houston when he shot 40.2 percent from 3, though, Adelman may have a decision to make. Corey Brewer is currently the team's starting three and has cooled off offensively since a hot start to his second Twin Cities stint.
Brewer's ultimate value to the top unit is his on-ball defense. But in the past 18 games, the 2007 No. 7 overall pick is scoring just 8.2 points per game; during the season's first 22 outings, he averaged 13.7.
He's never been a potent 3-point shooter and is 28.6 percent from beyond the arc this season.
Brewer grew comfortable coming off the bench in Denver the past two years and said this summer he'd be willing to fill a similar role. If Adelman seeks some added offense in his starting five, Budinger may be the one to provide it.
But that notion can't even be entertained until Budinger gets readjusted, the coach said.
"I have to get Chase out on the floor," Adelman said. "He's bringing something to that second unit. He spaces the court. He knows how to play and what we're doing."
Budinger's floor presence alone, along with that of Turiaf, has boosted the reserves' play lately. The pair has teamed up with guards J.J. Barea and Alexey Shved and forward Dante Cunningham in Adelman's most often-used second group.
In the six games since Turiaf and Budinger were both back, Minnesota's bench averages 33.3 points per game, which ranks 13th in the NBA during that span. Before the pair's Jan. 8 return, the reserves 25.8 bench points per game were 24th in the league.
It's a mix that's worked well -- Barea and Shved attacking the rim and hitting 3s, Turiaf and Cunningham anchoring the defense, and Budinger trying to knock down some key jumpers of his own. But it also squeezes a few guys out of the mix, namely defensive specialist Luc Richard Mbah a Moute.
In a loss last week to Sacramento, a healthy Mbah a Moute didn't play at all. In the two games before that, he was on the floor for about nine minutes.
"Maybe when someone's got it going on the other team, you put him in there to defend him," Adelman said. "But there's not much you can do. They don't expand the game to 60 minutes, so I can't really change much."
The Timberwolves gave up a former No. 2 overall draft pick in Derrick Williams to acquire Mbah a Moute from Sacramento.
A decent around-the-rim finisher and Minnesota's second-best individual defender behind Brewer, Mbah a Moute's best chance at seeing increased time hinges upon improving his scoring (3.6 points per game since the trade).
The Timberwolves' newfound "depth" also means rookies Robbie Hummel, Shabazz Muhammad and Gorgui Dieng have even fewer chances to step on the court. Muhammad's already been to the NBA D-League once, and Saunders said Dieng could be next after the team's four-game road trip that begins Tuesday at Utah.
Hummel filled Budinger's role as a backup wing to begin the season and even started twice when Kevin Martin wasn't available. Now, he and No. 3 point guard A.J. Price are in line for little more than deactivations and occasional spot duty.
"That's the toughest thing as a coach, managing players and minutes," Saunders said. "He would love to go walk into a game and play everybody 25-30 minutes, but you can't."
The improvements in health, though, have yet to produce tangible results. As of Tuesday afternoon, Minnesota sat four games out of the Western Conference's final playoff spot.
The Timberwolves are 2-4 since Turiaf and Budinger's return. They've been so inconsistent that Adelman's told them to not even ponder the playoffs and rather focus on stringing victories together -- they haven't won more than two straight since opening the year with three wins in a row.
But at least player availability, at the moment at least, isn't a reasonable excuse.
"Knock on wood that we continue to stay healthy," said forward Kevin Love, an All-Star starter candidate this season after missing all but 18 games last year, most of them due to a broken hand. "No matter who it is, whether it's our team or any other team, you never like to see guys go down. But it is nice, for once -- especially considering the circumstances of the past two years -- it is nice to have a healthy lineup."
Follow Phil Ervin on Twitter
---