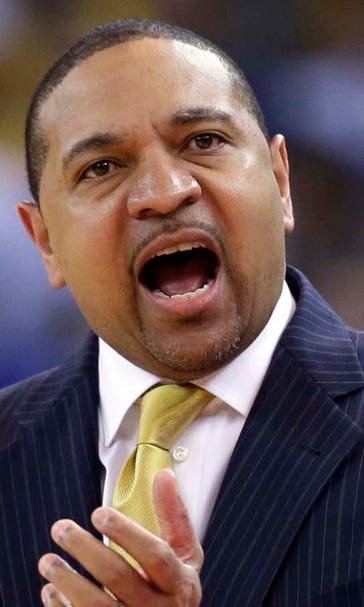 Wolves' coaching search far from straightforward
BY foxsports • May 7, 2014
MINNEAPOLIS -- A month ago, it may have seemed so simple.
Rick Adelman saunters off into retirement. Flip Saunders identifies a shortlist of candidates to replace him, brings a few in for some face time and picks one to usher in the next era of Timberwolves hoops.
But this is the NBA coaching carousel, where any expectation of straightforwardness represents either naivety, gullibility or some combination of the two.
So when guys like Fred Hoiberg and Tom Izzo -- once considered two of the top candidates to replace Adelman -- say they're staying in school, they can be believed. Until word comes out they're not.
When insiders report that fired Warriors coach Mark Jackson is a near impossibility in Minnesota, listen. Until word leaks from another source that he and Saunders have had conversations or plan to in the near future.
It's smoke-and-mirrors, wait-and-see and hide-and-seek, all wrapped up into one convoluted process of determining a head basketball coach.
In any case, Saunders and owner Glen Taylor will take their time picking one. Saunders -- the former Timberwolves, Pistons and Wizards coach -- made that clear when he addressed the media following Adelman's retirement.
The landscape has changed since then, with five other head jobs now open. A postseason in full swing renders some potential interviewees unavailable, too.
So this will take some patience, perhaps even beyond the June 26 draft.
The competition has ramped up, as well. The resignation of Mike D'Antoni and the terminations of Jackson, Tyrone Corbin and Mike Woodson leave a half-dozen NBA head coaching vacancies.
Minnesota should be able to convince prospects it's a better destination than Utah or Detroit. But Los Angeles and New York are marquee jobs, with Golden State not far below them on the allure scale.
Even after its third playoff-less season in the past two decades, the Lakers are still the Lakers. To boot, their payroll for next season is at just $35 million right now, which leaves plenty of room for maneuvering in free agency. If the lottery goes as expected, they'll pick in the top 10 of a deep 2014 NBA Draft.
New York's an attractive landing spot, too, though whoever takes over for Woodson will likely be on a short leash held by Phil Jackson. The Knicks are in a more dire personnel situation, too; Carmelo Anthony can opt out and become an unrestricted free agent this offseason, and with his current contract included, New York is well over the projected luxury tax threshold.
With Stephen Curry and Klay Thompson in the mix, Golden State is a rising organization coming off a 51-win season and back-to-back postseason berths for the first time since 1991 and 1992. A coach looking to build from scratch need look no further than the Pistons or Jazz for a job.
Minnesota falls somewhere in the middle. There has to be some offensive magnetism to coaching Kevin Love, Ricky Rubio and Nikola Pekovic. But Love's future with the franchise remains uncertain; he can opt out of his contract after next season. And if Saunders is committed to keeping Love, as he says he is, he'll at least consider Love's input when selecting a coach.
Saunders has a reputation as a good guy to work with, but he's the last coach to have success here, too. And that was when a guy named Kevin Garnett was still on the team.
There are also new candidates to consider in the wake of league-wide turnover. Jackson, Woodson and D'Antoni reportedly don't rank high on Saunders' list of candidates, but any due diligence would require at least a glance at them. NBA television analyst and former NBA player and general manager Steve Kerr is another possibility out there, though he appears close to inking with the Knicks.
Kevin Ollie, who played for the Timberwolves briefly during his well-traveled NBA career and led Connecticut to this year's NCAA championship, has also been rumored to be interested in making the jump -- though few prognosticators believe there's much traction between him and Minnesota.
At last check, George Karl, Lionel Hollins, Stan Van Gundy and Billy Donovan ranked as the most likely candidates to replace Adelman, who retired as the league's winningest active head coach. Iowa State's Hoiberg and Michigan State's Izzo have said they're not going anywhere, and Saunders nixed the idea of hiring Hoiberg, who played, coached and worked in the front office for the Timberwolves.
Of course, there's the still the possibility of Saunders taking the coaching reins himself.
Taylor has said he doesn't prefer that situation. Saunders has said it's not likely to happen.
But that doesn't mean it won't. It's not inconceivable Saunders could exhaust all his potential options without finding the right fit, look Taylor in the eye and claim Saunders himself is the man for the job enough times to change the owner's opinion.
So on the wheel turns, altering the beginning of a pivotal offseason into a sit-back-and-wait affair.
Follow Phil Ervin on Twitter
---
---