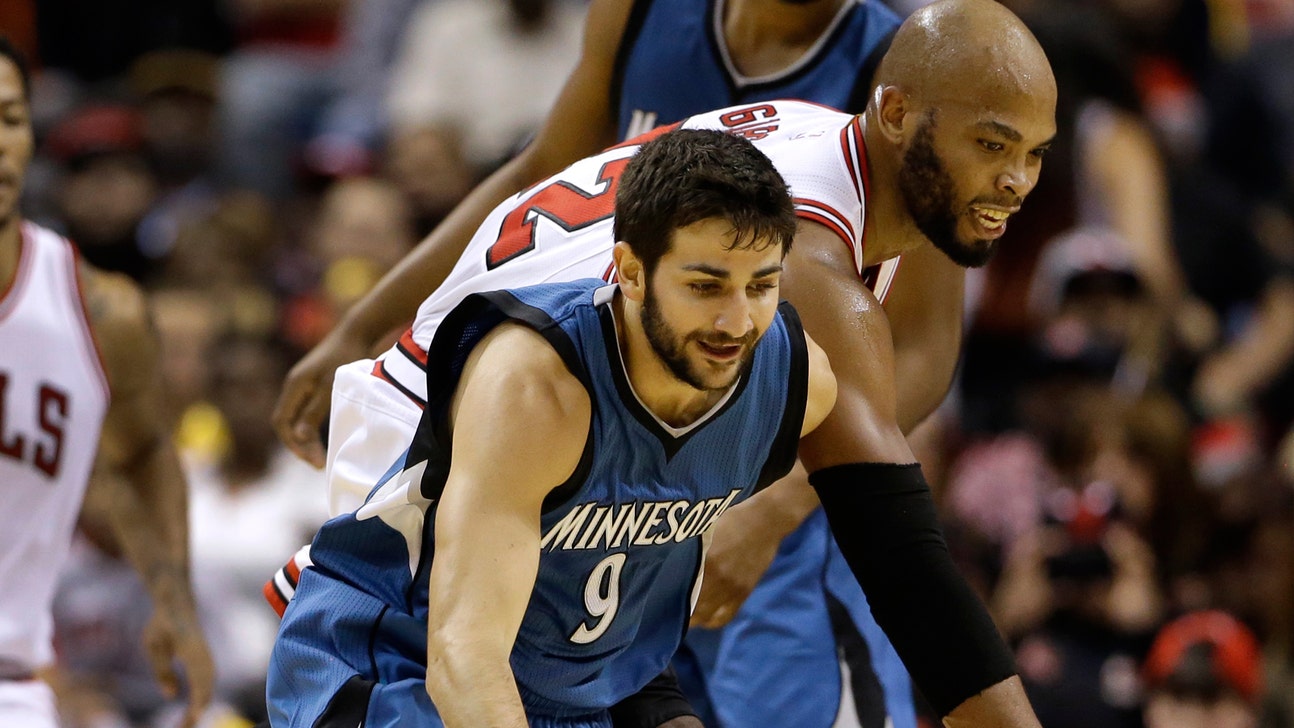 Wolves claw past Bulls, 113-112
Published
Oct. 24, 2014 11:33 p.m. ET

ST. LOUIS -- Zach LaVine tried not to think about guarding Derrick Rose.
After starring late in the Minnesota Timberwolves' rally from a 13-point deficit, the 19-year-old rookie didn't try hiding his admiration.
"That dude's good," LaVine said after Minnesota closed the preseason with a 113-112 victory over the Chicago Bulls on Friday night. "It's crazy, but in the game you can't really be worried about it. That dude's good."
LaVine played the final 6:14 and scored all six of his points in the final five minutes. He'd been wondering if coach Flip Saunders would put him in.
"I was looking down at coach like, 'I'm ready,'" LaVine said. "I'm glad he trusted me."
Rose certainly looked ready to go, leading Chicago (4-4) with 27 points and five assists while playing nearly 32 minutes. He totaled 57 points the last two preseason games for the Bulls, hoping to rejoin the contenders in the Eastern Conference.
"I'm not concerned at all," Rose said. "As long as everybody's focused and on the same page, that's all you can ask of your team."
Ricky Rubio led the Timberwolves with 19 points, five assists and two steals. Minnesota (5-2) won its last four in the preseason.
Anthony Bennett hit the go-ahead basket with 2:05 left, making it 107-106. Two free throws by LaVine made it 113-109 with 4.2 seconds to go and the Timberwolves survived when Thaddeus Young missed a pair with one second left and Mike Dunleavy missed a desperation heave.
"It was just a matter of time, getting some stops and execution," Saunders said. "The guys are really starting to believe."
Rose's 3-pointer cut the gap to 111-109 with 22 seconds to go. He missed one with about 2 minutes left that would have put the Bulls back in front.
"I guess it was the college rims or something," he said.
NOTES: Minnesota's Young and Bennett had 17 points apiece. Young was 4 for 5 from 3-point range. . . . Rookie Andrew Wiggins and Shabazz Muhammad were held out nursing minor injuries. . . . Before Friday, Minnesota had won three straight by at least 18 points. . . . Up next, the Timberwolves open at Memphis on Wednesday.
---