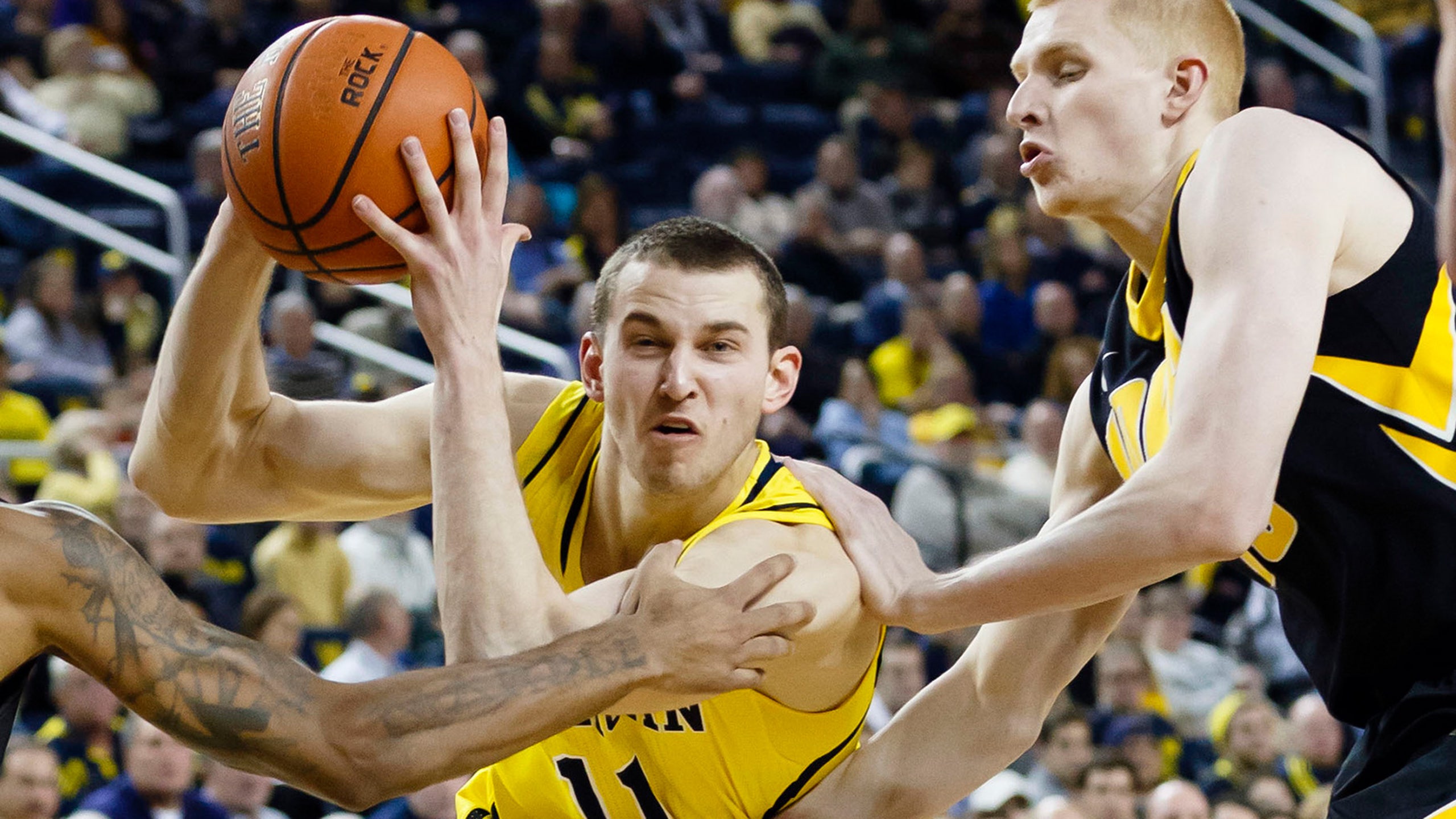 Wolverines top Iowa, remain unbeaten in Big Ten
BY foxsports • January 22, 2014
ANN ARBOR -- As unlikely as it seemed, the showdown in East Lansing is going to happen.
Michigan knocked off No. 10 Iowa 75-67 Wednesday night, its second straight win over a top-10 team, and will take a 6-0 Big Ten record into Saturday's game against the 7-0 Spartans.
"I'm too boring to look at this stretch as some kind of key moment in the season," Michigan coach John Beilein said. "During tonight's game, I had forgotten about beating Wisconsin on Saturday, and I wasn't thinking about Michigan State.
"At the end of the season, though, when Wisconsin, Iowa and Michigan State are all in the NCAA tournament, we'll look back at this as a stretch where we beat at least two really good teams."
The Wolverines have now won eight in a row after a 6-4 start, and much of the credit has to go to Nik Stauskas. Stauskas, who scored 26 points, has proven almost impossible to stop defensively now that he's added a penetration game to his deadly 3-point shot.
"It's a matter of picking your poison with him," said Iowa's Aaron White. "He was already a great shooter last year, but now he can drive by you and get to the rim. If you try to take one away, you give up the other one. That's why he's one of the top players in the league."
Beilein, though, says that the dribble-drive has always been a part of the Canadian's game.
"We saw that all year in practice last season, but the fans didn't get to see it very much in games," he said. "We had Trey Burke and Tim Hardaway Jr. that were driving to the basket for us, so we didn't need Nik to do that. This year, with them gone, it has become important for us."
That became even more true when Mitch McGary's back injury meant he would miss most if not all of the Big Ten season. While Jordan Morgan and Jon Horford are putting up nightly double-doubles in his spot -- they had 12 points and 10 rebounds against the Hawkeyes -- Stauskas has needed to pick up more of the scoring load. 
That's fine with him, since confidence has never been one of his weak points.
"I feel like there are very few people who can stay in front of me," he said, on a night where he not only broke out his trademark three-finger sign, but an emphatic and-1 gesture after he was fouled on a layup.
This will be the first time that Michigan and Michigan State have faced each other with unbeaten records this late in the Big Ten season, but Beilein has to make sure that his team has forgotten about last year's debacle in East Lansing. The Wolverines took a 21-4 record to the Breslin Center and were buried, 75-52.
That was a young team, and with Burke and Hardaway gone, this one isn't much older. It will be players like Glenn Robinson III, Morgan, Horford and Stauskas who will have to provide the closest thing Michigan has to veteran leadership.
"We're going to need all of the confidence we have to go in there and beat them," Robinson said.
Beilein agreed.
"I hope we don't even think about last year," he said. "It's tough to go in there, not just because of the crowd, but because Tom (Izzo) has such a physical team. I've been really pleased with the way we've played to beat these last two teams, and we're going to have to do it again on Saturday."
---