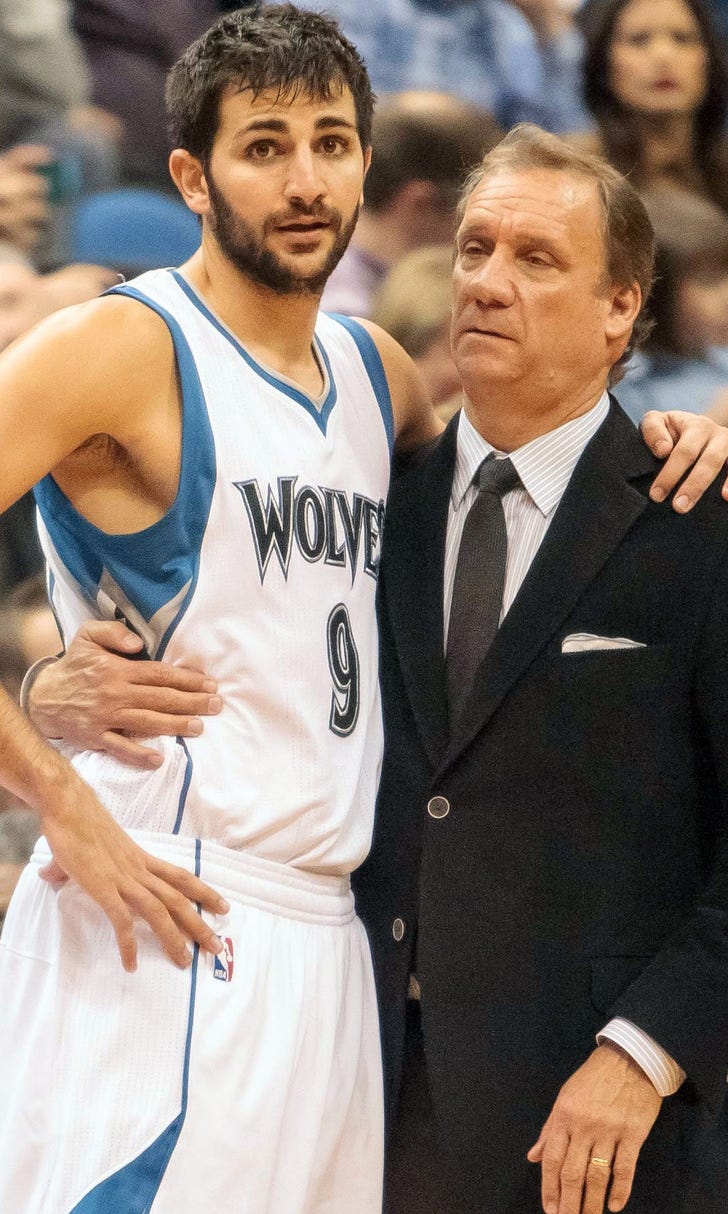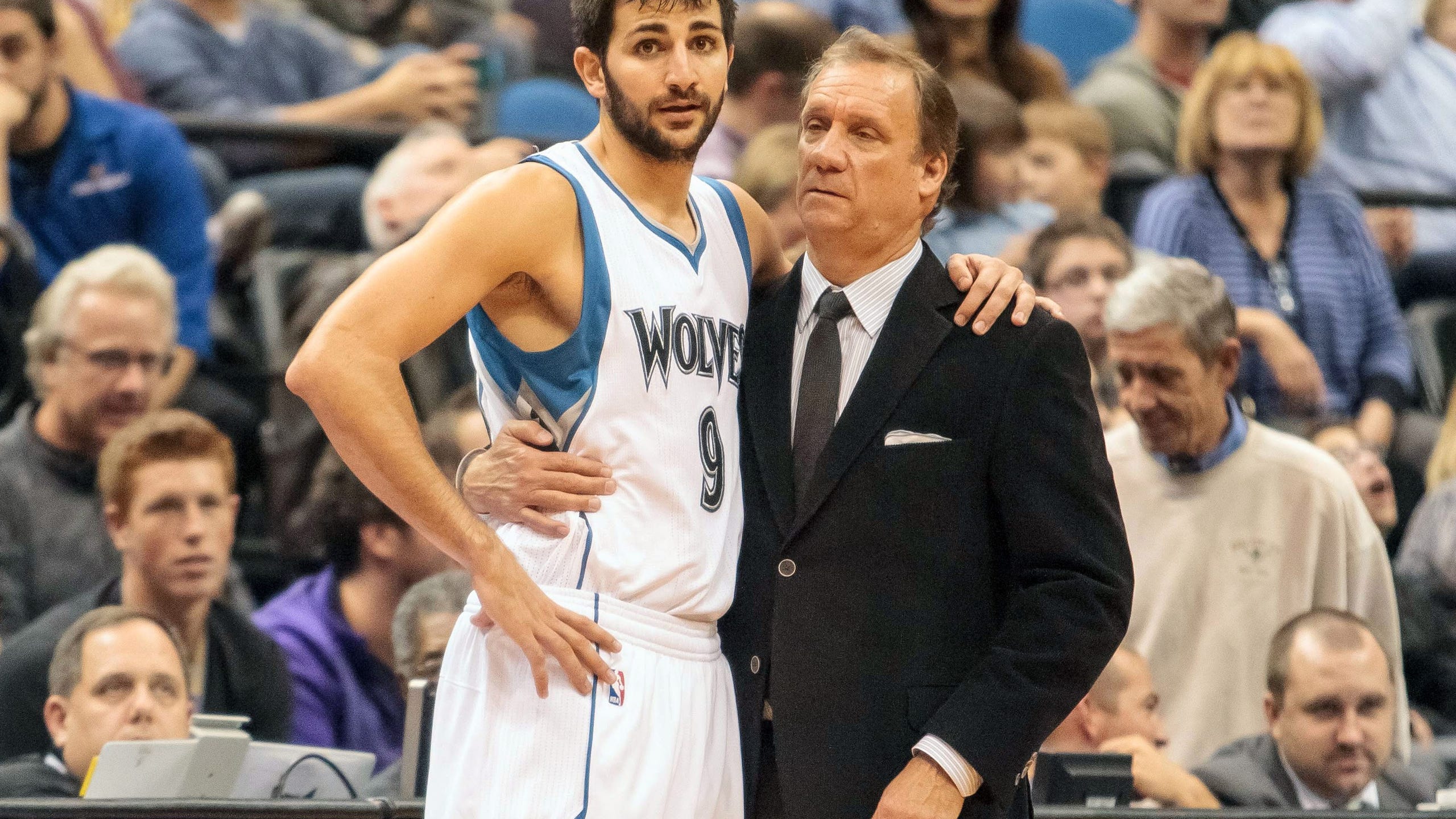 With wait over for new contract, weight lifted off Rubio's shoulders
BY foxsports • November 1, 2014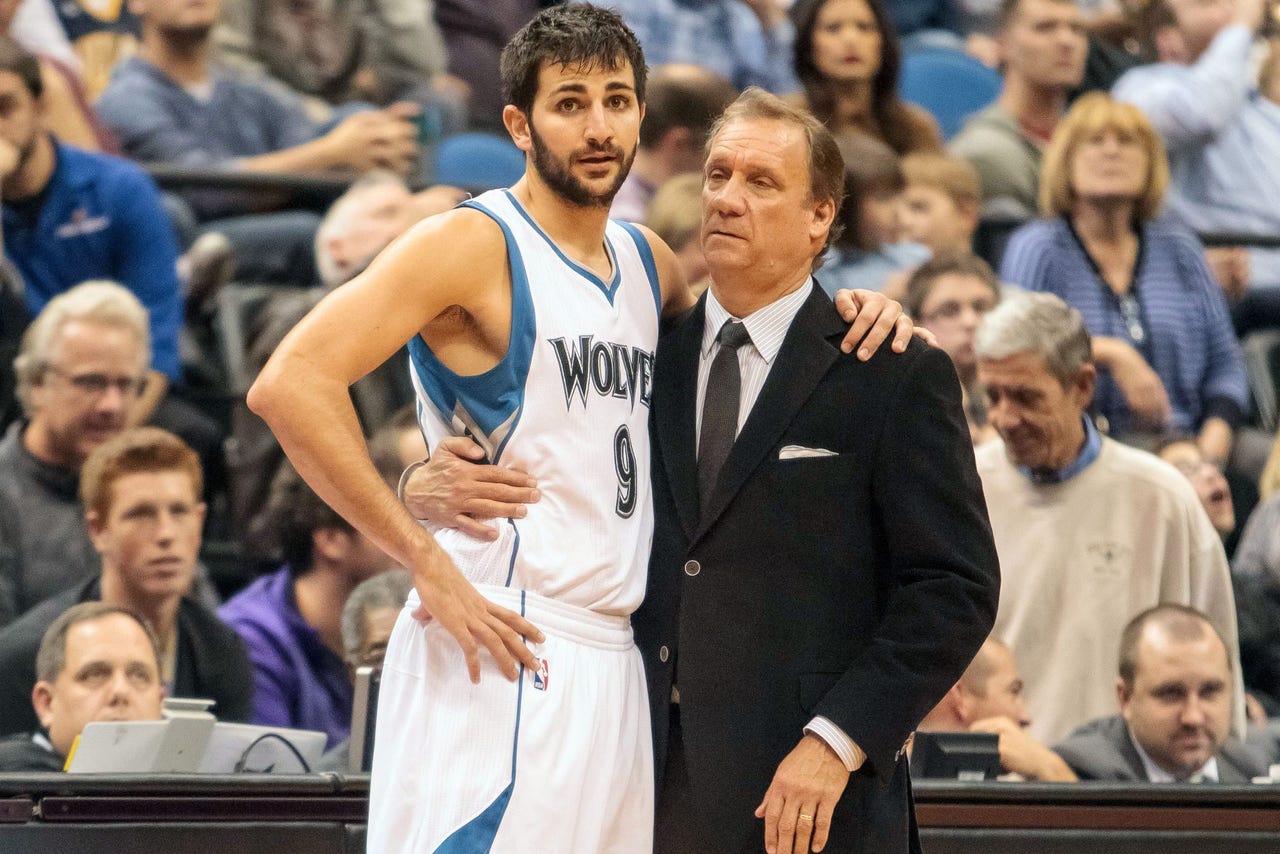 Since returning to the Twin Cities from a whirlwind summer, Ricky Rubio was more than happy to wax basketball.
Or the World Cup -- both of 'em. Or his family back in Barcelona.
But when it came to his Timberwolves contract situation, the kindly, amicable Ricky that Minnesota fans adore would break eye contact, shields his pupils with those long Spanish eyelashes and become short.
"I don't want to talk about that," Rubio said every time any reporter brought it up -- until Saturday afternoon, when he and president of basketball operations and coach Flip Saunders sat down to discuss the four-year, $55 million (plus incentives) extension the fourth-year point guard signed Friday night.
From his travels to Brazil for the soccer world cup and his home country for the basketball one through Game 2 of the NBA's regular season, Rubio let Relativity Sports agents Dan Fegan and Jarinn Akana handle negotiations with Saunders and general manager Milt Newton. But with time ticking down before Friday's 11 p.m. deadline, Ricky darted in like he does when driving and dishing and intervened.
Get something done, he told Fegan and Akana. Now.
"It gets to a point that both parties don't get to an agreement and they were falling apart," Rubio said. "But at the end of the day, both parties finished the deal happy. That's the most important thing, I think."
Technically, it wasn't a make-or-break ultimatum for Rubio's future in Minnesota. Had he not extended off his rookie deal, he'd have hit the restricted free-agent market next summer.
He also could've had all season to answer questions about the situation. And wait for other teams to determine his value in the form of offer sheets. "I didn't want to play that card," Rubio said.
So after originally pushing for a max deal that Saunders was never willing to yield, Rubio's camp agreed to meet the Wolves in the middle. Rubio's continued presence alongside Minnesota's new young core of Andrew Wiggins, Zach LaVine and others, along with his relationship with the local fans who welcomed him with open arms in 2011, were his two reasons for pushing the needle now.
"I just want to give them back something to hold on," Rubio said. "I think staying here, it's going to make them happy. It's making me happy, too. It's something that I think we have a special connection, and I want to keep building that every night, something (for them) to go to bed happy. Some games aren't going to be like that, but I think we're on the right track."
It'll take work. Rubio is far from an elite point guard -- despite being granted the salary of one -- and the Wolves haven't been to the postseason in 10 years.
But after the franchise's leadership overhaul last May and this summer's blockbuster Kevin Love trade, Rubio is being asked to become the cornerstone of their quest to get there.
"Ricky is our future," Saunders said.
When the deal kicks in, Rubio will be the Wolves' highest-paid player. An annual salary of $13.75 million that puts him ahead of Tony Parker, Stephen Curry, Kyle Lowry and Ty Lawson drew immediate and considerable scorn on social media, but Saunders said he believes Rubio can reach the next echelon.
Provided he continues to exhibit the leadership and work ethic that already have endeared him to Saunders since he took over as coach this offseason, and improves a career 37 percent field-goal clip that ranks lowest among 190 NBA point guards all-time who have taken more than 500 shots.
"The thing that he has which great point guards have to have is they have to have competitiveness, the willingness to learn, the willingness to be coached and a willingness to accept criticism," Saunders said. "He knows. I've been on him a little bit. I don't accept it when he doesn't do things right. But when you have the ability to do that, there really is no ceiling."
The league's new TV deal that begins in 2016 affected the final number, too. With the salary cap increasing exorbitantly after next season, Rubio's deal will probably end up being relatively cheap among other extensions that get signed in its wake.
One other factor that Rubio pointed to: a mano-y-mano conversation with owner Glen Taylor, a fan of Rubio since the club drafted him in 2009.
"He's the owner, a great guy who really step up in this situation," Rubio said. "Me and him talking just man-to-man clears things out."
Taylor said the following in a statement: "This has been a long process and I am thrilled that we have reached an agreement. We drafted Ricky over three years ago and had to wait two years for him to come over. He came to us with such high expectations and he immediately proved why we were so high on him. Unfortunately he got hurt at the end of his rookie season (an ACL injury that cost Rubio part of his first two NBA campaigns), but he has worked so hard to come back and we believe he has a long and successful career ahead of him. He's a great foundation for our franchise and we're very happy to keep Ricky here long term to work and grow with the young nucleus that we have."
But the expectations for him to get better don't change, Saunders said. If anything, the former Gophers point guard will demand more of Rubio than anyone else on the roster.
One thing will be different, though.
"He's got to pay lunch for me all the time now," Saunders cracked. "That's the only difference; instead of me paying every time, it's going to be him."
Follow Phil Ervin on Twitter
---