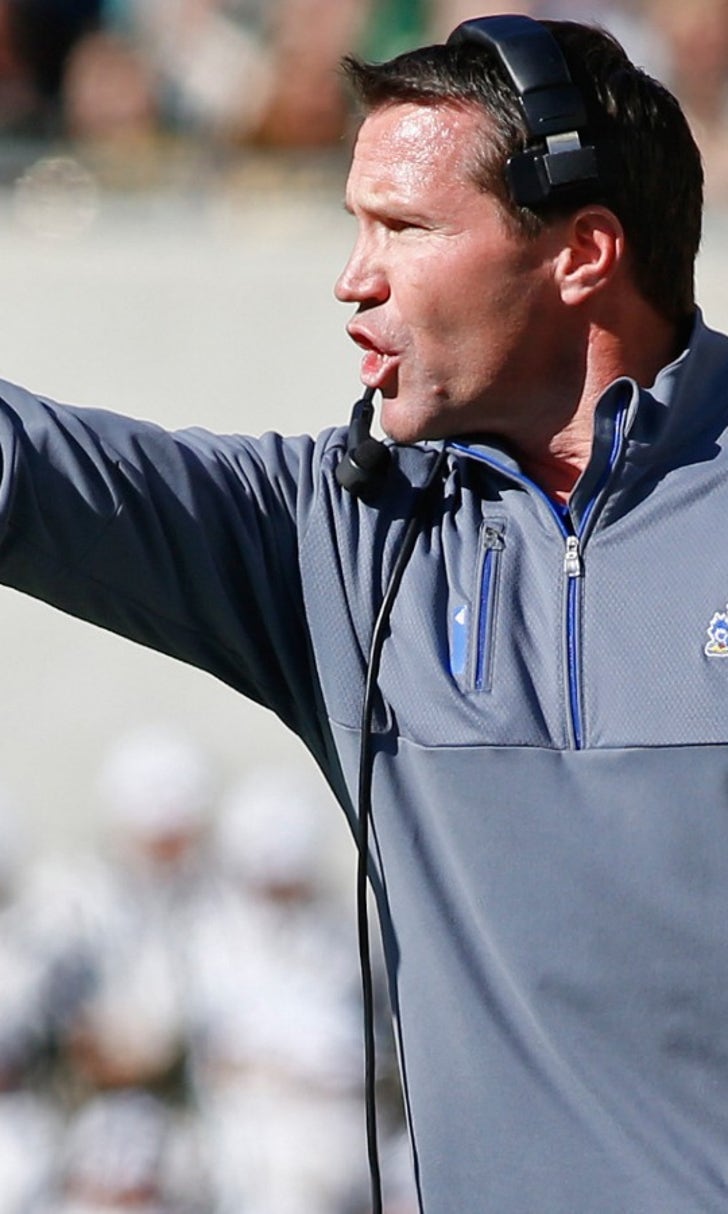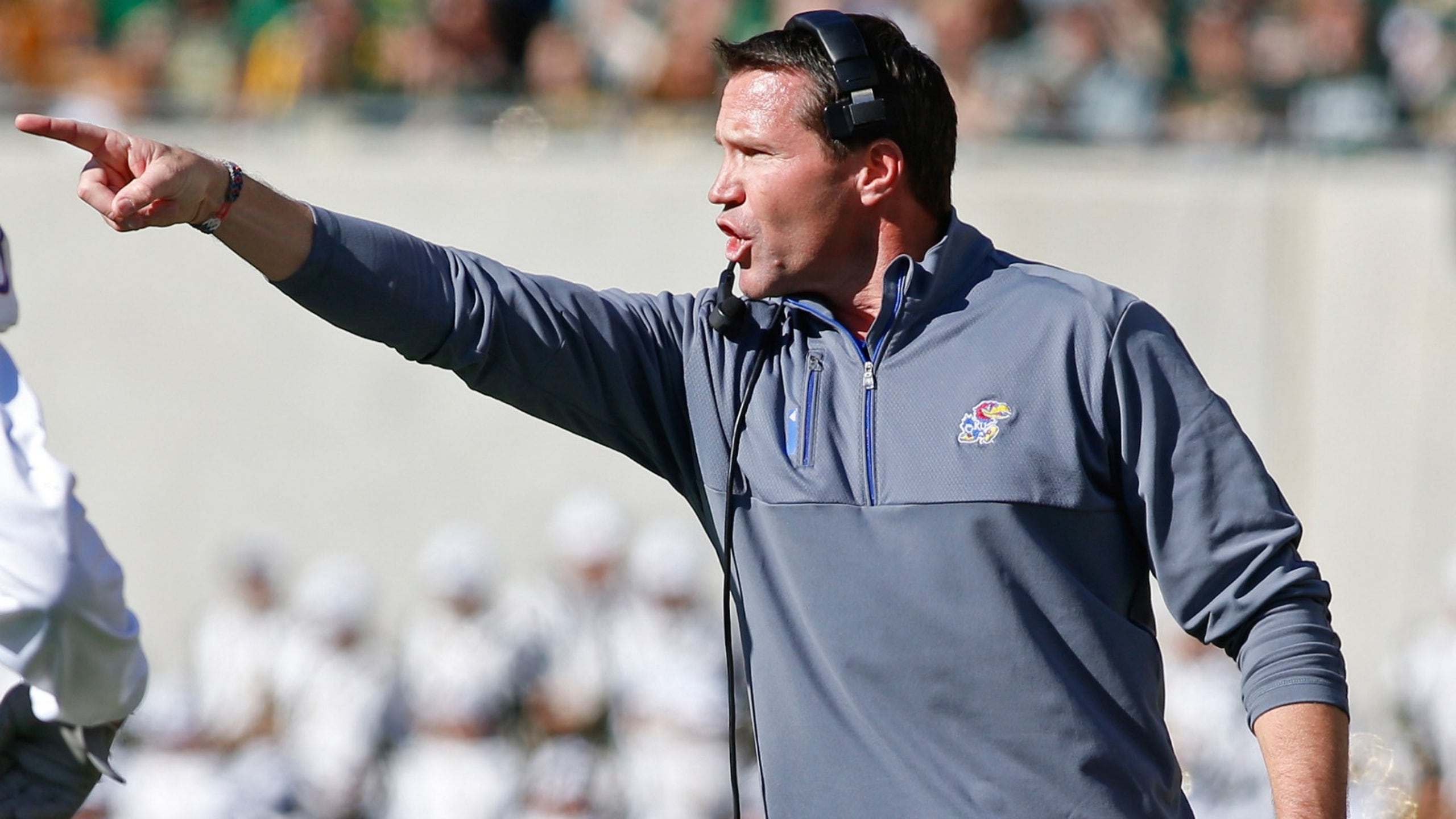 With new play-caller, Kansas falls to Baylor 60-14
BY foxsports • November 1, 2014
WACO, Texas -- Interim Kansas coach Clint Bowen will need another game or so to judge his midseason change in play-callers.
The Jayhawks had 0 yards rushing and three fumbles at halftime, and the Baylor defense knocked around quarterback Michael Cummings in the No. 12 Bears' 60-14 victory Saturday.
"To be fair, Coach Bennett over there, Phil Bennett on the defensive side for Baylor, they obviously got after them pretty good, created some problems," Bowen said. "Obviously, you could tell up front we were struggling to block their front four."
Kansas (2-6, 0-5 Big 12) fell to 0-4 under Bowen, who announced before the game that receivers coach Eric Kiesau was taking the play-calling role from offensive coordinator John Reagan.
Charlie Weis, who was fired as coach Sept. 28 after a loss to Texas, hired Reagan in the offseason after handling those duties himself his first two seasons.
One of the three first-half fumbles came on a sack of Cummings, who had minus-28 yards rushing thanks to three sacks while the Jayhawks finished with 16 yards on the ground. He fumbled on another sack in the second half, but Kansas recovered.
"Long day at the office," said Cummings, who was upright long enough to throw for 288 yards and two touchdowns to Nick Harwell, who had 79 yards receiving. "You're not going to be perfect all the time, but you've got to strive for that."
The Jayhawks had two players -- cornerback Derrick Neal and defensive lineman Keon Stowers -- taken to a hospital after getting injured in the first half.
Stowers had his head immobilized on a stretcher after a play in the second quarter. He flashed a thumbs-up sign as the cart took him off the field, and a Kansas athletic spokesman said he was able to move his extremities.
Neal's head collided with the knee of Baylor's Devin Chafin when he was covering a kickoff in the first quarter. Neal was placed in a neck brace before walking to the cart.
Normally talkative Baylor quarterback Bryce Petty turned into a man of few words after throwing three touchdown passes, including two to Corey Coleman, as Baylor (7-1, 3-1) scored on 11 straight possessions in a bounce-back win despite looking sluggish at times.
"Just ready for OU," Petty said to five of the six questions.
His other answer?
"Yep."
The question was whether he was ready for next weekend's game at No. 19 Oklahoma, which routed Iowa State 59-14.
Baylor coach Art Briles isn't sure if his quarterback was trying to send a message to fans, reporters or teammates, or if he was miffed by some early game issues when the Bears couldn't get touchdowns even with the Jayhawks giving them good field position because of fumbles.
But Briles was pleased by reports of his suddenly monosyllabic leader.
"I should do the same," Briles said, drawing laughter at his postgame news conference. "I'm proud that his focus and his energy and his vision in directed right there, right now. Because he understands that's going to be a great college game and a great college football atmosphere with two great college teams playing. So that's exactly where he needs to be."
The Bears had to settle for field goals after two of three first-half fumbles -- all of them deep in Kansas territory -- but still rolled up 669 yards in their 14th straight home victory in the 91st homecoming game. That streak ties Auburn for the longest in the nation.
Coleman had a career-high 167 yards receiving and TDs of 72 and 49 yards, the latter putting the Bears up 46-7 early in the third quarter.
"What gets you down is we knew we were playing a very good football team and we had to come out and match that," Bowen said. "We didn't come out and do the things that you do."
The Bears had to wait two weeks for their bounce-back win after their undefeated season ended at West Virginia.
During the lull, Baylor also found out it will have an uphill climb in the playoff rankings after debuting at No. 13 in the race for the first four-team postseason tournament.
Petty secured his 20th straight game with at least one touchdown pass on the game's first score, throwing short to Coleman, who ran free down the sideline on the 72-yarder after Cassius Sendish slipped when closing in for the tackle.
Chafin had a career-high 112 yards rushing and two touchdowns, and Big 12 rushing leader Shock Linwood finished with 81 yards and a leaping score from the 1.
---