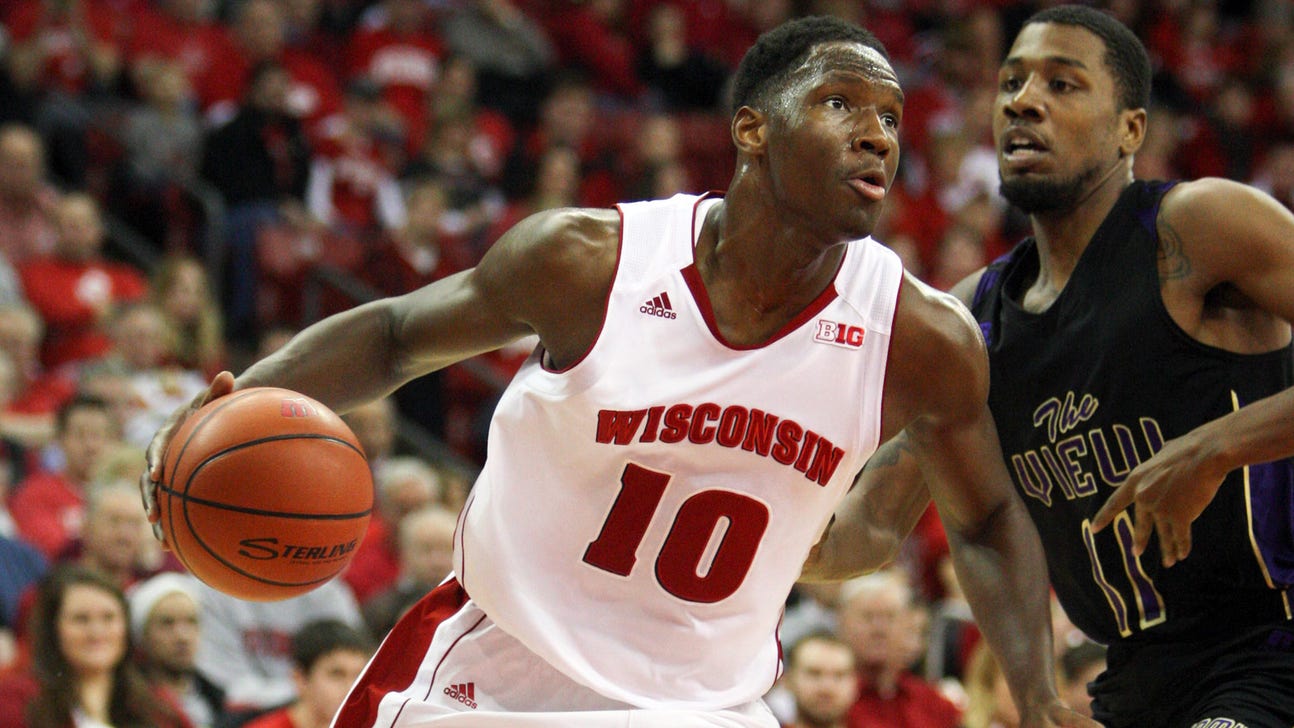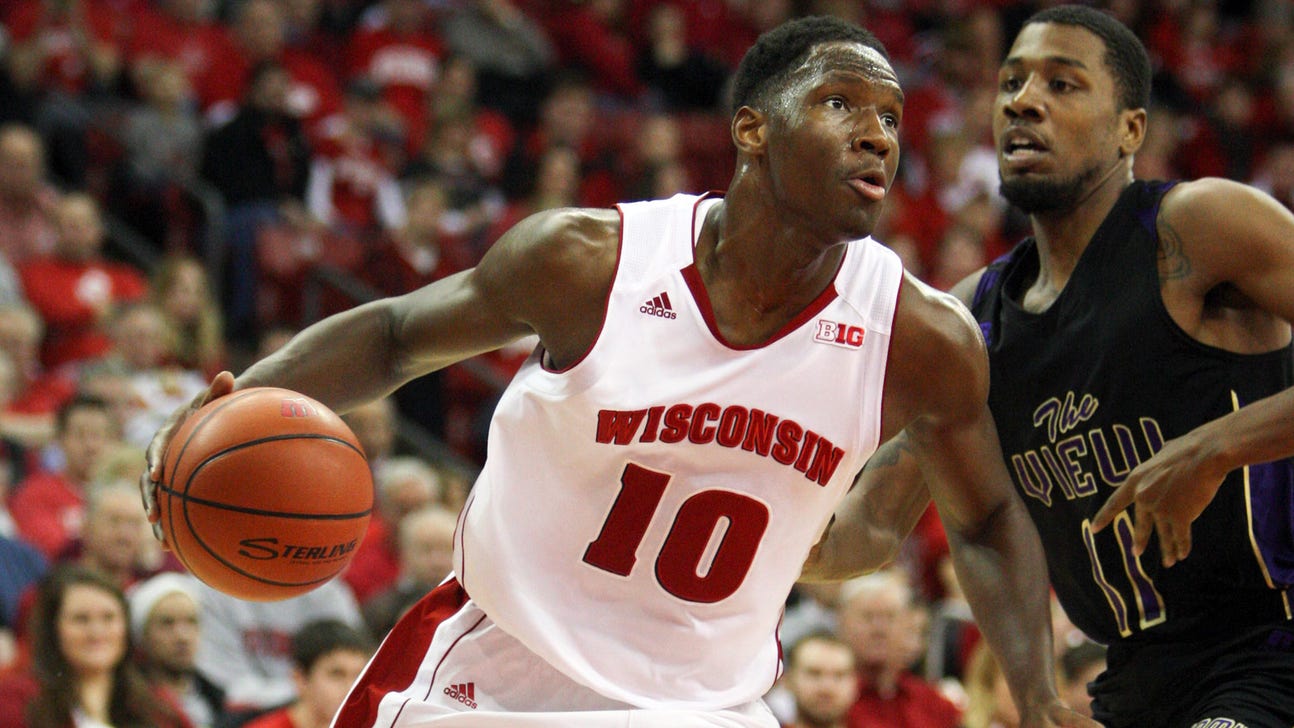 Wisconsin's Hayes has look of a freshman phenom
Published
Jan. 27, 2014 8:08 p.m. ET

MADISON, Wis. -- Nigel Hayes hopped on a short elevator ride with his head coach last Wednesday before Wisconsin's road game against Minnesota. And Hayes, a freshman, admitted he wondered what Bo Ryan might have to say.
"Those are usually uncomfortable sometimes with coach Ryan's demeanor," Hayes said. "Getting on the elevator with him alone, it's kind of -- I wouldn't say intimidating -- but it's more like get your back straight."
Instead, Ryan turned to Hayes and provided this encouraging message:
"I've got to get you more minutes," Ryan recalled. "You've earned it. He just simply looked me in the eye and said, 'I'm ready for whatever.' Like he didn't say, 'Oh, it's about time.' He just said basically, 'Wherever you need me.'"
Hayes' ascension in Ryan's rotation this season is a product of not only his physical nature and athletic ability, but also of his maturity. He has handled his role in reserve duty with aplomb, and his production has made it difficult for the coaching staff to keep him off the court.
When No. 14 Wisconsin (17-4, 4-3 Big Ten) plays host to Northwestern (10-11, 3-5) at 8 p.m. Wednesday, expect Hayes to once again play a key role in the Badgers' plans. Hayes was a standout during Wisconsin's 76-49 victory against Northwestern in Evanston on Jan. 2. He scored a season-best 19 points and grabbed six rebounds.
"I think with Hayes' emergence as a power player for them, it's added another dimension to their team," Northwestern coach Chris Collins said Monday "He played great against us in the first game."
This season, Hayes is averaging 15.9 minutes, 6.8 points and 2.5 rebounds. He has twice been named the Big Ten's Freshman of the Week, becoming the first Badgers player to earn the honor multiple times. And during that Minnesota game, he played a career-best 27 minutes.
"I just credit that to the coaches staying on me," Hayes said of his increased minutes. "They don't coach me as a freshman. They coach me like everyone else. They expect the best from me and my best performance. The last couple games, I've been going out there and I've been contributing. I didn't want to just go out there. There's a difference between activity and productivity. So I try to go out there and produce for the team, and I think I've been doing that pretty well and he's seeing that."
Badgers assistant coach Lamont Paris said Hayes had set himself apart on the team as one of the most physical post presences. Paris also noted Hayes, 6-foot-7, 250 pounds, did an excellent job of getting opposing big men in foul trouble, particularly late in games. His versatility offensively also has been key.
"He's one guy right now that we've allowed to catch it in the short corner and medium post," Paris said. "He's effective from there. He draws attention. He gets fouled. He uses quickness. In a lot of situations, he'll either have a quickness advantage at the 5 or at the 4 or anything less than that, it's a huge strength and advantage. He's done a pretty good job of picking and choosing his moments when he uses quickness versus power."
Hayes arrived on campus this summer as a physical specimen and figured to see frontcourt minutes with the departure of Jared Berggren, Mike Bruesewitz and Ryan Evans. But his ability to pick up the team's concepts has happened even sooner than some anticipated.
"You love playing with a guy like Nigel," Badgers guard Josh Gasser said. "He sets screens. He's unselfish. He's got great vision for a big guy in passing ability. When we get him the ball on the block and it's 1-on -1, it's almost a guaranteed two points. So he's one of our best 1-on-1 players, even as a freshman. Any time he's on the court, he brings good energy. He's a big, strong body. He can rebound. And he's starting to learn little tricks, especially on defense, of how to be successful."
Ryan said he knew he had a special player when he recruited Hayes out of Whitmer High School in Toledo, Ohio, because of his competitive streak and intelligence.
"What I liked about him is his attentiveness, his personality," Ryan said. "Just really outgoing. And he is kind of a character. Does it take a character to know a character? I don't know. He is such a delight to be around and yet when he competes, everything else goes out the window. He competes as hard as anybody we've ever had."
Though Hayes said he preferred to play the power forward spot -- where he felt most comfortable -- he has been occasionally thrust into duty as Wisconsin's center when Frank Kaminsky has found foul trouble. The size of opposing post players has been an adjustment. Purdue's AJ Hammons, for example, stands 7 feet tall, as does Northwestern's Alex Olah. But Hayes has proven, no matter the challenge, he can hold his own. And Ryan continues to reward him with more minutes.
"He has played different positions, which has been great," Ryan said. "For his size, he actually has very good feet. I'm definitely keeping football coaches away from him. That's for sure."
Follow Jesse Temple on Twitter
---