Wisconsin endures Michigan State's wrath in league-tourney slugfest
Published
Mar. 15, 2014 9:43 p.m. ET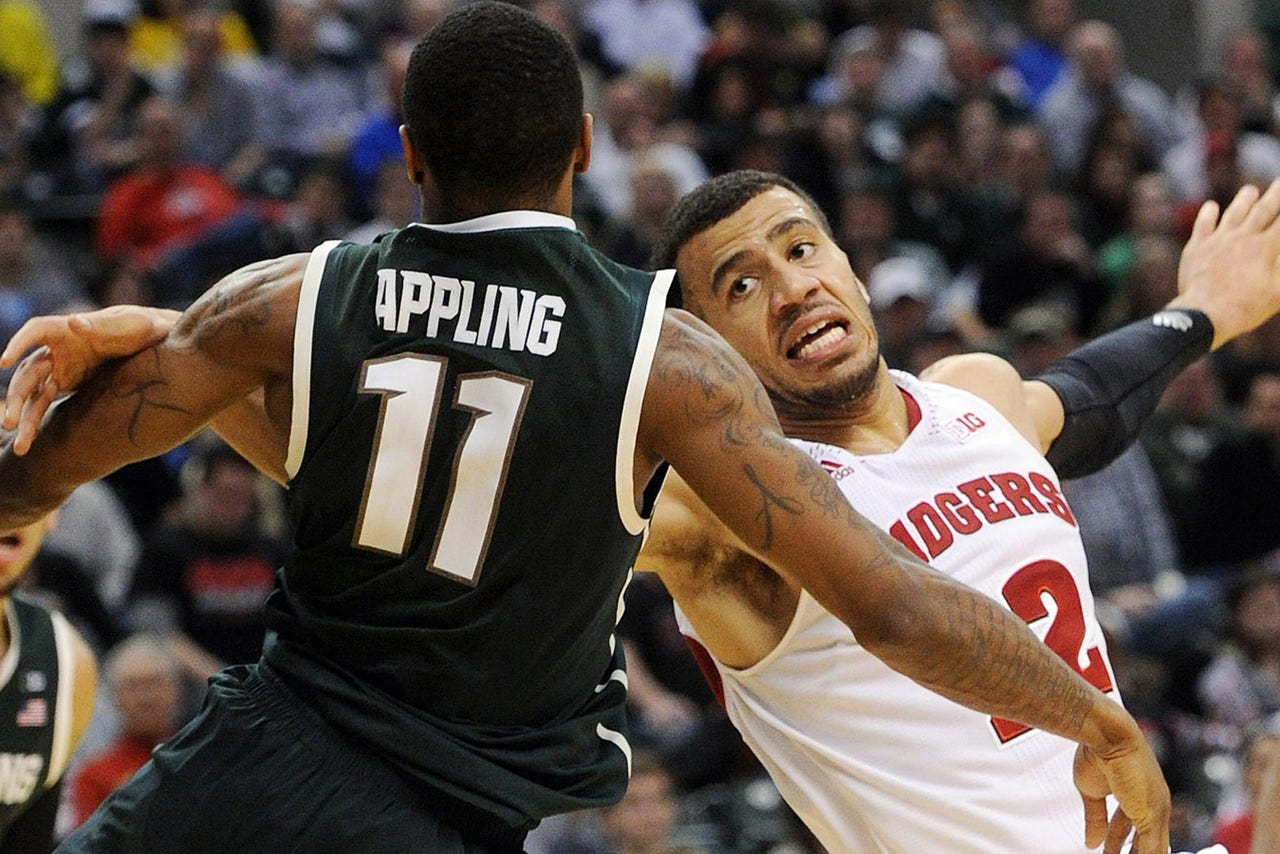 INDIANAPOLIS -- Flecks of dried blood still clung to Sam Dekker's discolored right knuckles Saturday night. A fresh red wound on the back of Frank Kaminsky's left wrist protruded from beneath his warmup jacket.
In other corners of Wisconsin's locker room, Josh Gasser, Bronson Koenig, Ben Brust and Nigel Hayes all sat with bulky ice packs wrapped around knees, thighs and shins. The silence in the air, ruffled only by a trainer's frantic use of athletic tape, said enough.
Only minutes earlier, players had been bullied, beaten and bruised in a way a Wisconsin team seldom is on the basketball court. The Badgers are supposed to be the bunch that does the hard hitting, outworking opponents with grit and physicality until other teams wilt. But not on Saturday, when third-seeded Michigan State upended second-seeded Wisconsin, 83-75, in the semifinals of the Big Ten tournament at Bankers Life Fieldhouse.
It was the type of humbling defeat that made the aches and pains hurt a little more, leading to an early bus ride back to Madison and the realization that a promising season could conclude far too soon in a one-and-done, tournament format.
"In a game like this, in this type of environment, when you get to this point in the season, you can't play 20 minutes," Badgers assistant coach Greg Gard said. "You have to play 40. The next time it happens, we'll put away the uniforms for good."
What happened on Saturday was nothing short of stunning given the sparkling season Wisconsin (26-7) had pieced together, which swelled with potential for a No. 1 seed in the NCAA tournament with two more victories and a conference tournament title. It wasn't Michigan State's toughness that surprised. Rather, it was that Wisconsin showed up to the arena so ill prepared for the task at hand.
Wisconsin missed nine of its first 10 shots to fall behind 7-0 less than two minutes into the game, which prompted Badgers coach Bo Ryan to use a timeout. At the game's worst, Michigan State took a 37-16 lead on Gary Harris' steal and layup with 5:39 left in the first half. The Badgers opened the contest 4 of 20 from the field, while the Spartans were 15 for 20, creating a gap simply too wide to overcome.
"When you get hit in the mouth that quick, you kind of step back and say, 'Hey, what happened?'" Dekker said. "You're kind of in shock a little bit. But hats off to them for coming out strong and aggressive, and shame on us for not."
Added Brust: "They came out guns blazing. Drew fouls. Finished. Made shots. We dug ourselves in a hole, and you can't dig yourself in a hole against the caliber of team like Michigan State."
If there was one play that encapsulated the disparity between the two teams Saturday, it came from Spartans big man Adreian Payne late in the first half. Payne called for the ball on the right block against Hayes and backed his way closer toward the basket. Hayes absorbed contact in the chest and fell backward, allowing Payne to try an uncontested layup.
He missed but was left unguarded and quickly collected the ball to cash in an emphatic two-handed slam for a 40-25 Spartans lead. Ryan screamed at officials, pleading for a call, to no avail.
"I felt that it should have been a charge," Hayes said. "Of course, people say it's a flop. I'm a big, strong guy out there. It was a no-call. And I felt like if I would have had that charge, it would have been a game-changing play. That would have been another foul on him. That would have taken two points away from them and boosted our team's morale and confidence. We've just got to get better for the next game."
Michigan State held a 43-26 halftime edge, which represented Wisconsin's largest halftime deficit of the season. And though UW eventually shot a blistering 60.0 percent from the field in the second half, the Badgers failed to substantially slow Michigan State (25-8), which advanced to play top-seeded Michigan (25-7) in the Big Ten tournament championship. Six Spartans players scored in double figures, led by Payne's 18 points. Kaminsky paced Wisconsin with 28 points.
Three times, Wisconsin closed to within seven points, only to make mistakes on the other end. In one instance, Spartans forward Branden Dawson scored on an easy layup off an inbounds pass with one second on the shot clock.
When the teams held their only regular-season meeting, Wisconsin escaped with a 60-58 victory in Madison on Feb. 9. But Spartans point guard Keith Appling missed the game with a wrist injury, and Dawson was out with a broken hand. This time, the Badgers saw up close just how difficult Michigan State can be with a full lineup -- and just how well they will have to play against the best teams in college basketball to have a chance at something special over the next three weeks.
Wisconsin's lackluster first-half performance was so head-scratching on Saturday that, when it was over, Dekker, Brust and point guard Traevon Jackson huddled in the locker room in three folding chairs, facing each other and discussing in low whispers how it all had gone so wrong.
What the loss means for Wisconsin moving forward is of course unknown. Selection Sunday is one day away, but questions remain. Will the Badgers, ignited by the threat of an early loss, make a deep run in the NCAA tournament? Or will they take hurried shots, allow layups in transition and fall too far behind, allowing the best offense in Ryan's 13-year tenure to go to waste?
"This is not your typical Wisconsin team," Michigan State coach Tom Izzo said. "They run, they can score. They've got times when they've got five shooters on the floor. It is a hard team to defend. I told them after, let's get to a Final Four because they're good enough."
A small window exists for Wisconsin players to recognize intensity, effort and execution will be required to mask their deficiencies in the NCAA tournament and attain that Final Four goal. Otherwise, the hush of the locker room Saturday will pale in comparison to the quiet that could linger all offseason.
Follow Jesse Temple on Twitter
---