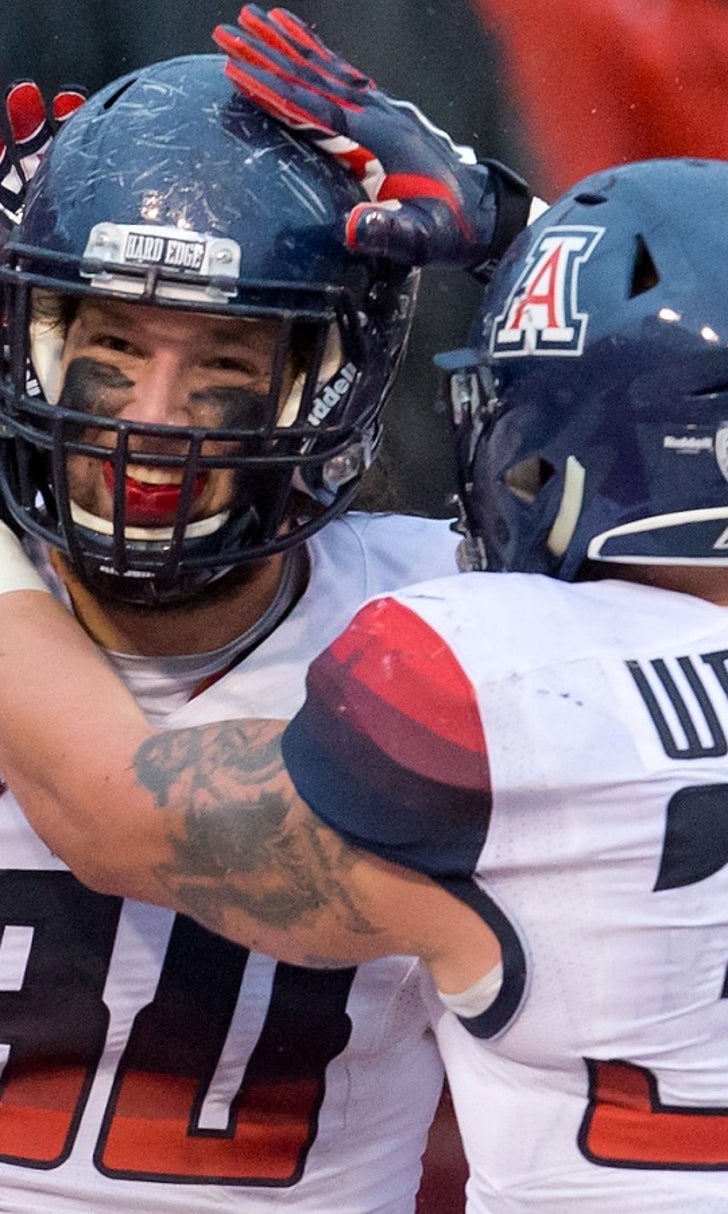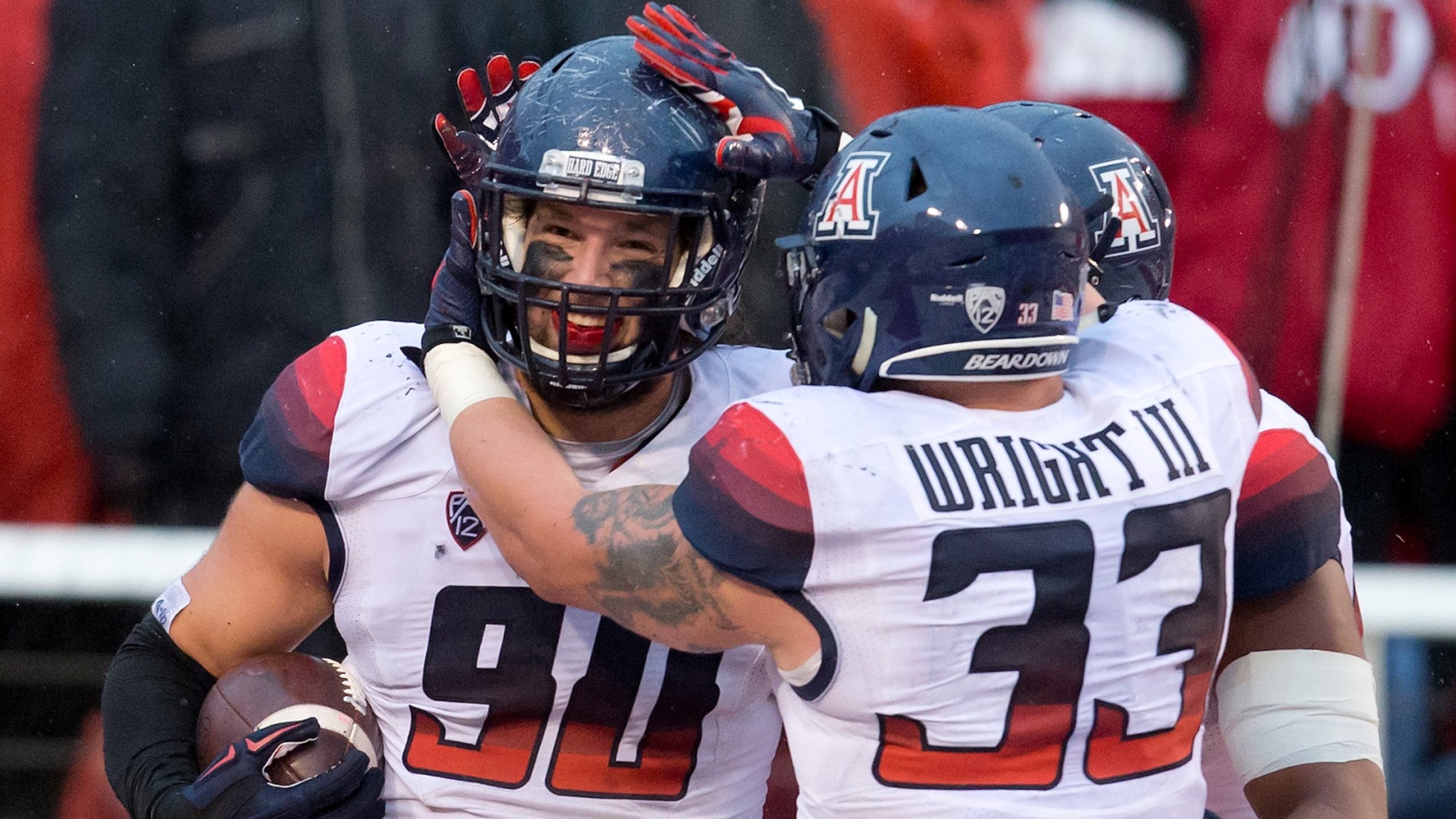 Wilson, No. 15 Arizona run past No. 20 Utah
BY foxsports • November 22, 2014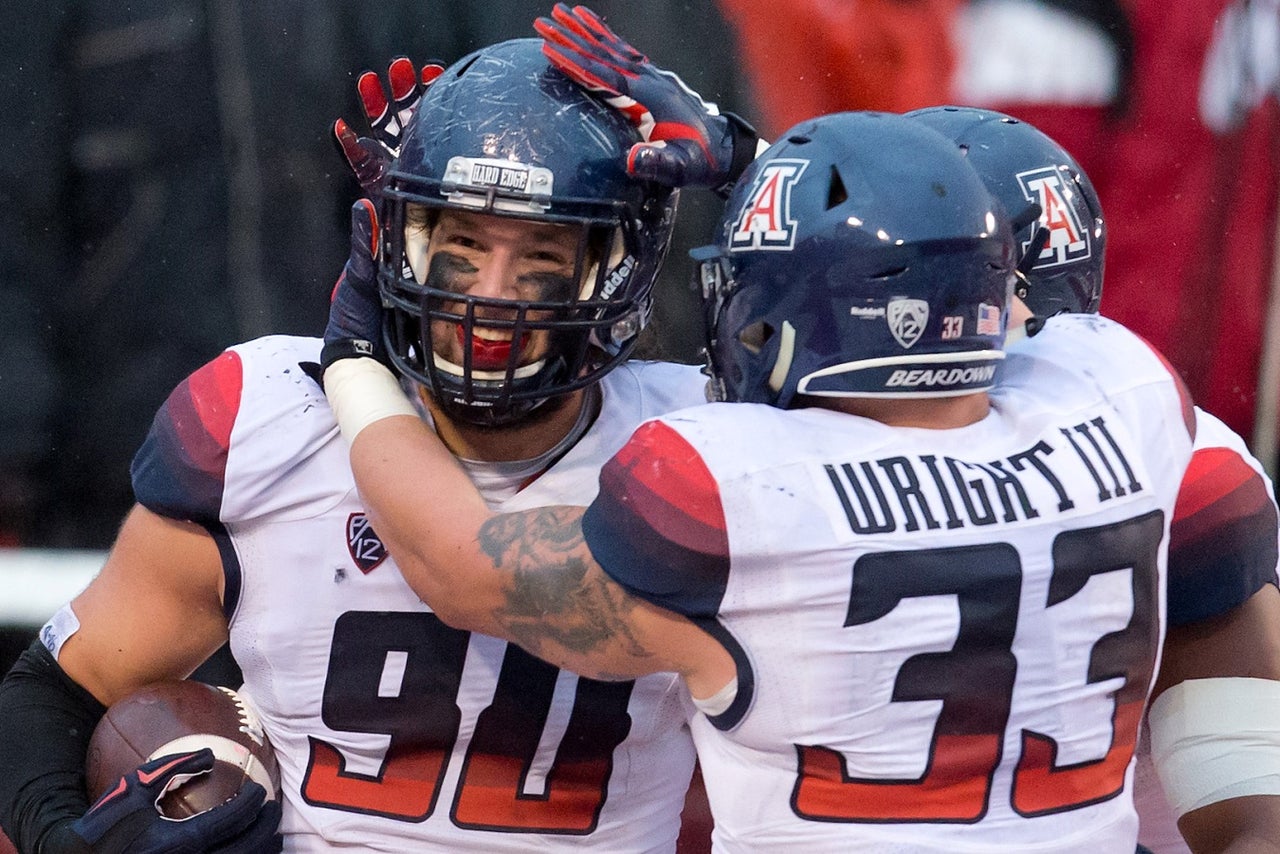 SALT LAKE CITY -- Freshman Nick Wilson ran for 218 yards and three touchdowns as No. 15 Arizona overcame an injury to quarterback Anu Solomon and pulled away from No. 20 Utah 42-10 on Saturday.
In heavy rain at times, Wilson topped the 1,000-yard mark this season. Arizona led 21-10 in the fourth quarter before Wilson scored on a 75-yard run.
Arizona (9-2, 6-2 Pac-12) reached nine wins for the first time since its 1998 Holiday Bowl team went 12-1 and was ranked No. 4. The Wildcats retain slim hopes for a berth in the conference championship game as a matchup with rival Arizona State looms next week.
The Wildcats ran for 298 yards, the most allowed by Utah (7-4, 4-4) this season.
Solomon threw for 58 yards and got his first career rushing touchdown in the first half. He was fitted for a walking boot at halftime because of an apparent injury to his right foot.
Arizona backup quarterback Jesse Scroggins only threw five times, completing three.
Backup quarterback Jesse Scroggins only threw five times, completing three, as the Wildcats relied on their potent rushing offense and opportunistic defense to turn the game into a rout.
Arizona beat a ranked team on the road for the second time this season, having downed then-No. 2 Oregon 31-24 on Oct. 2.
After Wilson's breakaway score in the final period, Jared Tevis intercepted a pass tipped at the line by Derrick Turituri on Utah's next possession.
Wilson ran 19 yards for his third touchdown on the next play. He had only one negative-yardage play in 20 carries against a defense that is among the nation's leaders in tackles for loss.
Tra'Mayne Bondurant intercepted Utah reserve Connor Manning's pass and returned it for a 39-yard touchdown to complete the scoring with 9:58 to play.
Arizona defensive lineman Dan Pettinato picked up a fumble and scored on a 31-yard return for a 21-0 lead late in the second quarter.
Utah quarterback Travis Wilson connected with Westlee Tonga on an 11-yard TD pass with seven seconds left in the first half, making it 21-7.
Wilson completed 16 of 29 passes for 143 yards with two touchdowns.
Against Utah's normally stout run defense, Wilson hit the 100-yard rushing mark in the second quarter on his 17-yard touchdown scamper with 4:12 until halftime.
---