Dallas Cowboys
Dallas Cowboys
Will Tony Romo's return save the Cowboys' season?
Published
Nov. 19, 2015 12:16 a.m. ET

The Dallas Cowboys continue to struggle offensively during a lengthy losing streak, particularly at the end of games.
They're hoping Tony Romo can bring an end to their woes when he makes his expected return Sunday against the Miami Dolphins.
The visiting Cowboys (2-7) have dropped seven in a row without Romo, who suffered a broken clavicle late in a 20-10 Week 2 victory at Philadelphia. The slump has seen them fall into last place in the NFC East and 2 1/2 games behind New York.
They've averaged 14.2 points in the last five games - second-worst in the NFL in that span - and gone without a touchdown three times, including last Sunday's 10-6 loss at Tampa Bay.
Neither Brandon Weeden nor Matt Cassel have been the answer under center, leading to the team's worst losing streak since dropping seven straight to end the 1989 season. Dallas is still hoping it can make a push for a second consecutive playoff appearance with Romo back in the picture.
"We're going to let him practice," coach Jason Garrett said. "And if he practices well, he's going to play in the game. And we anticipate him practicing well. So we're excited about that opportunity."
Romo is 14-2 in his last 16 starts dating to the beginning of last season and was 61 of 79 for 623 yards and four TDs in the first two this year.
"I don't think that anyone in this locker room thinks by any means that this season is over," Romo said Wednesday. "You lose enough games, sometimes it can creep in where it feels that way, and I don't think our team has not ever given 100 percent commitment. That's exciting to see. That's how you can turn it around."
His return could be a spark for Dez Bryant, who has caught a TD pass in 12 consecutive games against AFC opponents. Bryant also recently returned from an injury suffered in the opener but has dropped three passes on 33 targets - a 9.1 percent drop rate - compared to a 3.7 mark over the previous two seasons.
Bryant caught five passes for 104 yards and a TD in his second game back in Week 9 against Philadelphia but combined for 57 yards in the other two games since returning against Seattle and the Buccaneers.
A crucial drop late in the fourth quarter against Tampa Bay set up the Buccaneers' game-winning drive, and Dallas fell to minus-30 in the fourth quarter compared to minus-six in the others. The Cowboys have been shut out three times in the fourth since losing Romo, and five losses have been by seven points or fewer.
"I don't know that that's the issue with our team," Garrett said. "But what you have to do is find ways to win games and we've done that in the past. We were a really, really good fourth-quarter team last year."
Romo excels in the fourth quarter, posting a 102.4 passer rating that trails only Aaron Rodgers (103.2) since 1991. He led a 10-point comeback victory in the fourth quarter of a season-opening 27-26 win against the Giants.
Facing Miami's struggling secondary could also set Romo up for a successful return. The Dolphins have allowed a 117.3 passer rating over the last three games, though top corner Brent Grimes is expected to play after sitting out last week due to a stomach ailment.
The Dolphins (4-5) also occupy last place in the AFC East, though they're still very much in the wild-card hunt. They finished a three-game trip with a 20-19 win over Philadelphia and will play five of their last seven at home.
Miami is the first team since the 1970 merger to play in its home stadium just twice through the first 10 weeks. The Dolphins were the designated home team in a 27-14 loss to the New York Jets in London on Oct. 4.
"It'll be good to get back home in front of our crowd," interim coach Dan Campbell said Monday. "Bottom line we've got another game. Whether it's there or here or in the parking lot, we've got to go win."
Miami hasn't enjoyed much of a home-field edge recently, however, going 19-23 at Sun Life Stadium since 2010 compared to 21-25 on the road. The Dolphins played one of their best games of the season in their last home contest though, winning 44-26 against Houston in Campbell's debut in Week 7.
Lamar Miller ran for a season-high 175 yards that day but has been limited to 2.8 yards per carry since. Meanwhile, the Dallas running game has been erratic with Darren McFadden rushing for 117 yards or more twice in his last four games, and 64 yards or fewer in the other two.
The Cowboys have won four of the last five meetings.
MORE FROM FOX SPORTS SOUTHWEST: 
- PHOTOS: Cowboys Cheerleaders Auditions
- Ranking NFL quarterback salaries
- Highest paid player on every NFL team
- Oldest player on every NBA team
---
---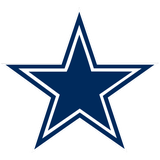 Get more from Dallas Cowboys
Follow your favorites to get information about games, news and more
---