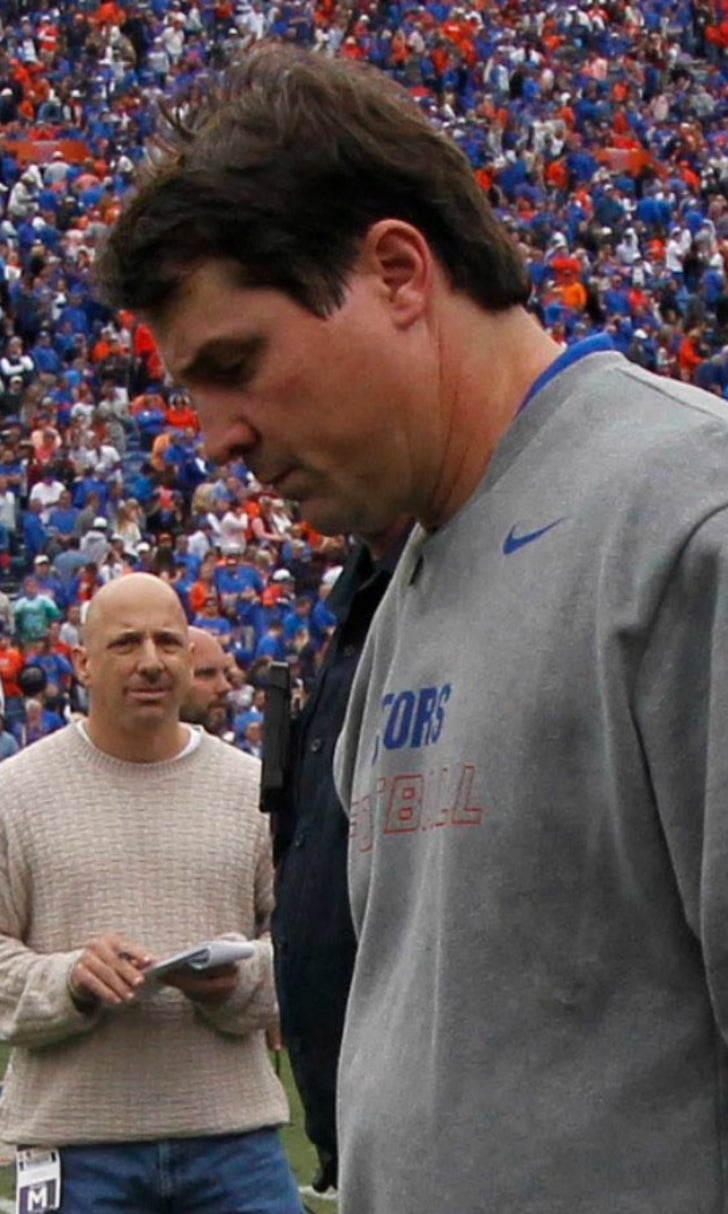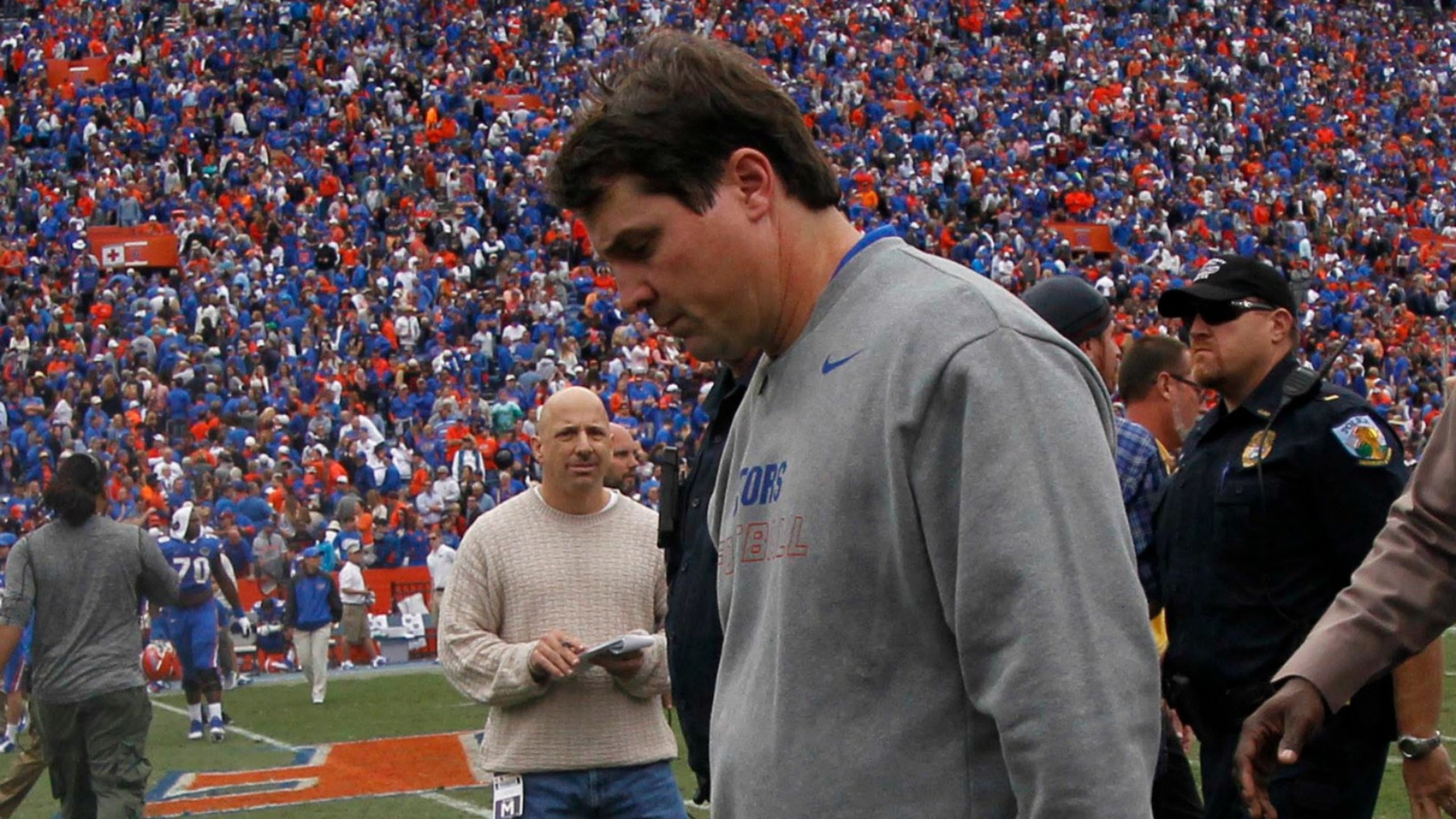 Will Muschamp stepping down as Gators head coach at end of season
BY foxsports • November 16, 2014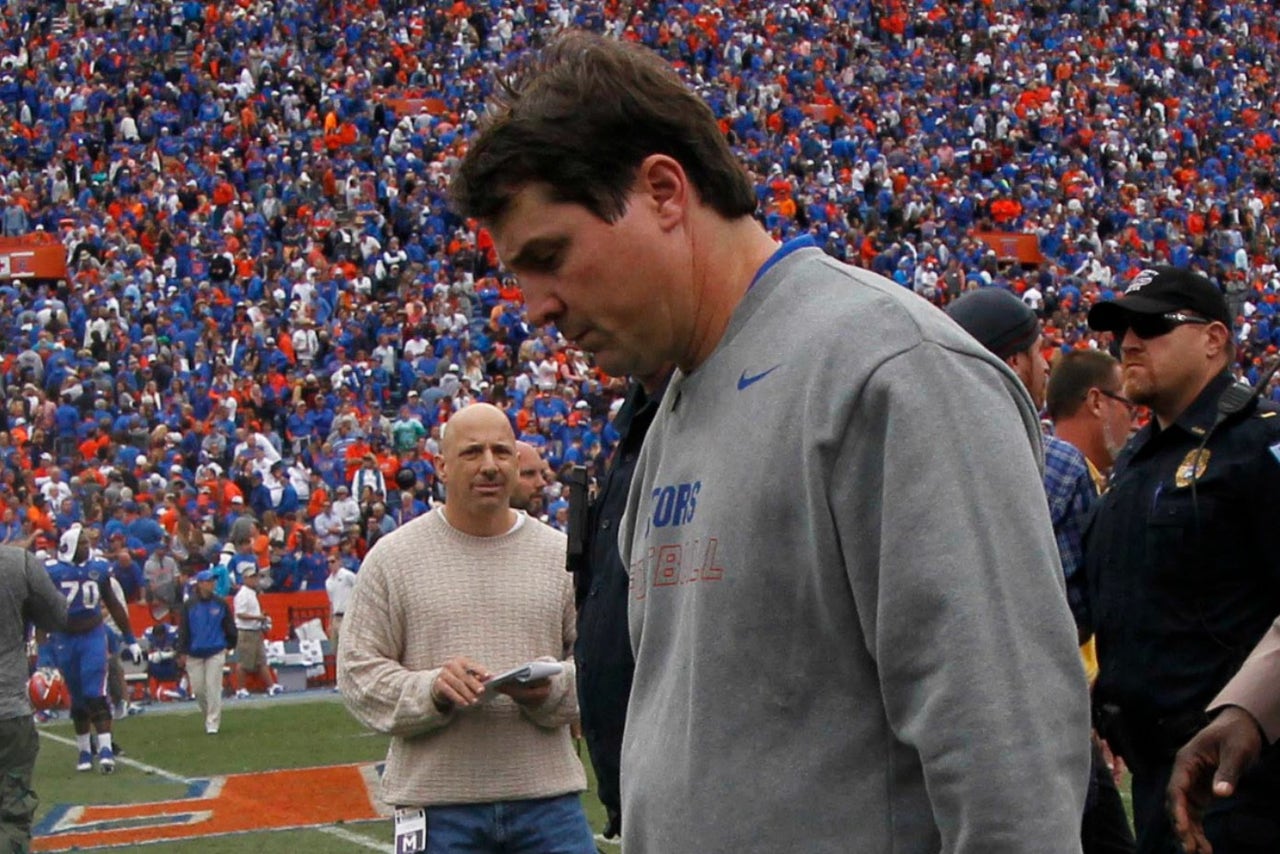 GAINESVILLE, Fla. -- The Gators will have a new head coach next season.
University of Florida Athletics Director Jeremy Foley announced Sunday that Will Muschamp is stepping down at the end of the regular season. Foley will discuss the move on Monday at Muschamp's regular game-week press conference.
The decision was finalized after the Gators lost 23-20 in overtime to South Carolina on Saturday. It was Florida's third consecutive home loss and sixth in eight games at Florida Field dating to last season.
The Gators entered the game still alive for a potential division title with some help from other teams. However, the crushing defeat to the Gamecocks ended those hopes.
Florida dropped to 5-4 overall, 4-4 in the SEC.
"Upon evaluation of our football program, we are not where the program needs to be and should be. I've always said that our goal at the University of Florida is to compete for championships on a regular basis," Foley said. "Coach Muschamp was dedicated to developing young men both on and off the field. Our student-athletes showed tremendous growth socially and academically under his leadership. His players were involved in campus activities, engaged with the local community and represented the University of Florida with pride.
"I will be forever grateful to Will and his staff for their unwavering commitment to the University of Florida and the mission of our athletic program. He will be missed by everyone in our athletic department -- from the people that worked in his office to the people that painted the fields. Will knew everyone and they knew him and everyone in the building loved working with him. Will is as fine a man as you will ever meet, and I will always cherish our relationship with him and his family."
In his fourth season, Muschamp is 27-20 overall. He will finish out the season as Foley begins the search for his replacement. The Gators host Eastern Kentucky on Saturday and close the regular season at Florida State on Nov. 29.
"I appreciate the opportunity that has been offered to me and my family by Dr. Machen, Jeremy Foley and the University of Florida," said Muschamp. "I was given every opportunity to get it done here and I simply didn't win enough games -- that is the bottom line. I'm disappointed that I didn't get it done and it is my responsibility to get it done.
"I have no bitter feelings, but this is a business and I wish we would have produced better results on the field. We have a great group of players and a staff that is committed to this University and this football program. They have handled themselves with class and I expect them to continue to do so. As I've said many times, life is 10 percent of what happens to you and 90 percent how you respond."
While fans focused on the won-loss record, Muschamp improved the program in significant ways behind the scenes and quickly earned respect inside the University Athletic Association and from outgoing UF President Bernie Machen.
His down-to-earth personality and approachable demeanor was refreshing for those closely connected to the program. He spent part of his childhood in Gainesville and called Florida a "dream job" when hired.
Still, speculation about Muschamp's future leading the program has been a primary storyline surrounding the Gators all season.
After defeating Georgia two weeks ago in Jacksonville and then winning last week at Vanderbilt, the tone turned positive heading into the matchup with South Carolina and former UF head coach Steve Spurrier.
With true freshman quarterback Treon Harris making his first career home start, the Gators led 17-10 late in the fourth quarter and appeared about the ice their third consecutive victory with a field goal.
Instead, Frankie Velez's kick was blocked, the start of a strange sequence of events that later included a blocked Florida punt, a South Carolina touchdown to tie the game with 12 seconds left, and then a 20-17 lead for the Gators on Austin Hardin's 35-yard field goal in overtime.
Finally, the Gamecocks drove 25 yards on seven plays to pull off the unlikely win on quarterback Dylan Thompson's 4-yard touchdown run.
A stunned Muschamp shook hands with Spurrier and then headed to the locker room and his postgame press conference.
"When you get two blocked kicks with 3:30 to go in the game, it will cost you the football game," Muschamp said. "I don't know what else to say other than that. I'm very disappointed to lose that football game."
Losing has become commonplace the past two seasons, including a 4-8 record during an injury-plagued 2013 season. Overall, the Gators are 9-12 the past two seasons and need to win one of their final two regular-season games to become bowl eligible.
While fans have voiced their opinion of Muschamp loudly on social media, so have the players in recent weeks. Known as a players' coach, senior offensive lineman Chaz Green vowed after Saturday's loss that the Gators wouldn't quit on Muschamp regardless of his job status.
"We're playing for each other, we're playing as competitors and we're playing for the game of football, the man next to you," Green said. "We're playing for a lot of things; these fans, Coach, a lot of things. We just have to dig deep and pull close."
Foley tabbed Muschamp as the replacement for Urban Meyer and on Dec. 11, 2010, introduced the highly-regarded and sought-after Texas defensive coordinator/head coach-in-waiting as the 23rd head coach in UF history.
Taking over a program that Meyer called "broken" following Florida's loss at Florida State in his final regular-season game in 2010, Muschamp steadily rebuilt the program from the ground up.
The Gators finished 7-6 in Muschamp's first season and by midway into the 2012 season, the Gators were in the national title conversation entering the Georgia game.
Florida was 7-0 and ranked No. 3 but committed six turnovers in a 17-9 loss to the Bulldogs. The Gators rebounded to win at Florida State and remained in the national championship conversation the week of the SEC Championship, ranked No. 3 in the final Bowl Championship Series standings.
Florida earned a Sugar Bowl berth and finished 11-2.
The Gators opened the 2013 season ranked 10th but injuries quickly took a toll as Florida lost several key players for the season -- including starting quarterback Jeff Driskel in the third game -- and suffered the program's first losing season (4-8) since 1979.
Foley stuck with Muschamp to see if a healthier Florida team could rebound in 2014. Muschamp replaced offensive coordinator Brent Pease with Duke play-caller Kurt Roper.
Roper installed an up-tempo spread offense similar to the one he used last season at Duke on the way to a school-record 10 wins. However, after back-to-back wins over Eastern Michigan and Kentucky to start the season, the Gators began a downward slide with a 42-21 loss at Alabama last month.
The Crimson Tide offense tallied 672 yards, the most ever allowed by a Florida defense. Muschamp and defensive coordinator D.J. Durkin made improvements and the defense responded to play much better the past six games.
Meanwhile, offensively. the Gators committed 15 turnovers in four games prior to Harris replacing Driskel as the starter against Georgia. The Gators rode that improvement to two consecutive wins until Saturday's deflating loss to South Carolina.
In the end, a loss Muschamp was unable to survive.
---