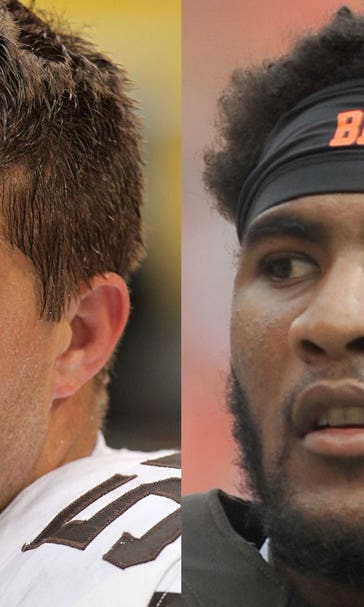 Will Mack and Ward return?
February 20, 2014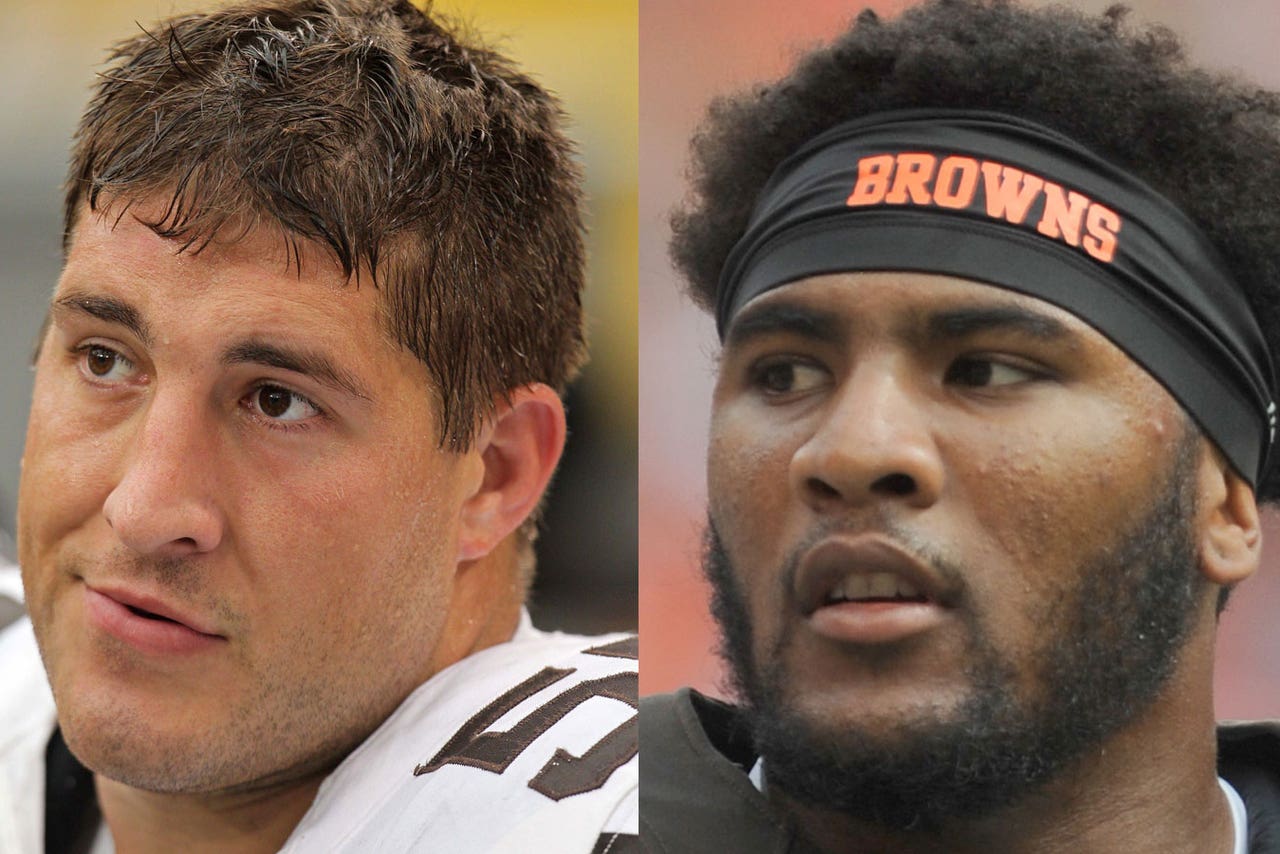 INDIANAPOLIS -- Thus far, Browns GM Ray Farmer is keeping the team's offseason decisions close to the vest.
The team's new GM has already learned how to answer questions without giving away much information as he spoke to local reporters on Tuesday morning at the start of the NFL Scouting Combine.
Two of the bigger decisions the team needs to make regarding free agency are what they are going to do with soon-to-be unrestricted free agents T. J. Ward and Alex Mack. Both players made the Pro Bowl this past season and the Browns have until March 3 to decide if they are going to place the franchise tag on one of them or if they are going to re-sign them. Free agency begins on March 11.
"We've talked about all those things," Farmer said. "I'm not going to comment on whether we're using franchise tags or transitions or what the contract status is or what negotiations have taken place. We're going to handle those things between the player, the agent and the organization."
Farmer said the Browns have discussed every player and know what they are planning to do.
"We went through every player on this roster and we discussed the players we thought could help us win," he said. "That's what it comes down to. We are in lockstep on who the guys are and what those guys need to be and have to do to move forward."
Both players have said earlier they would like to return to the Browns. Farmer said it comes down to keeping the guys that help the Browns win. He was asked if Mack and Ward helped the Browns win.
"Do they help us win? They have," he said. "They have. That's past tense."
Farmer said the Browns have already begun to formulate a plan to maximize free agency and the draft.
 "We've always had those conversations, we've had some of them," he said. "Things never work exactly how you have it planned out. I think they're already a map designed of how we want to attack free agency, how we want to attack the draft. But nevertheless, we'll hone in and fine tune and adjust from what we've already kind of decided is the path we should take."
Extra Points
Deep Draft: Many NFL Draft experts have said the 2014 draft is deep with a record 85 juniors eligible for this year's draft. Farmer agreed.
"It's interesting. I do believe a good indicator of how deep a draft potentially is is the number of juniors who declare. So again, we're record-setting. That being said, it does demonstrate there's better players and a deeper pool of players. But we're going to do the best way possible for us. People talk about trades, do you want to move up, do you want to move down, we want to find the best football players for our football team. We want to find the guys we truly would like to have on our team. One of the strategies we're going to stick to is identifying the guys that fit who we want to be, then finding a way to get those guys on our football team."
Finding a Back: Farmer was asked about finding a running back in lower rounds of the draft. The Browns are believed to be looking to draft a running back or signing one in free agency. Ohio State's Carlos Hyde is one of the highest rated backs in the draft.
"The key is organizing the board in a way that you recognize what a guy's talent and skill level is," he said. "When you put your board together, you want to stay focused on the notion of ordering the guys in the right order. There's guys who have success. There's guys who go late in the draft and turn out to be really good football players. Part of that is their skill set getting married to the right scheme."
Browns offensive coordinator Kyle Shanahan was a part of the process that found RB Alfred Morris in the sixth-round of the 2012 draft.
"The one thing we can really hang our hat on and stay true to is that Kyle has demonstrated in a variety of places that he's been, he's taken a variety of different people and found success," he said. "So for us it's a matter of finding a young man who has talent, has the work ethic and the drive and the things we're looking for to have that success and finding a way to get them. I don't think there's any easy answer to say, 'These guys fall, these guys don't.'
"The thing that's probably most overlooked specific to the running back position and maybe every other position, when guys don't run well they tend to fall." 
Kuharich Hired: Farmer confirmed that the Browns have hired former Saints GM and Chiefs VP of Personnel Bill Kuharich as a consultant.
"He does have a relationship with the Cleveland Browns," Farmer said. "The relationship was somewhat forged while Mike (Lombardi) and Joe (Banner) were both here. Bill's a consultant. He'll be working with me directly on several aspects of what I'm going to be tasked to do."
Farmer said that Kuharich will retain his residence in Kansas City, but will be "back and forth."
Bess Situation Unclear: There have been reports that the Browns are planning on trying to void some of the guaranteed money in WR Davone Bess' contract. There have also been reports that the Browns might outright release him, but Farmer wouldn't confirm or deny it.
"I'm not going address the Davone Bess situation," he said "Every player we have, we're not going to address those circumstances in the media. We're going to talk to agents, we're going to talk to players, we're going to talk internally about how we should handle any current player, any future player contract and/ or otherwise."
Weeden Grades: Last week, QB Brandon Weeden told NFL Media's Michael Silver that he wanted out of Cleveland citing the "lack of support from the most recent front office."
Weeden backpedaled a bit earlier Friday at an appearance at the OU Medical Center.
"It's one of those things that people want to read a lot into," Weeden told the Daily Oklahoman.
"I want to play football," Weeden said. "I don't care. I just want to play football and be at a place where it's enjoyable and we can compete and win games. That's really what it's all about."
Farmer was non-committal on Weeden's future with the Browns.
"I've stated this before," Farmer said. "I'm going to stick with the tune of we're only going to talk to Brandon directly and his agent. If they decide to tell everyone else where they're at and what decisions have been made, then that's truly in their court. I won't decide and tell anybody in the media exactly what I'm going to do or what's happening. Those will come out in time. We'll deal with Brandon and his agent directly and then he'll release that information when he thinks it's appropriate."
Farmer was asked if he feels Weeden can be a winning quarterback in the NFL.
"Do I think he can be a winning quarterback in the NFL? Let me say this," he said. "When we grade players, we grade them on what they've done, specifically when you're in the National Football League. The college draft, from my perspective, is a projection. You put a grade on a players based on what you think he becomes in one to two years' time. Once you're in the National Football league, you're graded upon your performance and what you were able to achieve at that moment.
"With that being said, everybody's performance is relative of that performance," he said. "We have a grade on Brandon. We know what that grade is. In time, his agent and he will both know where we stand with Brandon and he will be able to release that information."
Lombardi Lands with Belichick: Former Browns GM Mike Lombardi has joined the Patriots with Bill Belichick as assistant to the coaching staff. Lombardi was fired along with CEO Joe Banner two weeks ago. Also, former Browns coach Eric Mangini was hired by the 49ers as tight ends coach.
---