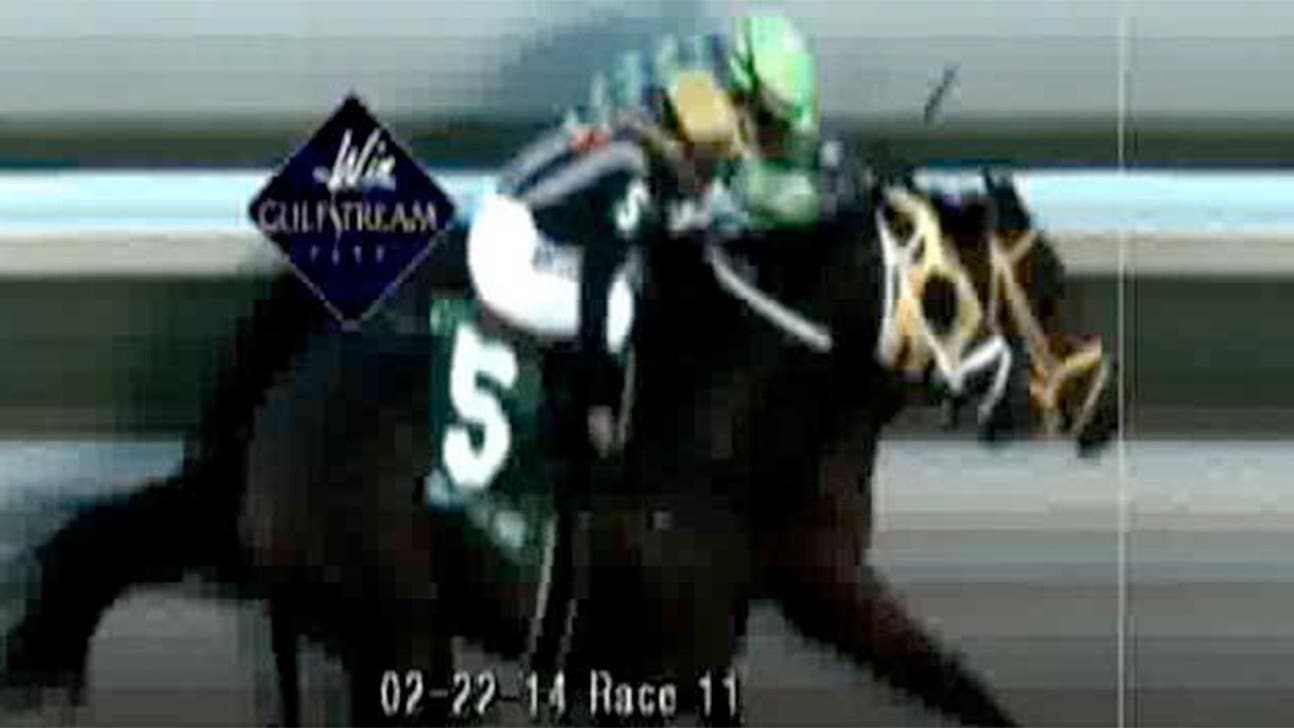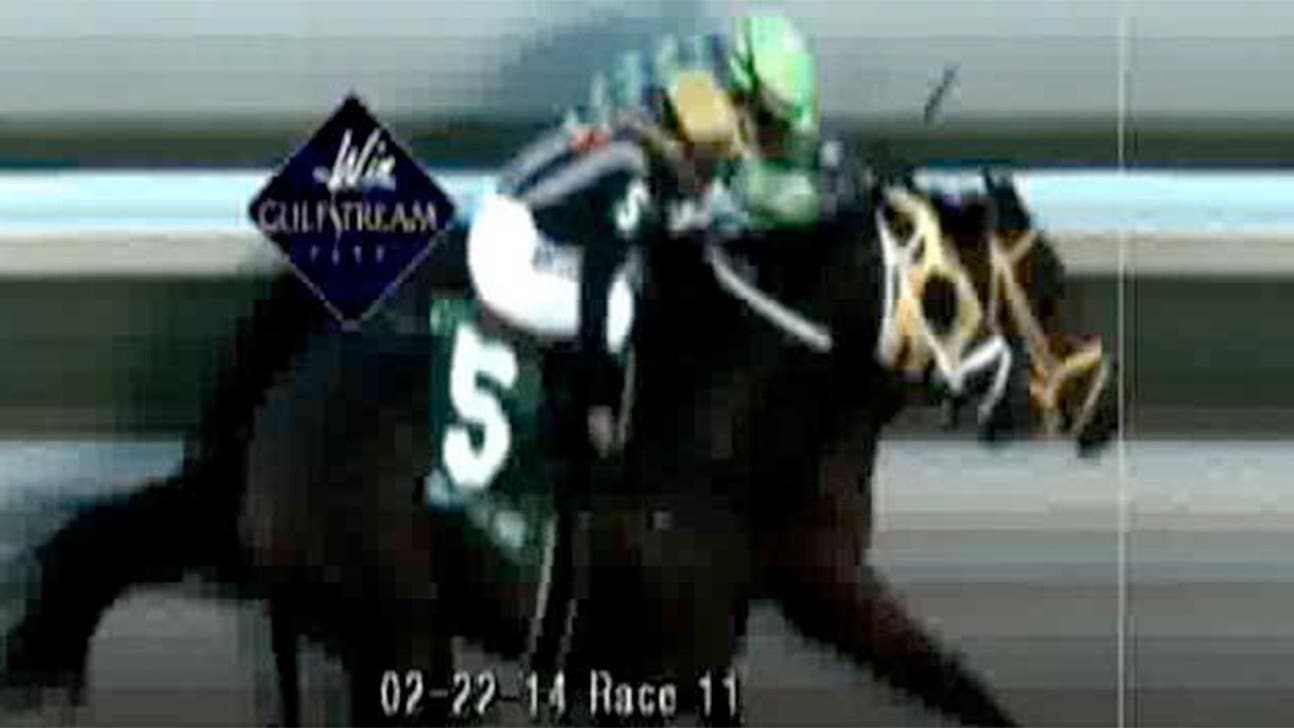 Wildcat Red outgames General a Rod in Fountain of Youth
Published
Feb. 23, 2014 11:30 a.m. ET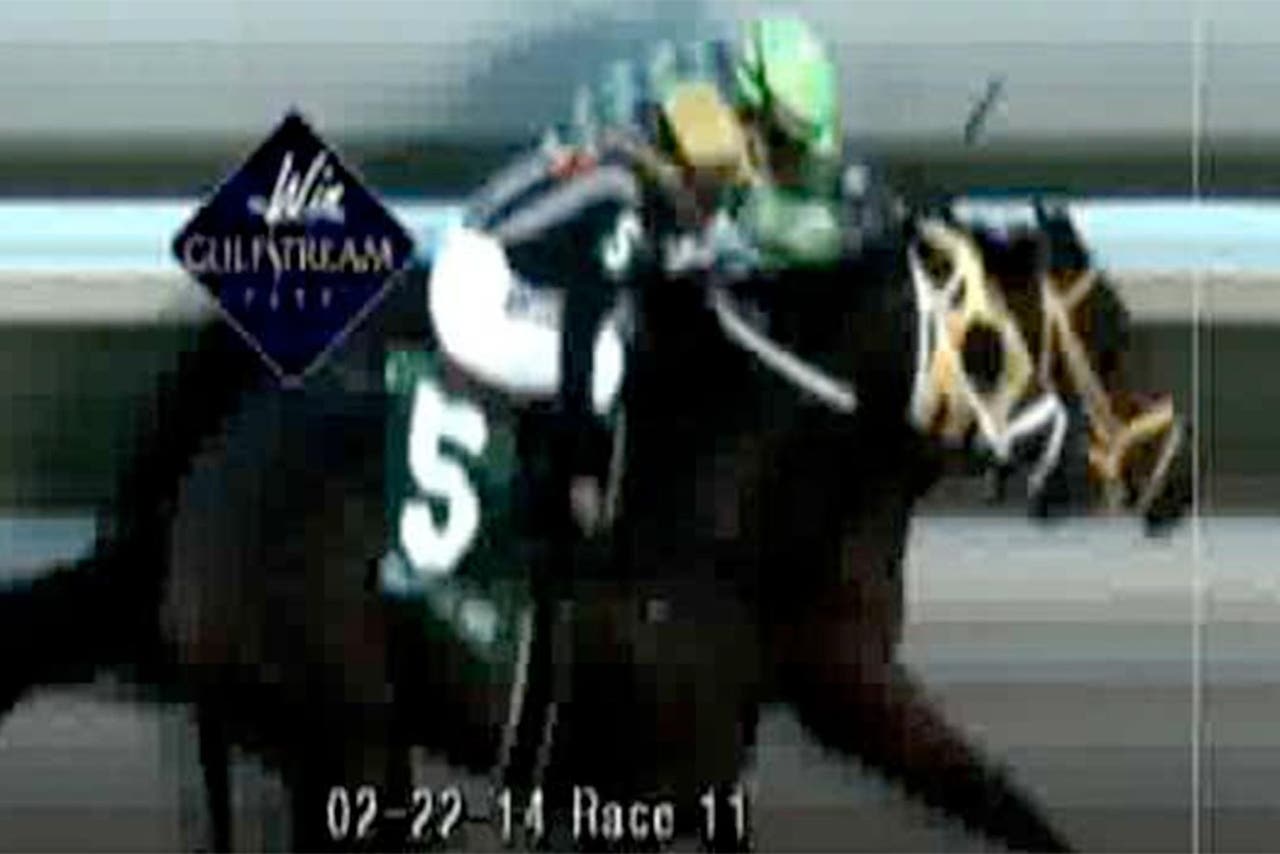 HALLANDALE BEACH, Fla. -- When trainer Jose Garoffalo watched Wildcat Red breeze before a sale of 2-year-olds in Ocala, Fla., in June, he was drawn to him by a number of qualities.
He delighted in his balance. He noted that the youngster galloped out strongly, suggesting he could be more than a sprinter. Above all, there was something about his competitive spirit that was compelling. The trainer could just feel it.
But could he buy that, since owner Salvator Delfino had given him a $30,000 budget with strict instructions not to spend a penny more? To their delight, the auctioneer's hammer fell at $30,000. The Florida-bred that was somehow overlooked by so many others was theirs.
"I got lucky," the Venezuelan-born Garoffalo said.
How lucky was made clear on Saturday, when Wildcat Red outfought General a Rod, his nemesis throughout the 1 1/16-mile contest, by a head in the $415,000 Fountain of Youth Stakes over a speed-favoring surface at Gulfstream Park.
"Now we can think seriously about the [May 3] Kentucky Derby," Garoffalo said after the son of D'wildcat showed surprising staying power.
The Venezuelan-born trainer has been using long gallops to attempt to offset seeming distance limitations. Wildcat Red dominated the seven-furlong, Grade 3 Hutcheson Stakes by 4 ¾ lengths at Gulfstream Park on Feb. 1.
Garoffalo, who has been training in the United States since 1999, will seek his first Grade 1 triumph with Wildcat Red in the Florida Derby on March 29 at Gulfstream Park. He said of the youngster's fourth victory in six starts with a pair of runner-up finishes: "You always have doubt, but in my heart I was very confident in the horse when I came over."
His rare bargain increased his earnings to $490,850 and earned 50 points on the Road to the Kentucky Derby leaderboard that determines the field for the first jewel of the Triple Crown. Wildcat Red currently sits in second place.
Top Billing, sent out as the favorite in the field of 12 even though he started from farthest outside post position, closed resolutely for third for trainer Shug McGaughey, who took the Fountain of Youth last year with eventual Derby champion Orb.
McGaughey was not overly disappointed, noting that the track worked against Top Billing's style and that he "was the only one finishing." McGaughey indicated he will press on to the Florida Derby as a hoped-for stepping stone to the first Saturday in May.
Commissioner, a highly regarded but lightly raced colt, ran a disappointing sixth for white-hot trainer Todd Pletcher. Elliot Walden, manager of WinStar Farm, blamed the performance on a track that favored early speed throughout the warm sun-splashed afternoon.
"We'll get him off this racetrack and get him to another one where he can really utilize his ability to get into a rhythm and I think he'll be fine," he said.
Walden said Commissioner remains on the Road to the Derby, but he is not sure where his next start might come.
Track record: Highly regarded Normandy Invasion returned from a 10-month layoff in spectacular fashion, setting a track record of 1:33.13 for one mile in an allowance race on the Fountain of Youth undercard. Commentator had held the previous mark at 1:33.71 since 2008.
Normandy Invasion, ridden by Javier Castellano, routed Chee by 7¾ lengths. He had been sidelined by a foot injury that developed into an abscess.
"We couldn't ask for anything better than what we got," owner Rick Porter said of the decision to give the youngster such an extended layoff.
Trainer Chad Brown will look for a two-turn race for Normandy Invasion's next start.
"Hopefully, this is a start to a great year for this horse," Brown said.
Castellano won six races on Saturday's card at Gulfstream. 
---