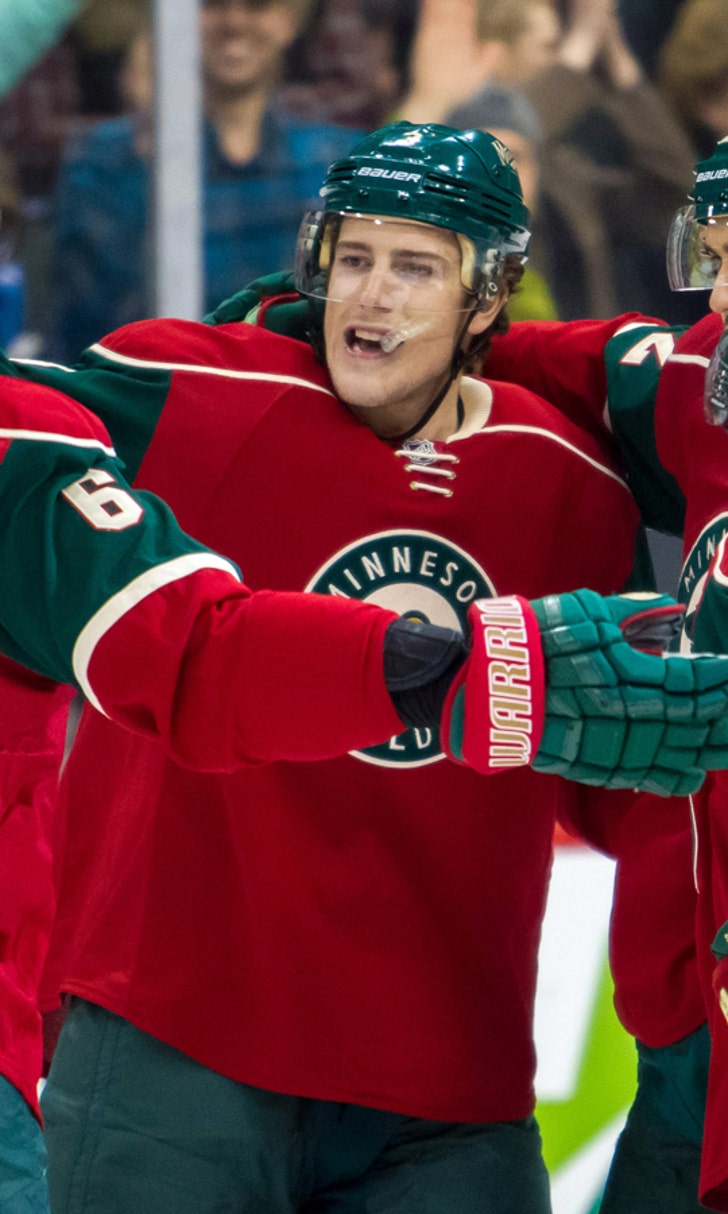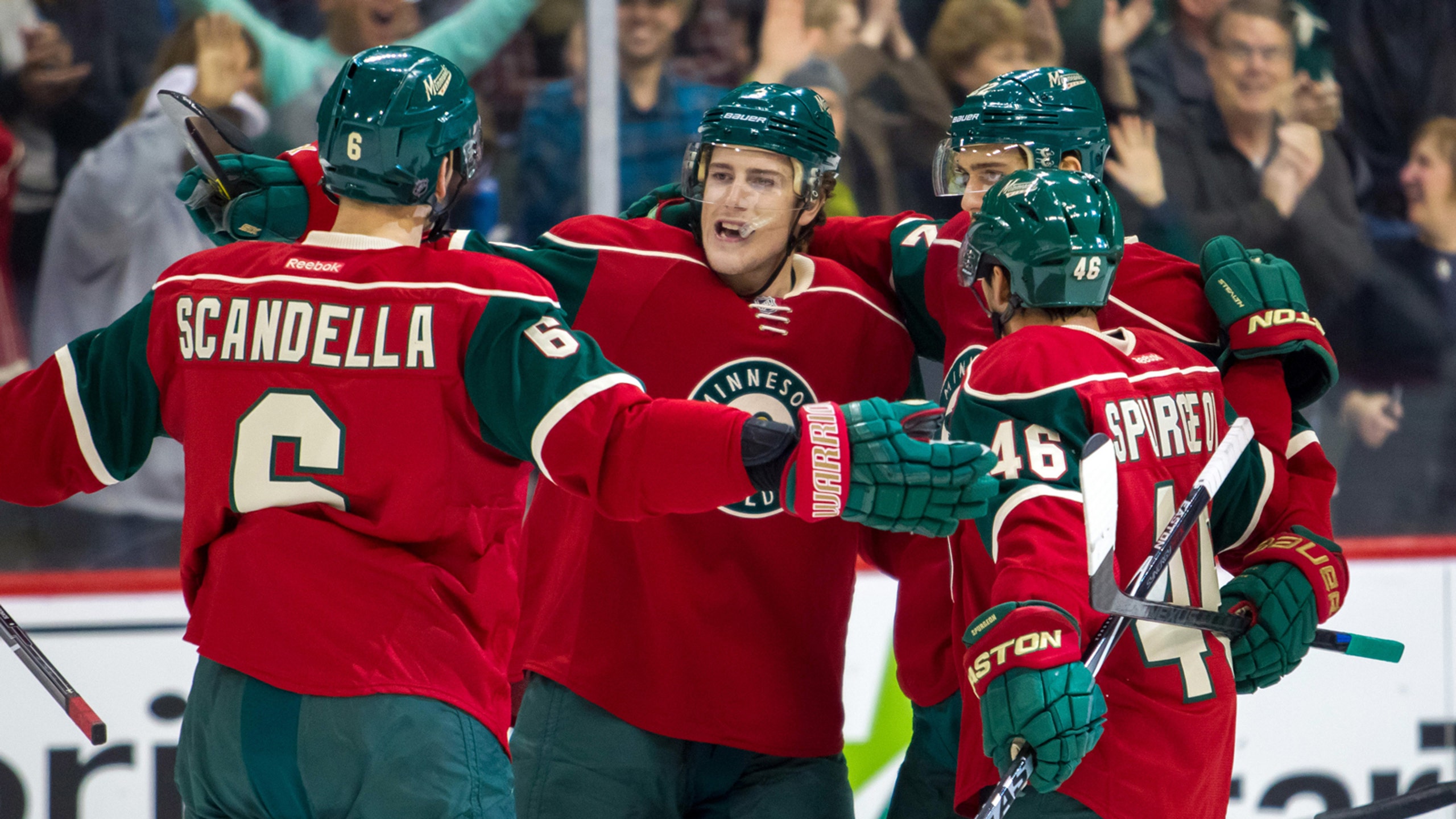 Wild top Colorado, continue ascent in standings
BY foxsports • February 8, 2015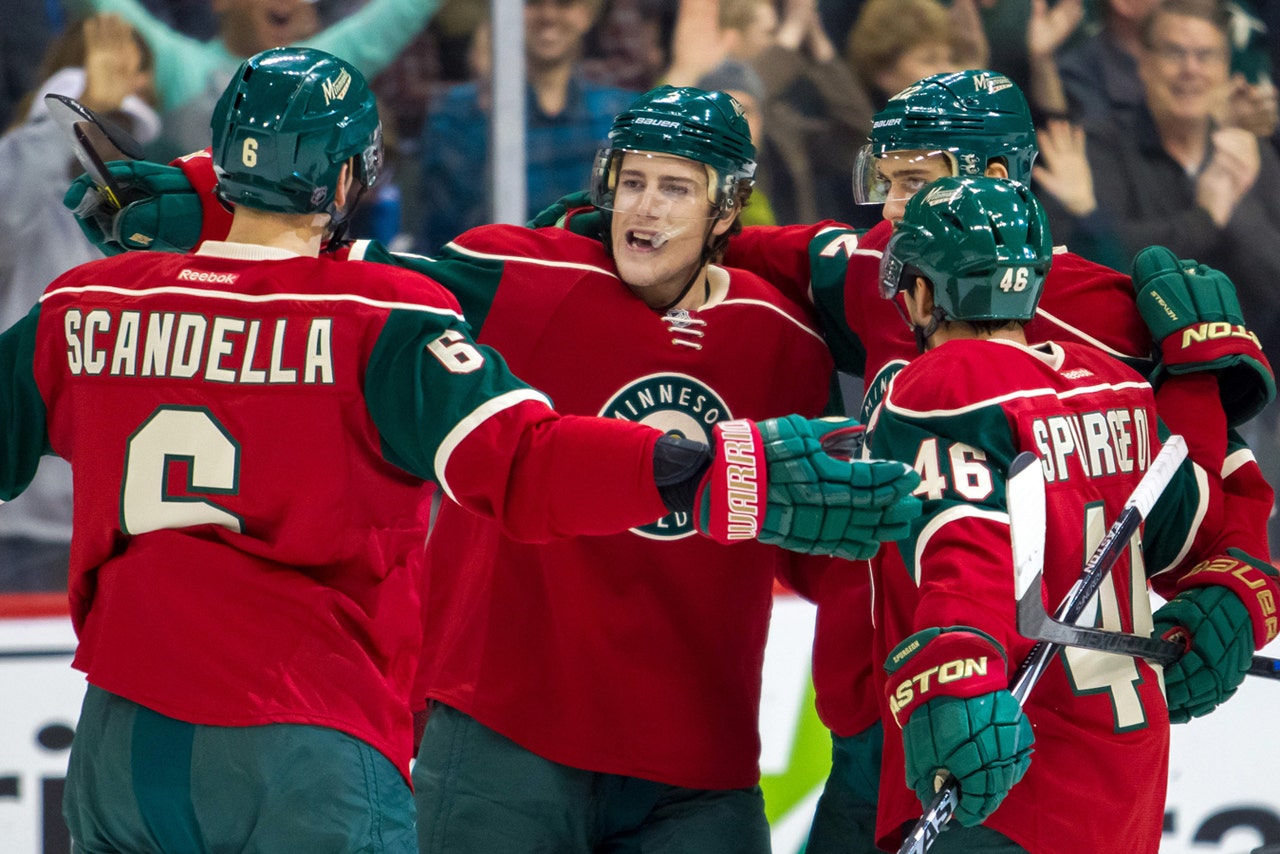 ST. PAUL, Minn. -- As the Minnesota Wild have strung together wins, the postgame music in the dressing room has seemed louder, just as Minnesota is making noise in the Western Conference.
Saturday's song of choice, following the Wild's 1-0 win against the Colorado Avalanche, perhaps held a bit of significance.
Booming from the speakers was Journey's "Don't Stop Believing."
Coincidental or not, Minnesota believes its back in the Western Conference playoff race.
"I didn't think of that, but good tune and always sounds better when you win," said forward Charlie Coyle, whose seventh goal of the season stood up as goaltender Devan Dubnyk recorded his fourth shutout in nine games with the Wild by making 18 saves.
Minnesota has won five games in a row and vaulted over Colorado into a tie for ninth place in the Western Conference. The Wild shut out the Avalanche for the third time this season and outshot Colorado, 29-18.
On Jan. 14, Minnesota was in 12th place in the West and a season-high eight games out of eighth place. Getting back in playoff striking distance was going to be difficult. The Wild needed points and needed a lot of help as they looked to jump four teams.
But Minnesota didn't stop believing.
"You never know how it's going to turn out, but I think our focus was just to try to get to our best hockey and I think we're on the right track here," Coyle said. "I think we've won our last five, so I think we're trending in the right direction. We still got more to work on, I think, but you want to string together these wins while we're doing that."
The Wild are five points away from Calgary and Vancouver, who are tied for eighth in the conference. Despite the five-game winning streak, Minnesota has only gained two points on eighth place.
But the Wild haven't let their climb become an obstacle. They've stayed focused on the day-to-day aspect and the past four wins have come against teams who started the game ahead of Minnesota.
"I think we're right in the mix now," center Mikko Koivu said. "But at the same time, you can't worry about. We're still chasing and there are a lot of teams ahead of us, so we got to get ready for the next one."
Of course, Jan. 14 was when Minnesota acquired Dubnyk. He posted a shutout in his first game with the Wild a day later and now is 7-1-0 with a 1.31 goals-against average and .948 save percentage for his new team.
Dubnyk only needed 18 saves on Saturday but was again up to the task. He's posted back-to-back shutouts and hasn't allowed a goal in 126 minutes, 39 seconds.
For much of the first period Saturday, Dubnyk was a bystander. Minnesota controlled the first, outshooting Colorado 17-4 and leading 34-6 in shots attempted.
"He did a really good job staying in it in the first period, and keeping himself sharp and keeping himself ready," head coach Mike Yeo said. "After the first period, I would say chances were even both ways. Obviously I think we got a pretty strong advantage in the first period, and then after that and he was up to the task. Obviously, he was flawless."
Dubnyk has enjoyed playing behind the Wild, who were known for their defensive play last year while navigating a rotation in goal.
"I feel like I'm saying that every day," Dubnyk said of the team playing well in front of him. "Coming from the Chicago game, that was such a great game and then we carry into the first period and that was an extension of that. It was incredible to watch. And we got rewarded with one, but if we keep playing like that we're going to be on the right side of it more often than not."
Dubnyk made a few key saves late in the third period when the Avalanche had a power-play. He made five saves on the penalty kill, and benefitted from a big stick save by defenseman Jonas Brodin.
The puck had managed to get by Dubnyk and was headed toward the net before Brodin swiped the puck away inches from the goal line, shooting the puck between Dubnyk's legs and all the way down the ice.
"I think I got it through Dubnyk's legs or something," Brodin said. "So, I got pretty lucky."
Brodin then joked: "It was a good play by Dubnyk to open up."
The breaks Minnesota wasn't receiving during its December and January swoon have started to go the Wild's way, and they are making their own luck at times, too.
"There's a different feeling amongst the group when you're in a tight game like that (and) you can pull it out," Yeo said of the team's confidence. "Whereas there was other times when you get in a tight game like that, it's almost just the way things had gone earlier that you're just waiting for the next bad thing to happen. There was good talk on the bench, there was good confidence that obviously we're hoping to get that next goal, but if we didn't, we felt confident that we could win that type of game, too."
Sounds like they believe.
Follow Brian Hall on Twitter
---