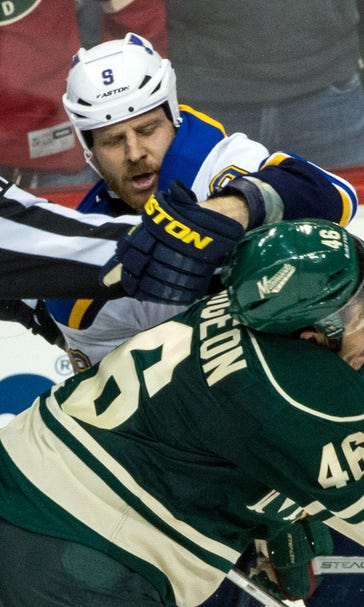 Wild sticking to own game, displaying different kind of toughness
April 21, 2015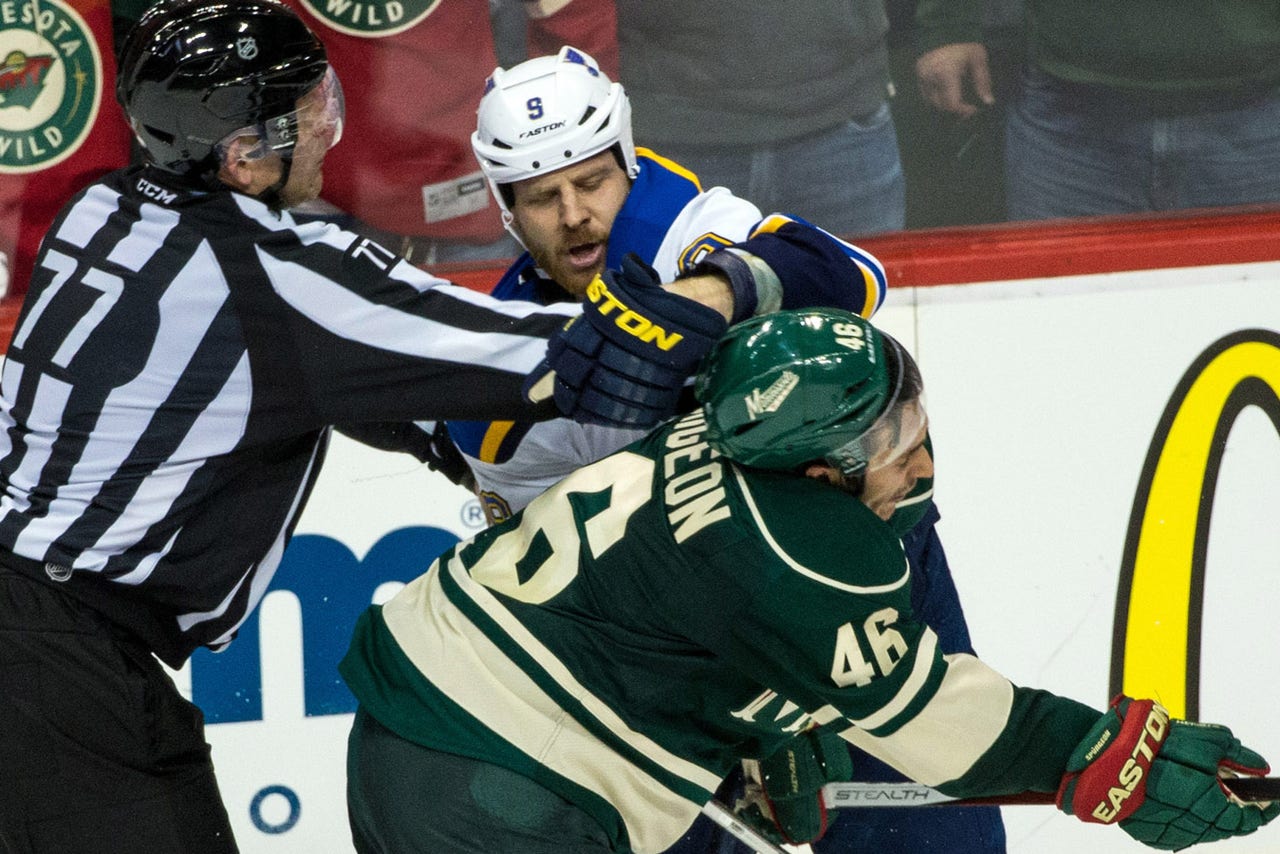 ST. PAUL, Minn. -- Throughout the first-round series between the Minnesota Wild and St. Louis Blues, toughness has been a topic, especially as it relates to St. Louis' big, physical team and how Minnesota has matched up with the burly Blues.
Minnesota, instead of getting involved with St. Louis' agitators, has stuck to its game. The Wild have more hits (89-84 for the series) but toughness is defined differently by Minnesota.
"This is one thing that I highly respect with our group," head coach Mike Yeo said. "It's the way a D-man goes back and takes a hit to make a play. It's the way a guy blocks a shot. It's the way when teams try to impose themselves physically on us we keep on our playing our game. That's our mindset, the approach that we have to have."
The Wild's 3-0 win Monday night seized control of the series for Minnesota. The way the Wild won was by showing its own brand of toughness even as Blues captain David Backes was punching Minnesota forward Charlie Coyle after the whistle and St. Louis' Steve Ott was given a 10-minute misconduct for an altercation in the final minute.
The Wild took control, and frustrated the Blues, by controlling the play and clogging the middle of the zone in front of goaltender Devan Dubnyk. Minnesota possessed the puck more, outshot St. Louis 24-17, had 17 takeaways compared to three for the Blues and Dubnyk posted the third playoff shutout in franchise history – all coming in the last two years -- with 17 saves.
The Wild blocked 18 shots and clogged the middle of the zone in front of Dubnyk. They have blocked 52 shots in the three-game series.
"We don't have anyone in this locker room that isn't afraid to step in front of a shot and make things easier on Dubnyk back there," Coyle said. "It's just those little details that pay off and make our team so tough."
Minnesota is also allowing just 21.7 shots per game to St. Louis in the series, the second fewest among playoff teams this season.
Meanwhile, the Wild didn't have a penalty in Game 3.
"Toughness is not just about fighting or punching guys or hammering guys," forward Chris Stewart said. "There are different kinds of toughness and each guy brings different things."
Minnesota heard all about the Blues physicality and were prepared for the series. Yeo has spoken about how his team is more physical than its given credit for even if the approach is different.
The Wild have been mentally tough in avoiding to get caught up in the post-whistle exchanges. Defenseman Ryan Suter said the team has talked about just smiling when faced with such circumstances.
"There's different kinds of toughness," Suter said. "We have good team toughness. I think blocking a shot, it takes a tough guy to do that. Taking a hit to make a play, it takes a tough guy to do that. Yeah, it is a different kind of toughness, and yeah that is the kind of toughness we have."
Being strong defensively is one of Minnesota's methods.
With Dubnyk, the Wild led the NHL with 71 goals allowed in the regular season after Jan. 14. They were 15 goals better defensively than the next closest team (Los Angeles allowed 86 goals in that span).
The postseason is known for players playing through injuries, laying out to block shots or finishing checks. Minnesota is bigger with players like Stewart and Coyle than it has been in the past, but it sticks with its way of being tough to play against.
"I think a lot of guys confuse that," Coyle said. "It's not just the fighting. It's being physical. We have smaller guys that can be tough out there and play strong. They're not afraid. They won't back down. If they go up against anyone in the corners they come out with the puck most of the time. We have good leadership to follow that example. That's why our team has had the success we've had so far."
Follow Brian Hall on Twitter
---