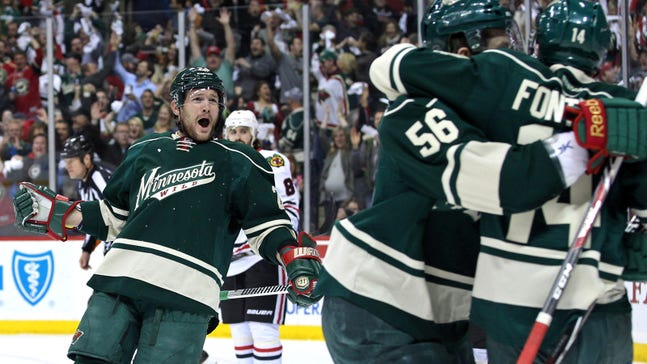 Wild show character in knotting series with Blackhawks at 2
Published
May. 10, 2014 2:50 a.m. ET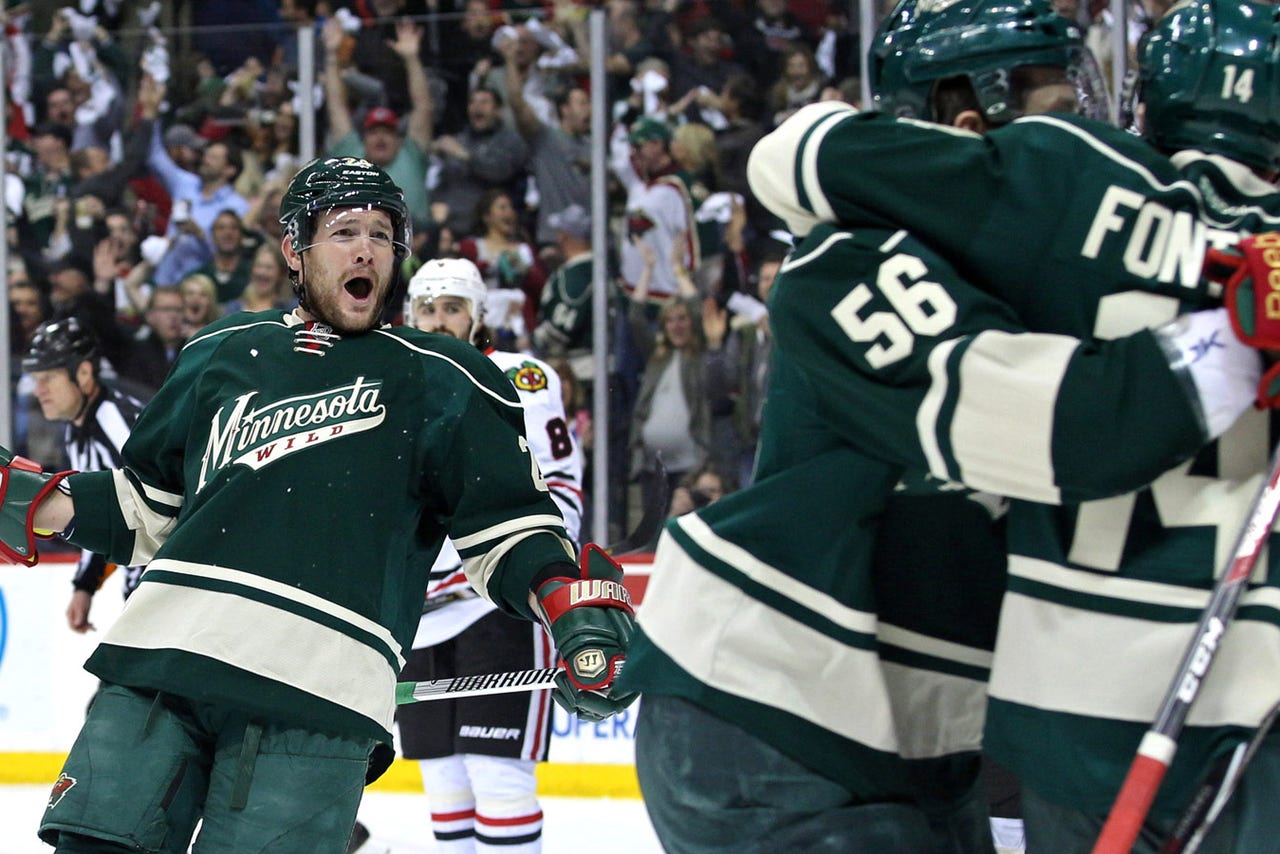 ST. PAUL, Minn. -- Before Friday's morning skate, Wild coach Mike Yeo ran some video highlights for his players to chew on.
These weren't inspirational clips of gritty hockey teams past. Nor were they meant to harp upon mistakes that need correcting, like so many other film sessions this season.
Instead, they featured this year's NHL playoff darling, the one that won't go away whether it's getting outrun by a flashy, youthful group or overpowered by the one that last kissed Lord Stanley's Cup. Yeo had his players watch themselves perform, with the simple objective of reminding them they can.
Finished checks. Blocked shots. Yeo wanted his players to see them, digest them, carry them back onto the Xcel Energy Center ice as an empowering example.
"It shows a lot of character from our team," said right wing Nino Niederreiter, who scored the go-ahead goal in Minnesota's 4-2 win Friday. "We know how we can beat those guys."
The lesson, conversely, for Chicago: once the Wild is down, look out.
The defending Stanley Cup champions learned that the hard way this week, being outscored 8-2 in Games 3 and 4 of a Western Conference semifinal affair it once firmly controlled. After falling behind 2-0 for the second straight series, Minnesota has outshot Chicago 65-39 the past two games at Xcel Energy Center and, like it in the opening round against Chicago, come back to forge a best-of-three battle to advance.
Nothing new.
It's become a recurring theme, the Wild's persistent knack for turning calamity into prosperity. Coach-threatening losing streaks, a different goaltender by the week, deflating playoff deficits -- none of it's been enough to stifle the West's top wild-card seed.
"This kind of goes back to what we've seen from this group over and over again," Yeo said, "just as far as when you're faced with some adversity, when our backs are against the wall, this group comes out fighting."
Like when Niederreiter took a heads-up, neutral-zone redirection from Charlie Coyle toward the left faceoff circle and ripped a shot past Corey Crawford's left shoulder less than a minute after Michal Handzus' second-period equalizer 6 minutes, 28 seconds into the frame.
Or when Wild goalie Ilya Bryzgalov subsequently stoned Patrick Sharp with his right pad on a breakaway moments later. Or when Matt Cooke returned from a seven-game suspension, immediately resumed clocking any foe in his path and singlehandedly set up Minnesota's first goal.
"We've talked about that since the playoffs started," left winger Zach Parise said, "that there's going be times throughout games, there's going be times throughout series when you have to forget about it and move on. I think, just like in the first round, we had to forget about those first two games, and we had to do the same thing here."
With 19,405 fans constantly chanting "Crawford" at a deafening pitch, Minnesota peppered the 2013 Cup-winning goalie with 31 shots, four of which -- off the sticks of Niederreiter, Justin Fontaine, Jason Pominville and Jared Spurgeon -- found their way across the goal line.
From his first shift back from a penalty levied for kneeing Colorado in Game 3 of the teams' conference quarterfinal matchup, Cooke displayed the reckless abandon that's made him one of hockey's most physical forwards but also got him in plenty of trouble throughout the years. He kept it clean Friday night, finishing with five hits, three blocked shots and an assist on Fontaine's wrister from the right slot that made it 1-0 7:24 into the contest.
Instigating the Wild's third-line forecheck, Cooke stole the puck from Blackhawks defenseman Michal Rozsival, slid it to Fontaine then screened Crawford for the rookie's first playoff goal.
"I should have fresh legs," Cooke grinned. "Hopefully my energy is contagious."
It was, bolstering a home-ice advantage that has Minnesota 5-0 at the Xcel Energy Center this postseason. "Our fans were," Yeo said to open his postgame press conference, struggling to find the proper characterization, "awesome."
Bryzgalov didn't quite merit such a description, yielding a soft Patrick Sharp marker that glanced off his skate and between his pads to make it 1-1 with 38.2 seconds left in the first. Handzus also beat him with a nifty deflection of a Brent Seabrook shot early in the second, but Bryzgalov bounced back to tally his second consecutive 19-save performance -- the first coming Tuesday in the seasoned veteran's first playoff shutout since 2006.
He's had plenty of help. In 85 playoff games since 2003, the Blackhawks have been held to 22 or fewer shots eight times.
Four have come in this series.
"We try to give them the least amount of time we can with the skill they have," said Spurgeon, who commenced the breakout that led to Neiderreiter's game winner and one-timed a cross-ice Mikko Koivu past Crawford for some third-period insurance. "A lot of guys are selling out on their bodies, blocking shots. You see guys sliding. I think in the last game we had three guys laying down to block a shot near the end. That's playoff hockey. It's not always , but it's working."
At home, that is. Heading into Sunday's 8 p.m. Game 5 tilt at the United Center, the Wild remains 1-5 on the road and has been outscored 26-17 in those contests.
In actuality, all it's done is re-even the playing field.
"It's a step, but the next one's bigger," Yeo said. "We're not here to just try to make a series of it."
Ballard's status uncertain: After taking a hard hit into the corner boards from Blackhawks left wing Brandon Bollig late in the second period, Wild defenseman Keith Ballard was taken to the dressing room and didn't return. Yeo didn't comment on the nature of the injury or Ballard's status moving forward.
"I don't have an update for you," Yeo said. "I'll have one for you tomorrow." Bollig was assessed a two-minute minor for boarding on the play.
Follow Phil Ervin on Twitter
---
---