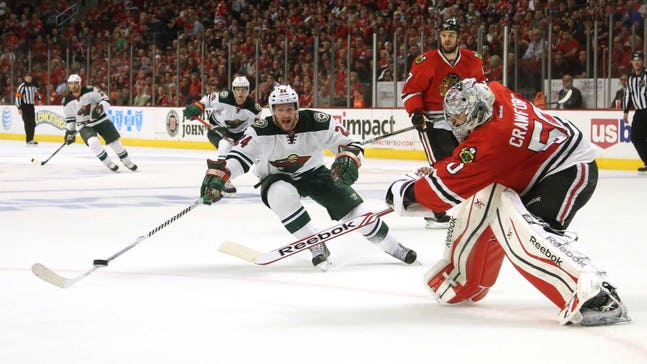 Wild return home in 'familiar territory' after Game 5 loss
Published
May. 12, 2014 12:57 a.m. ET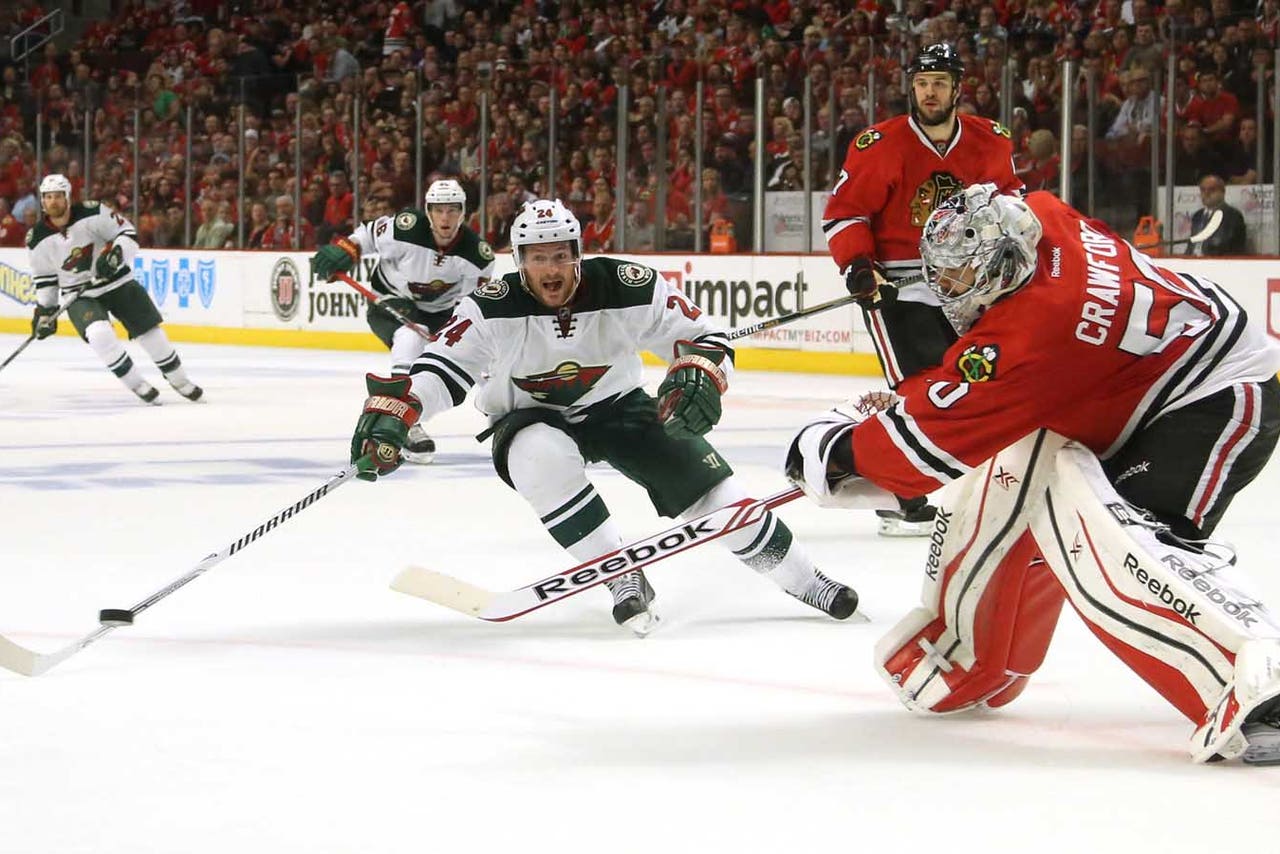 Minnesota Wild head coach Mike Yeo summarized Game 5 simply.
"Familiar territory again," Yeo said to reporters after Sunday's 2-1 loss at Chicago.
Minnesota is used to this position, heading back home facing a deficit in a series. The Wild trail 3-2 in this second-round series against the defending champion Blackhawks, just as they did in the last series against the Colorado Avalanche.
Sunday's 2-1 loss means Minnesota is returning home with a chance to even the series in Game 6 on Tuesday. The Wild have recovered every time their "backs are against the wall" in the playoffs this year and they are confident they can continue to rally as they head home.
"Anytime you've done something before, it gives you that reassurance that you can do it again," defenseman Clayton Stoner said after Sunday's game. "They're a good team, but we're playing good hockey and we seem to be good at home. I think this game, even though we didn't play a full 60 minutes, it could have went both ways. We can definitely take that back to St. Paul."
This isn't the position Minnesota hoped for after it took momentum in the series with two big wins at the Xcel Energy Center. But this is "familiar territory."
The Wild were down 2-0 after the first two games in Chicago only to win both home games to extend the series. In the first round, Minnesota lost the first three road games, facing 2-0 and 3-2 series deficits when it returned to St. Paul.
Each time, the Wild responded. They've won five straight games in the playoffs while facing a deficit in a series. Minnesota won two elimination games in the first round and will be facing another on Tuesday.
"We've been here," said forward Erik Haula, who scored his third goal of the playoffs for the Wild's lone goal on Sunday. "We've played well at home and we've just got to keep doing that. Keep playing well there and hopefully get it done there and come back here."
The familiar feeling after Game 5 in Chicago on Sunday wasn't a good one, though.
"It's similar in that it sucks," Yeo said. "It sucks to lose a game like this. And obviously when you lose, you're frustrated, you're mad. But I think that there's been enough in this series where we should feel confident still. That said, we also recognize that we better be ready."
Haula's goal put Minnesota on top in the first period on Sunday. But the Blackhawks took control in the second, outshooting the Wild 15-6 and Bryan Bickell scored his sixth goal of the playoffs to tie the score. Jonathan Toews scored early in the third to cap the comeback for Chicago.
"I just thought that we got a little bit soft in our game," Yeo said. "I don't know whether we sort of had the mentality that we were going to try to sit on the lead or what. I didn't feel that we were pressuring. I didn't feel that we were finishing checks. I didn't feel that we were competing on loose pucks and moving our feet like we were in the first period. It's not game plan, the players don't want to do that. I think that we just kind of fell into the trap of sort of trying to hang on to something that we want to have happen and we feel victim to it."
Follow Brian Hall on Twitter
---