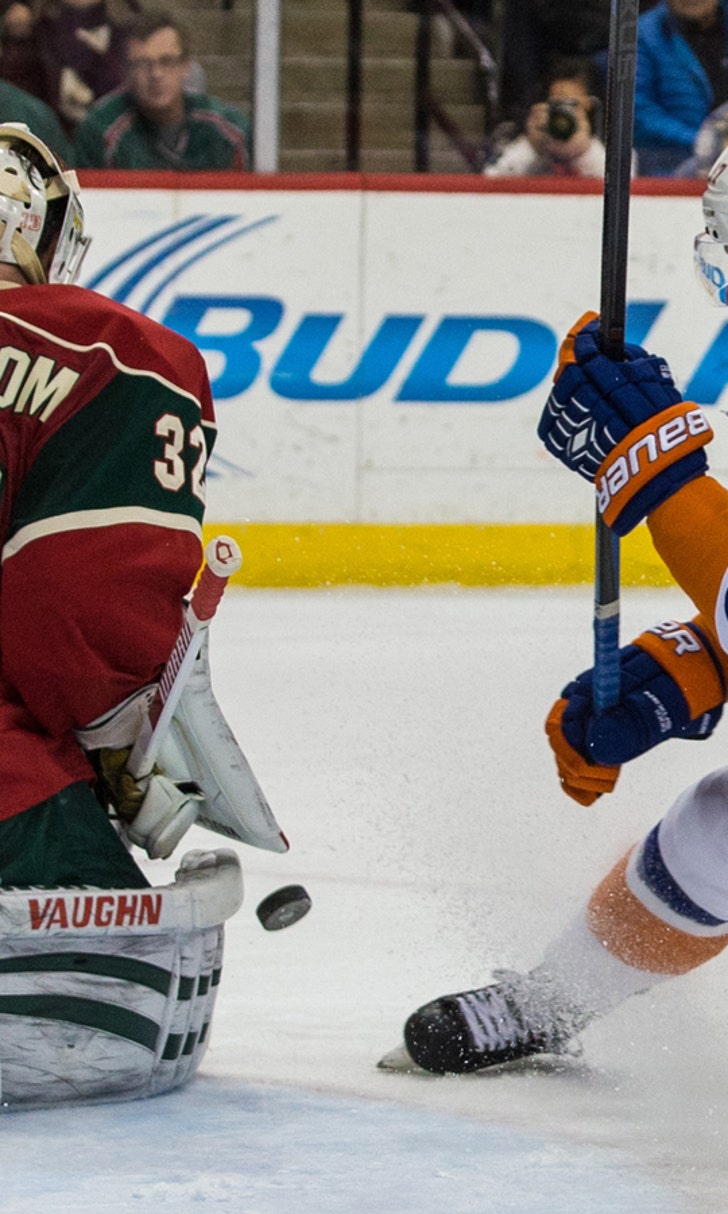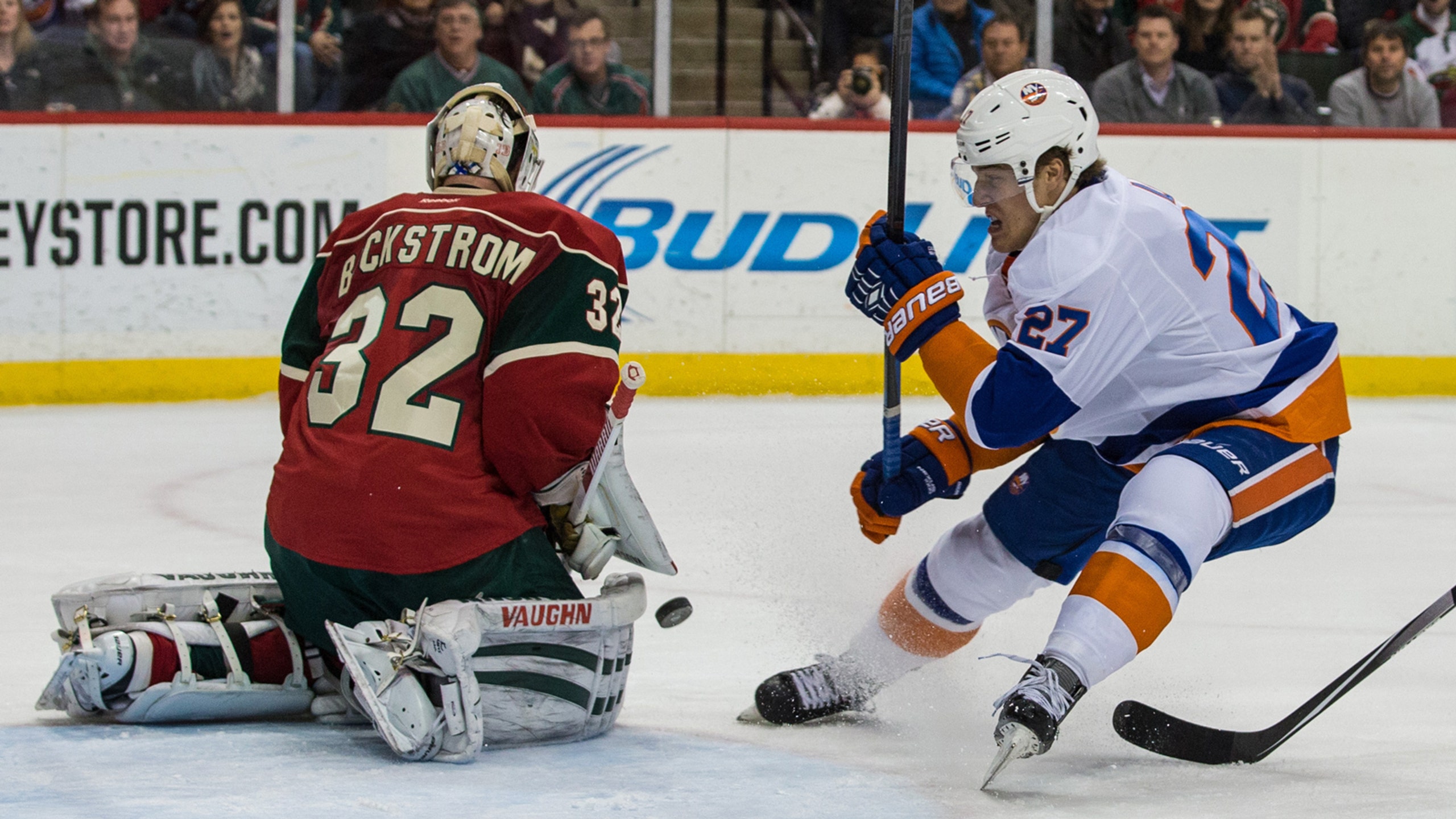 Wild respond with big comeback on emotional night
BY foxsports • December 10, 2014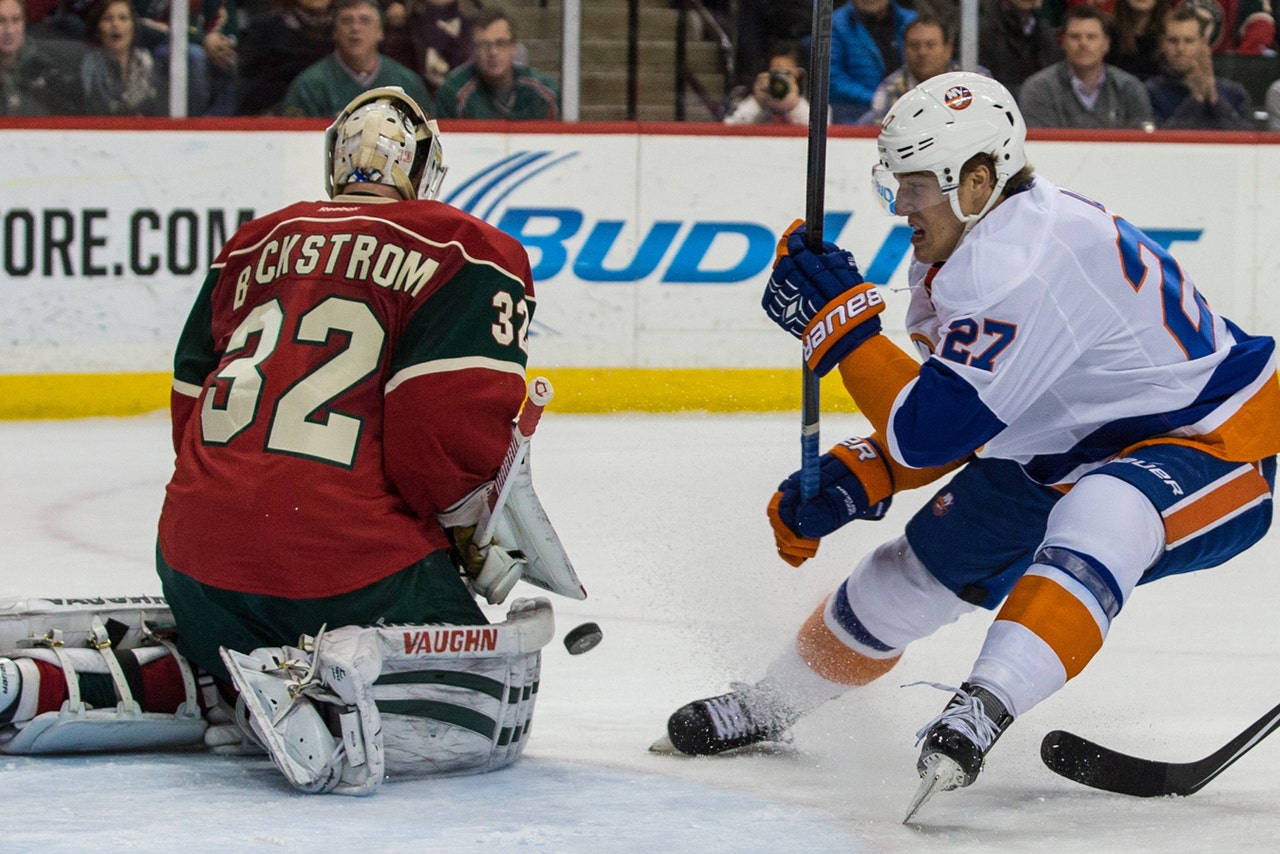 ST. PAUL, Minn. -- Words weren't necessary during the second intermission for the Minnesota Wild on Tuesday night.
No grand speech would say what Minnesota needed to hear. Everything the Wild needed was inside each player after defenseman Keith Ballard's scary injury in the second period.
"Nothing was really said, but inside everyone's head I'm sure everyone is almost like saying, 'We got to really play for Keith here,'" forward Erik Haula said.
Minnesota was facing a three-goal deficit for the second straight home game. A listless first period allowed the New York Islanders to lead 3-0 in which New York outshot the Wild, 11-3.
Then Ballard hit his head on the boards as Islanders forward Matt Martin closed in for a hit. Ballard was bleeding and was down on the ice for several minutes. He was later taken to a hospital for observation.
Left behind was a stunned -- and angry -- Minnesota team.
The Wild scored once before New York took another three-goal lead. Then Minnesota rallied for four late goals to win, 5-4.
"There was a number of guys that were engaged physically and emotionally after that point," Wild head coach Mike Yeo said. "I thought that we came out really well to start out the second period, but I thought that took us to a different level. I'm really hoping this is something we can build off as a team. When you see guys band together like that, that's what we need going forward."
Mikko Koivu scored 2 minutes, 51 seconds into the fourth period. Haula added his third of the year on a deflection and then two former Islanders, Thomas Vanek and Nino Niederreiter, finished off Minnesota's come-from-behind win.
According to the Elias Sports Bureau, the Wild won in regulation for the first time in franchise history when trailing by at least three goals.
"I think everyone was mostly just concerned for Keith and kind of freaked out about what was going on, and everyone just kind of questioning the situation and just kind of hoping for the best," Haula said. "I haven't ever seen something like that. I think we handled it great as a team. We processed it in between periods and still went out there and played really hard."
Koivu also credited Kyle Brodziak, who initiated a fight with Martin on his next shift, with getting his team going. Martin wasn't penalized for a hit on Ballard and Brodziak challenged him. The Wild fought back physically and with their play.
"Obviously we all were very, very angry at that point, but at the same time we were also scared because nobody had any idea what's going on with Bally," Niederreiter said. "But obviously we were very fortunate that he had a chance to get off the ice by himself, but overall I feel like that definitely was part of it. We got pushed."
From players to Yeo, the response was needed. If anger comes too, so be it.
"If that's what we need," Yeo said. "You can draw up Xs and Os, skill is no question a big part of the game, but passion and emotion has to be there for us, no question. We have to make sure that we find a way to bring that. We shouldn't have to have something like that to bring it out of us. That's when we're at our best, and as far as I'm concerned, that's part of our identity. We need to bring that every game."
After a season-low shots for a period in the first, Minnesota outshot the Islanders 27-8 the rest of the game.
"What I appreciate is when you mention that to the group and use the words pride and character, we know we have too much pride and character to allow that to continue," Yeo said. "And I thought we showed that the rest of the game."
Follow Brian Hall on Twitter
---