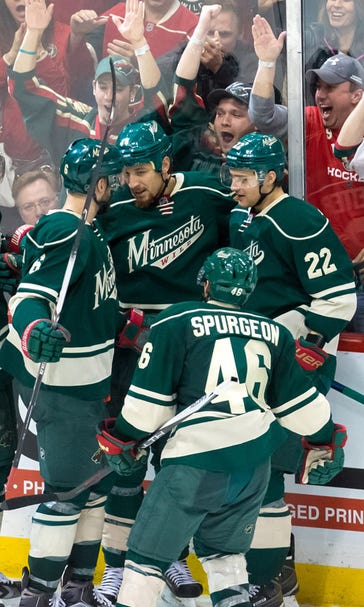 Wild post highest season rating ever on FOX Sports North
April 14, 2015

The 2014-15 Minnesota Wild season on FOX Sports North ranks as the highest-rated (full) Wild season ever on the regional sports network. The 71 games on FOX Sports North averaged a 4.2 household rating and saw a 41 percent increase in viewership year-over-year.
In the Minneapolis-St. Paul market, 17,280 households represent one rating point, which means over 72,500 households consistently tuned in to watch the Minnesota Wild this season.
Throughout the season, Minnesota Wild television coverage on FOX Sports North surpassed a 5.0 rating (86,400 households) a total of 19 times and broke a number of ratings records. The March 3 Wild-versus-Senators telecast ranked as the most-watched regular (full) season Wild game ever on FOX Sports North with a 7.12 household rating.
According to Nielsen Media Research, the Wild on FOX Sports North were consistently the No. 1 primetime show in the market among all male demographics.
FOX Sports North will televise the first round of the NHL Stanley Cup Playoffs versus the St Louis Blues, beginning Thursday, April 16. Coverage begins at 7:30 p.m. with a one-hour edition of Wild Live presented by CenturyLink.
---