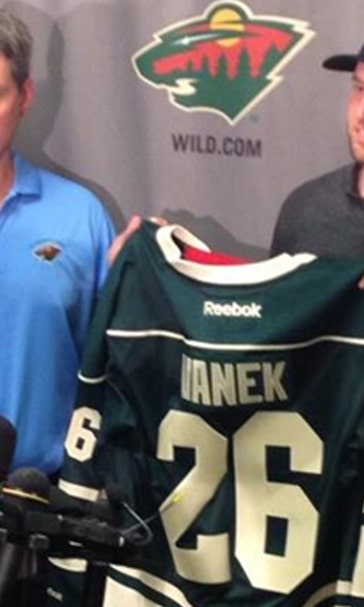 Wild make early free-agent splash, sign high-scoring Vanek
July 1, 2014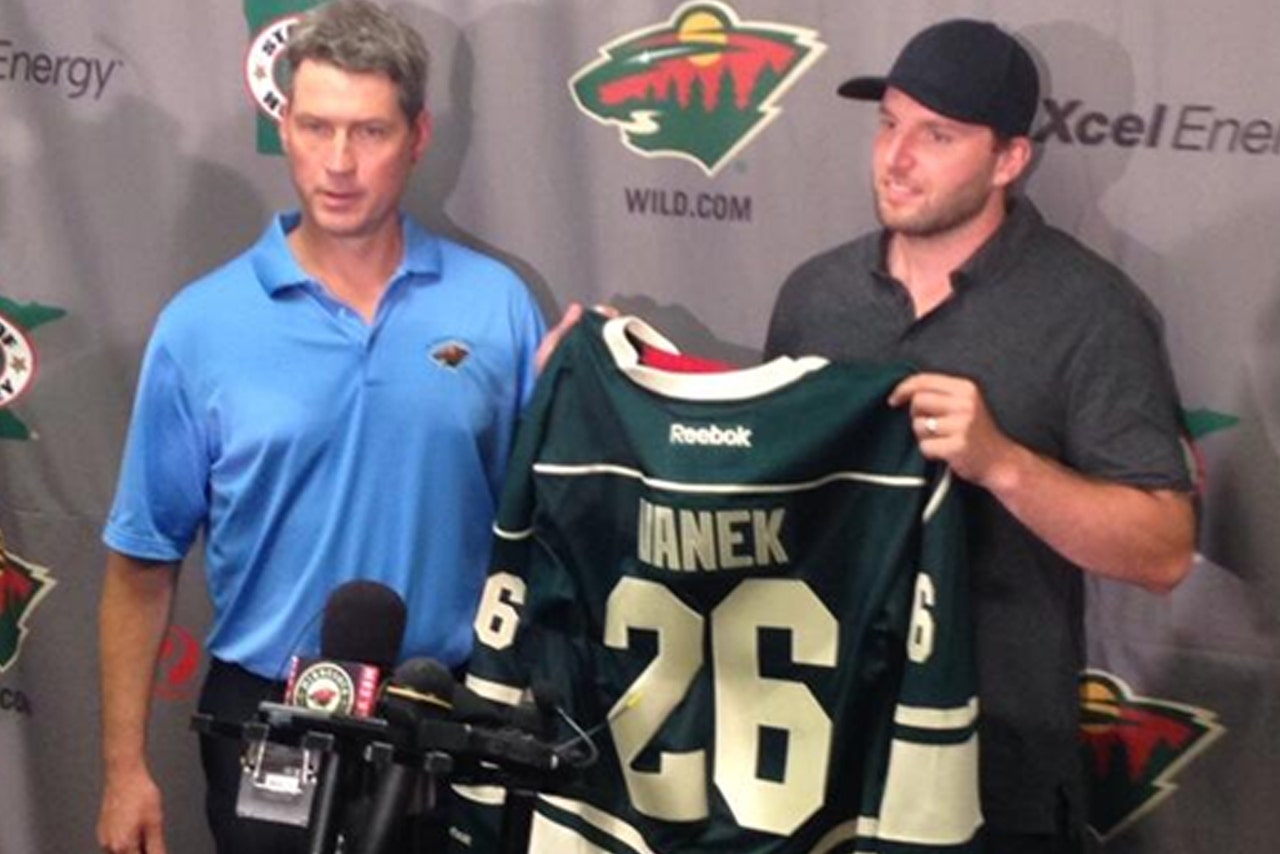 The Thomas Vanek watch had been ongoing for more than a year, with the rumblings that the former University of Minnesota star forward wanted to return to the state with the Minnesota Wild when he became a free agent.
The watch ended with the results falling in line with expectations.
Vanek made the long-held rumors come true by signing a three-year contract with Minnesota in the opening hours of free agency on Tuesday.
The rumors were more than just hopes from the Minnesota fan base. A return to his roots was high on Vanek's mind, too.
"About a year ago when I made my decision to go to free agency, this was definitely a team that I had in mind," Vanek said. "For it to come true today, I've still not come to terms with it. I'm extremely thrilled to be a part of the Wild and of a group like this. I'm just happy."
Two years after reeling in the top two free agents in Zach Parise and Ryan Suter, the Wild used a hometown connection again to bring in Vanek, the top goal scorer available in free agency this year. Multiple reports said Vanek will average $6.5 million per year in his deal with Minnesota, which includes a no-move clause.
Vanek, who lives in a Twin Cities suburb, eventually whittled his list of suitors down to the Wild and New York Islanders, where he played 47 games last year after a midseason trade. Vanek eventually turned down more money elsewhere to sign with the Wild.
"I wanted to join an organization that had a chance to win," Vanek said. "That's why I was willing to sign for three years and not worry about going higher. I have a lot of belief in myself that I can play for another seven, eight years. So to play for an organization that's willing to trade for guys, sign guys and wants to win, that's important."
Vanek, 30, has scored 40 goals twice in his nine-year NHL career and has 277 goals in 663 career regular-season games, adding 279 assists.
Since the beginning of the 2005-06 season, Vanek ranks eighth in the NHL in goals with 277. He's third in power-play goals (161) and 17th in even-strength goals (113) in that span. He's scored at least 20 goals each season of his career, even notching 20 goals in 38 games during the lockout-shortened 2013 season.
"There's no question that we do have some skill, but we don't score goals easily," Wild head coach Mike Yeo said. "And we're going to continue to try and look to see what we can do as a group to try to improve that, but when you can add players, personnel-wise, that bring that kind of skill, bring that kind of creativity and that kind of ability, that's going to increase the scoring.
"It's not just about that player, it's about what they do for the players they're playing with as well. There's been times where we play against a team and there's some players that maybe need five or six chances to score a goal. There's other players that might need two or three, and Thomas is certainly one of those guys who can capitalize on those opportunities."
Vanek spent two seasons at the University of Minnesota, where he scored 57 goals and helped the Gophers win the National Championship in 2003, winning Frozen Four MVP honors. He's lived in the area since college.
"My top priority was to sign here," Vanek said. "Obviously I had some other options that I had to think of, but once we agreed on this term and the money, I thought it was a fair deal for both sides. I'm very happy I'm here.
A right-shot winger, Vanek returns to Minnesota after spending the bulk of his career with the Buffalo Sabres, who made him a first-round draft pick (No. 5 overall) from the Gophers in 2003. In Buffalo, Vanek formed a friendship with current Wild forward Jason Pominville, as the two often played on the Sabres' top line together.
Vanek also played with current Wild defenseman Keith Ballard while with the Gophers.
"I didn't need much of a sales pitch," Vanek said. "I'm friends with them. They just told me how much of a good team this is and they're good guys and that's important to hear. I remember when Pominville first got traded here; I wouldn't say he was disappointed, but maybe a little shocked. He loved Buffalo a lot, which I did to. But I told him, 'You'll like it there. There's a lot of good fans.' And after a week or so, he called me and said, 'You know what, you're right. I do like it here a lot.'
And now they are in Minnesota, together. Vanek and Pominville showed good chemistry playing on a line together, but Yeo said he isn't sure how his lines will shape up when the team comes to training camp.
The Wild earned the Western Conference's top wild-card spot with a sound defensive structure. They advanced to the second round of the playoffs playing the same way and earning a reputation as a hard-working group.
Minnesota finished tied for 24th in the league in scoring during the regular season, though, averaging 2.43 goals per game.
"Maybe some nights we have a little more breathing room, maybe he gets a big power-play goal that wins us a game in the third period so we don't have to go into overtime and get to the shootout," Wild general manager Chuck Fletcher said. "Scoring goals is a big part of winning games and he's a game breaker. The things he does well are things that we need."
An Austrian native, Vanek spent last season between three teams, scoring 27 goals and passing out 41 assists for Buffalo, the New York Islanders and Montreal Canadiens. He had five goals and five assists in 17 playoff games for Montreal last season.
Vanek drew criticism by some for his playoff performance with the Canadiens. But the Wild felt comfortable with Vanek's long track record of being one of the league's best goal scorers.
Being traded twice during the season might have played a role.
"It certainly wasn't my best one I can tell you that," Vanek said of his playoff performance. "But I'll take the blame for that. It's not always easy moving around and being away from my family like I have been. But those are not excuses those are just factors that do factor in to me. Family is big on me. It was tough at the end."
Family has, in part, led Vanek back to Minnesota where he will be able to settle in again knowing where he will be for at least the next three seasons. And the Wild again benefitted from the attraction of the area and the success and moves they've made in recent years.
"There's been other players over the years here that had connections to Minnesota or homes here that said they would love to come here and then they went elsewhere," Fletcher said. "So it's not always a slam dunk. I don't know all the particulars, but it's pretty evident that Thomas turned down more money and more term to sign here. So you never know how that's going to play out.
"We knew he liked the marketplace, but at the end of the day, we were coming at him from a three-year contract angle and I think there was some concern in that sense that we may not be able to get him, but I give Thomas credit, he looked at our situation, we worked hard, and we're extremely pleased to be where we are right now."
Follow Brian Hall on Twitter
---
---