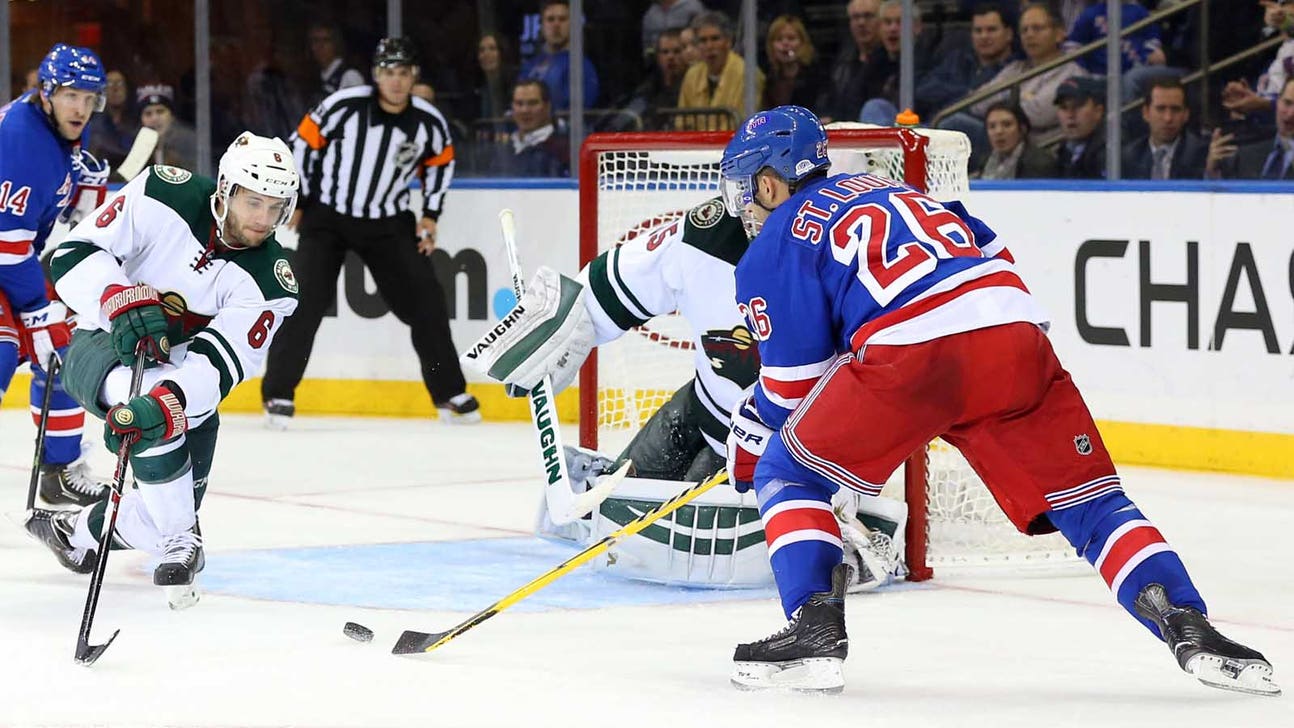 Wild lose after Rangers score five in third
Published
Oct. 27, 2014 9:55 p.m. ET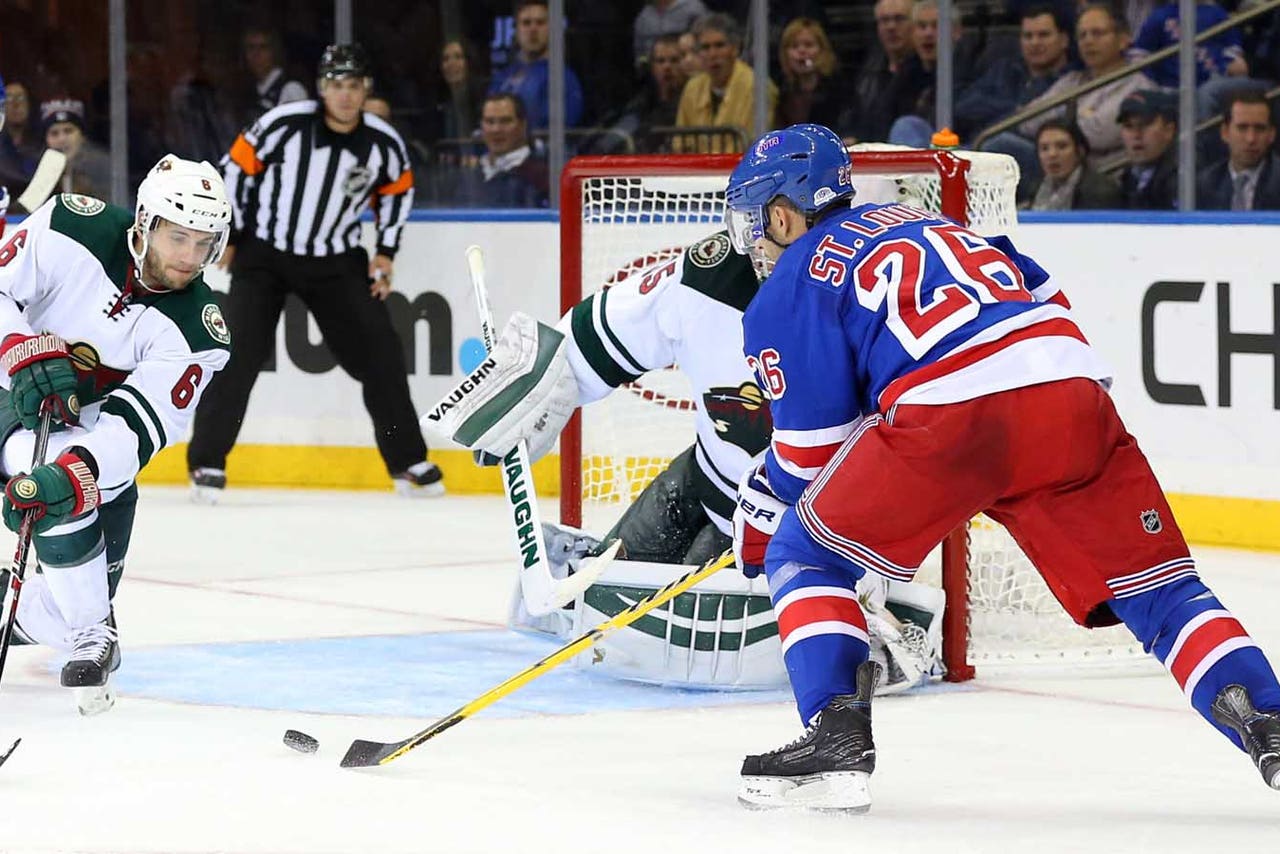 NEW YORK (AP) -- The New York Rangers could have been counted out multiple times against the Minnesota Wild.
Such as when forward Chris Kreider was ejected in the first period or when defenseman John Moore was kicked out in the second, or when the Wild scored two even-strength goals and then carried a three-goal lead into the third period.
But with only 20 minutes to go against the NHL's hottest goalie, the Rangers found a way to forge one of their most improbable wins.
Despite recording only eight shots through 40 minutes, New York stormed back against Darcy Kuemper and the Wild, scoring five goals in the third period for a 5-4 victory Monday night.
Only one other time -- Jan. 4, 1956, against Detroit -- has New York come back from a 3-0 hole in the third period to win. The last time the Rangers rallied from any three-goal deficit in the third period to win was Dec. 27, 1992, against Boston.
"It was a pretty crazy game," Rangers captain Ryan McDonagh said, "but in the end you want to be on the good side of those."
Rangers defenseman Kevin Klein started the comeback at 2:52 of the third. Rick Nash made it 3-2 at 4:48, but Jason Zucker restored the Wild's two-goal lead 47 seconds later.
"When they scored the fourth one, that was a tough one," goalie Henrik Lundqvist said. "We came back with two goals and we had the energy. We had the building going and they killed the momentum."
That, too, was fleeting. Youth and some fresh legs carried the Rangers to victory.
Anthony Duclair scored his first NHL goal with 3:48 remaining, and Mats Zuccarello put the Rangers ahead 37 seconds later in New York's biggest third period since January 1993.
The Wild appeared to be in complete control nearly all night, but left with a stunning loss. Kuemper gave up only four goals in five previous games this season.
"This is twice already this year where we've blown third-period leads," coach Mike Yeo said. "I don't know if we did that twice all last year.
"We didn't respond very well tonight, no question."
Derick Brassard made it 4-3 at 7:54, and the 19-year-old Duclair, playing his seventh NHL game, tied it. Zuccarello won it with his first of the season.
"It hasn't sunk in yet, I don't think," Duclair said. "It was a big comeback for us. It speaks to the leadership in this locker room."
Nate Prosser, Matt Cooke and Jason Pominville scored second-period goals for the Wild (4-3), who held a 30-20 shots advantage but had their two-game winning streak snapped.
Kreider and Moore could be facing supplemental discipline from the NHL for separate hits that led to the ejection of both.
Despite receiving a pair of 5-minute power plays that combined to take up 9:45 of the second, the Wild still haven't scored a man-advantage goal this season in 24 opportunities.
But they struck for three even-strength tallies in the second, and have outscored opponents 13-1 in the middle period this season.
New York was outshot 24-8 through 40 minutes -- including 11-3 in the second. But the Rangers (5-4) regrouped and began a stretch of 10 of 13 games at Madison Square Garden in thrilling fashion.
Kreider received a major penalty for boarding defenseman Jonas Brodin late in the first period, and Moore was ejected midway through the second for a blatant hit to the head of forward Erik Haula that resulted in a match penalty.
Kreider was given a major penalty for boarding and a game misconduct. That gave the Wild their third power play of the scoreless first period, with 4:45 of the advantage carrying over into the second.
The Rangers killed that, but Minnesota grabbed a 2-0 lead soon after with goals 55 seconds apart by Prosser and Cooke.
Less than a minute after the second goal, Moore drilled Haula in the side of the head between the circles in the New York end. The Rangers killed that 5-minute power play, too, but gave up a goal moments later to Pominville to fall behind 3-0.
Any momentum the Rangers could have expected after Kreider's penalty expired was lost 44 seconds after it ended when Justin Fontaine sent a diagonal pass down to the right post to Prosser, whose shot was initially stopped by Lundqvist but slithered in at 5:29 for Prosser's first of the season.
Cooke, who earned the second assist on that goal, made it 2-0 at 6:24 when Fontaine sent a pass from behind the net to him at the right post for his second.
Pominville stretched the Wild lead to three by scoring his third with 4:22 left in the second.
Notes: The Rangers' previous victory after trailing by three goals at any point was April 4, 2011, against Boston.  . . . New York has won 68 straight games when scoring at least four goals.  . . . This marked the first time Kuemper (4-2) has allowed more than two goals this season.  . . . The teams meet again in Minnesota on April 2.
---